A History of Female Jockeys
Article was written by John Hawthorn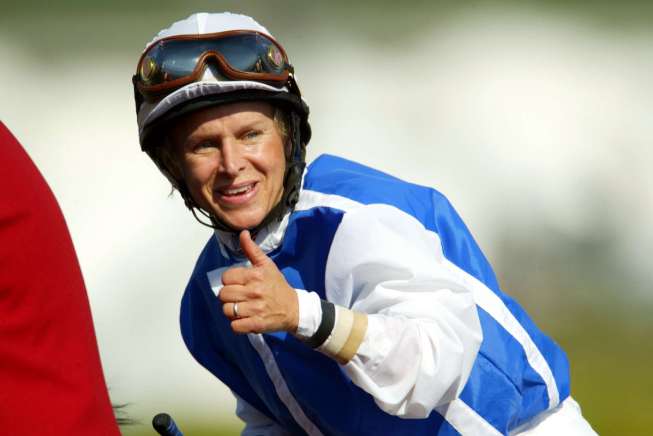 One of the most notable all-time leading female Jockeys is Julie Krone. She is a veteran rider who successfully scooped the Triple Crown race. After she successfully rode Colonial Affair into the 125th Belmont Stakes chapter on June 5th, 1993.
Julie Krone is currently the only female jockey to ride in the Belmont Stakes competition. Krone also successfully rode in four other Belmont Stakes, and she also holds the record of being the only female jockey ever to ride a horse in the Breeders' Cup Winner competition.
Race results show that Julie Krone won her first race at Tampa Bay Downs riding Lord Farkle on Feb 12th in 1981. In the year 2000, Julie Krone was inducted into the Racing Hall of Fame and retired from competitive horse racing in 2004 with 3,704 career victories.
Jane Krone is the wife to Jay Hovdey the current Daily Racing Form Columnist and the two are proud parents of Lorelei a daughter born in the year 2005.
Diane Crump
Diane Crump is the first female Jockey to have rode at the American Parimutuel race; Crump is also the first female jockey to ride in the Kentucky Derby. Crump is the first woman rider to scoop two wins with two different runners in a single day.
Diane Crump is the first female to win the stakes at Fair ground's 1969 Spring Fiesta Cup riding Easy Lime. Racing results place Diane as the first to achieve a leg-up at the Run for the Roses. The latter is a milestone that helped her command her peers respect.
Race results show that Diane Crump was just as good as her male counterparts. Her reign from 1969-1970 gained her many fans and she and became an unlikely hero for many women. The months between Feb 7th 1969 and May 2nd, 1970 saw Diane Crump become the first female to compete against male jockeys in An American Pari-mutuel Race.
Chantal Sutherland
Sutherland is a Canadian model and jockey who participates in Thoroughbred horse racing. She is such a pro horse rider that pundits refer to her as Danica Patrick of horse racing.
As a young girl, Sutherland rode in equestrian events, and it's only after graduating from college that she took up the challenge of riding Thoroughbreds in flat racing. Racing results show that on 9th October 2000, Chantal won her first race in Woodbine Racetrack in Toronto.
In 2001 and 2002 she was voted the Sovereign Award as the top apprentice jockey in Canada. 2002 she emerged the top paid female athlete after garnering $5.7 million in different purses with a period of eight months. In 2006, Chantal rode Gigawatt finishing in the first position at the Grade 3 Miami Mile Handicap.
Venetia Williams
She is a British National Hunt racehorse trainer. She is also revered as one of the best top jump trainers in the world today. Before she began her current career, she was a National Hunt jockey who, unfortunately, retired from being a jockey after she broke her neck in 1998.
Venetia Williams has had a lot of winners after she began her career as a trainer. Race results show that Venetia Williams has won tremendous races including the King George VI Chase in 1998. In years 2000 and 2001, William's horse Lady Rebecca won the Cleeve Hurdle race.
As a trainer, Williams successfully won the Cheltenham festival thanks to one of her trainees (Something Wells) and on the same day another trainee (Kayf Aramis) scooped the Pertemps Finals.
Since her training career started, Venetia Williams has produced ninety winners! She may not have made it as a jockey for long, but her training has made up for what she did not manage to win!
This article was written by John Hawthorne who is a sports writer with a passion for history. Being a big fan of horse racing and travel has made John end up in Australia where he writes full time for a website dedicated to providing vital information about the latest racing results.