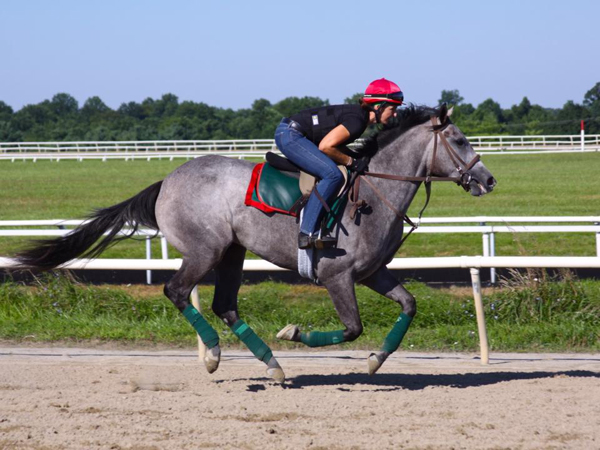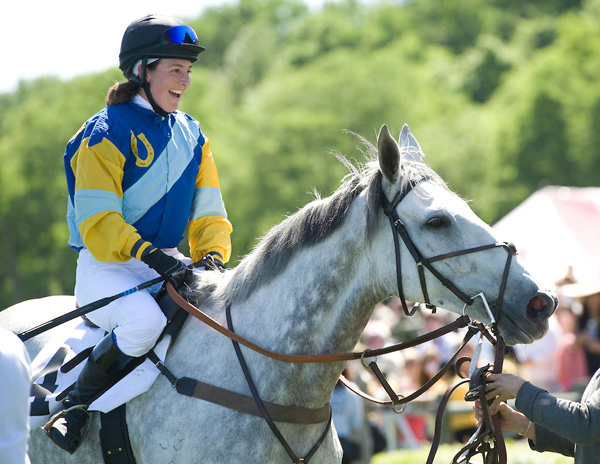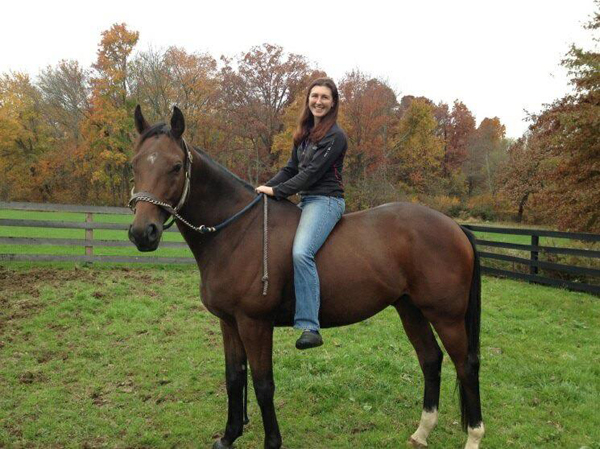 Danielle Hodson
Danielle Hodson is a steeplechase jockey and a very good one at that. I recently got in touch with her and asked her some questions and here is what she said to them:
FOTH: Where were you born and where did you grow up?
DH: New Hampshire
FOTH: What sort of kid were you growing up and were you sort of like a tom boy like most of the female jockeys I have interviewed?
DH: I wouldn't say overly tomboy, but definitely horse crazy. I was very shy and liked being outdoors and in the barn whenever I wasn't at school, my best friends were the ones I rode with. I was also a gymnast for 8 or 9 years.
FOTH: So take me through when the world of horses entered your life.
DH: I got my first pony for my 4th birthday; my mom had horses so I had already been around them. I began showing at 5 or 6 and was eventing and moved on to my next pony by 8.
FOTH: Now tell me about your first job at a racetrack or horse farm? Did you know at this point you wanted to become a jockey?
DH: I grew up knowing nothing of racehorses and didn't sit on my first one until college. I sold my event horse after my freshman year and the next spring after not riding for about 6 months sat on a racehorse for the first time and began exercising for Jimmy Day (a trainer in VA of mixed flat & steeplechase)
FOTH: Who helped you learn how to ride and did it feel natural getting up on a horse?
DH: I was sitting on horses from as early as I can remember; it was probably no different than learning to walk!
FOTH: So how long did you exercise horses before you took out your jockey license?
DH: I galloped for Jimmy for about a year (beginning 1997 or 98) and then began riding a few novice rider flat races in 98 or 99. In 2000 I took out a license with the NSA and rode my first sanctioned hurdle races- breaking my collarbone in my first race at the final fence in April at the Strawberry Hill races at Colonial Downs. I won my first race the following September at Foxfield for the late & great Tom Voss. A year or two later I rode in the amateur ARCA flat races, winning 4 from 7 at the racetracks and got to travel to both Switzerland and Italy which was an amazing experience.
FOTH: Now when you were an assistant trainer with Johnathan Sheppard was the plan for you to eventually ride races as a jockey?
DH: I went to work for Jonathan to get a change for the winter and gallop at Gulfstream beginning January 2004, I wasn't a very good track exercise rider at that time and had only really galloped on the track during the Saratoga meets in the summer, I struggled and when an opening came for a rider at the Camden training center with Jonathan's jumpers in march I jumped at the chance to go!
FOTH: Now you're not a thoroughbred jockey. You ride races as a "steeplechase" jockey where you jump over fences. For those who don't know explain exactly what you do as a jockey? Or am I wrong and you have rode races as a "steeplechase" jockey and as a thoroughbred jockey?
DH: I have ridden a handful of regular flat races, primarily turf races for jump trainers. I have won flat races at Penn, Colonial Downs and Saratoga. But, yes I am really a steeplechase jockey. Most of the steeplechase horses are horses that have raced on the turf and either run through the conditions they are capable of on the flat and have indicated they have the stamina to go farther and athletic ability to incorporate jumping into the mix! The hurdle races are run at both hunt meets and race tracks over a standardized fence with distances ranging from 2 to 3 miles, but mostly around 2 1/4.
FOTH: Tell me all about your 1st race and were you nervous at all? What was the feeling like after it was over?
DH: It's been 14 years since my first sanctioned jump race- so hard to remember!! We hit a lot of traffic getting to Colonial Downs as the strawberry hill races used to attract a huge college crowd, so I was running late and definitely both excited and nervous! As I said previously I fell at the final fence, I was sitting in third at the time and got a bit anxious and sent my horse to too long of a spot! If I remember correctly McDynamo (multiple eclipse winning steeplechaser) won the race.
FOTH: Tell me about your 1st win and did you win by a lot or a little and what track was that at?
DH: My first win was at Foxfield on a horse for Tom Voss in an "amature/apprentice" conditioned race. I had never ridden the horse; I had just began working for Tom and was stabled with his assistant Todd Wyatt at colonial downs when the meet was still in September. The day before the Foxfield meet Toms rider for the apprentice race, Roger Horgan, fractured his collarbone and Tom asked if I would like to ride instead. When we drove to the races Todd told me the horse was a little "cheeky" but if he didn't dump me going to the start he should win! So I was very nervous this day that I would screw it up or get deposited before the race!! During the race he settled in toward the back of a small field and then made a move toward the end of the race and won nicely if I remember correctly.
FOTH: Did the jockeys get you good after the race and did you know it was coming?
DH: They always dump ice water over you after the first win- I don't think I had really thought about it as I was so new to the sport! They soaked me before I could even get my picture taken.
FOTH: Now I know Parx Racing has had "steeplechase" races in the past and I know Saratoga has them as well. What tracks have you rode at over the years and have you had a chance to ride overseas and if you have what was that experience like?
DH: I have never ridden any jump races overseas. I was lucky enough to get to ride at Keeneland the final 4 years they had the Grade 1 Royal Chase for the Sport of Kings jump race there and that was a beautiful track to ride at. I've also ridden jump races at Parx, Penn, Belmont, Saratoga, Monmouth, the Meadowlands, Atlantic City and Colonial Downs.
FOTH: How is it riding up at Saratoga and what was it like riding horse "Spy in the Sky" for trainer Jimmy Day to a victory in the $100,000 A. P. Smithwick Memorial Stakes (Gr. 1) at Saratoga.
DH: Saratoga is always my favorite place to ride! I was lucky enough to spend the meet there for 12 summers and it's just an amazing place! Spy in the Sky is a fun horse to ride up there because he also loves the track. It's funny- some horses really thrive and love the crowds and atmosphere there and others seem to stress about it.
FOTH: I know with "steeplechase" racing and jumping over fences, the risk of injury is even greater. Have you had any serious injuries over the years and what has been the worst one?
DH: I've had my share of injuries! Concussions are the worst because they are cumulative and obviously our head's the most important thing... But I have also had multiple fractures to my collarbone, a torn meniscus and mcl in my knee that required surgery. A dislocated hip, fractured ribs and a collapsed lung. The collapsed lung was probably my most serious and kept me in the hospital a few nights and the dislocated hip the most painful!!
FOTH: Now you also rode the horse "Mixed Up" a few years back. What was that like?
DH: Mixed Up was the best horse of my career and we had a partnership of racing for 8 consecutive years. We won 12 races together and he was an eclipse award winner. I started with him my first year with Jonathan and he won his first jump race that spring. He was my best friend for 8 years! I rode him every day. He also dumped me more times than any other horse- he was always a challenge and kept things interesting! When he'd push his antics too far and I would come off him he knew he had messed up- he rarely ran but a few feet away and then waited for me to catch him and get back on. He even dumped me going to the start of a race once when he was 10 years old!! It was a little stake race at Aiken and he went on to win in a photo! The only time I have ever cried after a race is when he won the Colonial Cup Grade 1 when he was 10, I was so proud of him!! It's used to be run over larger stiffer fences than our traditional hurdles and was a little farther than he was really suited, he won on heart.
FOTH: What are some of your personal highlights of your career?
DH: I was only the second female to have been Champion jockey for steeplechase behind Blythe Miller who won it twice. My other highlights would be the Colonial Cup with Mixed Up and Grade 1 wins at Saratoga and Keeneland. I also won a maiden flat race at Saratoga and came back with the same horse later in the meet to be 2nd in the G1 Turfwriters steeplechase- that was neat.
FOTH: I see you have ridden from 2000 up until 2013. Are you retired at the moment or are you just waiting for the weather to warm up as you don't ride races during the winter months?
DH: Just waiting for spring! Our races cease from the end of November and resume in late March.
FOTH: Do you think if you ended up not riding races you would have just stayed on as an assistant trainer and do you think is some way shape or form you will be involved in horse racing for a long time to come?
DH: I plan to stay involved when I finish riding, I have trained a small handful over the years, I have one in training now and would really like to train a few more- hopefully flat and jumpers.
FOTH: Now when you started to ride in "steeplechase" races how hard was it for you as those are a lot longer races that a normal thoroughbred race?
DH: The distance really doesn't matter, the horses just relax into the race usually, so the fitness part is riding the finish so that's really the same as the flat races. It's only harder if you have a horse that is very strong and doesn't want to settle in the race.
FOTH: You are only one of only two female jockeys to win NSA jockey championships (after Blythe Miller Davies). For those who don't know what exactly is this?
DH: the champion steeplechase jockey is the jockey who wins the most jump races during the season from March until November.
FOTH: What has been the hardest thing about being a jockey?
DH: The traveling can be a little tough because we are all over the place. NY, MD, VA, TN, GA, KY and sometimes on back to back days- that can get a little tiring, but it also keeps it more interesting!
FOTH: If some young girl came up to you and said she wanted to become a jockey what would you tell her?
DH: Go work for a good trainer, get as much experience as you can and try to only ride good horses- by good I mean well behaved, good jumpers that you can learn and get positive experiences from. Nothing kills a jockey's confidence quicker than riding difficult or bad jumping horses.
FOTH: Danielle I am out of questions. Thumbs up for the interview and any last words the floor is yours.
DH: I think you covered it!! Thank you: