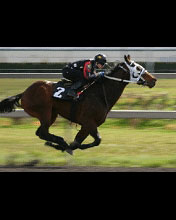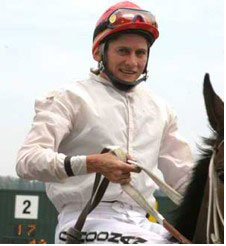 Debbie Hoonan
Debbie Hoonan has been riding for over 20 years (she took some break in-between) out on the West Coast and I sent over an email interview and here is what she said to my questions and have fun reading Debbie's interesting story:

FOTH: Where were you born and where did you grow up?

DH: Puyallup: Wa State. Graham WA, 10 acre farm, out in the 'boonies'. Friends= horses/dogs(dad's hunting dogs, Chesapeake bay retrievers) Teachers= trails, trees, river, moutain (Rainier).
FOTH: What sort of girl were growing up?

DH: I was described as 'Happy Go Lucky' by one of my teachers in 8th grade. And I don't think I've changed much in that way. I always rooted for the underdog. I like to pay attention to people who otherwise didn't get much. I was also called such things as a daredevil, an athlete (more heart than talent i think). Some team mates told me I inspired them with my work ethic, some would get pissed. We had a farm and we (my sisters and I, Cindy (older) and Katie (younger) had to get chores done before driving 40 min. to school with our parents who were teachers. I liked to climb trees, still do. Learned to buck wood with 18' Stihl chainsaw when I was 11 or so. That was a good thing to do for anger management. I would collect rocks; the ones that told a story of course, then name them and keep them in the big closet upstairs. lol strange huh? I loved everyone and I'm currently trying to get back to 'that' place, but it's very difficult!
FOTH: When you were young did you have a love for the horses and stuff or that was something that was far from your mind?

DH: Horse is actually my first language. It's much more real and I don't have to get all confused with words or worry about having them twisted or misconstrued. I'm a very good listener but I think that makes some people uncomfortable because I don't say much.ÊBesides, I'm a Baze, so it's not like I had a choice. ;) My mom and Russell Baze are actually 1st cousins. When I started riding a few people told me to use my Grandma's maiden name for the racing program. I was told it would make things easier for me. Is it just me or does that sound unfair? Besides, I thought you only change your name when you get married and I liked my name. Furthermore, I didn't want to hurt my dad's feelings. 'Hoonan' is good strong Irish name. It's bad enough they took the O' off a few generations back because of prejudice people!
FOTH: What was going through your mind the 1st time you saw a live horse race?

DH: Whatever it takes, THAT is what I am going to do.
FOTH: What event or events led to you becoming a jockey?

DH: Even though my parents supported me 110% in whatever I did; I don't think the racetrack was their first choice for me. They did let me ride the bus to Portland Meadows, OR from Tacoma, WA when I was around 10 yrs. old to visit my Uncle Buford ÊBaze where he was the racing secretary. And my uncle Emerson at Longacres who was a trainer and shoer. I just wanted to be close to the horses that went fast with the tiny tack and the riders with their irons up. We had horses since I was 4 and my sisters and I did hunter jumpers all the way through to high school. After I graduated I went to NY to train with Judy Richter for about a year. Came home with about $3000 and spent it all on skydiving. Time to make a living so I took my hunter jumper, Brandon, to Sun Downs, a racetrack in central WA where my Uncle Eldon Baze trained. About 3 or 4 months later (too soon) I was riding races at Yakima Meadows, '87.

FOTH: Looking back was becoming a jockey easier or harder than you thought and why?

DH: I never considered how easy or hard it would be. Didn't cross my mind. I think your state of mind determines the difficulty of a challenge more than the circumstances do?!
FOTH: Tell me what you remember about you 1st race?

DH: Nothing. lol! Really though I remember the trainer asking me something about the race and thinking, 'hmmmm?' Then it all started coming back about 10 minutes later. Soon everything slows down. In skydiving we call it 'sensory overload'. I do remember in one of my early races, while going up the backside eating dirt clots, wondering, 'why am I blinking?'... (that's what goggles are for, eh?)
FOTH: Tell me about your 1st win? Did you win by a lot?

DH: Bob's Estralla. Yeah, I got run off with.
FOTH: What was it like jogging the horse back to the winner's circle for the 1st time?

DH: I think if it were the Derby I couldn't have been happier. Very surreal. All those years of dreaming about something and that time was NOW.
FOTH: How bad did the jockeys get you after the race?

DH: Just a little ice water to cool me down. I mean, what else could they do? ;) if ya know what I mean. Maybe they were afraid mine were bigger. LOL! (better leave that part out!)
FOTH: How long have you been riding and what tracks have you rode at so far in your career?

DH: got my bug in '87. Started in Yaki Vegas (Yakima) Rode in Portland that winter and Longacres the following summer. Leading bug at all three meets, however, there were only a few of us. Longacres closed in '92, Êook a 12 year hiatus. Galloped @ Santa Anita/Del Mar for Lukas, Mareno, Cise, Cross...etc. Got to exercise/work Serena's Song, Tabasco Cat, Timber Country, Thunder Gulch.ÊQuit drinking like a lush in '04 and made a comeback. Also rode at Hastings a little.
FOTH: How much longer would you like to ride for and is there any tracks you would like to ride at one day that you haven't yet?

DH: Where ever The Horse takes me. I'm there.
FOTH: What are your thoughts on the jockey show on Animal Planet?

DH: Pleading the 5th.
FOTH: I know you are riding out at Portland Meadows. For those who have never been there, tell me a little about the track and the area.

DH: It's about 2 1/2 hours south of my home so we commuted each week. I got an apartment with my cousin Lisa Baze and my agent Jeff Brown. It's a winter meet, although the weather wasn't so bad. Portland is a nice city. Mt. Hood is beautiful and we could see it from the track. We had a 'jockey challenge' this winter with 4 Cali. riders vs. 4 PM riders, Russell was one of them. TVG came and Gary (Stevens) was there. That was a fun day. The people @ Portland Meadows work their asses off and the purses are smaller than average, so your around the hard core working class with more grit than the average bear. I like that.
FOTH: Do you think you have been treated pretty fairly as a jockey in your career?

DH: yep, I think so! I heard things like, 'you have to work twice as hard for half as much'...So? Oh Well!!!! What doesn't kill ya makes ya stronger, eh?!
FOTH: If some young girl came up to you and said she wanted to be a jockey what would you tell her?

DH: "The only one that can stop you, is you." That would be my instinctive answer. Their weight/size would probably determine how I answer. However, my family doctor told me to pick something else when I told him I was going to be a jockey. tho.. He Asked! He said I could not because of my body type. I was a teenager and yeah, my dad's linebacker butt I inherited makes it tough. I think the most important thing is to finish school and have a back up plan.
FOTH: What are some things you like to do when your away from the track?

DH: Wakeboard, fix things, spend time with the family, listen to music.
FOTH: Take me through what you do in a typical day?

DH: Nah. I like to mix it up.
FOTH: What injuries have you had over the years and what was the worst one?

DH: When my collar bone came out my neck and my ribs punctured my lung, that was pretty bad. The one that I learned the most from and affected my career the most was when I completely tore my ACL and PCL and fracture my tibia about a month before the '07 meet was to begin at Emerald Downs. It messed me up for two years because I'm a dummy. Ê(I had a really nice stake horse to ride that year, Starbird Road.) Once the fracture healed I got a brace and rode that summer. Lesson: There is a time to be tough and a time to use your brain. I got a couple newÊligamentsÊright after the '07 meet and rehabbed all winter. Pushed it (too hard) to make the '08 season. "Do Not Try This At Home!" ;) Really though, thinking back, I feel bad. If it happened again I would stop and get it fixed. I was trying to be tough, but in all honesty I think I might have been self-centered. I wasn't doing any body any favors being out there. To my friends who stood up for me through thick and thin, 'thank you' and 'I apologize.' I don't think it's possible to feel the magic when blocking out pain (I lived with ice 24/7). BUT!!!... I got my mojo back and promise to do everything in my power to make it right! I finally started feeling like myself again last fall and had a good winter meet.
FOTH: If you cold do it all over again, what are some things you might do differently?

DH: Learn how to cope with life without self medicating (seeking the comfortably numb state).
FOTH: How do you prepare for a race? Do you read the form and plan out what you would like to do or do you listen to what the trainer says?

DH: I peek at the form to see who/where the probable competition is, where's the speed, how my horse ran when he/she ran best. Most importantly I follow my instructions to the best of my ability. That is my job. Besides, if the trainer screws up, more than likely get another shot.
FOTH: If you had the power what are a couple things, if any, would you change about the sport?

DH: Start running them when they are 3. Perhaps it would be nice if more people participated in finding the ones that don't want to run, or are done running, a new home/job. Pour some $$ out for the horses, so they have a place to learn a new job. Or a place to hang out until they meet their new human. So many of them pour their hearts out for us. It is the least we could do. I attached some pics of our adopted ex-race horses. Martini (Free Cocktails), we won 9 races and I was also his exercise rider for his career. Owning horses will probably keep me in the poor house, monetarily speaking. However, my heart is richer than all the money in the world by having horses in my life.
FOTH: Debbie, I am out of questions, thumbs up for the interview and any last words the floor is yours.

DH: Happy Trails and may THE HORSE be with you!