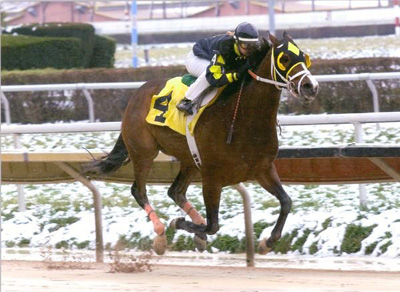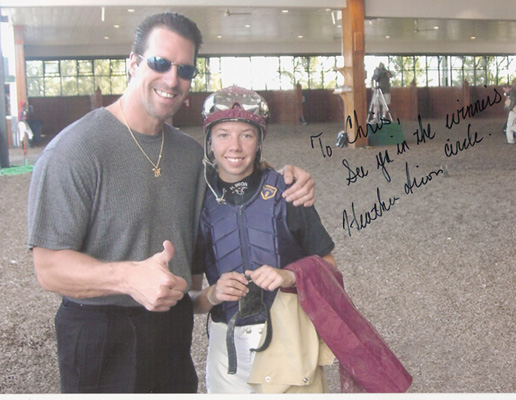 Heather Irion
Heather Irion is a girl I got to know a few years back when she was riding at Phila Park and she had a bad accident there and went back home to IL. I have remained in contact with her and I thought even though she isn't riding now (she is a trainer) I thought it was time to do an update interview with her and this interview is dedicated to both of Heather's parents who were killed in an accident not that long ago. Heather your parents should be proud of you as your one of the best people I have ever spoken to or known and it was MY pleasure doing this interview with you:

FOTH: Heather we are not going to go through all the stuff we did in the 1st interview (it will be available soon when I take it from the old site). I know when I interviewed you it was around the time you got hurt at Phila Park. Tell me a little bit about that injury.

HI: When I was at Phila Park I fractured my orbit and when I did that a nerve
got stuck in the fracture and it did some nerve damage and for about 60 days
the whole right side of my face was completely numb, like I had Novocain in it
and my mouth, gums, teeth, everything. I double vision for about 6 months to
some degree. Everything is OK now and everything was healed up and everything
is back to normal, but it took a long time healing.
FOTH: Now when you had that accident was there any thought in your mind about
not riding again?

HI: Immediately when it happened I couldn't see anything at all and I really
had a nasty concussion and I really wasn't in a right state of mind. It did
scare me at that point ya know. I literally could not see a thing for 3 days
until I had surgery. It was really scary and made me have 2nd thoughts because
when something hits you that is that potentially serious that would really
effect your life you can't help but think twice about things.
FOTH: I know you weren't at Phila Park a long time, but looking back what are
some of your memories of riding there?

HI: My memories? One would be that I met Bacarra Rice (another female
rider-cf) and we were pretty much little trouble makers there. That was something the
definitely stands out in my mind, we became very good friends and we still
are very good friends and keep in touch. That was one of the best things about
Philadelphia Park. I remember going to Randy Allen's barn very first every
morning and getting on a couple of horses and I loved him and he was extremely
helpful. Another thing that really stands out was a horse name
"Millennium Million" that trainer Bill Hedus had, but unfortunately
I got hurt the day before he was supposed to make his debut. I loved the
horses, but the thing I loved the most was that I met a lot of great people
while I was there.
FOTH: Including me. (laughter from me)

HI: Definitely (laughter from her)
FOTH: I know this is a tough question, but for those who don't know what led
to you to stop riding at such a young age and becoming a trainer?

HI: I was riding one day and after training hours I got a call and my parents
were in an accident and they were both killed. I have 2 younger brothers and
one still had 2 years of high school left so I talked to the owners and they
told me if I was willing to train the horses they were willing to leave them
with me and at the time it was just more stable, so I had to do it to take care
of my brothers. I don't regret it and it has been a lot of hard work, but it
rewarding.
FOTH: I know on your MySpace page it says that you miss riding a lot. Do you
miss it a lot?

HI: Yeah I do. I definitely miss riding and being in the jock's room and
hanging out. The rush, the adrenaline rush, you just can't beat it. I miss the one
on one bonding you have with a lot of horses. It is a change of pace and I
love training, but I do miss riding.
FOTH: I know your young, your 23, if given the chance, would you jump at the
chance to ride again?

HI: Yeah I would and to be honest, I've got wild ideas about I have this
gelding that I own and train and I have won 4 races on him as a jockey. I have had
a lot of people come up and ask me if I would ride and train some of my own.
I definitely wouldn't do that, maybe if it was a one time publicity thing, I
would ride my own gelding, but I think that is too much work, too much stress
on one person. If things didn't work out with training I definitely would go
back to riding.
FOTH: Do you give the jockeys you ride many instructions before the race or
do toy pretty much let them do their thing?

HI: I don't give them instructions as to necessarily what to do in the race.
I am really big on letting them know the horses quirks. A lot of horses have a
lot of little bitty things about them that you can either let the rider know
and they know it when they go out there or they have to learn for themselves.
Sometimes they have to learn for themselves and that could cost you a race and
it isn't the riders fault, it isn't anybody's race, it is just getting to
know the horse. If it is a quirky horse I will definitely tell them all the
little things you know the little things he likes and doesn't like. Other than if
there is a radical change in strategy on the horse's form and the rider has
never rode the horse that would be the only time I would give instructions, but I
understand you got to fly by the seats of your pants a lot of times so I try
and leave it up to them.
FOTH: Now what tracks did you ride at?

HI: I rode at all the tracks in Illinois (Fairmont Park, Arlington,
Hawthorne). I rode at Sportman's Park when it was still open, Indiana Downs, Hoosier
Park, Ellis Park, Keeneland, Oaklawn, Phila Park, and The Meadowlands.
FOTH: Did you have a favorite track that you rode at?

HI: I am going to have to say Arlington. Keeneland was beautiful and to be in
a race with Johnny Velazquez and Jose Santos was definitely was a great
experience. To be perfectly honest I don't think there is a more beautiful track
than Arlington Park. I don't even think Keeneland can beat it. I have been to
and seen Saratoga, but Arlington still has to be my favorite.
FOTH: Have you had to tell your husband or any other jockeys what did they
did wrong after a race cause you told me earlier that you can tell when a jockey
gives a horse a bad ride?

HI: Well they know what they did wrong. They know if they made a mistake and
they admit it. The only thing that bothers me is if the rider didn't give a
100%. Horses can have bad days and the rider may think it is in the horse's best
interest not to push him and that is fine, but tell me after the race. Your
not going to hurt my feelings if you tell me something about a horse. I welcome
it. Help me, let me know what I can do to make your job easier as a jockey.
What angers me is maybe when a rider does something really stupid and won't
admit to making a mistake because their egos are too big. I had one race where my
husband misjudged the finish line and I wasn't even angry, it was so funny
that we all had a really good laugh over it. He is still alive and breathing
after it. I can definitely handle it when a rider gives a bad ride.
FOTH: When you were riding, what are some highlights that you had?

HI: A couple horses that I got a chance to get up on, Robin Zee was a really
nice horse that I rode. I think my highlights would be maybe individual horses
that maybe weren't the fastest horses in the world, but I seemed to get more
run out of them than most. I rode a mare named "Sugartoniteinmytea" that I
won 6 races on that was a 5 year old maiden when I started riding her and she
retired without another win from another jockey. She ran a lot of races for other
jockeys, but she never managed to get another win. Little things that a lot
of people probably wouldn't notice
are the things that make me smile the most at the end of the day when I think
back.
FOTH: How was it winning your 1st race as a trainer? How different was that
from winning your 1st race as a jockey and was your husband on your horse that
you got your 1st training win with?

HI: Yes he was. On my 1st night as a trainer I started 2 horses, the horses
were actually half sisters and it was exactly one week after the accident so I
had a lot of family there and a lot of owners came out and the 1st filly ran
2nd and the later on in the night the other one won. I have to say it was just
a relief, something went right. There were a lot of hugs and a lot of tears. I
was sick to my stomach before the races started so to have that go well took
a lot of pressure off me. It was bittersweet and it wasn't how I wanted to win
my 1st race, I wish my family could be there to see it, but I am sure they
were watching.
FOTH: Do you feel you were a good apprentice rider when you were riding?

HI: I think so. I did well wherever I went. I think one of the things that
helped me the most was that I rode the crazy horses, coming from a smaller track
I had broke babies when I was still in high school and I was 14 when I was
breaking colts. My parents didn't cut me any slack they threw me right up on those
crazy horses and my dad was probably and if anybody knows him and has ever seen
him on a horse was one of the best and I learned so much from him about little
ways to get crazy horses to cooperate and I think that helped me when I went
to a lot of the tracks because I could go in a trainer's barn and say "give me
your worst one and I'll get it around there." I was 92 or 94 pounds at
Philadelphia and it didn't bother me in the least to get thrown up on the crazy ones
and that will get your business started and if you can get them to run you'll
get a reputation of having a big heart and more horses will come your way.
FOTH: If a young girl or guy came up to you and said they wanted to become a
jockey what advice would you give him/her?

HI: I would tell them to start from the ground up. I think too many people
try and jump into being a jockey that don't know the basics of a horse and if
they learned just basic horse care that would go a long way toward teaching them
and helping them in their riding career. You will need to work very hard and
be very humble. Even if you think somebody is a horrible jockey, you can stand
to learn something from them. The fact is they have rode more races than you
and they have been in situations that you have not encountered yet. Be open to
everybody's advice and try and learn and take what you can from everybody and
then apply it to your own situation and then come up with your own standards
or your way of doing things. Don't ever shut anybody's advice out
FOTH: What about if they wanted to become a trainer?

HI: I am really young for a trainer. I'm 23. I grew up around this my whole
life and I was galloping when I was 11. Be an apprentice for somebody very good
and pay attention to details and understand that it is a tremendous
responsibility and unless your willing to work 7 days a week and have a lot of pressure
built on you and not take any vacations don't take this up as a career. If
you think you can handle it then it is worth it.
FOTH: Do you think another female will win another triple crown race?

HI: Oh definitely. There are too many good girl riders out there already and
there will be many more to come.
FOTH: Do you plan on staying in the horse racing business for a long time. I
mean can you imagine yourself training horses at say 33 years old and 43 years
old?

HI: Yeah I don't see why not. I don't know what else I would do if I didn't.
Other that riding or training I don't know what else I would do. There is no
way in my mind I could ever leave the racetrack.
FOTH: Take us through what you do as a trainer for a day.

HI: For me I don't like to get up in the morning so that is a big struggle. Th
e track opens for training at 6:30 am, so I get up and let out my dogs, go to
the track and I already have it my head what the horses are gonna do. I check
the horses over and if something came up then the routine might get changed,
I'll double check with agents as to what riders are coming over to work what
horses. I usually set up the horses that I'll get on 1st, it is easier to get
that done the 1st thing in the morning. I'll meet with the vet to see if there
is any work that needs to be done that gets taken care of early. Late in the
morning the babies will go out onto the track. After we are done I'll talk to
jockey agents about our horses and get in touch with owners to let them know
everything they need to know about their horses, how they are doing and any
upcoming races or workouts if they are coming into town to see them. We feed the
horses and clean up everything and I go home for a few hours and I come back in
the afternoon and I feed again, do laundry, school horses in the paddock,
just check everything, make sure everything is going good and go home and
probably talk to some more owners and then go eat and take a shower and then go to
sleep and then start all over again. I work 7 days a week and I am out at the
track at least 2x a day. It is a lot of work.
FOTH: In the little bit of spare time that you have, what do you like to do?

HI: I am working so much I don't have a lot of energy especially since I am
still adjusting to being a trainer it is hard to figure out to fit everything
in. I have my dogs at home. Sometimes me and my husband will go out to eat or
go see a movie. We definitely aren't the go out and party type. We are just a
pretty much old stay at home couple.
FOTH: What tracks do you currently train at besides Fairmount Park?

HI: I am also running horses at Arlington Park, Hawthorne Park, I ran a mare
down at Ellis, and I probably will be going to Indiana to run some horses at
Hoosier Park this fall.
FOTH: Looking back was becoming a jockey easier or harder than you thought it
would be?

HI: It wasn't hard because I had my family to help me. The riding part was
not hard for me and I had a blast going to the track in the morning and if I
didn't get up on 8 horses in the morning and ride the card I was upset. I was
always going around looking for more horses to get up on. For me it was great. It
helps having family in the business.
FOTH: Now as becoming a trainer harder or easier than you thought it was
cause you have to take and pass a test? Did you study a lot for that or did you
breeze right through it?

HI: I took a trainer's test when I had one of my long layoffs and I got my
assistant trainer's license to help my mom out. I just walked in the steward's
office and explained the situation to them and took the trainer's test. It is
just common horse things. If you spent anytime around horses or around the
racetrack your not going to have any problems with it. I think I got a 97 or 98
percent on the test. I thought it was very easy and the barn test was once again
just standard, putting a bridle together, tacking a horse, putting bandages,
very simple stuff. If you don't know it I don't think you should be a jockey, for
your own safety you should know a lot of that stuff.
FOTH: For those who have never been there, describe what Fairmount Park is
like?

HI: Fairmount is a little track across the river from St. Louis, MO and it a
cute little track and very friendly, family atmosphere. I think it is a great
little track and it is struggling right now, but I hope they can get things
worked out and that there will be a better park in the future because it is home
for a lot of people that count on it.
FOTH: Heather thanks for a wonderful 2nd interview and I hope we can stay in
touch and good luck with everything and do you have any last words to wrap
this up?

HI: Just thank you for the website and it looks great and your really
building a fan base for your website and I really appreciate being on it. I hope I
get to see you sometime.


Back to Interviews page