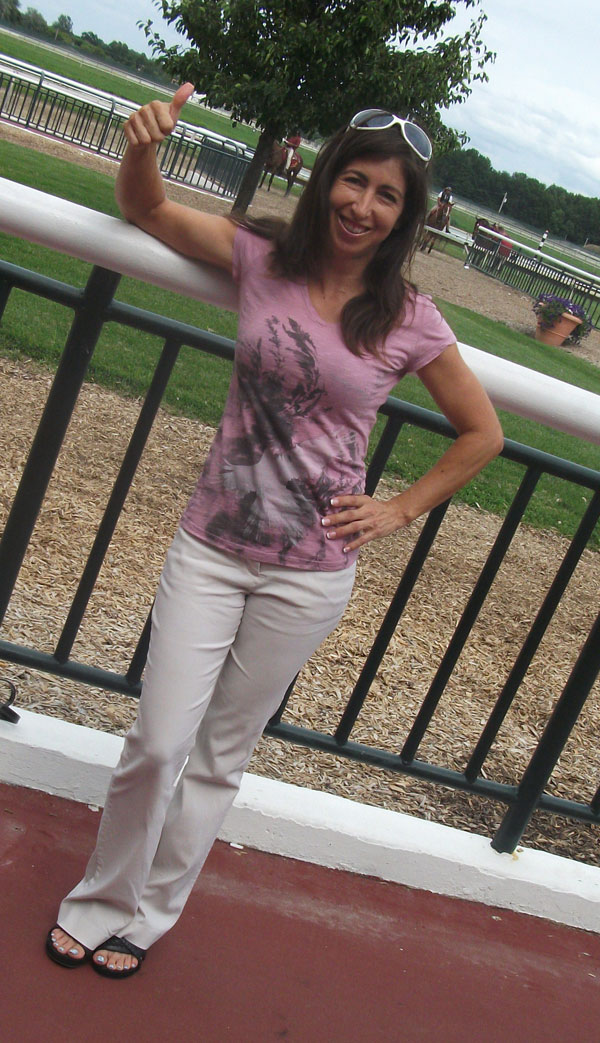 Jacqueline Acksel
Jacqueline Acksel is a retired jockey that rode in the early 90s, but recently started galloping some horses at Parx Racing for Trainer Joe Orseno. Soon after this interview took place she decided to get back into racing and is now unretired, but for now here is her story:
FOTH: Where were you born and where did you grow up?
JA: I was born in Brazil and I grew up half in Brazil and the other half in Long Island NY.
FOTH: When did you end up moving to Long Island?
JA: When I was 10.
FOTH: Did you come from a big family and did you have any kind of love for any sports when you were a young girl?
JA: Horses always.
FOTH: So how did you discover horse racing? Was that in Brazil or when you came to NY?
JA: That was in Brazil. My mom had a farm and we owned a farm with horses and I grew up riding.
FOTH: What was the first time you saw an actual live horse race?
JA: I was 12 and I was at Belmont. I knew right there I was gonna be a jockey. I loved jumpers and trail riding at the time too. Mike Demelio had a farm near my house and I started galloping horses for him when I was 13. When I was 15 I started going to Palm Meadows Race Track, a bush track, and I rode some races there.
FOTH: So when you got up on a race horse for the first time did it feel natural?
JA: Yeah it did.
FOTH: So how long did you end up exercising horses before you became a jockey?
JA: It was about 5 years as I started galloping when I was 13 and I rode my first race for Richard Rood when I was 18.
FOTH: Did you have anybody teach how to ride and show you the tricks of the trade so to speak?
JA: Codero up in NY and Mary Russ down in FL.
FOTH: Were you a pretty fast learner?
JA: Yeah cause my mom exercised horses on the track.
FOTH: When you were learning how to ride, if you can remember, what was the best advice anybody ever gave you?
JA: Just relax and feel your horse. Every horse is an individual and you want to ride every horse the way it suits that horse.
FOTH: Tell me what you remember about your first race. Were you nervous in the jock's room at all and do you remember where you finished?
JA: My first race was at Calder Race Course and I think I finished 6th. I was very nervous. In my 2nd race I got beat a nose.
FOTH: Tell me what you remember about your 1st win. Was it on a long shot and did win by a lot or in a photo?
JA: I don't remember. (we both laugh). My first win was at Penn National.
FOTH: Did you know you won when you crossed the finish line.
JA: That was a long time ago. (laughs) You think you would remember, but I remember it was a gray horse and I don't know how much I won by.
FOTH: Did the jockeys get you good after the race and did you know that was coming?
JA: I remember that. I didn't know it was coming, but they got me really good.
FOTH: Did you ever get to return the favor one day?
JA: I tried.
FOTH: How long did you ride for and what tracks did you ride at and did you have a favorite?
JA: I loved Penn National. That is where I rode most of my races. In New Jersey I rode at Monmouth Park and Garden State Park. In Maryland I rode at Laurel and I liked galloping at Bowie a lot.
FOTH: Looking back now, was becoming a jockey easier or harder than you thought it was going to be?
JA: To me it just came naturally. I loved horses and I loved the sport. It was fun and exciting and I enjoyed my time riding.
FOTH: If some young girl came up to you and wanted to become a jockey, what advice would you give her?
JA: Go to college first and get your degree so you have your life set and then go about riding races. If it is my daughters they aren't doing it.
FOTH: Neither are mine. (we both laugh). What led to you retiring and at the time did you know your last race was going to be your last race?
JA: I was 2nd or 3rd leading riding for 2 years and I needed just 5 more wins to have the most wins by a girl at Penn National and I wanted to be leading rider, but I was always 2nd or 3rd and I went down in an accident and got trampled pretty bad so I didn't finish out that year and the following year when I came my first mount was on the horse that ran me over and my 2nd mount was at Phila Park (now Parx Racing) and I won a stakes race there. At that point I decided I wasn't gonna try for leading rider and I thought I did the best I could and I really enjoyed training the horses that I rode so I ended up becoming a trainer for a few years. Then I got pregnant with twin girls and that was pretty much it as far as being a jockey.
FOTH: What would you say is the biggest difference between being a jockey and a trainer?
JA: Well being a jockey is more exciting, more time consuming. You pretty much don't have time for anything other than riding. You are always preparing for the races and it is hard to have a family and being a girl makes it really challenging. As a trainer it is very rewarding, you're figuring the horse out and getting the horse ready to race. I love 2 year olds because you get them from ground up until they are ready to race and it was great that I got to do both. It is just two different things.
FOTH: As an ex-jockey, can you tell when a jockey has given a horse a bad ride?
JA: Of course cause I was a jockey. When I was riding races, my mom was raising horses and I knew how much money she had invested in these horses so I always gave a 100% or I wasn't going to ride races. Even I knew I was gonna finish 5th instead of 6th I knew that little bit of money helped. A lot of these riders I thought it was more of a job for them then a love for the sport and if they weren't gonna making money being first, they weren't trying hard. I have heard this in the jock's room and I hear em talking all the time about "oh this horse doesn't have a shot" and that always kinda upset me.
FOTH: When you were riding did you prefer the grass or the dirt or it didn't matter to you?
JA: I liked both, but I had some great turf horses and when you have a really nice turf horse that is just a great feeling to have a horse with that much ability on the turf.
FOTH: Now did you miss riding much when you retired and do you miss riding at all today? Would you ever ride in a female jockey retirement race if asked?
JA: Never thought about it, but I have had a lot of people come and ask me to come ride back and I haven't wanted to due to my twin girls, I wouldn't have a lot of time to spend with them. As far as a retired female jockey race I would probably do that if asked.
FOTH: What are you doing with yourself these days?
JA: I am currently over at Parx Racing galloping horses for trainer Joe Orseno.
FOTH: Do you think another horse can ever win the Triple Crown?
JA: I have a lot of issues with the Triple Crown because I don't think you should be racing 2 year olds. That is a tough thing to do. I think the breeding has changed and it is gonna be tough for a horse to win the Triple Crown.
FOTH: What was the best and worth thing about being a jockey?
JA: The best was the love I had for the sport and I think the horses just love to run. I loved being able to ride different horses and it was just so exciting and fun and a sense of an accomplishment as being a female jockey was not easy. The worst thing was having a horse you really liked break down or go down and having to put them to sleep. I know as a jockey, even while getting hurt, you kinda work through the pain as you want to be out there riding as it is fun.
FOTH: I am out of questions any last words.
JA: Thanks for the interview and good luck with the website.

Back to our main page