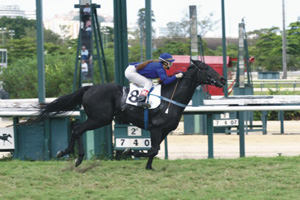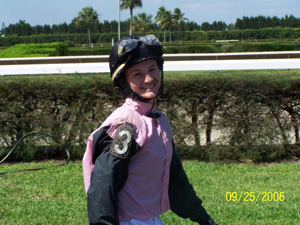 Jennifer David
I discovered ex-jockey Jennifer David on MY Space and even though she only rode less than 20 races her story is a very incredible and a tragic one at the same time and she was kind enough to answer my questions that I emailed to her. This is one of the most touching interviews I have done for this site.
FOTH: Where were you born and where did you grow up?

JD: I was born in Little Rock Arkansas on June 11, 1981. I grew up in Perryville and Hot Springs AR

FOTH: What sort of girl were you growing up?

JD: I was a loner. I stuck to myself most of the time. We had a lot of animals so I always wanted to be around them instead of people.

FOTH: At a young age, did you know you wanted to be a jockey?

JD: I had always loved being around horses. I got to see my first racehorse at 12 on a farm my mom worked at. I thought that was the coolest thing, getting paid to ride horses. My mom quickly said "No Way". My father took me to my first horse race when I was 14. I knew then I wanted to be a jockey.

FOTH: What event or events led to you becoming a jockey?

JD: Right after I finished high school I became a photographer and worked my way into my own studio. After almost 2 years of doing that I was bored and wanted something more fulfilling so I started walking hots at Oaklawn Park the winter of 2001. I worked my way upward to groom, I knew I wanted to ride so the fall of 2002 I left for SC. I started breaking babies there and I became an exercise rider. I did that until 2006 when I rode my first race.

FOTH: Tell me what you remember about your 1st race.

JD: I remember the trainer told me to send my horse to the lead and she would take care of the rest. We broke and I sent her. We got in a dual with another horse so I eased her and let her set a head behind the leader and she faded at the 3/8 pole. Everyone knows you don't get a whip on the first ride so I just rode as hard as I could and we finished 7/8.

FOTH: How long did you actually ride for before you were forced to retire?

JD: I got to ride between 15 and 20 races.

FOTH: What do you remember about the day of your unfortunate accident?

JD: Believe it or not, I remember everything. I was taking a maiden to the gate that morning. I had been schooling him from the gate for a while and he always did good. When they loaded us they placed another maiden on our inside. She was reluctant and we stood for a very long time. My boy was cool tho. He just stood there. At Oaklawn you cannot backtrack in front of the gate if the latches are closed. So a lot of horses had accumulated on the outside rail. They were all getting ansy waiting for us to break. When the doors opened we came out clean and I tapped my horses shoulder to send him on. When I did the crack of the whip spooked a horse on the outside rail and the horse jumped and reared toward my horse and spooked him. He pitched hard and got me out of the left iron. I am riding his right side try to find my iron and trying to pull him off the horse on our inside. He kinda hit the brakes and ducked in at the same time and it just spun me around. At this point we are in a full sprint and doing every bit of 30mph. So my weight was shifted to one side, and any rider knows the point of no recovery so I had to push myself away from him as I was falling to keep from being trampled. So as I was falling I asked God to catch me and let me survive it. I hit the ground on the back of my head and with the momentum, my body flipped over. It paralyzed me on contact. I never lost consciousness tho, so when my body flipped over I knew I was close to the inside rail just coming out of the 3/4 turn. I could hear the horses behind me thundering along so I tried to roll under the rail but I realized I could not move. So I laid there paralyzed until the EMT's got to me. I could see them touching me and asking if I could feel anything and I kept saying no. So they stabilized me and got me on a board and took me to the hospital.

FOTH: Did you in your mind ever fear that you would never walk again?

JD: The EMT's where skeptical and told me there was about a 90% chance that I would retain paralysis, so yes I was concerned greatly.

FOTH: What did you think when Oaklawn Park gave you "Honoree Of The Year"?

JD: Not only did they give me Honoree Of The Year, they named a race in my honor and called the Comeback Classic because I overcame my paralysis and recovered quickly. I was deeply moved by the gesture. They thru a big party for me and my family the day they ran my race. March 25, 2007.

FOTH: Do you still miss riding much?

JD: Tremendously, riding was my whole life. It was my escape from the rest of the world. It was my freedom and security. I will always miss my racehorses, but thankfully God did not take the whole ability. I can still ride ponies.

FOTH: If a young girl came up to you and said she wanted to become a jockey, what advice would you give her?

JD: I would say to her, "Don't ever let anyone tell you, you can't. Follow your heart and chase your dreams!"

FOTH: Was becoming a jockey harder or easier than you thought it would be?

JD: It was hard for me because I don't have any family involved with racehorses, other than my Mom walks hots during track season here. It was hard to find support to raceride but I never had any problems getting exercise mounts.

FOTH: What tracks did you ride at and did you have a favorite?

JD: As far as race riding I only got to ride at Calder. I came home to Arkansas to ride here.
All together I rode at Oaklawn, Churchill, Keeneland, Delaware, Monmouth, Calder and Gulfstream. Keeneland is my all time favorite. It is so beautiful!

FOTH: Are you still involved in racing at all and do you still ever go to the track?

JD: It has been hard for me to watch races or even go to the track and see the horses. It broke my heart and shattered my dreams right along with my neck, lol. I am getting better at watching races and I am sure I will go back to the track and visit and watch training when the meet comes back. I still watch all the big races leading to BC. I'm hoping to handicap a little that day.

FOTH: Are you completely healed from your injury, but just can't race ride?

JD: No, unfortunately it will take a long time to recover fully. The section of my neck I broke is now completely replaced with titanium. The worst tho is my hands, when the accident happened the bone cut into my spinal cord causing nerve damage to my hands. All the muscles in my hands and forearms went into overdrive and locked up. I am working on being able to open my fingers and hands properly again. So not only could I not hold the horse if I fell, my now fragile body would not with stand the impact. It would kill me on contact.

FOTH: Do you think another female jockey will win a triple crown race?

JD: Yes of course I do! Women are driven and stronger than most give credit for. My dream was to be the first female to win the Kentucky Derby.
FOTH: While you were riding did you think you were a good jockey and were you a fast learner?

JD: I thought I did a pretty good job with what I had. I am a fast learner. My mounts were pretty sparatic but I gained something out of every race. I never had a horse that went off under 25-1. The 7th, and only turf race I rode, We broke and ended up in 2nd to last place and managed to finish fourth after goin g off at 65-1. That was my best ride!
FOTH: During the time you rode do you think you were treated fairly as a rider?

JD: Most of the time but there are always those who do not believe in female riders.
FOTH: How log did your therapy things go and what sort of therapy did you go through and were people at the track very supportive and stuff?

JD: Well I still continue to go to a hand specialist and probably will for a while. I also went thru some physical therapy on my upper extremities. In the beginning people were supportive. A couple of jocks I've known for a while came to see me. After a week or so it was kinda like "out of site out of mind."
FOTH: What are some of your future plans and what memories do you have of riding?

JD: I am set to start college at UCA in January. I am going to become an occupational therapist specializing in hands. I want to help others overcome the things I am still recovering from. I have lots of great memories of riding. My favorite is the turf race I spoke of earlier, and being at Keeneland in the morning fog. I loved teaching babies how to become athletes too.
FOTH: When you were first at the hospital were the doctors optimistic that you would be able to walk again?

JD: When I first got to the hospital no one was sure I was going to live more or less walk. They got me into a CT scan as quick as they could. When they read the results they were stunned that I was still alive. They told me if I had fallen a mm left or right I would have died on impact. They were even more stunned when they found out I was awake for all of it. They couldn't really say much about it but was fairly optimistic I think just to keep my sanity lol.
FOTH: What exactly happened to you with this horrible accident?

JD: Well whenever I hit the ground I landed on the back of my head right were my skull and neck connect, so my chin went to my chest and fractured the C6. When my body flipped over from the momentum, it just shattered the bones. So it cut into my spinal cord and caused instant paralysis. My wonderful surgeon removed all the bone and pieces from my neck and s.c. and replaced the area with a titanium cage to kind of fuse it back together. He took all the bone fragments and marrow and ground all up and put it back inside the cage to infuse a new bone. Neat huh!
FOTH: Do you remember anything about the accident itself? How long were you in the hospital?

JD: I believe you know the answer to the first question lol. I went into the hospital100% paralyzed on January 19, 2007 and I walked out of it on February 2, 2007. 2 weeks to the day!

FOTH: Any last words. Thanks for doing this interview. Your story in an incredible one and best of luck with everything you do.

JD: I believe that everything happens for a reason and one door closes another one opens. I can only have faith that God has bigger plans for me and I know that there is a reason I survived something I shouldn't have. I think I was supposed to be awake so that I would have an inspirational story to tell and prove that miracles do happen!