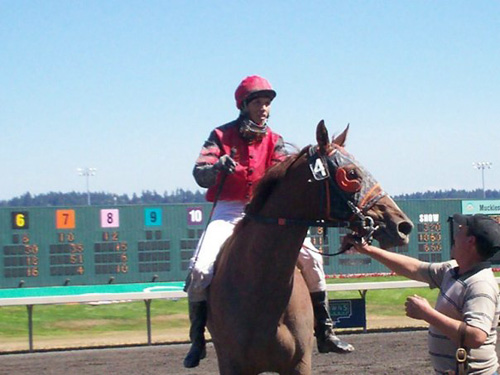 Jessica Gilbert
Jessica Gilbert is a young jockey that rides at Emerald Downs and Portland Meadows and I emailed her an interview to fill out and here is what she said to my questions:
FOTH: Where were you born and where did you grow up?
JG: I was born and raised in Salem, Or.
FOTH: Do you come from a big family and are your parents supportive of you being a jockey?
JG: My Dad passed away when I was only 5, so it was mostly my Mom, sister, and I.
FOTH: What sort of girl were you growing up?
JG: I was and still am a tom-boy, it was absolute torture to have to wear a dress to my own wedding!
FOTH: What are your memories of the 1st time you saw a live horse race?
JG: I don't exactly remember the first race I saw, but we would go to the Oregon State Fair 4 or 5 times each year and watch the races there. I thought being a jockey looked like the best job in the world (and it is).
FOTH: What event or events led to you becoming a jockey?
JG: I needed a job and a friend that I ran barrels with said she knew a racehorse trainer that had a farm close by that she had worked for in the past. We went over to the farm a couple days later and I started working there the next day as a groom. I did some galloping too, and I broke most of the babies that winter. When the next season started at the track I took over the "Barn Manager" position and worked there instead of the farm. After that season I went on my own and started freelancing, and went to Emerald Downs for the summers. There I decided I wanted to ride races.
FOTH: How long did you gallop/exersise horses before you took out your jockey license?
JG: I started at the farm in November 2001, and I rode my first race in July 2005
FOTH: Do the Board of Stewards at a particular track are they the ones who OK your jockey license or is it be another means?
JG: In Washington State, I had to meet with the stewards to discuss wanting to ride, then I had to have the OK from an Outrider, the Starter, and two journeyman jockeys.
FOTH: Looking back, was becoming a jockey harder or easier than you thought?
JG: I feel it's pretty easy to get your license to be a jockey, but it's a lot harder to ride races than it is to ride in the morning. Everything happens so much faster during a race and you have to be so aware of where everyone else is, it's a totally different experience. No amount of morning work can really prepare you for the races.
FOTH: Tell me what you remember about your 1st race? Where was it and where did you finish and were you nervous before the race?
JG: I wanted to puke heading out to the paddock. I was so nervous. My first race was on a horse named Sanzibar for Bill Smith going 1 1/16th miles at Emerald Downs. It was in the evening and it had poured rain all day. He broke well and we had the lead around the first turn and most of the way down the backside. At about the 3/8ths pole two horses passed us and I thought that was it, we were going to lose. Then at the 1/4 pole I asked Sanzibar to run and he took off like a rocket, we had about 8 lengths to make up and he did it! We ended up winning by about 1 1/2 lengths. It was so amazing!
FOTH: Tell me about your 1st win. Did you win by a lot or was it in a photo? Was the horse you were riding a longshot or one of the favorites and what track was it at?
JG: The first win was my first mount, Sanzibar, but the second was more impressive to me. I took a few months off from riding races and just galloped at Portland Meadows. Then at the end of January I started riding races again. I won on the first mount I rode there on a horse named Comesmilewithme. She was 0-56 and the trainer made me ride her that day without a whip.
FOTH: Did the jockeys get you good after the race and did you know it was coming and what was some of the stuff used on you?
JG: I only got a few buckets of cold water, but I had forgotten all about what I had coming with all the excitement of winning. I caught on when one of the guys pulled off my helmet as he jogged by heading back to the jock's room, but it was worth it
FOTH: What tracks have you rode at and is there any track that you have seen on TV and would maybe like to ride at one day?
JG: I have only rode at Portland Meadows and Emerald Downs. This is home for me, I am married and have a daughter. Maybe someday we will win the lottery and have horses at Santa Anita or Gulfstream...
FOTH: Tell me a little bit about the track you are riding at now? Can you tell me the name of it and is there any other female riders that ride there?
JG: Right now I'm at Portland Meadows, Marijo Terleski is the only girl here riding full time (I'm taking a break and only riding a few), but we have a new bug that just started a couple of weeks ago named Stephanie Keever (She just broke her maiden yesterday). Debbie Hoonan-Trujillo was here last year and at the beginning of the current meet, she was the leading rider last year.
FOTH: When you were learning how to ride do you learn a lot of it on your own or did you have somebody teach you?
JG: When I was learning to ride my own horse it was a lot of trial and error, but I took lessons once a week and was in the 4-H club. When I was learning to ride racehorses I was under constant scrutiny and supervision until they felt I could handle it. It is a whole different ballgame riding a racehorse then it is riding my pony horse.
FOTH: Do all the jocks where you ride at pretty much get along with each other?

JG: We're all one big dysfunctional family, we fight and make up most every race, but we're there for each other when it counts.
FOTH: Take me through what you do in a typical day?
JG: Up by 5:30, take care of animals at home, try to get to the track by 7:00 (usually 7:15 for me), gallop, pony, clean stalls, groom, feed, etc...(my husband has 4 horses in training right now), go home, do chores around the house, in bed by about 9:00 PM (I require a lot of sleep to function).
FOTH: What are some things you like to do when your not at the racetrack?
JG: I like to read, watch reality TV (I'll admit it), go to the movies, take my daughter to do fun activities.
FOTH: What are some of your favorite foods that you like to eat?
JG: Krispy Kreme doughnuts are #1! (we stop almost every morning for a doughnut and coffee) I love spaghetti, mashed potatoes, jambalaya, and most anything with a ton of sugar. I'm lucky that I can eat whatever I want and still make weight no problem.
FOTH: Do you have any short term or long terms for yourself as a jockey?
JG: Short term would be to finish the meet at Portland safely, and longer term would be to pick-up my business for next winter so I can buy myself a new car. (or win the lottery)
FOTH: Have you had any injuries so far and if so what has been the worst one?
JG: I have had to have both knees drained of fluid multiple times from getting smashed in the gate, I had a horse flip on the pavement and land on my leg at EMD the first summer I was there. I broke my left ankle when a baby I was galloping ducked out from under me at a farm I was working for. I got knocked out once when our own horse took off bucking down the road at PM and slipped and fell flat on his side taking me with him. Not too bad compared to most riders, I've been really lucky.
FOTH: Are there any other sports that you like and if so what are they and your favorite teams?
JG: GO DUCKS! I'm a fan of the U of Oregon Ducks football, but they have been really embarrassing lately...
FOTH: If a young girl came up to you and said she wanted to become a jockey what advice would you give her?
JG: First I would say to finish school, college included so she would always have a back-up plan. Then it takes a LOT of hard work and dedication. Find a farm to learn things from the ground up and it will help you to be able to listen to your horses when you ride. Also, when you do get your bug, make sure you have a good agent that can help teach you the business, and listen to your fellow riders, you can learn something from everyone.
FOTH: Do you think you have been treated pretty fairly as a jockey so far in
your career?
JG: I think you get out as much as you put in. If you're at the track everyday working hard trainers will notice and give you a shot. I tend to take things too personally and I have to admit getting mad at trainers for taking me off horses definitely hurt my business, but I'm working on it and next season will be different.
FOTH: Jessica I am out of questions thumbs up for the interview. Any last words.

JG: Thanks for the opportunity to interview me.