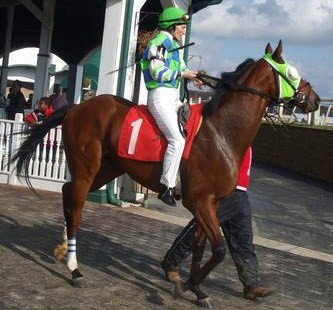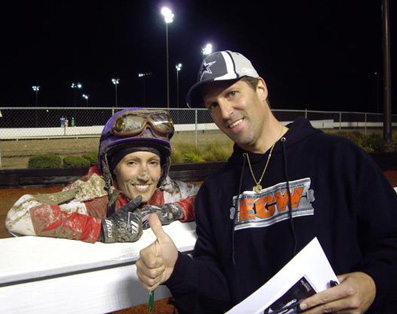 Jenna Joubert
I met jockey Jenna Joubert at the 2007 Hoosier Park Female Jockey Challenge and when she recently came to the East Coast to ride I got in touch with her for an interview. On a cold, rainy night driving back from Penn National Jenna called me and here is what was said:
FOTH: Where were you born and where did you grow up?

JJ: I was born in St. Louis Park, MN and I grew up for the most part in New Prague, MN, which is about 20 miles from Canterbury Park.
FOTH: What sort of girl were you growing up?

JJ: I was a tom boy. When I was really little I was a girly girl, and then I turned into a tomboy. I was a daddy's girl and I have older brothers so I worked on the farm with them. I didn't turn back into a girl (laughs) until I was like a senior in high school.
FOTH: When you became a jockey were your parents supportive of the decision?

JJ: 100%. They knew that it was something that I have always wanted to do. They have a little picture that is framed from kindergarten that says what do you want to be when you grow up and I wrote that I wanted to be a jockey and a cheerleader and this was when I was 5. For a while when I was in school I thought I was gonna be too big and then I started galloping horses when I was 16 to pay for school and to start paying for college and stuff. My family convinced me to stick with school, the college part of it and if I still wanted to ride after I got my education, then they said I should do that. They don't miss a race and come visit me wherever I am at.
FOTH: I know you mentioned you lived close to Canterbury Park. Did you get to go there or any other race tracks as a young girl?

JJ: Oh yeah. Originally my aunt and uncle had owned and trained racehorses when I was little and I got into it then. My Dad would take me out to the backstretch and eat in the track kitchen where I would see and meet the jockeys. I thought it was the neatest thing. The 1st racehorse I rode at the track threw me off when I was 4 and my dad made me swear never to tell my mom or she may worry too much when he and I went to the track. The funny thing is I really didn't tell her that story until a couple years ago and she just sort of laughed.
FOTH: When you got up on a horse the 1st couple times did it feel natural for you?

JJ: When I started exercising horses, yes, but I had ridden for quite a while. My parents thought barrel racing was too dangerous so I got into the hunters and jumpers and the national pony club for a while. I was in that for about 5 or 6 years.
FOTH: Did you teach yourself how to ride or did you have people help and teach you how to ride?

JJ: I guess I kinda had a lot of help along the way from different people. One rider and one trainer tried to start a jockey school there for a while before the Chris McCarron school came out and his name is Myles Neff. He helped me out a lot especially when I was first starting out, I was 17, and he would position me on a mechanical horse and show me the basic motions of it all. The time I learned the most was when I had galloping jobs with trainers through the years. Mac Robertson was one who helped me a lot in the very beginning and working so many horses for Steve Assmussen to get experience in having a good clock. Basically all I learned was from the years I spent galloping horses before I started racing.
FOTH: Tell me a little bit about your 1st race and were you nervous at all?

JJ: It was at Canterbury Park and it was in May of 2007 and the only time I was nervous was in the jock's room and in the paddock. I had galloped the horse before I rode it and I kinda knew once I was on the horse I would be all right. Once I was on the track and even when I was in the gate, those were things that I had done before. The whole experience, I was going 3/4 of a mile and it went by really fast. I was kinda in shock with all of the commotion everywhere, like riders hollering out there and some people were hollering at me cause it was my 1st race, yelling "c'mon bug girl" (we laugh). The other big rush was coming down the stretch and hearing the crowd. You don't get that at a lot of tracks, but they draw a good crowd at Canterbury and that is like the best feeling.
FOTH: When you went and got your jockey license did you have to get approval from the stewards like they do in PA?

JJ: Yeah. You go and talk to the stewards and you have to be ok'ed by the starter and they just watch your 1st 2 races and if they think you are OK they sign off on it. But basically by the time I started I had been around the track for so long and had been approved by the starter at Oaklawn Park before being approved by Canterbury Park that I didn't have to do anything difficult to get my license.
FOTH: How long did you ride at Canterbury for?

JJ: I rode the whole meet and my plan was to win just 4 there and that is what I did. I did officially start my year by winning my 5th race. It was a great experience and I did come close to winning my 5th race there and it was a head bob. Part of me wanted to win cause I wanted to win my 5th race so bad, but part of me didn't cause if I won the race I knew that I would have a year with my bug and I wasn't sure where I wanted to go.
FOTH: Did you get to visit the Mall of America (largest mall in the US) when you were riding in Minnesota?

JJ: That mall is my mall since I'm from there. I don't think there is a better mall in the US.
FOTH: I have been there and I would agree with you on that. What other tracks, if any, did you ride out in the Midwest?

JJ: I never rode races at Prairie Meadows, Fonner Park, Remington Park, Will Rogers Downs, but I worked and galloped horses there. I rode races at Indiana Downs, Beulah Park, River Downs, Hoosier Park, and Oaklawn Park.
FOTH: Tell me about your 1st win. What was the feeling like crossing the finish line knowing you won the race and did you get the inanition after the race and did you know it was coming?

JJ: I guess you don't know it is coming, but it was a 2 yr old filly and I kinda got lucky cause the day she was gonna work one morning the rider didn't show up so I happened to work her and the woman that owned the horse, her name is Holly Retzer and the horse's name was "Marina Nolan" and she worked awesome and I worked until she got her gate card. The owner wanted nobody to ride the horse but me. Her 1st race, she kinda acted like she does in the morning as she needed at least 3/4 of a mile and up there they run those short baby races, like half a mile. That was her 1st start going 4 furlongs out of like a quarter horse chute and she ran 4th her 1st time out and she was closing. Her 2nd start I was confident that this could be my 1st win. As we were turning for home we opened up on em and the strangest thing for me was like, "oh my god am I in front?" It was a different feeling because of the connections and that she felt confident in me to let me ride her horse. I ended up riding her in other stake races and I got 3rd in one of them. That owner text messages me all the time wishing I was still riding her horses. (laughs)
FOTH: In 2007 I know you participated in the Hoosier Park Female Jockey Challenge. Tell me how that experience was for you?

JJ: That was a really good experience for me. The whole concept for the challenge is really good. I don't know if Hoosier Park is necessarily the place to have it, but that it seemed like it had a good turn out and they treated all the girls great and it is just a luck of the draw as far as your mounts are for the night. I was lucky to win one that night and I had a great time and it was a bummer they didn't have it this yr (2008) and I think I was the 1st "bug" girl to ever be in it so I thought that was kinda neat. The biggest thing I took from that experience was meeting Donna Barton. I got a lot of insight about the challenges that women riders face so that was really neat to talk with her.
FOTH: (funny question # 1 of this interview) How was it having some strange guy the next night asking to get a picture with you and asking you to put your thumb up in the picture?

JJ: Yeah and I was like who the heck is this guy? (we both laugh big time). It was cool; I didn't blow you off. (laughs)
FOTH: Yeah I was kinda bummed they didn't have it this year as well. Now what made you decide to leave the Midwest and head out east?

JJ: For the opportunity! There are so many tracks close by where you can ride 7 days a week sometimes night and day if you want. You can't do that in the Midwest. Last spring I came close to doing that when I rode River Downs and Indiana Downs and I was riding Oaklawn Park last winter and I wanted to go somewhere I could ride 7 days a week, both day and night if I wanted to. An agent out east contacted me and that is where I wanted to go and out in the Midwest with the bug they only do 5 pounds across the board, they don't do 10, 7, and then 5. There is no incentive to ride somebody to who has never won a race over somebody who has rode over 40 winners and you get the same weight allowance. The East Coast they do the 10 pound, 7 pound and 5 pound weight allowance. The Midwest the bug is not all that popular too and it is tough to break in out there as well. They give you more of a shot out here (East Coast).
FOTH: (2nd funny question of the interview) How did it feel when you got to Phila Park and you saw that thumbs up guy from Hoosier Park there?

JJ: (laughs big time) I was like "Oh a familiar face". (we both laugh big time). I didn't known a single person out here and even the agent I talked to, I didn't actually meet him until I drove out here and I came out here solely cause I thought this would be the place where I would get some opportunities to ride. Really when I saw you I was like "wow". (we laugh again)
FOTH: Have you been into the casino part of the racetrack yet?

JJ: I have walked through there when I had to walk through there to do that TV interview (Let's Go Racing). I kinda just looked at it. I have been in the casino at Penn National and at Delaware Park, but not Philadelphia Park.
FOTH: After your "bug" is up do you plan on continuing to ride or wait until the end of March when it is up and kinda just see where t leads you to?

JJ: I think so. I think I will see where it leads me to. The biggest thing you need to do is go where you have business and kinda just follow it. It will probably be somewhere around here I am sure.
FOTH: Has the grind of riding 7 days a week, sometimes even day and night, got to you yet?

JJ: No it really doesn't affect me. I had a day off this past Monday and when I was driving to ride at Phila Park on Tuesday, I was so excited to ride. So I could tell having the day off really helped and I was ready to go up there and show them what I got. If I get a nap, even for a few minutes really helps me as well. I am hanging in there.
FOTH: If a young girl came up to you and said she wanted to become a jockey, what advice would you give her?

JJ: That is a tough one. I would tell her if that if she wants to do it she needs to do it. It has to be a drive, it has to be a want, something that you want pretty much more than anything. She will have to overcome a lot of hurdles and you have to have the drive and you have to want to do it.
FOTH: This might be a crazy question, but what are the things you like to do in your, I should say spare free time?

JJ: I like to take a bath and read (laughs) while I am doing that. I really don't get much free time right now and in the summertime I do a little bit of watersports.
FOTH: Is there any track you saw on TV one day that you would like to ride at one day?

JJ: Saratoga, I visited up there the last meet and I would love to ride there, that would be the ultimate. On a little bit of a lower scale, I would love to get back to Remington Park. I spent a lot of time galloping and making connections and if I ever could get back there that would be awesome. I like Oklahoma a lot and that is where I went to college. Minnesota is my home, but I feel my heart in racing is in Oklahoma.
FOTH: Is there any other sports that you like?

JJ: volleyball. That is my other passion. Horse racing and volleyball are my 2 passions. I played for 8 yeas and coached for 3. I like football, go Vikings.
FOTH: At most of the tracks do you feel you have been treated pretty fairly as a female rider?

JJ: Yeah I have always been treated fairly well. On the East Coast, in terms of fairness, I think girl's jocks rooms are horrible. In the Midwest the facilities are much better. The trainers out here, they will give girl riders a chance. Out in the Midwest you have all those old cowboys they really don't think many women can ride at all.
FOTH: Jenna I am out of questions and do you have anything else you want to say and I won't be down at Laurel Park anytime soon to get another picture with ya ha ha?

JJ: I was like what is he doing down here.
FOTH: I went down for the day with my friend Todd as he had never been to Laurel and it also wasn't too cold out yet and I had a day off on a weekend.

JJ: Anytime you want a picture let me know. Everytime you have gotten a picture with me it is always a muddy track and I am covered in mud. (we both laugh).
FOTH: I will keep that in mind, so if there anything you want to say before we end this interview?

JJ: Go female riders. I think the site is great and it is great that you do it and we need more fans out there like you to promote female riders and my dad is a fan and told me to tell you he says hi.
FOTH: Tell him I said hi as well and I am sure I will see you around.

JJ: OK bye Chris.