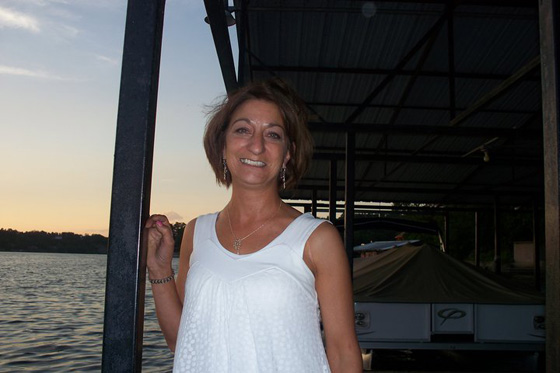 Jill Kaenel-Trader
Jill Kaenel-Trader is a semi retired jockey and I got in touch with her for an interview and I emailed her some questions and here is what she said to them:

FOTH: What sort of girl were you growing up and did you have a love for the horses at a young age?

JKT: I was a true racetrack kid, lots of schools every year. I lived either on the backside or in a motor home on the grounds. I had a love for horses because they were our whole world. Daddy trained and momma took care of the kids, stalls, and horses, and my brother Jack was galloping by time he was eleven. I always helped mom. Horses supplied our highs and lows, friendships, money and transportation for us.
FOTH: What was the feeling like the 1st time you saw a live horse race?

JKT: I heard the race first, my mom paddocked horses while she was pregnant, first live horse race I remember seeing, I was in at 7 years old, lap and tap, one half-mile, bareback.
FOTH: Were you a tomboy in your teenage years and what sort of sports were you into at that age?

JKT: As a girl, I did all the things that tomboys did, but I liked girly stuff to much to consider myself a tomboy. I did rodeo for a little while, I was a cheerleader, but mostly I rode horses and mules.
FOTH: At what point did you know you wanted to be a jockey?

JKT: To this day, I still remember the exact moment I realized I wanted to be a jockey, I was 11 and Jack was 13, he had money, a car, girls, and all the perks that go with being a jockey, I put down my wheel barrel and told daddy I wanted to ride. He said "well you're going to learn the right way then, come on." That was exactly how I learned.
FOTH: How long did you end up riding for and what led to you retiring?

JKT: I started riding pony races at age 7, then rode in the Oklahoma Colorado Bush Circate in the summer and galloped for Clyde Rice in the winter. On my 16th birthday, I rode 3 at Pimlico, I win one and two thirds, all against my brother Jack who won the 82 Preakness. I have not retired yet, health reasons have side lined me alot.
FOTH: What tracks have you ride at during your career and did you have a favorite out of them?

JKT: Pimlico, Bowie, Laurel, Penn National, Timmonium, Charles Town, Balmoral, Arrlington Park, Hawthorne, Sportsmens Park, LA Downs, Fairgrounds, Evangeline, Oaklawn, Colonial Downs, Anthony Kansas, Grand Island, Columbus, Lincoln, Omaho, Sportsman's Park is my favorite.
FOTH: What sort of injuries did you get over the years and what was the worst one?

JKT: Couple concussions, broken rotary cup, ribs, and ankle. The ankle was the worst, had plate and 7 screws in it, and during a race, one of the screws broke in half, half of the screw is still in my ankle.
FOTH: Looking back was it easier or harder becoming a jockey and what was the toughest thing you had to overcome?

JKT: Becoming a jockey was the easiest thing in the world for me, what else was I going to do? It was all I had known so it came naturally for me to want to ride. The toughest thing was the health problems I have had to overcome, cancer was a little tricky.

FOTH: Do you think you have been treated pretty fairly as a jockey?

JKT: I was treated more than fairly, I love the jocks room, and all my friends and family, everyone was very respectful. They treated me like a lady and rode against me like a man, that's all I wanted.
FOTH: Do you still follow the sport much now or go to racetracks at all since your semi retired?

JKT: YES! I galloped for D.Wayne Lukas, during the summer and now I gallop on the farm while my daughter is in school and my husband, Rodney Trader is a jockey at Delta and gallops for Allen Milligan.
FOTH: Describe the feeling of coming down the stretch with a horse full of energy as you fly past other horses knowing you are going to win a race?

JKT: For me it's like coming out of a tunnel, you have become aware of everything around you, you can hear the crowd and at that moment, when you are so blessed to have that connection with a horse, and you both know you're going to win, it is nothing short of a gift from heaven.
FOTH: Did you have a favorite horse you liked to ride?

JKT: In a race, LA XENEIZE, galloping, Greater Good, and Round Pond
FOTH: Tell me a couple good funny jockey stories?

JKT: In 1984, when we switched from Sportman's Park to Arrlington Park, they did not have a girls jock room, so down alot of hallways I wound up in the nurses station (they did install a sauna!), a guard had to escort me everywhere, but the scales set in the guys jocks room where I had to weigh in every race, my valet would holler Jill's coming in and cover up, they did with the racing forms. :) Jack always played pranks, but one time, they put his cowboy hat in a plastic bag, in the pool at Monmouth Park!
FOTH: Did you have any problems with weight at all?

JKT: Every jockey has a problem with weight, when you have it mental on your mind, and you are always thinking about it, that alone is a problem.
FOTH: What in your opinion could be a few things the sport should change to make it better?

JKT: Since women are such a viable part of the racing industry now, every racetrack, should have a daycare and clinic, and a separate, safe housing for single mothers. And all parking and entry should be free to get in, it appeals more for the younger crowds, we need betters, if they can come in, get a racing form and a hot dog, and have a few extra bucks in their pockets then it will help broaden the crowd.
FOTH: Did you have people teach you how to ride or did you learn a lot on your own and did you feel each year you were improving as a rider?

JKT: I always was surround by good horsemen, therefore, I still am learning and improving.
FOTH: Since you have been retired what have you been up too?

JKT: Since I have not retired, in the time off, I have done just about everything you can do with racing, from a red coat to training, I am working towards staying here and riding until I can gather up my own horses. I coach volleyball for my daughter Katys team at school, I got my phlebotomy licence, and I am trying to support my husband as he begins his riding career again, I am taking time for my family and friends and enjoying time with my baby girl.
FOTH: Do you still miss riding much even though your not retired??

JKT: When I am working a horse and they respond and you know you could win on that horse, yea you miss racing, but in the other hand it is satisfying to get on a horse like that and it keeps you going.
FOTH: What is your opinion on slot machines at racetracks?

JKT: I don't play them, but they seem to be necessary.
FOTH: Which did you prefer better, dirt or turf or it didn't matter to you?

JKT: I love the grass, it is so quiet and I have to admit I like the slop.
FOTH: When you were riding, how did you prepare to ride each race?

JKT: Make sure everything matches :), pray and mount up.
FOTH: When you rode your last race, did you know at the time it was going to be your last race?

JKT: I have never had the feeling that any race was going to be my last.
FOTH: Did you ride in or won any stakes races?

JKT: I rode in some stakes in Chicago, I think I ran a 3rd, I won some bush stakes though!! :)
FOTH: What was your favorite day as a jockey?

JKT: When I rode against my nephew Kyle at Colonial Downs, I had beaten cancer and he was healing from a broken neck, just so happened we got in the same race, numbers 7 and 11. Kyle was in front of me, but when I called on my filly I did it quick to get by him, I didn't want to hook him. I won and he run 2nd. We high fived galloping out, and it still brings chills.
FOTH: I am out of questions. Thumbs up for the interview and any last words the floor is yours.

JKT: I was fortunate to come up, right after my heroes, Patty Barton, Patty Cooksey, and all the pioneers, I had the fortune to ride with great female riders, Andrea Seefelt, Julie Krone, Vicky Warhole, Cynthia Medina, and Cindy Noll. Many more that are the tough survivors and have endured the rough conditions.


Back to our main page