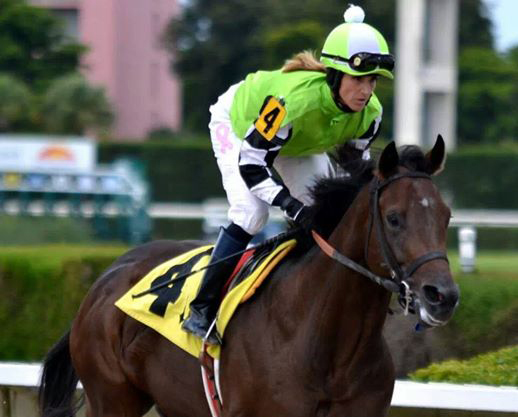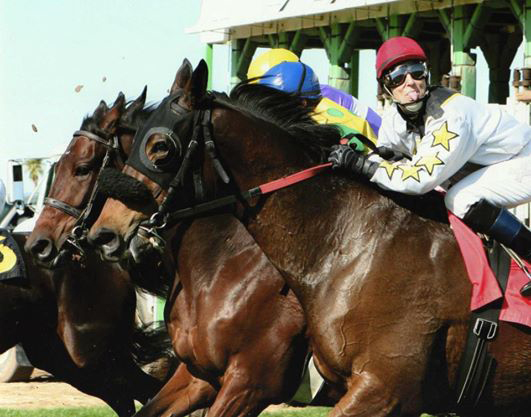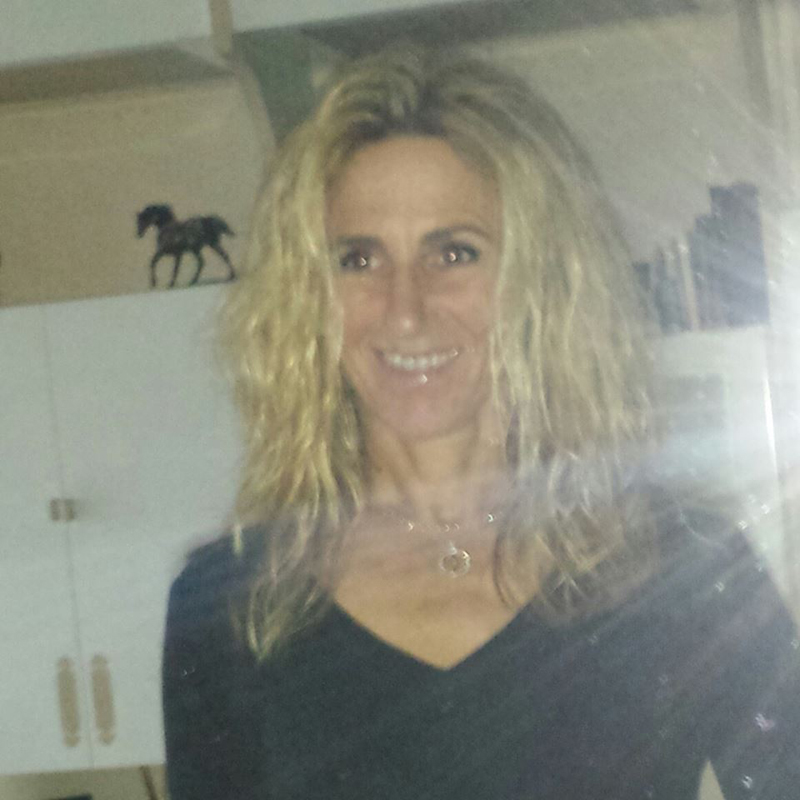 Jocelyne Kenny
Jocelyne Kenny didn't start riding until she was 36 and she now has been riding over 10 years now and I recently sent her off an email interview to fill out and I did not know she had just recently retired so please excuse some of my questions posed to her:
FOTH: Where were you born and where did you grow up? What sort of kid were you growing up?
JK: I was born in San Francisco and grew up from the age of 3 in the Portland Oregon area... LOL what sort of kid wasn't I ...an only child of a single mother until she remarried when I was 9... I wasn't an easy child to raise, my mom was always thankful she didn't have twins!! Horses were my savior growing up and pretty much still are along with my herd of potbellied pigs (4) only 2 are actually mine though.
FOTH: What did you want to be when you were growing up and do you remember much about the 1st time you saw a live horse race?
JK: I'm not sure what I really wanted to be, a lot of things. I wanted to be a teacher, undercover agent, secretary (my mom was one), cashier (lol, I loved playing with money), own a stable and board all my Breyer horse statues. We use to race our horses around the berry fields where I grew up. I thought about being a jockey the year Affirmed won the Triple Crown because I had a crush on Steve Cauthen. Ironically enough my boyfriend now of 6 years is the grandson of Laz Barrera. Crazy small world.
The first time a saw a horse race is when I was about 7, my grandmother took my best friend & me to the Tillamook County Fair and we watched the horse races there. It was so exciting but I had no idea what it was all about, but it never enticed me to wanting to be a jockey at that time.
FOTH: At what point in your life did you start to develop an interest in horse racing and at what point did the interest in becoming a jockey become serious?
JK: I was bartending in Oregon and one of my regular customers had a trainer friend at Portland Meadows. He tried to get me to go down there for several years before I gave in and met his friend. I started by taking my paint horse down there and tried ponying. The first one I ponied I lost and it ran off the track. I lost interest in that quickly. Then a trainer named Cindy Hoover let me start backtracking one of her horses. After about a month I got dropped and they tried ruling me off because I didn't have a license. It was open for training in the off season so I had to fight my way thru that to get an exercise license, this was in 1999. I survived one winter in the crappy weather and said never again. I went to Seattle, WA (Emerald Downs) the next summer and then off to Phoenix, AZ (Turf Paradise), warm weather, the next winter & back to Seattle in the summers. I galloped for about 2 years and one thing kind of lead to another and I rode a couple of races with no intention of pursuing it as a career. I was 36 when I rode my 1st race. My first win was my 50th start which was good I guess, because a trainer told me if I didn't win one by my 50th start to give it up. I really struggled thru my bug, I think a lot because of my age. I broke my neck during my bug so it was extended and extra 5 months. I actually lost my bug in Dec 2003 the same day I quit smoking as well. YAY and still haven't smoked. I was 38 years old. Once I lost my bug my business picked up a lot, not sure what happened but it worked out better for me.
FOTH: What was your 1st job you got on the racetrack and what track was it at and what are some of your memories from it?
JK: My first job was as an exercise rider at Portland Meadows…LOL… What I remember is getting talked into riding some races in a rodeo arena at the St Paul Rodeo around a bunch of Arborvita trees as a rail. 5 horses with a shot gun start. That was actually the first race I ever won. Portland Meadows was not a lot of fun. It was run down, kind of depressing and the weather sucked during the winter, but I did have some trainers give me opportunities to learn to gallop which I am very thankful for.
FOTH: What was it like getting up on a horse for the 1st time and did it feel natural getting up on one? If it did not, around how long did it take to fit natural?
JK: I had been riding since I was 9 years old so getting up on the horse was normal. Going out on the race was EXILLARATING. I loved it even though the first horse I galloped ran off with me. It was fun, I was hooked. I felt natural immediately, since I had spent much of my childhood racing horses around berry fields.
FOTH: How long did you gallop/exercise horses before you ended up becoming a jockey? Did anybody help teach you how to ride and what was the hardest thing to do/learn as far as riding goes?
JK: I galloped for a little over 2 years before I rode my first race. A trainer, Dan Kenney, who I was galloping for and rode my first race for had ridden some so he helped me out a lot along with a few others. The hardest thing for me to do was to tuck down in the lane. For whatever reason, I really struggled with that. Everything else from the gate to the pace and getting position all came naturally to me.
FOTH: What did you parents think about you becoming a jockey? How many times have they seen you race over the years and have they ever gotten into the winner's circle with you yet?
JK: LOL. It was a love hate thing for my mom. She was so happy I finally found something that I really enjoyed and was committed to. It terrified her because of the danger of the sport but she was by far my biggest fan. She passed away from breast cancer in 2006 and from then on I wore a breast cancer ribbon on my jocks pants all the way until I retired. In 2006 for the whole year I donated a percentage of my earnings to the Komen Breast Cancer Research in memory of her. My dad thought it was cool and has been my fan to the end! My mom is the only one that has been in a win photo and that was one time. I was always riding somewhere else and they had a business to run. They watched online and TV mostly.
FOTH: Looking back what was the hardest thing about becoming a jockey?
JK: I think for me was getting thru my apprenticeship. It was a real struggle for me but once I became a journeyman things really picked up. I honestly believe a lot of it was my age. I actually got a call from an agent in Philadelphia, PA (phila park) to come ride out there with my bug but once he found out how old I was he changed his mind.
FOTH: So you started riding in 2001, tell me about your 1st race. What track was it at and what do you remember about the race still?
JK: I will never forget my first race; I don't think any jock does. It was at Emerald Downs. I was in the 1 post in a 6 horse field on horse named Dragon Six. He was coming off a layoff and needed a race. I remember coming out of the gate and everything went quiet. I didn't hear anything until we hit the lane and I could hear a dull roar from the stands. It was weird but it never happened again. I think God was tuning out the other jocks for me!!!
FOTH: Now tell me about your 1st win. What track as it at? Did you win by a lot or in a photo? What was it like jogging the horse back to the winner's circle to get your picture taken?
JK: I won my first race on a horse named "Carsonic" for trainer Jim Pickard at Turf Paradise (AZ). It was a photo but it as an obvious win. I just remember thanking God for finally letting me win a race and on my 50th start otherwise I was going to quit!! I really don't remember the jog back or the winners circle much.
FOTH: Did the jockeys get you good after the race with stuff and did you know it was coming? Have you had a chance to return the favor at all to another jockey?
JK: Of course what jock doesn't and yes many times I've been able to return the favor, it's a rite of passage!
FOTH: What tracks have you ridden at so far and do you have a favorite? Is there any track you would love to ride at one day, but have not yet?
JK: Emerald Downs, Turf Paradise, Yavapai Downs, Santa Anita, Hollywood Park, Los Alamitos, Pamona, Bay Meadows, Santa Rosa, Sacramento, Pleasanton, Canterbury, Tampa, Calder and Gulfstream Park. I think my favorite was Hollywood Park because I won my biggest stake race there. I would of loved to ride at Churchill just for the nostalgia of it but now that I have stopped riding it wasn't achieved.
FOTH: Take me through what a typical race day is like for you these days?
JK: My mornings started out at the track seeing trainers, working horses etc. Then I would go home have breakfast and take a power nap and then to the jocks room. When I would get there I would spend time looking over the form and change into my riding clothes and ride my races then go home. Pretty boring really.
FOTH: Do you feel you have a certain riding style and if you do, when do you think you developed it?
JK: During most of my career I was put on a lot of speed horses. I was a good gate rider (time spent gate ok'ing quarter horses... lol) and could leave there running. Whether a sprint or route race. I had a pretty good sense of pace so that I guess would of been my "riding style" if you will.
FOTH: Do you have any idea how long you would like to ride for? Do you think when you decide to retire that you will stay involved in horse racing like you would become an ex-rider, a trainer, a groom, etc?
JK: My last race was March 8, 2014 at GSP (gulfstream park). I currently have a salary exercise job with Stanley Gold, it's a great job. I really enjoy galloping and getting the chance to spend more time with the horses I get on, unlike when you're a jock, you maybe get to work the horse otherwise you only get on it race day. I also started doing equine therapy. It's PEMF (pulsed electro magnetic field) therapy. It's a great pre-race and injury therapy and has become very big in South Florida. Its keeps my afternoons busy so I don't get bored and start riding again:)
FOTH: Do you feel you have been treated pretty fairly as a jockey so far in your almost 15 years of riding?
JK: Yes, for the most part. I think the biggest struggle I had starting out was my age, but that became less of an issue when I started have more success. The other issue, which was really pretty minor in my case, was some of the "old school" trainers / owners that didn't think women were strong enough. Other than that I think it has come a long way in the last 25 years thanks to some great female riders that became well respected athletes.
FOTH: Do you think we are at the point in the sport of horse racing that tracks almost need casinos to survive and keep purses at a decent high level?
JK: Unfortunately I do think so. It was in my opinion the kiss of death when they started it. It didn't force the racing industry to be aggressive in marketing the sport. They used the casinos as a crutch and now a life line. It's very sad. (agree with 100%-chris).
FOTH: If a young girl came up to you and said she wanted to become a jockey like you, what advice would you give her?
JK: Study, study, study. Listen and watch carefully. Be strong physically and mentally.
FOTH: Have you ever had a chance to do any female jockey challenges in your career and if so how was that experience? If you have not would you like to possibly be invited to one someday?
JK: No I haven't, it would be fun to do the getting fit part might be tough…lol.
FOTH: What are some things you like to do when you are not doing horse related things?
JK: OMG... LOL… PIGS, PIGS and MORE PIGS. I love my pigs. My oldest is 13 years and I've had him since he was 5 weeks. He grew up on the track. I used to tie him up under hay nets and he would nest until I was done working horses. I live at the beach which is awesome and love hanging out with my boyfriend when he's home. For the last 1 1/2 years he's been working in Los Angeles so I look forward to his trips home!
FOTH: What are 2 or 3 things that just instantly come to your mind as it relates to you being a jockey that you will never forget?
JK: The thrill of winning and the dangers of the sport!
FOTH: Jocelyne I am out of questions and thumbs up for doing the interview and if you have any last words the floor is yours.
JK: Chris thanks for the interview and best of luck with your website.