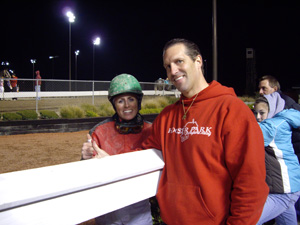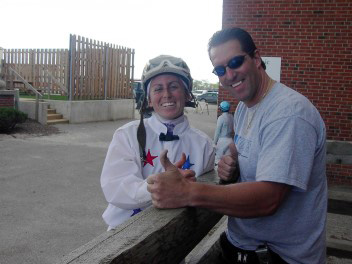 Jennifer Schmidt
Jennifer Schmidt is a jockey I got to know when she rode Phila Park a few years back and I also met her again at Thistledowns a couple years ago. Jennifer was interviewed way back when this website started so I emailed Jennifer some new questions and here is what she said to my questions and she also rides quarter horse races as well as thoroughbreds.

FOTH: Jennifer it is a pleasure interviewing you for a 2nd time on my website. Tell me a bit about what you have been up too since you left Phila Park a few years back?

JS: It's nice to be in touch with you again! :) Since I left Philly, I have been riding at various tracks in different states. I rode out my bug in Tampa and Finger Lakes, and have since ridden at Prairie Meadows, Canterbury, Lincoln, Will Rogers, Blue Ribbon, and the Woodlands to name a few. I took a little break from the track last fall and was working at a training center in Kentucky before heading back to Tampa at the first of the year. Outside of the track, I still run and occasionally compete in races (the people kind! lol). I ran the Miami Marathon last winter (Jan 07) and plan to again this year. There are lots of other marathons I would like to do, but they conflict with horse racing most of the time.

FOTH: What are some memories you have of Phila Park and of seeing me almost every day while you were there ha ha?

JS: I wasn't in Philly very long, but it was rather cold when I was there!! And of course, it was nice visiting with you!

FOTH: I know you were about to quit riding due to a jockey that you were friends with having an unfortunate accident and he passed away. What made you decide to continue to ride?

JS: Yeah, I was kind of undecided when that happened. It was a little bit of a shock to have something like that happen when I had just got started. We were good friends and he was a huge help in getting me going. And, not growing up on the track I guess you could say I was pretty green to the whole industry at the time. What got me back in the tack I guess was fate-I ventured back to Cleveland to visit some trainers and friends, and within minutes of being at the track I had gathered some equipment and worked a few horses. Once that rush is in your blood, its hard to get rid of it! I have taken a few breaks since, and the business comes and goes. But for the most part I have been riding or loping since.

FOTH: Looking back was becoming a jockey easier or harder than you thought it would be?

JS: Wow. Hmm....I am not sure what I really thought when I jumped into this. There have been many ups and downs and highs and lows since I started riding, and I have learned A LOT and continue to do so. Its great to win races, meet new people, travel, and be doing something I love. Sometimes the long hours and hard work can get to you. There are days when you ride nothing but slow or silly horses, and you get banged up in the gates. Sometimes being on the road and away from your family and friends gets a little lonely, but I've always met new friends at each place. It all sort of balances out, depending how you look at it. Sometimes it might seem like more work or trouble than its worth, but then again, I think working a 9-5 job at a desk would be way harder for me!!

FOTH: Do you think you were a good apprentice rider and what are some memories you have of those days?

JS: Yeah, I believe I was a good bug rider. I got better the more I rode, which is what is supposed to happen! lol. I wasn't a superstar, but I won my share of races and learned along the way. Looking back, there are some things I might have done differently. But I don't really regret the path I took. I think I would have waited longer and got more experience about the whole business before riding races. Its somewhat funny when I think back to how 'green' and naive I was. But, overall it was a good experience.

FOTH: What tracks have you rode at so far and do you have a favorite and least favorite one?

JS: So far I have rode at Thistledown and Beulah (OH) Mountaineer and Charlestown (WV) Finger Lakes (NY) Philadelphia (PA) Tampa (fl) Will Rogers and Blue Ribbon (OK) the Woodlands (KS) Prairie Meadows (Iowa) Canterbury (MN) and Lincoln (NB). I think that is all of them! lol. I have also been to many other tracks, but those are where I have ridden. The least was definitely Lincoln. Favorites...I really like Tampa because the weather, Canterbury was lots of fun, and actually I am really enjoying BRD!

FOTH: I know you recently rode at Canterbury Park. How did that go for you?

JS: Canterbury was great. I went there to lope on salary and ride first call for a QH trainer after riding some for him the previous fall. Its a fun track and enjoyable place to ride, even though the meet was not that long. I didn't ride a lot of tbs this summer, but usually did well when I did ride them. For the most part I rode quarter horses. I did very well with them, especially being my first year at CBY and first season really riding quarters. I won a few stakes and ended the meet tied for leading qh rider.

FOTH: I know on the phone you mentioned you have been riding some quarter horse races. How much different is that than a regular thoroughbred race and what do you differently to ride in one of those?

JS: I am by no means a pro on quarter horses since this is my first season with them! But in my experience there are several differences. The horses are built different, which can affect how your tack sits on them. They are typically much faster from the gates, and good ones kind of drop down and then leave. A lot of people think qh are real bad gate horses, but they are just so keyed up and ready to fly out of there sometimes the smallest of a wrong move will make one lunge forward. Many of them race in flipping rigs. I just try to sit real chilly in the gates and be ready when the last horse comes in. In quarter horse racing there isn't any sitting off the pace or anything like that!! Its easy to figure out how to ride your race-hope for a clean break and ride hard all the way to the wire! lol. A lot depends on the break and a clean trip.

FOTH: I know you are at Blue Ribbon Downs now. Where is that and what is the track like for someone who has never been there?

JS: lol...Blue Ribbon. Well, its not like any place I have ever been. BRD is in Sallisaw, OK. Its a 7/8 mile track. It certainly is not the cream of the crop, but I really am enjoying myself here. People are very nice, and its a real laid back relaxed atmosphere.

FOTH: Oh while you were at Canterbury Downs did you get a chance to visit or go to the Mall of America and if you did, what did you think of it?

JS: Yeah, I went to MOA up there one time. I was in shock for about 20 mins at the size of it. The amusement park was neat, and they have an attraction called Underwater World with sharks and stuff that was really cool. As for the mall part- its like 4 stories. The bottom two floors are shopping and the upper levels are food and things. I think there are lots of the same store in different places. It was neat, but I am not an avid shopper so after an hour or so I was bored.
FOTH: How much longer do you think you will ride for?

JS: I am not sure on that one. The one thing I have learn is that nothing is set in stone and when you think you are doing one thing it may very well change in an instant. So, for now, I am just enjoying each day and racing season, and just making decisions as they come.

FOTH: What are some of the injuries that you have had and what was the worst one?

JS: Knock on wood, I have been pretty lucky. I have been on some spills, but for the most part I walk away with some bruises and sore muscles, and maybe a concussion. I haven't broke anything, although last spring at WRD a horse flipped in the morning and landed on my leg. That was the most painful wreck-I tore my quad in my left leg and the muscle tore off the bone above my knee. *since I began working on this interview...I went down last Saturday. Just out of the gates in a QH race. Mine kind of false broke but I got him back once the gates opened. A few jumps into the race the inside horse tripped him and I got sucked underneath, Got stepped on 10-12 times and lucky to still have my left ear! Toe grab caught my face. But nothing broke, and was back on the next day.

FOTH: If a young girl came up to you and said she wanted to become a jockey, what advice would you give her?

JS: Follow your dreams and don't let anyone stop you. Its hard work, but hard work pays off. Make sure you're 100% ready to start riding races, and never be afraid to ask for help. Always be willing to learn more. And enjoy it!!

FOTH: Do you think another female jockey will win any one of the 3 Triple Crown Races again?

JS: I sure hope so!! There are plenty of great female riders. But there is no doubt it would take the right connections to get there. I think more women would get more recognition and better mounts if they were given the same opportunities as some of the male riders. Great horses make great riders, but its not as often the gals get the great horses.

FOTH: Take us through what you do in a typical day now.

JS: Well, my days vary depending on where I am riding and how many I am riding. But for the most part, I get up early enough to play with my dogs a little and have some breakfast and coffee. Then I go to the track and lope. I am almost always super busy in the mornings, because I don't mind getting on a lot of horses. Then, if its afternoon post I do some errands or nap before races. Night post I will go home and take the dogs to the park or go running or something before races. When I am riding a lot of horses several days in a row, I usually don't do much in the evenings other than watch movies or something to relax. But I try to check out things to do in the area for light days and on the days I don't ride. Right now, one of my favorite things is going to a ranch after loping on dark days and working with young barrel prospects and riding horses. Its beautiful country, and sometimes we ride for hours at a time. It may sound funny, but riding like that is my way of relaxing after a long weekend of riding races.

FOTH: What are some hobbies you have or things you like to do when your away from the track?

JS: I do a lot of running. Trail riding, movies, playing with my dogs. Really anything outdoors.

FOTH: Have you had a special horse that you have rode?

JS: Oh there are several horses I will never forget, and there are many that I really enjoying riding or lopin. Just to name a few tho....When the Dove Flies, Precise Pursuit (first stake win) First Class Smarty (the epitome of what a perfect qh looks like-he was awesome!!) Okey Dokey Irish (2yr old with a real goofy personality) and Hesa Dashing R Smith (he was like a pony to ride around and always laid back about everything, but soon as the gates opened he ran his eyeballs out.)
FOTH: Have you had any special days where you won 3 races on a card or brought in a big long shot etc?

JS: I have been fortunate to have lots of what I call 'special' days. I did win 3 on Derby day in Tampa with the bug. Lots of 2 win days. Almost every week have some kind of long shot. Think the longest were at cleveland-an 85-1 and a 93-1 a few days apart. Toast Freedom Flyer was the longest shot on the board this summer in the Great Lakes Stakes @ CBY.

FOTH: After you retire, would you want to stay involved in sport someway whether it be an ex-rider, trainer, etc?

JS: I am sure I will somehow be involved, be it training a few of my own, loping, or anything really! I love this sport, I love the horses, and really enjoy my life.

FOTH: Do you have any problems with weight at all?

JS: No, especially riding QH! They carry 122-126lbs. I am really active and run a lot, and I maintain a pretty healthy diet.

FOTH: Are there any goals you have set for yourself?

JS: I want to become the best I can possibly become. I would love to ride the All American, or any of the Triple Crown Races or Breeders Cups! But mostly, I just want to have a successful career (in my terms of successful) and continue enjoying this lifestyle and being thankful for what I have achieved.

FOTH: Do you feel you have been treated fairly as a rider or do you think you have had to work that much harder because your a female?

JS: Oh boy...I really don't like those kind of questions. lol. I don't like to make any type of excuses, but there is no denying that girls have it way harder than guys do. We have to work twice as hard for half the reward. There are a million and one excuses that I have heard why not to ride a girl (yet some of those same people want girl gallop hands). And even the lifestyle is harder for girls-we really have to be careful who we talk and hang with while guys can pretty much do whatever whenever and it will never reflect negatively on their career. My biggest peeve is male trainers thinking they will get something for riding you on their horses. I hate that, and have turned downed stables because I don't want to get involved in a mess.

FOTH: Have you had any problems or run-ins with any of the male riders?

JS: Most of the guys are pretty cool. There are a few that are not so pleasant, but they aint really worth your time anyway! I just always try to be kind and friendly, congratulate wins and wish everyone good luck. When someone is in trouble I will help if I can (ie helping hold one in on the turns). If I really have a problem with somebody or something they did on the track, I will discuss it with them, and then move on.

FOTH: Is there any one track you would like to ride at, but have not up until now?

JS: I would really like to make it out to California and ride those tracks. Also Ruidosa.

FOTH: I am all out of questions. Jennifer thanks for the interview. Any last words and thumbs up for the interview.

JS: Hey Chris, sorry this took me so long. Busy down here!! Riding plenty, and been breaking babies and stuff too. Haven't really been on the puter much. If there is anything else please let me know. Hope to go to Hoosier for female challenge. Would be great to see everyone again. Put in a good word for me? lol. Take care, talk to you soon.

Well Jennifer you got your wish as she rode in the female jockey challenge @ Hoosier Park on Nov 10, 2007.