Kate Repp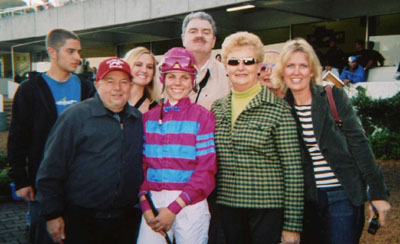 Kate Repp is a rider that has been tearing it up at Phila Park (she is
already a top 10 rider there) and I recently got her on the phone and here is what she said:

FOTH: Where were you born and where did you grow up?

KR: I was born in Seattle, WA and I was raised just north of there in Auburn. Right where the new track is.

FOTH: Oh Emerald Downs.

KR: Un huh.

FOTH: Do you have nay brothers or sisters?

KR: I have one sister who is 15 months younger than I am.

FOTH: I already think I know the answer to this, but are your parents and sister supportive of you being a jockey?

KR: (laughs) My mom she could have her own fan club for me at this point. They are excited to see me make something happen. I quit college to stay at the racetrack so they are happy I'm doing well.

FOTH: What sort of girl were you growing up? Most of the other girls were tomboys. Were you a tomboy too?

KR: No, I don't think so. I loved playing with my Barbie dolls, plus Barbie always had to ride horses, so she wasn't so much of a glamour girl, but she was always riding horses. I played with my barbies and did all the girl things. I was a ballerina, so I don't think I was much of a tomboy. I just went and did my own thing.

FOTH: When you were a young girl did you know you wanted to become a jockey?

KR: Oh yeah. I think every little girl reads 'The Black Stallion" and hopes they get that opportunity in life. I never actually dreamed it would happen, but it is kidna funny how dreams work out.

FOTH: What event or events actually led to you becoming a jockey?

KR: I think it was just a natural progression once your on the racetrack and everybody is always asking you 'when you gonna ride?' 'when you gonna ride?' I actually waitied a long time as I gallopped for 5 years before I went and got my jock's license. I knew I wanted to ride, but I just wanted to make sure I was really, really ready to do it right.

FOTH: Now when you exersising horses, were these at some of the west coast tracks?

KR: The last couple of years I was at Golden Gate Fields and Bay Meadwows working there.

FOTH: Were people pretty helpful with teaching you how to ride and stuff?

KR: Yeah, we actually had a really great jockey colony. All the guys were more than happy giving me pointers here and there. I just got so lucky and I got a really good start with a bunch of good riders that took there time and everybody wants to be safe so they are a good bunch because they wanted to make sure we were out there knowing what we should be doing and what were doing was right and we were learning the right way. Bobby Gonzalez, Russell Baze, those are leading riders in the country to get some help from. That was great. I was very fortunate.

FOTH: Tell us about your 1st race, what you remember about it.

KR: Gosh, I rememebr it was at the big Fresno Fair and it is kinda funny cause that is where I got my 1st gallop license 5 years ago and it was fun to go back there and ride my 1st race. I can't even remember off the top of my head what the horse's name was. It was for a guy named Rene Amuskwa (hope that is right-chris). He had a horse and she had a little speed and I actually had a shot. I got 2nd, I got beat by a horse that was like 40-1, the horse came flying and nailed me at the wire. It was so exciting. All I rememebr was when the gates were getting ready to open I said to myself "wom I'm actually doing this" It was a blast. Rene gave a shot on a live horse and I almost got there for him.

FOTH: Tell us about your 1st win.

KR: That was at Bay Meadows. It was like the 9th or 10th race that I rode and it was a horse named "Lady Formal" for Dennis Ward and his son was Leslie Ward and he won the Eclipse award for apprentice jockey and they have given a lot of shots to "bug' riders. It was exciting. The race I think was 5 furlongs and my horse just shot out of there and I won by like 6 lengths.

FOTH: What was it like after you crossed the finish line and you were jogging the horse back to the winner's circle?

KR: It was great. All the guys was so happy. The clerk of scales told me to enjoy it cause it would be the 1st and only race that the other jockeys would be happy to see me win (giggles).

FOTH: Did you get creamed after the race and did you know that it was coming?

KR: Actually as I was walking back and the trainer handed me a picture frame and as I was coming around the corner I got the ice, eggs, and shaving cream.

FOTH: What other tracks did you ride out west before coming to Phila Park?

KR: I rode the whole meet at Golden Gate Fields and the start of the meet at Bay Meadows before coming east.

FOTH: DO you notice a big difference between out there and Phila Park?

KR: They are similair. People train a bit differently here than back home. Other than that the racing is pretty similiar.

FOTH: What made you decide to come out east to Philadelphia Park?

KR: Right now the racing out in Northern California is so tough. It is a tough, tight jockey colony and they aren't running very many horses. So I had to go where I would ride a lot more horses.

FOTH: Are you surprised at how well you are doing. Your a top 10 rider already at Phila Park.

KR: It is been so amazing. I have just gotten really lucky. I think when you go somehwere new you got to win a few races right off the bat and to get rolling and I got a couple live horses and they just fired and that just puts you on jump street to ride even some better horses. It has been amazing.

FOTH: Do you plan on staying at Phila Park after you lose the "bug" or you haven't thought that far ahead.

KP: I don't know what I am gonna do. I would like to get an opportunity to ride some other tracks. It will depend on how the rest of this year goes.

FOTH: DO you miss being home at all or are you enjoying the east coast?

KR: I miss home. I miss my friends. It is getting easier, this is getting to be like home. I's starting to get to know these guys better and the room is turning more into home. When I first got here I was missing all the guys in the room at home.

FOTH: Do you pretty much get alomng with all the other girl riders at Phila Park?

KR: Yeah for the most part. I think anytime you stick 5 or 6 woman in a 12 x 12 box your gonna get some snarling, but we all get along for the most part. Nobody has it out for anybody.

FOTH: Take us through what you do in a typical day?

KR: I get up around 5: 15 am and I have breakfast and take my vitamins before I leave for the racetrack. I wander around the backstretch and get on what I have to get on in the morning and then I will go to the gym and run and then I'll go and ride races.

FOTH: What are some hobbies or things you like to do when your away from the track? Have you been in the city at all?

KR: I have been to Phila once, but on my off days I have been catching up on my sleep. I have a dog I love and I spend my off days with him and I spend some time at the gym. I'm just a boring little person. (laughs)

FOTH: Do you have any long term or short term goals for yourself? How long would you like to ride for?

KR: I would love to ride as long as I can, as long everything still works and I still get to ride some decent horses. I would like to do some work with the horses sales, but that is down the line.

FOTH; Have you had any injuries yet?

KR: I have had one spill. Somebody came over the top of me and I clipped heels and somebody ran me over and I ended up with a concussion. Luckily, no broken bones. Knock on wood.

FOTH: Looking back, was becoming a jockey easier or harder than you thought it would be and why?

KR: It is a very tough business and I have to deal with my weight to some degree. That is the tough part of it for me. The people can be very frustrating when you get taken off horses. It is tough every day.

FOTH; If some youung girl came up to you and said she wanted to become a jockey what advice would you give her?

KR: I think everybody needs a education and I would advise anybody not to miss school to do something like this. I think you have to live your life and go for what your dreams are. I would hate to spend the rest of my life going 'what if?" I think anybody who wants to do it should go for it, but I think they should finish school first. I see too many people come into this sport and don't do good and then you have no education to back yourself up.

FOTH: Do you feel with each race you are improving as a jockey?

KR: Yeah, definetly. My agent he had rode so he is pretty good for feedback. I am probably my toughest critic. so i go back and watch my races and try to improve.

FOTH; Do you think a female will ever win the Kentucky Derby?

KR: Well I think it has to happen right? The odds are small as they aren't many female riders and we don;t get an opportunity to ride those kinds of horses.

FOTH: Is there any other female jockeys or athletes that you admire.

KR: I think any woman that has come along in this sport is worth admiring as it is such a tough sport. Maryann Alligood and Julie Krone those kind of girls that ride really tough races. I give them a lot of credit. Any woman that has got her foot in the door is worht admiring just because it's so tough.

FOTH: What are some things you think can make things to make horse racing better?

KR: I think we need to focus on getting younger people involved in the sport. Not so much here, but back home you don't see any younf kids coming in learning how to gallop. When I was growing up I was the only one out here.

FOTH: Do you think you have been treated fairly?

KR: Yeah. SOmetrimes I hear certain trainers won't ride a girl. That is the just the stuff you deal with.

FOTH; How do you stay motivated. Have you just ever sat around and said to yourself "I don't want to be doing this"

KR: Yeah I have those days. It's hard, sometimes I'm a poor sport if I'm not doing well. Right now I am at the top of the game right now. I have every reason to jump out of bed in the morning, but I think you need to remind yourself that when it gets a little rough that the good times make it so worth it.

FOTH: Katie, I am out of questions. Anything you want to say to wrap this up?

KR: Thank you so much for the interview Chris.