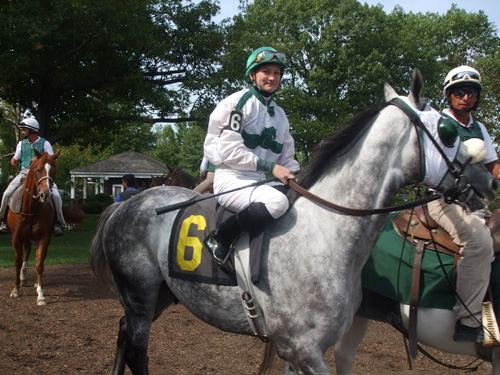 Carie Kifer
Carie Kifer is a young girl I got to know during the winter of 2007 at Phila Park when she was an ex-rider for Pat Mcburney. That summer she became jockey and I recently got her on the phone before she went out to shop ha ha and this is what she said to my questions I asked her:
FOTH: Where were you born and where did you grow up?

CK: I was born in Water Park, FL.
FOTH: As a young girl did you know you wanted to become a jockey or was that something that was the farthest thing from your mind?

CK: I was always interested in doing something with the horses ever since I was like in grade school. I don't recall, but I did have a 2nd grade school yearbook where they had a section to put what you wanted to be when they grew up and I put I wanted to be a jockey. I didn't realize it at the time and then when I was 10 I started doing show horses and jumping. After I finished school I starting galloping to pay my bills.
FOTH: Were your parents supportive of you when you were young as you said you got into show jumping and stuff like that.

CK: They were supportive of the show horses, but not racing. They were like do whatever makes you happy.
FOTH: Have they ever seen you race live?
CK: Yes. They actually flew up and watched my 3rd race. They were actually at Tampa when I won my first race.
FOTH: Now when you were doing the show horses did you have it in the back of your mind that maybe you entertained the thoughts of becoming a rider?

CK: When I was doing the eventing I was thinking about becoming a trainer and this and that. It is a lot tougher than it looks working with those show horses. Race riding you can do something you love and support yourself and with show horses you can't do that.
FOTH: Looking back was becoming a jockey harder or easier that you thought it was going to be?

CK: It was easier than I thought it would be.
FOTH: Do you feel so far you have been treated pretty fairly as far as a jockey goes?

CK: Yes.
FOTH: What tracks have rode at so far?

CK: I have rode Monmouth and The Meadowlands when I started out and then Tampa Bay Downs. I also have rode at Phila Park (which she won-cf), Penn National, Delaware Park and I just got my license down at Laurel and rode my 1st race down there a few days ago. Whether I go to Phila Park or Laurel Park I would like to go to the other when one of the tracks is dark if possible.
FOTH: Now I know you were at Phila Park exercising some horses for Pat McBurney in 2007 and you left when Monmouth Park opened. At that point were you pretty sure that at that point you were working horses for him with the goal to be a jockey when Monmouth Park opened?

CK: Yeah. I spent the winter galloping so I would be ready when Monmouth opened.
FOTH: Tell me a little about your 1st race. Was that at Monmouth or Tampa?

CK: It was at Monmouth.
FOTH: Were you nervous at all walking out to the paddock and was it for Mc Burney your 1st race?

CK: It was more excited than anything. I rode Dealer Joe. I was on that horse almost every day and I was very comfortable good old horses that is gonna take care of ya. I was more excited than nervous.
FOTH: Now when you were exercising horses and stuff, did you have Pat McBurney and John Forbes teaching you how to ride or was it a lot of it you being self taught.

CK: Yeas everybody in his stable was supportive. I broke babies for 3 years in Ocala and there was ex jockeys there and they taught me a lot as well, helping get the babies ready and breezing them.
FOTH: Tell me a bit about your 1st win. Was that at Tampa Bay Downs?

CK: Yes.
FOTH: Did you know when you cross the finish line that you had won the race or did you win in a photo finish?

CK: I won by like 6 lengths. The whole time I kept saying who is gonna catch me, I guarantee it, and that somebody was gonna catch me before the wire. (laughs)
FOTH: What was it like jogging the horse back to the winner's circle knowing that you had just won a race?

CK: I was ecstatic. My parents were there to see it, I was like on my god. The horse's name was Nav Quatorze.
FOTH: Obviously you know about the jockey initiation after the race. How bad did they get you and did you know it was coming?

CK: I knew it was coming. (giggles) They got me as I was walking back to the paddock actually and they got me with a lot of water buckets. The water was very cold. They had mustard, some kind of power too.
FOTH: Your riding down at Delaware right now and you said you probably will go to Laurel after that. Do you see yourself riding after your apprenticeship ends?

CK: Yes. I am pretty happy and take it easy and try to get in with the better trainers and I exercise horses for Michael Matz in the morning (that is who she won for up at phila park-chris).
FOTH: Now do you watch race replays and see what you did right and maybe wrong and listen to advice from other jockeys?

CK: Yes. Rosemary sits in the room with me and we go over the replay and she tells me what I need to work on and what I did good.
FOTH: Take me through what you do in a typical day?

CK: I get to the track at about 6:15 am and I get on about 8 or 9 horses for different people in the morning. With me not having an agent right now I try and see as many people as I can.
FOTH: Have you been injury free to far as far as riding goes?

CK: Yes. Any injuries I got was when I was working with show horses.
FOTH: Do you have a favorite horse you have rode so far?

CK: I kinda have 2. I have one horses I rode him 10 times and I broke my maiden. That horse is kinda my favorite and he is up at Finger Lakes now and there is one I won on a couple weeks ago for Mike Canalano, he won by 15 1/2 lengths and we are looking for another race for her. I really like her.
FOTH: I know Delaware Park has the Arabian races. Have you ridden in any and if you have do you mind riding them cause they are a bit slower and do you have to approach riding them differently than say a thoroughbred?

CK: Yes I have and yeah they are a bit more slower and more sensitive and emotional. I actually got my 5th win on an Arabian. I enjoy riding them, but not as much at thoroughbreds.
FOTH: Do you prefer the dirt or the turf or it doesn't matter to you?

CK: I like the turf a lot, even though I have only rode on it 3 or 4 times so far.
FOTH: Do you feel with being a female jockey that you have to work that much harder to get respect from some of the trainers?

CK: Well when I first started riding I thought it would be an issue, but I don't think that is a big of an issue as it used to be. I mean there is 3 girl riders here at Delaware Park and Anna Napvarnik and Rosemary are in the top 5 and Anna is hurt right now. I just think there is more male riders than female riders.
FOTH: When you retire as far as being a jockey goes, do you see yourself always doing something with horse racing whether it is becoming a trainer or say an ex-rider?

CK: I just would want to ride. I don't think I would like the responsibility of training a horse. After I finish my apprenticeship I am going to finish college the same time as I am riding. Unless I have a serious injury then I will have to face reality. I want to go to college to have something to fall back on. I might be a 140 pounds in 20 years. I would like to ride for as long as I can.
FOTH: What are some things you like to do when you are away from the racetrack?

CK: I do like to shop. I have 2 dogs that I have to take care of. I take them to a park a couple times a week. I also jog them a couple times a week.
FOTH: I have a couple more questions and then I will let you go shop ha ha. Have you ever been recognized outside the track?

CK: Nope not yet.
FOTH: Have you ever been a really long shot in that paid over a $100.00 yet?

CK: No. The longest shot I have brought in I think paid like $31.80 or $31.60 and that was on an Arabian.
FOTH: Carie that is all the questions I have for you and have fun shopping and any last words.

CK: I can't think of anything else. If you have any other questions just call me back.