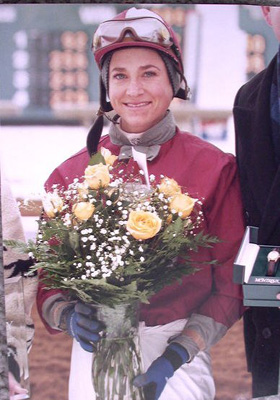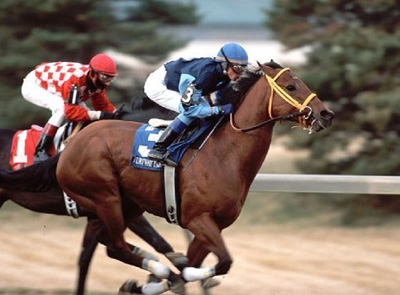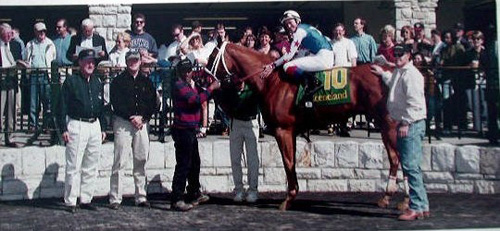 Kris Prather
Kris Prather is a retired jockey that had some huge success back in 2001 and then she got hurt and it all went downhill from there. I never really knew the events of what led to her retiring so I got Kris on the phone recently and here is her story and it is a long and interesting one:
FOTH: I know you have been retired for the past few years so what have you been up to the past couple years?

KP: Well in that process I have written 3 different novels, one young adult novel which has been published, but I am not really fond of that novel, I think it is poorly written in my opinion, but nobody likes me to say, but it is. I don't recommend reading it, but I get a lot of people who want to buy it, I mean they all seem to love it, but you know artists are always angry with their work anyway. The other 3 novels are for adults, nothing about racing actually and those one's I am proud of and they are being dealt with by different agents up in NY. The reason I don't like the young adult novel is that I originally wrote it in 3rd person and I don't need to tell you all the literally stuff, but basically it went to Time/Warner and they wanted me to rewrite it in 1st person, so I did that, but a jockey is never aware of what all their agent is doing so it got all chopped up and they wanted me to add romance to it, which I know nothing about because I have never dated and don't date now so I am like crap I am gonna have to read a lot of romance novels now which I hate. (we both laugh). I did that and people seem to love it, but I am not a big fan. 2 of my other novels are ready, but my 3rd one is not. I am happy with those. Right now I am up in Montana reworking the land and trying to rework my shoulder and for those who don't know what ended my career in 2001 as I was leading jockey in the nation, and by the way I was the only female ever to do that, not to toot my own horn, I am just saying, nobody ever seems to note that, but I had a proxteier location (hope that is spelled right-chris) at Churchill Downs opening day as you know Chris opening day basically dictate your meet because if you do well everybody is gonna ride and if you don't you can do all you want, but nobody is gonna ride you that meet. So that happened and the agents were hanging around like vultures and I refused to get in the ambulance and I actually rode for 2 weeks with it broken (her shoulder-chris). I didn't know it was broken, I knew it hurt really bad, but I had that jockey mentality and actually about a week after it happened I asked Greta Kunzweiler to duct tape my arm (laughs) because it kept falling out of socket and she was like "what" I just told her to duct tape it, it will work, but it did not work actually. I actually beat Pat Day in a photo finish whipping left handed with my broken arm. In my mind I thought I just ripped a muscle or something so I thought if I just kept whipping left handed it wouldn't lock up so I did not know it was broken. I got flown down for a stake race and went to turn on the shower afterwards, and I finished 2nd in that race, which I still remember, and I totally should have won and I am still aggravated about that, but I went to turn on the shower afterward and my shoulder fell out of the socket and wouldn't work. I was like crap I am gonna have to get that looked at. So I went to see a doctor and they flew me out for surgery the very next day, but while I was in surgery they made a medical mistake, there was a pain pump that was supposed to be inserted into my neck and they inserted it directly into the joint and it ate the entire bone away and that is why I can't ride anymore. I am on pain pills now and I am on gamma petton (hope that is spelled right-chris) which is used burn victims, I have had 9 surgeries on it, 2 full replacements and it was all because of a medical mistake. I have broken my ankle, my knee and my pelvis 3 times, I mean everything. I have always held up perfect and everything else was just splendid, but I am in chronic pain and it because of that injury.
FOTH: Well you answered my next 2 questions with that answer. (we both laugh).

KP: See I am on a roll.
FOTH: Now I am gonna backtrack a little bit. What sort of girl were growing up and did you have a love for the horses at a young age?

KP: Oh absolutely. I grew up in Montana and when people would ask me what to you want to be when you grow up, I would tell them # 1 jockey. My sister always said "a hairdresser" and that is what she is today. I grew up reading The Black Stallion series and that is all I wanted to be. I think that was why I was shocked that I lost my 1st race cause Alice never lost and it is always funny when I moved if you look at the bloodlines all the horses have crazy bloodlines they are all really good. When I saw the bloodlines on the first horse I ever rode I said to myself, nobody is ever gonna beat me" even though I was like 50-1. I was just naive to the sport and obviously I learned a lot as time went on.
FOTH: What event or events led to you becoming a jockey. Did you end up coming to the East Coast to ride?

KP: I went through one year of college cause that is the agreement I had that I had to go through one year of college and if I still wanted to be a jockey I could. My major was in political science and I got straight "A's" in that actually while I rode. I went Kentucky when I was 19 and began breaking babies and then I was taking care of 9 horses by grooming them and exercising them and I knew Julie Krone was riding one day at Keeneland and I actually paid another groom to walk a horse so I could go over to see her ride. I went over and met her, told her who I was and told her I was gonna beat her records. She took me up in the jock's room and told me she was gonna call me and take me under her wing and teach me and I didn't think anything was gonna happen. I was staying on the backside of Keeneland and it is kinda funny cause they have all these people into their wealth and they don't respect people that make their won money and I respect that more than people who are born into that and you can quote me on that cause I always get in trouble for what I say anyway (we both laugh). I do I said a bunch of stuff about the girls riding and I went into the girl's jocks room and that didn't go over very well. Anyway she called the backside and told me to come to Louisiana and she started teaching me and then I went to NY with her, actually Saratoga, and she introduced me to Donna Brothers. Donna's husband ended up needing an exercise ride for Belmont so I started doing that. I learned a lot from that experience. I learned how to take people wide and to cut in early and I used that same move over at Turfway and it worked brilliantly. I ended up going down to Louisiana with Donna and her and her husband basically at this point adopted me. They are like my parents, they are brilliant people. I started schooling horses and it just took off from there.
FOTH: Kris, now looking back was becoming a jockey easier or harder than you thought it would be?

KP: I think it was definitely harder for sure, but it was always fun for me and I was always happy. I was always grinning. One thing Donna used to say to me, cause I always loved getting mud on my face, I don't know why, but Donna said to me one day she would have to get goggles for my teeth cause I was always grinning. Everything was fun for me, even the injuries. If that medical mistake hadn't given me the pain, like it is so sharp all the time, I could not move my arm after 2004. I had to keep it by my side and I could feel every vibration of people walking towards me. So I lost a lot of friends. I went from being a professional athlete riding every day to not moving at all and having to think about walking out just to get the mail. I was actually give up my life and my mother came down to Kentucky and begged me to get one more surgery and I just figured in my head it would give her time to see the pain I was in and tried the other surgery and my 2 nerves were punched in-between where they gave me my 3rd artificial arm thing in there and so it was sending electronically pulses in there constantly. So it just felt like being stuck on an electrical fence if you have ever done that. I could never get away from it and I had never drank in college or my professional life and finally I started trying alcohol, which was the only thing that gave me relief. I tried the surgery and they took those nerves out of there and I am still in the recovery phase and it will take about 6 more months of that, but I have already noticed huge differences. I am so much happier and I can walk and jog a little bit. I try and jog when I can. Right now my left arm is 3 inches shorter than my right so I am gonna make my handle bars different and start training for races. At least that is the plan. Now that my shoulder is better I already have an exercise saddle out and my parents are ready to freak out and Donna says if I ever ride again she will kill me. (laughs)

The only think that bothered me was the injury of course and the fact that I can't ride, but the fact that people become so vicious. I mean you win for somebody and you try as hard as you can and if you lose a race then they hate you. I just love people and your not supposed to take that personally, and I tried not to, but I had a harder time with the jockeys that I admired personally and wanting their autograph, but when I am beating them and I am number 1, then they hate me and won't even talk to me. I actually walked out once and 2 jockeys, who I won't name, I still hold dear in my heart and I was standing behind them looking at who I had to ride against that day and they were looking too and they were planning on how they could box me in a way that I could possibly go down. That hit me really hard cause your talking about someone's life here. These 2 jockeys in particular I thought were my friends. We went out and talked so that part of the business I never saw coming.
FOTH: What do you remember about your 1st race and where was it at?

KP: My 1st race was on Independence Day at Churchill Downs and I was riding a horse that Donna had ridden before and that it had dumped her in the post parade so she never got to ride him in the race and he was like 80-1 by the time I got to the gate. He had no shot and I really wanted to ride so bad and Donna thought I should ride in a race just to get it out of my system.
After I rode that first race I became like a pitbull that is all I ever wanted to do. The horse actually ran 4th or 5th and the horse's name was "Courageous Man". He was afraid of other horses and he did better than expected and I ran up to the jock's room to get changed for the next race and then realized I had no other races to ride. (laughs)
FOTH: After you won your 1st race did the jockey's get you good and did you know it was coming?

KP: I had heard about it and I totally forgot about it. After I won my 1st race I kept looking both ways I thought somebody was coming cause I never had won before. My valet he was asking me for my vest, and I was like why would he want my vest, but I gave it to him cause he said he wanted to wash it. I was completely surprised when it happened. Greta put eggs down my pants and spanked me and they got me with mustard and ketchup. I got photos of it, it was a lot of fun.
FOTH: Did you ever get to return the favor to another jockey?

KP: Yeah I got to do that a few times.
FOTH: What tracks did you end up riding in your career?

KP: Ellis Park, Turfway, Churchill Downs, Keeneland, Emerald Downs, Oaklawn, The Meadowlands, and Aqueduct, who had the best gate crew, I was there briefly. Mountaineer Park, I was there briefly for like 2 weeks and I have a very funny video of and I had a colt reared up and hit my helmet on the top of the gate and split the helmet, but it still stayed in tact cause I had a cover over it and I get up and a guy is holding me asking me if I am OK and I tell him yeah and let go of me I need to get on my horse and after he lets go of me all you see is me falling over, it is so funny.
FOTH: In 2001 you were winning 3 or 4 races at Turfway. What was the feeling like and what was your best night there as far as wins go?

KP: One night I rode 8 races and I won 7 of them and in the 8th race I should have won. I took the lead in the race and was totally predicting the pace, which is something I love doing. The guy that won the race was on a horse nobody thought was gonna win, the horse was like 50-1 or something like that. They went to the front and I was keeping my pace and we just never caught him. I finished 2nd.
FOTH: At that time you were also the leading jockey in the country, which for a female jockey, is unheard of and I saw you had front page stories in like The Racing Form and stuff like that. Now I had people telling me at the time you were acting all cocky and stuff like. What was that time like for?

KP: Yeah it was really hard for me in some ways. I never looked at the form very much, only the little program and when I saw that I was in 3rd place at one time all I ever wanted to be was number 1. That was all I wanted to be. Now once I did that I knew I was doing what was best for my clients and this is where I got in trouble with women in that if your a male you can still eat a piece of cake and turn it into a muscle. If your a woman you have to eat the right things like tunafish, all the proteins and stayed away from all the carbs. I took my job very seriously. I knew I was a professional athlete and that is what they are hiring me for. I was happy when I finally reached my goals. What really hurt me were the stories. The stories about me being cocky, I was never like I'm the best, but reporters would ask me and one in particular asked me how many races I was gonna win that day and I said "10". But if I said "2" what does that say to the other trainers that hired me. I have to go in thinking I am gonna win 10 , if not, then why in the hell am I out there. So I would say things like that and then people would say "oh she's cocky" and those stories hurt me. So for like 2 weeks I didn't talk to the press and then the stories came out that I was so arrogant that I would not even talk to the press. It was like I couldn't win. If I ran 2nd I wouldn't be happy, but then why would I be?
FOTH: What advice would you give somebody if they wanted to become a jockey?

KP: I would ask them their height and that would judge whether they should really pursue it. Shane Sellers could have made weight easily, but he wanted to order the steak and drink the beer and then he would get rid of it. If he wanted to make weight he could have just fine, but then he has this stupid HBO special and that little sucker could have made weight healthfully. That stuff ticks me off. To a young girl I would say follow their heart and that will lead them to their dreams. I carry my heart on my shoulder.
FOTH: Did you ever have any problems with your weight or were you always good to go?

KP: No I was always good to go. The only time I had a problem was when I was riding a filly at Ellis Park and Donna told me not to do it, but when your a bug rider you got to ride the crazy horses and with my tack I had to ride at 98 pounds so the only way I could do that was to lose 3 pounds, which I did by drinking water and then getting rid of it. After every race I was completely dehydrated and after each race at Ellis all I could think of was a diet coke and this filly ran in the 8th race and I just had to drink water and get rid of it. Donna taught me a lot about diet and weight.
FOTH: Do you feel you had a certain riding style when you were riding?

KP: I know I was really good at getting horses out of the gate. I just let the horse do what they wanted. The form might say one thing, but I did my handicapping during the post parade.
My horses would tell me whether he wanted to run from behind or the in with the pack. Whichever way they wanted to run I knew that was the way to get the best out of them. I tried to be the best passenger I could be. I don't think I had a particular style though.
FOTH: When you rode did you prefer the dirt, the turf or neither one mattered to you, you just went out and rode?

KP: I just went out and rode as it didn't matter to me. I didn't ride a lot of turf horses, I only got to ride a couple, so I would say dirt. If the race was in a swamp you could throw me in there and I would ride in it. (laughs)
FOTH: When you had that great year at Turfway, do you think it was due to your riding, your agent, you being at the right place at the right time, or a combination of all 3.

KP: A combination of all 3 definitely. I definitely don't think it was me. Donna said to me one time "they can't take away the fact that the horses run for you". For some reason they did for me. I don't know why as I don't think I had any special skills other than I was really happy doing it and I think that was the difference. I loved each horse I was on and I carried peppermints in my boots. I enjoyed the partnership. My agent was very good at what he did and the trainers gave the opportunities and it was just awesome.
FOTH: Do you watch any sports on TV and if you do what are your favorite teams?

KP: I love to watch college basketball and the Louisville Cardinals are my favorite team. I enjoy hockey and soccer. UFC and boxing are my absolute favorites of all time. I would love to be like a boxing interview person which would be hilarious cause I am so tiny. I weight 92 pounds. I love boxing like nobody's business. UFC, I am a huge fan. Tito Ortiz and all the rest I will get all excited just thinking about it. Don't even get me started we will be here for hours.

I like rock climbing and did that in therapy. I am not a big baseball fan and I went to some dinner thing in NY and I went with her cause she wanted me to go and I met Brian Gumble who is such a totally pumpous jerk. While I was there they have these lecarts where you are supposed to sit and I was sitting with 2 people who I didn't know and one of them happened to be the owner of the NY Yankees and I did not know that and I am sitting there and talking to them and I am offered some baseball tickets and I could sit in the box no problem and said to them "no thanks I am not a big baseball fan, but thanks anyway" and I walked away and people told me who I just told that to, who happened to be the owner of the NY Yankees. (laughs)
FOTH: What do you plan on doing with yourself over the next couple years?

KP: I have a website being put up in about a week and some comics going one is called 'Skitzo." I actually drew myself, I draw and I paint as well. So I drew myself through the entire thing it is so funny and it about mental health and basically about putting your foot in your mouth, it is about me. It is about my daily life. I also have "Gaybriel" and it is about this gay boy growing up in the South and I make him into a super hero after he gets beat up in school. It is a long story and it is funny and they will be on my website. I also have 2 novels coming out as well and I also have collages that will be up there as well. If my arm gets better I will do some biking and hiking as well.
FOTH: What is the website address?

KP: I have not come up with it yet, I have to sign up for it today. I do have a website now, but it is horrible and I never sign on and I should be running it. It will be
FOTH: Tell me a good funny jockey story.

KP: I was riding at Keeneland and you know how many people attend the races there as they have stake races everyday there and the grandstand is completely packed and the weather there is unpredictable there as they run in the spring and the fall and it was sunny on this day and I am just wearing my silks and boots and I don't wear a lot under my silks, which amounts to basically nothing. (laughs) I am warming my horse up and there is a flash rain a sudden downpour and I am nothing thinking anything about it, but when those types of silks get wet there basically see through and you can see your skin and to the crowd it seems like I have top silks and boots and meanwhile I don't know that and my butt is up in the air and I am warming this filly up and I go by the grandstand and this is when I start to notice some comments and then I look down and see my bare legs and then I mutter to myself, "oh my god". Now I am keeping my butt down in the saddle and my elbows covering where my leg would be and I decided there is no way I am going to lead with a horse like this so I went back and got covered in mud and ended up running 2nd and who knows if I would have won, but in my mind it was not worth it. (I laugh big time).
FOTH: Did you ever get recognized outside the track while riding at Turfway Park?

KP: No I never did. I get when you have your helmet off nobody recognizes you.
FOTH: Any last words you want to say?

KR: I appreciate the interest that is still out there and people still enjoy the racing and regardless of the injuries I have had I appreciate everything racing has given to me. It has given me friends, family I would have never met and just everybody I have met.


Back to our main page