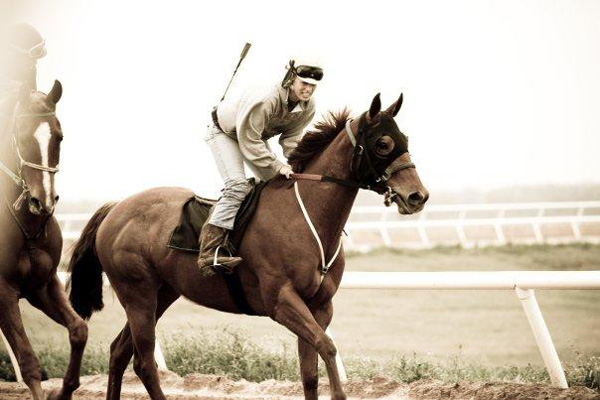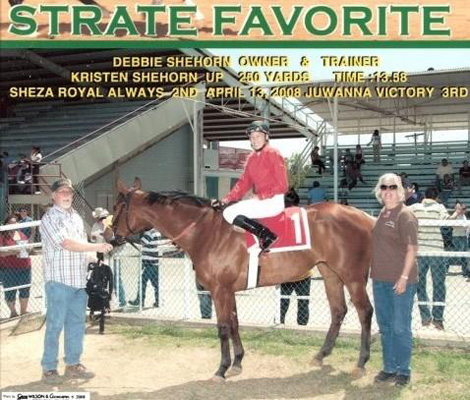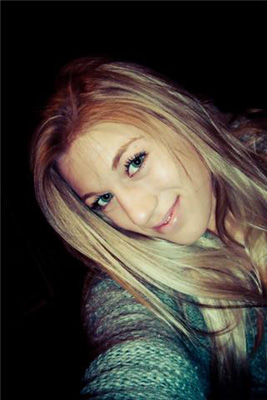 Kirsten Shehorn
Kirsten Shehorn is a jockey from Texas and I emailed her an interview and here is what she said to my questions I asked her:
FOTH: Where were you born and where did you grow up?

KS: I was born in Temple, TX. I grew up in a small town called Moody until the age of 10 then moved to Riesel, TX.
FOTH: What sort of girl were you growing up?

KS: I was always the one getting dirty making mud cities and playing with critters. When I started school I was the one pushing limitations of teacher and my parents. I never was the "good kid." I always got into some sort of trouble.
FOTH: What was the feeling like when you first went to a racetrack and saw a live horse race?

KS: My parents were always into racing and by the time I was about 6 or so they had a paint horse that raced at Trinity Meadows. I never got to see his races but the first horse I saw of ours race was Bully's Grand Effort. Big Quarter Horse that ran around the turn. I'm almost certain at that time of seeing him race I wasn't interested at all.
FOTH: What event or events led to you becoming a jockey and how long did you exercise horses before you took out your jockey license?

KS: My sister was a hunter jumper and I began to dabble in it but it was too slow paced for me. I hated going to lessons and being told what to do and being stuck with Welsh ponies that could barely trot. I then took up barrels (no actual events) with one of our race bred paints that didn't make the cut. I just ran the pattern, nothing special but I liked the speed and the quickness.
I believe I exercised racehorses for 2 years before I actually got my license.
FOTH: When you were preparing to be a jockey, did anybody teach you how toride and looking back now was becoming a jockey easier or harder than youthought it would be?

KS: I taught myself everything I know. I used to sneak out at 5am and get on our Thoroughbred racehorse that was 17h, put the flat saddle on and hope for the best. I already had balance down due to my riding previously but I didn't have the hands down or the correct posture.
Getting my license was a pretty long and hard process. I was told to go other places to try and get the license but I stuck it out in Texas and dealt the cards they gave me.
FOTH: What tracks have you rode at so far in your career and do you have afavorite and is there any track that you would like to ride at one day?

KS: I'm mainly a Texas rider; Manor Downs, Retama Park, Sam Houston Race Park, and Lone Star Park. I have ventured to Oklahoma (Blue Ribbon Downs) for trials and the finals but that is as far as I have gotten! My favorite track would be Manor Downs. It's a poor track but I enjoy the looseness that is involved. Everyone gets along and us Jockey's always have the best of times there, it seems. It's also where the Thoroughbred jocks and Quarters unite due to the mixed meet.
FOTH: Tell me what you can remember about your first race and were you verynervous in the jocks room getting ready and during the post parade?

KS: I remember having racing thoughts and being beyond nervous. By the time I got on the horse everything cleared until we reached the gates then it hit me all over again. Good thing we don't stay in there very long!
FOTH: What were some things that went on through your head during the running of the race and how did it feel after the race?

KS: During the race my mind is clear of everything. It's "live in the moment." One reason I love racing so much is because for those 15secs-1min I am completely free of any thoughts. After the race I was exhausted. I was not in any shape to run it, I'm sure I was surprised I was still on. Accomplishment was a feeling as well.
FOTH: Tell me about your 1st win. Did you win by a lot and what track was it at and what was it like getting your picture taken in the winner's circle?

KS: My first win was my sixth race. Going 870 yards on Frenchs Fluer De Lis at Retama Park May 21, 2005. I was more than thrilled and all smiles in the winners circle but nervous to see what was waiting for me when I went back to the room.
FOTH: Did the jockeys get you good after the race and did you know it was coming?
KS: I knew it was coming so I was being sneaky. Unfortunately the way Retama is, there is no escaping it. I got hosed and mustarded.
FOTH: How long would you like to ride for?

KS: I always say I'll ride until my body can't take anymore. Being as I am female I'm sure I'll run into things the men won't (kids) but I do plan to ride until I just can't go anymore.
FOTH: Have you had any injuries so far and if you have, what was the worstone?

KS: I've been very lucky as far as injuries go. In my racing years I've had around 4 concussions, a broken foot, both ankles sprained and a fractured shin. *knock on wood*
FOTH: How do you go and prepare for a race? Do you read the racing form orgo by what the trainer says?

KS: Preparing for a race is all mental for me. I try to stay as focused and calm as possible. When I'm riding my Quarters I never read the form. When I ride Thoroughbreds or the Arabians I will actually look into it to see where they make their move and how they setup in the race. You try to listen to the trainer as much as possible because you don't want to get pulled off and yelled at but most of the trainers just tell me "You are the jockey, do what you feel is right." Makes it super easy.
FOTH: Take me through what you do on a typical race day?

KS: Typical race day I try to sleep in unless I have to reduce. If I have to reduce I'll get in the sauna suit and work the barn for a bit to pull some weight. I usually can't eat on race days because of nerves so I try to stick to liquids. Most likely I'm preparing my racers for the night so I do whatever I have to do in order to get them ready as well then take the 2-4hr drive to the track. When in the room I just watch TV and lay on the couches.
FOTH: What did you parents think when you told them you wanted to become a jockey?

KS: My parents have been in this longer than I have so they knew the risks. They were nervous and excited.

FOTH: What are some things you like to do when your away from the racetrack?
KS: Sleep! Mainly I try to reconnect with my friends who I had to ditch over the weekend. I'm still very young so I enjoy going out and acting my age.
FOTH: Are you a fan of any other sports and if so which sports and teams to you support?

KS: The only other "sport" I enjoy watching is Track & Field.
FOTH: If a young girl came up to you and said she wanted to become a jockey, what advice would you give her?

KS: Before I got into details I would tell her that it's a long and hard journey, make the best of it.

FOTH: Could you ever see yourself becoming a trainer one day?

KS: Of course! (dummy me afterwards finds out her mom is a trainer duh-chris)
FOTH: Do you think you have been treated pretty fairly as a jockey so far in your career?

KS: I have been treated very nicely by my co-riders. I love them all, they are family. As far as the trainers, owners, stewards, and others go, it hasn't been as easy of a ride.
FOTH: If you had the power to change a few things in the sport of horse racing what would they be and why?

KS: I would change the outlook on QH racing and help promote it as much as possible. Quarter Horses are amazing animals and put forth just the same guts and heart into the racing as Thoroughbreds do. Unfortunately the betting aspects of QH's are harder to profit on considering you are done if you horse gets shut off at the start in a 350 yard race and this keeps most of the public away from the sport, I believe. It's all about marketing and promotion! The Quarters need as much as possible (ie: more televised events) to keep them going.
FOTH: Kristin I am out of questions. Thumbs up for the interview. Any last words the floor is yours?

KS: I hope to see you in the winner's circle. :)