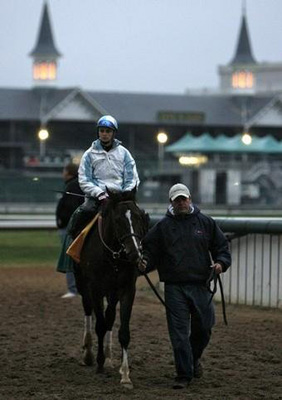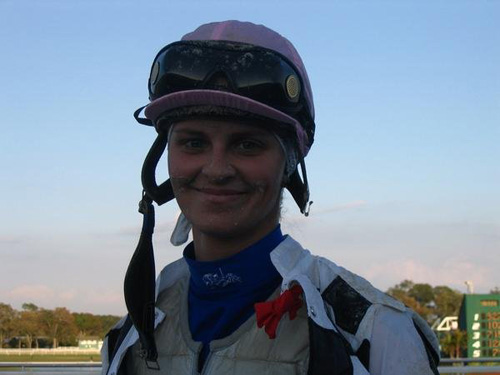 Kristen Troxell
FOTH: This is the 2nd time I have interviewed you so I am not going to go into the whole beginning of your career and stuff, but my 1st question is, looking back was becoming a jockey easier or harder than you thought it would be?

KT: Harder. It is a lot of work. A lot of disappointments sometimes.
FOTH: Now looking back how would you rate your time as a bug rider?

KT: Well I think I would have done things a little differently. I kinda let some trainers tell me what to do, which didn't turn out as well as I wanted it to do, but I enjoyed it.
FOTH: What are some highlights you remember about riding at Delaware Park with the bug?

KT: My 1st win I will always remember that. I didn't always ride good horses there. (laughs). Delaware, I have always liked Delaware.
FOTH: Now I saw you down at Colonial Downs in 2007, tell me a little bit about what you have been up to since you left Delaware Park?

KT: I left Delaware Park and went down to Pimlicio and rode the last few weeks of Pimlicio and then I went to Colonial. I did fairly well at Colonial and the 2nd to last night I broke my ankle and that took some time off and then went to Gulfstream Park and have been working for Barclay Tagg ever since.
FOTH: Colonial Downs, I know they have 2 turf courses. Is their turf courses as good as I have heard them to be?

KT: Oh yeah, their turf courses are really nice down there. I think they only run one race a night on the dirt, but you learn a lot riding on the turf. It was a lot of fun.
FOTH: Did you get to go to places like Williamsburg, VA, Virginia Beach and stuff while you were down there since I know it is a sort meet or did you pretty much just stay close to home so to speak and took it easy?

KT: No I didn't and I worked my butt off. Nobody really works in the morning and there was a few bug riders out there in the mornings and in between I was just taking it easy.
FOTH: I know you mentioned earlier you went to Gulfstream and stuff and recently you worked a couple horses in the mornings that rode in the Kentucky Derby. Tell me how that came about?

KT: Well I went to Gulfstream and took the job with Barclay and he really liked the way I worked horses and I did a lot of breezing for him as compared to galloping and he just asked me if I wanted to go and of course I jumped at the opportunity and we went to Keeneland and then the Kentucky Derby and we are about to run in the Belmont and it has been a great experience.
FOTH: What was it like working horses out in the weeks leading up to the Derby with all the press and hoopla that is down there during Derby week.

KT: They followed our every move. (we both laugh) They followed us everywhere we went. It was exciting. Some people think it is annoying. Barclay think it is annoying, but I thought it was great.
FOTH: Tell me a little about Keeneland. Was it all I have it is to be?

KT: Keeneland was absolutely beautiful with all the farms. I didn't like the polytrack that much, but the farms were beautiful and the foals and mares out there, I got to see a few of the breeding farms out there and it was unbelievable. Something I have never seen before.
FOTH: Now speaking of polytrack surfaces. Is that something your in favor of or would you rather see the tracks just stick with the traditional dirt surfaces?

KT: I can't really say, I personally did not like the polytrack only I didn't ride on it in the afternoons so I don't know. In the mornings it would be real fluffy or when it was patched down it would really hard and it was very consistent. When it would rain, water was right on top of it. It was really sticky and would stick to the horses legs and it was really hard to get off. I wasn't very happy with it.
FOTH: Now your up at Belmont now and the big race is this Saturday and it is my birthday today and yours is on Friday so here is an early "Happy Birthday" and this interview will come out after the Belmont Stakes, but I am gonna but you on the spot and ask you your prediction on who will win the race?

KT: Things in racing happen all the time, so you never know, but I think he is gonna be hard to beat and it will be good for horse racing to have Triple Crown winner. We hope to win or at least hit the board.
FOTH: Are you mostly just exercising horses in the morning and taking a break from actually riding right now or are you riding in the afternoons at all?

KT: I am taking a break from being a jockey right now. I pretty much breeze all of Barclay's horses for him and do a lot of galloping for him. We have 40 horses here, 30 at Monmouth and like 25 at Delaware. We also have a bunch of 2 yr olds, so that is a lot of horses. At the moment I am not riding in the afternoons. He doesn't want me to get in the afternoons, kinda like my father. (laughs) I am enjoying it and it is better than riding a lot of the cheap bad horses that I was riding. I am riding some of the best horses in the country right now.
FOTH: Are you strictly working horses out in the morning in NY or are you going down to Monmouth Park and Delaware on different occasions?

KT: I am in NY only at the moment and after this we are gonna go to Saratoga for the meet and then come back to Belmont.
FOTH: Are you looking forward to going to Saratoga and have you ever been there before?

KT: I was there once for a week and left and went back to Delaware. I have never been there for the races and I am excited about it.
FOTH: How is it working for Mr. Tagg? Does he try and give you advice and stuff on how to work the horses and stuff like that? Is he a tough, but fair guy to work for?

KT: He comes across as a tough, cranky old guy, but he is not. He has been great and taught me a lot and he has a lot of faith in me, I mean he is putting me on his best horses. It is kinda funny, but Funny Cide is now his pony and it is kinda cool to be around her.
FOTH: Take me through now what you go through a morning doing what you do now. About how many horses do you work out in the morning?

KT: I usually get on 6 or 7 and our heavy work days are Friday and Saturday. It is about the same, I get up early and the track is open from 5:30 am till 10:00 am and just try and get it done.
FOTH: How does it feel not having to worry about your weight and maybe getting to eat a little bit more?

KT: Well I never really had to worry about my weight, I could eat whatever I wanted to before.
FOTH: Do you think there will ever be another female to win one of these Triple Crown Races or have a legitimate shot or do you think even if a girl rides in one, it will be on a hopeless longshot?

KT: Sad to say that is what I think. I know it would be nice, but it would be tough, really tough.
FOTH: Do you think you will be doing this, I mean being a jockey/ex-rider, or would you like to maybe branch out and be say a trainer one day?

KT: Yeah. Barclay has been trying to get me to take a string of horses and I have learned a lot since I have been with him. I go back in the afternoons and see how they run their barn, but I still want to ride while I can,
but at some point I may take a string of horses and go somewhere with them.
FOTH: I know you also went down to Tampa Bay Downs. How was that meet for you down there?

KT: I really Tampa. The people were very nice, the turf course was great and I enjoyed it very much down there. But it was hard too, cause there was a lot of riders down there.
FOTH: Yeah there are a lot of riders down there.

KT: I did well considering I was a 1st time jockey going down there with the bug and I did pretty well.
FOTH: Is there a special day or horse that you rode that sticks out in your mind?

KT: Oh I will never forget the horse I rode to my 1st win. I got my first 3 wins on her and I don't even know what happened to her, but I hope she is OK.
FOTH: Do you miss being home at all?

KT: I do miss being home, but I am close enough that I can go home. I miss Delaware, but there is full cards here and no Arabians on the grounds (we both laugh).
FOTH: I asked you this before and I'll ask it again. What advice would you give to a young male or female person that wanted to become a rider?

KT: If that is something you want to do go for it. I don't regret any of it. If you want to do it, go for it.
FOTH: This injury you had at Colonial Downs, how did that happen?

KT: We were going 5 1/2 on the turf and there was a bug boy in the race that kinda went from the 5 hole to the 1 hole and took 3 of us out and I broke my ankle and one of my ribs, but all the horses are OK.
FOTH: I am out of questions, anything you want to add or say?

KT: Good luck to anybody who starts and watch the Belmont this weekend.

Back to our main page