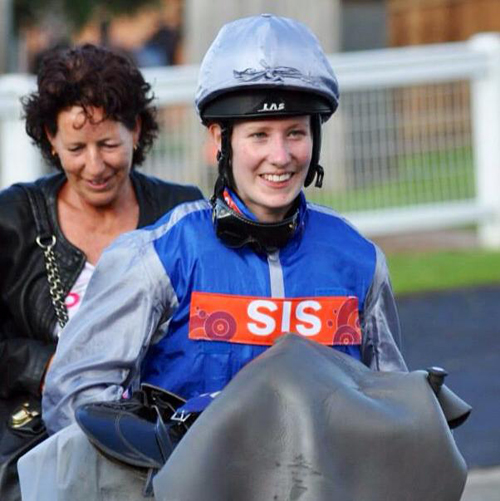 Kimberly Van Der Geht
Kimberly Van Der Geht is a female jockey that rides out in the UK and even though she only has a few rides under her so far I thought it would be fun to interview her and here it is:
FOTH: Where were you born and where did you grow up?
KIM: I was born in Rotterdam, The Netherlands and grew up in a village just outside the city.
FOTH: What sort of girl were you growing up?
KIM: Just obsessed with horses and sports really.
FOTH: Are there many racetracks where you are based out, in other words, where you live?
KIM: I live in Lambourn, our local race track is Newbury and there are about 40 flat racing tracks in the UK.
FOTH: When you saw your 1st live horse race what were your thoughts on that?
KIM: I was 14 when I went to Duindigt (a Dutch racecourse) I loved the speed and knew I wanted to be a jockey.
FOTH: How did the world of horse racing enter your life and when did you want to be a jockey?
KIM: I started riding at a young age but when I turned 13 I decided I had enough of dressage and show jumping and I wanted to do something a bit more exciting.
FOTH: So what was your first job on a racetrack and at that time did you know you wanted to be a jockey?
KIM: My first job on a racetrack was at Duindigt for Jan and Mary Berrevoets, they taught me all the basics and I will always be grateful for everything they've done for me.
FOTH: Looking back was becoming a jockey harder or easier than you thought it was going to be?
KIM: I knew it was going to be hard but it was even harder than I ever anticipated! I just hope the hard work pays off.
FOTH: How long did you gallop/exercise horses before you became a jockey?
KIM: 2 1/2 years. I went to the British Racing School and spent 2 years with Andrew Balding after that. That was a great experience but I left to look for new opportunities. I am now based with Daniel Kubler.
FOTH: Tell me about your 1st race. What track was it at and were you nervous at all? Where did you end up finishing?
KIM: My first race was at Leicester aboard 'Shock' for my boss. I was nervous before the race but once the gates opened I just enjoyed it and it was over in a flash. Unfortunately he didn't live up to his name at 66-1 and we finished 6th out of 8.
FOTH: Tell me about your 1st win and what track was that at? Did you win by a lot and what was it like jogging the horse back to the winner's circle to get your picture taken?
KIM: I've only had 2 rides so far, unfortunately without a win but I can't wait to experience that feeling.
FOTH; What do you parents think of you riding? Have they ever seen you ride yet?
KIM: My mum gets a little bit nervous but she is pleased I love my job. My first ride was 1 day before my birthday so my mum came over from The Netherlands to see me ride.
FOTH: What tracks have you rode at so far and how long have you been riding for?
Kim: Leicester and Ripon. I've had my license since may.
FOTH; Are there many other female riders where you ride at?
KIM: The majority of the jockeys here are male but more girl jockeys are coming through.
FOTH: How long would you like to ride for?
KIM: For as long as I possibly can.
FOTH: Take me through what a typical day is like for you?
KIM: I start work at 6.45 and ride 3 or 4 lots, each lot takes at least an hour. When I finish riding out I groom and feed the horses and finish at 1. I normally go to the gym, work out on my own equicizer at home or just relax in the afternoon and go back to work at 4.30 to muck out and check the horses. One evening a week I meet up with my jockey coach Colin Brown for a lesson on a equicizer to work on my finish and technique.
It's very hard to get rides when you first start out but hopefully my hard work will pay off soon and I'll be race riding in the afternoons.
FOTH: What has been the best piece of advice you have been given?
KIM: To work hard and never give up. We all get impatient but unfortunately things don't just happen overnight.
FOTH: What has been the most surprising thing about being a jockey?
KIM: Breezing a horse at home is nothing like riding in a race and it requires a whole different level of fitness.
FOTH: Do you think you will ever make it over to the US to ride in a race?
KIM: Yes, riding in the US has always been one of my goals. I've been following US racing for years, long before I moved to England. I am hoping to come over to ride work and develop a better feel for pace when the flat season is finished over here
FOTH: Kimberly I am out of questions any last words to wrap this up?
KIM: Thank you for the interview.