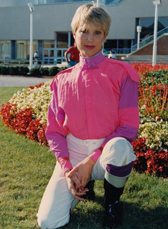 Kym Valene
Kym Valene is a jockey that rode back in the late 80's up until 2003 and then made a brief comeback before retiring and this is her story:
FOTH: Where were you born and where did you grow up?
Kym: I was born in Minneapolis, MN, but I grew up in Southern California and in Tennessee.
FOTH: What sort of girl were you growing up?
Kym: I was very much into sports. And I was a bit of a wild child.
FOTH: What did you want to be when you were growing up and did you come from a big family?
Kym: I always thought that I would become a veterinarian. I came from a very big "extended family".
FOTH: At what age did the world of horse racing enter your world?
Kym: At a very early age. We used to ditch Sunday school and sneak into Santa Anita.
FOTH: So tell me a little bit at your 1st job at a racetrack and what track was it at?
Kym: My first job on the track was galloping and breezing horses. I was a very experienced rider by the time that I had stepped foot on the track. I had played polo, rode bulls and cowgirled up on a ranch for years.
FOTH: At what point did you decide you wanted to become an ex-rider and at the time was the thought of actually becoming a jockey enter your mind?
Kym: I never wanted to be an exercise rider. I stepped on the track with the full intention of becoming a Jockey.
FOTH: Did anybody teach you how to ride and did getting up on a horse feel natural for you?
Kym: As I said, I was pretty much born on a horse. As far as becoming a Jockey goes I started out working for June Melancon and Denise Schmidt. I galloped for free, helped dump water buckets and feed, and in return they fine tuned me. They put me on a horse for my first race as well as bought me my first saddle and pair of boots.
FOTH: So how long did you exercise horses before you became a jockey?
Kym: I can't really remember but not that long. I would get on at least ten horses a morning and I rode every schooling race possible. At night I would sit on the gates with the gate crew and watch everyone break. I started on the accelerated program. :)
FOTH : Now when you became a jockey, how did it feel finally having a jockey license in your hand?
Kym: Really cool. Just like winning!
FOTH: What did your parents think about you becoming a jockey and have they seen you ride?
Kym: Yes, they have seen me ride. My father became an owner shortly after I started my career. He however had very antiquated ways and until recently really never rode female riders. He's better now.
FOTH: Looking back, was becoming a jockey easier or harder than you thought and what was the toughest thing about becoming a jockey?
Kym: Harder than you can ever imagine. It is a very hard life to lead. The traveling and the injuries take its toll. But I wouldn't have changed a thing!
FOTH: Tell me about your 1st race? What track was it at and where did you finish in the race and were you nervous at all?
Kym: I rode my first race at Jefferson Downs on a horse named Frenchmans Reef. I can't remember where I finished. I really wasn't nervous at all. I had worked horses in-between races under the lights on numerous occasions. Now my first schooling race was another story! I had butterflies big time. I just wanted to get out of the jocks room without getting sick. :)
FOTH: Tell me about your 1st win. What track was it at and did you win by a lot or was it close? What was it like jogging the horse back to the winner's circle?
Kym: My first win came at the Fairgrounds in New Orleans. A female trainer had called and wanted a female jockey on her horse. I was the only one at the Fairgrounds at the time. I came from behind and won by a nose. It was a photo finish so it took a while to review the film. I think that day I was the happiest girl in the world. I had actually been injured pretty badly before I had ever won my first race so this was a double personal victory.
FOTH: What did the jocks get you with after the race and did you know it was coming?
Kym: Buckets of ice water, shaving cream, you name it I was covered in it! lol
FOTH: What tracks did you ride at and did you have a favorite track that you rode at?
Kym: I rode all over the place (Atlantic City, Philly, Fairmont, Tampa, Sydney Aus, everywhere in LA but my favorite track was Birmingham. It was beautiful up there and they had a proper girls locker room.
FOTH: Looking back, do you think you were treated pretty fairly during your time riding and do you think you were a good jockey? Did any of the male jocks try to intimidate you at times?
Kym: Being in a jocks room is like being with a blended family. It's like having a bunch of brothers with different personalities, most are great.
FOTH: What injuries did you have during your career and what were some of the worst ones?
Kym: I have had numerous injuries. Three documented skull fractures, numerous concussions, broken back, ribs, pelvis, nose, orbit, cheekbone, foot, collar bone, did I say concussion? lol
FOTH: You rode pretty much from 1988 till 1999. What are some of your favorite memories from that time?
Kym: I have a lot of great memories. I can't even begin to name a favorite.
FOTH: Now from 1999 till 2002, you took a 3 year break. What was the reason for that and how tough was it coming back after not riding for 3 years?
Kym: I had cracked my pelvis and broke my lower back in the starting gates at Delta Downs. It took a lot of work to get back in riding shape.
FOTH: In 2002, you rode 3 races and then in 2003, you rode 25 races then retired. What led to you retiring and soon after you retired, did you miss it much or was it just time for you to stop riding?
Kym: My back wasn't holding up. The hardest thing I ever had to do was to hang up my boots.
FOTH: Now after you retired did you still stay involved in the sport whether it was becoming an ex-rider or becoming a trainer, etc or did you just move on with your life so to speak?
Kym: I moved on with my life. I haven't stepped on the track since the day I retired. I remember telling the camera man that this will be my last race. I actually won. He wrote Kym's final ride on the picture. I packed my tack and never looked back. It was the hardest thing that I ever have done. I dearly miss it.
FOTH: Do you follow the sport much at all these days? If you do, what do you like and dislike about it these days.
Kym: Occasionally I will watch some of the bigger race but mostly because I still have a lot of friends riding.
FOTH: Do you think we will ever have a Triple Crown winner?
Kym: I sure hope so.
FOTH: If a young girl came up to you and said she wanted to become a jockey, what advice would you give her?
Kym: Follow your dream.
FOTH: Kym I am out of questions. I hope you enjoyed your trip down memory lane and thumbs up for the interview, any last words you want to say to wrap this up?
Kym: Thanks for including me Chris!

Back to our main page