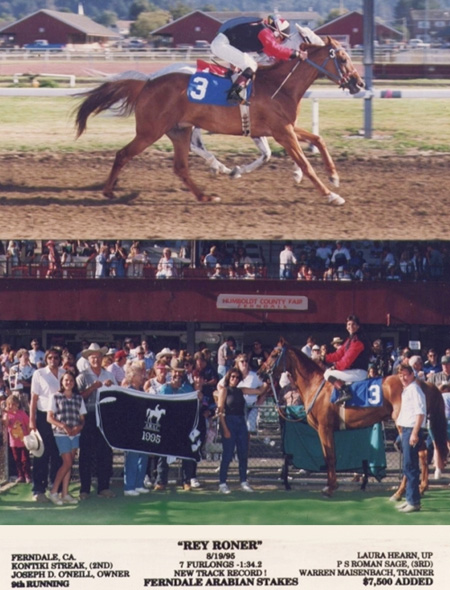 Laura J. Hearn
Laura J Hearn was a jockey who stumbled across my site and after a few emails I got an email interview with her and here is what she said.
FOTH: Where were you born and where did you grow up?
LH. - I was born at Larson Air Force Base, Wa. which used to be near Moses Lake Larson A.F.B. no longer exists. I traveled all during my formative years. My Dad was in the Air Force. We moved about every year or 2 whether we were in the same state or not pretty much. I lived in California till age 5 or 6, Hawaii for 3 years, Virginia till age 15, and then back to Ca. and from there I was on the road with racing from age 16-18. Back home to Ca. for awhile then back on the road with racing. Then in my early 20's went to Potomac Horse Center College in Maryland, where I graduated with Honors in Equitation and Stable Management. Last I'd heard, that College has re-located and is now somewhere in England. A good school for sure!
FOTH: Do you have any brothers or sisters and what do your parents think of you being a jockey?
LH. - I have 1 brother, John and 2 sisters, Lee and Lynn. My parents took in 2 of my cousins, Linda was in her teens when they came to live with us and the other Daniel, was just a baby (less than 1 yr. old). So I consider Dan as much my brother as my real brother. They lived with us until they were of legal age to leave home. My parents (both deceased now) had always been very supportive of me. They just wanted me to do something I loved doing and could make a decent living. My Dad died when I was just barely a teenager, so he never lived to see me race. My Mom was at my first horse race in 1977 and was in my win picture the night I resumed my racing career in 1989 at Los Alamitos after being out of the spotlight for 10 years (79-89). My Mom said she would have not chosen racing as a career for me, and wanted me to do something with a much lower risk factors. It scared her to think of me racing all the time, but she was my biggest fan, and always supported me in everything I'd wanted to do. She w as very proud of me. She was the greatest Mom there ever was, and my only regret is that my Dad didn't live to see me in the winners circle. I think he'd have really enjoyed watching me race and win.
FOTH: Did you know at a young age you wanted to be a jockey? Were you a tomboy at all?
LH. - When I was a very little girl and someone asked, "what do you wanna be when you grow up?" I would answer, "I want to be a blue flying horse". And looking back on that answer now, I have to say, I got about as close to touching that dream as I possibly could have! I can't remember a time in my life that my life when horses weren't my first consideration. In all honesty though, I'd have to say No, I never really considered being a jockey. I'd played with the idea from time to time because of my size, but it wasn't a long, deep rooted desire in me to be a jockey, but a life involving horses was and always has been in my plans. I went to work at the racetrack (Del Mar) when I was 15 years old. That was back in the years when "Ack Ack" was a really good horse and made headline news when he nearly died of colic there. I was walkin' hots for Charlie Whittingham at the time and remember we all took turns walking Ack Ack. Shortly thereafter I was promoted to groom in that stable. Charlie was the first one who ever told me that I would make a good jockey, and should seriously consider it as a career choice. He knew how much I loved horses and I was certainly small enough for it. We would talk about that many times over the next couple of years. Was I was a tomboy? Absolutely!
FOTH: What event or events actually led you to getting your jock's license and was becoming a jockey easier or harder than you thought?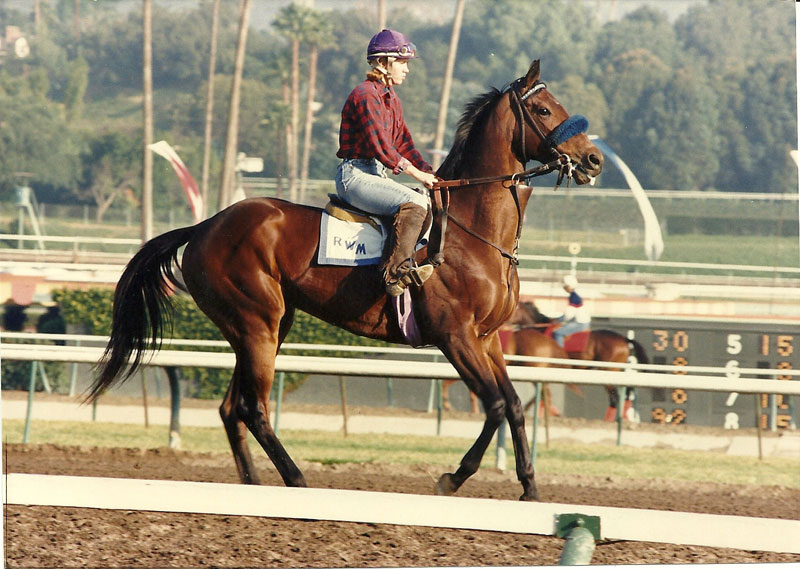 LH. After I finished College and moved back to Ca. I was looking for work, and one Sunday answered an ad, "Riding Instructor Wanted' at beautiful Country Estates in Ramona, Ca. Experienced and Serious Only need respond. So I called and made an appointment to be interviewed for the next morning. I got there and thought "this is it!". I felt like I belonged instantly. My interview went well and the guy who had put the ad in the paper explained to me that he didn't exactly have a clientele as yet but I should come in and he'd subsidize me while I built up my own client following. He asked me to show up the next morning and I had the job if I wanted it. It wasn't until the following morning that I learned what his business actually was. Vaughn Martell was a retired jockey, who had become a trainer. The next day I showed up to work rearin' to go!! Vaughn said, he didn't have anything right then for me to do but would I mind exercising a few horses for him so he could get an idea of my experience and style, so I grabbed a grooming kit and said, no problem, which horse, and what tack do you want on it? Vaughn was instantly impressed with my enthusiasm. I groomed the horse he selected, got him ready and led him out into the shedrow. Vaughn legged me up and said what do you weigh, 90 lbs. I replied 95. He said, good weight for the bug. I had no idea what he meant at the time. I headed for the riding arena, when Vaughn yelled, wrong way! I said, huh? He hollered, "hang on you'll have company". So I waited at the end of the barn, until I was joined by Vaughn who was on a tall Thoroughbred alongside him was Billy Ward who was on a Quarter horse. He said okay, lets get goin'. Billy led the way down the road, and small hill and onto their small but very nice half mile race track, complete with a 4 horse starting gate, and even a lake in the infield. Vaughn said we're just gonna back-track a quarter mile and then we'll turn and gallop a mile or so. My horse was frisky and bucked a little bit. Vaughn watched me very carefully and made off-handed remarks to Billy like I wasn't right there close enough to hear him. They continued talking at the barn and throughout the morning. I got on 7 or 8 horses and then we went to lunch around 11:00 a.m. At lunch Vaughn had mentioned that he could see I'd ridden racehorses before. I said no, not really. But I had gotten on a few babies for Flag Is Up Farms while I'd worked at Del Mar where I'd worked for Charlie Whittingham. He said, oh yeah? You worked for Charlie, years ago huh? I should tell you, that you also worked for him today! He owns that first horse you got on this morning. I said, then why are you training the horse here then? Vaughn said, Charlie was old now and he didn't have the time to mess with a 5 year old maiden outlaw. I said, it doesn't sound to me like anything Charlie would own either. Vaughn said, you're right about that, Laura. He went on to say Charlie was doing him a favor by letting him use the horse to jump start his trainer's career. When we got back to the barn Vaughn took me to the office and showed me the horses' papers so I'd know he wasn't lying to me and just throwing Charlie's name around. I said no Vaughn I didn't doubt it. It sounds just like Charlie to go out of his way to help you get started. I was just surprised he wouldn't be training the horse himself if he owned it. After I'd worked there for a few days Vaughn asked me, if I'd ever considered being a jockey? I said, not really, played with the idea, but not actually considered it. I was enjoying my work there exercising with him and didn't want to quit anytime soon. It was then that the real preparation for me began. Vaughn taught me everything he knew or remembered about the racing business. Vaughn felt it was a good idea for me to learn everything I could about everyone's job at the track before I ever got there to ride. I didn't remember enough about it from when I'd worked a couple summers at Del Mar and I'd never ridden races there. So I didn't argue with him. And Vaughn made me do it all too! He taught me how to drive the water truck, and how to water the track evenly, taught me how to drive a tractor, and how
to drag the racetrack and how to harrow it. There wasn't a job on the racetrack I wasn't aware of and most of them I could actually do if I was asked to, by the time Vaughn got through with me. He worked me hard and long hours seven days a week. Which wasn't unusual for me. Charlie also made his employees work seven days a week. Vaughn made me run 5 miles in the morning before getting on my first horse, and after chores he'd locked me in a stall, with a huge bale of straw and hand me a whip, telling me to whip the straw till there was nothing left to beat. He had me doing eye and hand timing coordination exercises. For that he had me work on a speed bag. Yes a speed bag, just as the ones a boxer uses to prep for a fight. He made me jump horses over hurdles 3' high without the benefit of saddle or bridle to aide in my balancing. He had me exercise with leg weights and had me squeezing a rubber ball constantly, or roll quarters around my fingers. He was old school for sure, and had me train hard doing anything and everything he could possibly think of. I became his protégé in every way. He was relentless and unwavering in his task to make me the best I could be. Not because I was a woman, but in spite of that fact. And, . ....I feel grateful to him for taking such care and time in teaching me. It was the best way I could've learned I think.
FOTH: Tell us what you remember about your 1st race. Were you nervous at all?
LH. I remember everything about my first race. Which is a story I could probably write a book about. I had only been working for Vaughn Martell for a few months before he had me ride in my first race. Which was held right there where I was training with Vaughn. It was a match race and there was a purse of $5,000.00 at stake. Vaughn was having me ride a filly that I'd been getting on every day. I got along with her better than anyone had before. Billy and Vaughn would say to me often. This 3 year old filly hadn't made a single mistake all the time I'd been riding her. She did everything perfect. Unlike the other 99% of the horses Vaughn trained in his 30 horse stable of race horses. Every horse had some little habit or quirk that needed trained out of them except this one filly. I was thrilled about him letting me ride her in a horse race. I knew she had speed and enough to win against whatever I'd see in a match race. We were to go only 5 furlongs, and she was absolutely fit enough to go a mile. She loaded into the gate perfectly, stood straight and was perfectly calm. The other 3 horses in that little match loaded badly and didn't stand well, one of em' tried to flip over, then when all were finally quiet and settled, the bell rang and I remember how loud it all had suddenly gotten. My filly was off like a shot. I was out on the lead and put 10 lengths easy on my rivals before we'd gotten to the final 1/4 mile and when we got to that quarter pole my filly "made the gap". For those of you who've never heard that term used, what it means is she made a U-turn! No warning, no slowing down, just suddenly I was launched across to the outside rail, where I landed flat on my back, and no wind could I get for what seemed several minutes. Probably was only a couple of minutes but it felt like longer. I was thoroughly embarrassed and ashamed of blowing it so dramatically. My Mom who was there in the grandstand was sure I was quite dead, and in the next several seconds I wondered myself if I were ever going to catch a breath of air. Soon enough there was a crowd of people all around me and then the ambulance came speeding up onto the racetrack and the EMT's gently loaded me onto a stretcher and headed back up to the barn area, before I yelled STOP!! Where are you going? They said, to the hospital. I said, uh uh no way!! I have another race to ride in about 20 minutes. I'm not going to any hospital. I'm fine. My right knee and ankle hurt a little but not bad enough for me to quit for the day!! Now I really did have something to prove. Not to everyone else, but to myself. To Vaughn who I'd felt I must've disgraced with my performance. When I got back into the barn I found Vaughn and Billy trying to explain to my Mom what they had thought was going to happen and basically claimed their ignorance because of what actually had happened. Vaughn now regretted not forewarning me prior to that day. I came in just as he was saying, "forewarning her". I said Vaughn what do you mean, forewarning? You knew this might happen? I immediately became upset with him! I'd trusted him completely to do what was best for me and for my career. And not do anything that could get me injured, or worse. Billy took me by the hand and began explaining "why" neither him nor Vaughn had mentioned knowing that the filly I'd ridden in that first race might "make the gap" with me. She'd done that same exact move in her previous 4 races. All had been men. And all had landed on their backs in the dirt on the track just as I had. Since I'd come to work with her she'd remarkably not made even the slightest mistake. So they'd been hoping her problem was cured. And if they had mentioned it to me, then I'd have been anticipating it, and if that happened then she'd absolutely do it for sure. So they figured if I didn't expect it then the filly would also dismiss this idea altogether and "bingo" she'd be cured just like that and the thanks would go to you! Billy said unfortunately she did that stupid move even without it being anticipated by you. But we never believed she would do it with you. Not since you'd been getting along so perfectly with her.
FOTH: What tracks did you ride at?
LH. I rode all over No. Ca. and some in So. Ca. Mostly I rode at Golden Gate Fields, Bay Meadows, Stockton, Pleasanton, Vallejo, Santa Rosa, Ferndale, Sacramento, Pomona, Fresno, Los Alamitos, Del Mar, I rode a few of the little bush tracks too. One in Hanford, and another in San Luis Obispo in '77-'78.
FOTH: How long did you ride for?
LH. I've been riding since I was around 9 or 10 years old pretty regularly. We couldn't afford horse so my Mom would let me rent them now and again. Sometimes I'd sneak out at night go to the nearby stable and steal em' for a moonlight ride. If I could coax them close enough to the fence for me to jump on. I rode Arabians from 1977 -1979 before deciding I wanted to ride Thoroughbreds. I felt the best place for me to do that would be on a ranch and not the racetrack. I went to work for a couple different places before landing a Ellison's Horse Ranch in Ramona, Ca. and liked it there so well I stayed for 8 years breaking youngsters, until they were ready to race. I remained there until an unfortunate series of accident and one really bad one that happened in the starting gate which I even wrote a short story about. http://hi2winners.com/ar_thunder.html and another accident followed that one the day I was ok'ed by my Dr. to ride. After which I went on more than a years vacation from the track. I returned to the track in '89 Los Alamitos, and won my first race back! After stumbling at the start and blowing the turn, I still won it by 3/4 of a length. I stayed on the road racing all around Ca. until I came upon an occurrence beyond anything I could've predicted or controlled that more or less forced me to leave Ca., along with the need to keep my name out of the newspapers. That's a long story! We came here to Texas, where I worked a little at Lone Star Park galloping horses for Bubba Cascio, and at the training center in Weatherford, after that I began an online handicapping business which I've been running ever since. I was diagnosed with Cancer almost 2 years ago now, (after nearly bleeding to death) I had to have emergency surgery and then spent a year in Canada recuperating. I loved Canada too!! I suspended my handicapping business a couple months ago so I could return to the racetrack at Lone Star Park in the hopes of getting back into shape again. I came back here in June and have been trying to settle in a bit ever since.
FOTH: Tell us all about your 1st win and did you get hit with ice, eggs, etc. after the race?
LH. My first win I got drenched with an ice cold bottle of champagne over my head, followed by several buckets of ice water. That was in 1977. When I returned in '89 even though it wasn't my first win, the guys at Los Al came after me with magic markers and shoe polish, and tried to get my pants down to "paint me"! Eight of them and only one of me and they couldn't get it done!! They did manage to ruin my brand new jock pants though!! They painted me again (a different jocks colony) at Bay Meadows and again at Ferndale that first year back! I don't think they did it for any other reason than to have fun with me, but I never saw any other rider get that treatment more than once. Male or Female.
FOTH: Was it tough being a female rider especially riding at in Ca?
LH. Things were very different when I started riding. In '77 they didn't have women's jocks rooms like they do now. There was no specified changing rooms for women. No showers, no nothin'. So yeah, I'd have to say it was tougher than it is now! I changed clothes in a dirty horse trailer in those days. No shower till we got back to the motel room. And sometimes we were already checked out of our motels, so I wasn't able to shower at all till we got to wherever we were going. Nowadays the women are made welcome in the jockey's rooms. The women have far grander dressing rooms now at all the tracks I've seen across the country. I don't think it's particularly tough in Ca. as opposed to anywhere else for a woman. It seems we have always had more to prove out there on the racetracks, than the guys do. But I've known some men that had a lot of trouble starting out too. I can't speak for other tracks. Once you win a few races, it gets a lot easier. But then there are gonna be those trainers who believe women just don't belong on the racetracks and nothing is going to change their minds. Those who believe that women can't be jockey's are simply wrong!! We women have been proving them wrong for years. And will keep doing so in the future!!
FOTH: Tell me about this bad back injury you had?
LH. While working at Ellison's horse ranch I had a filly, Sexie Sadie who'd come to us after being ruled off from racing at the tracks in Ca. because she was considered too dangerous in the gate. Back in those days, I rather prided myself on how well I was able to get horses to do things, whether they wanted to or not, and I enjoyed working with these so-called "outlaws". Sadie's only problem was that she was extremely claustrophobic! So I began just casually walking her through the gate when I went to the track and again would walk her through it on the way back from the track. I had no problems with her until we started to close the tailgate and the front doors. She was quite a problem when we tried to shut her up in there. I continued to work on getting her relaxed for a month or so. Then one weekend the owners showed up and wanted to see her break from the gate. Mr. Ellison asked me if I thought she'd be okay. I said, no not really. She hadn't been okay in there yet. He said well, we're gonna have to give it a try. She went up there fine and stood in the gate like a good horse. Right up until they shut the doors. She was dancing like a cat when they closed the front and as soon as that tailgate closed, . . . up and over she went, so quick, . . nobody knew what was going on and wrong! I landed directly underneath her and she landed upside down. Our gate panels weren't opened on the bottom and they had to drag us both out simultaneously. When Sadie landed on me you could hear the sound of my back breaking from the paddocks where the guys saddled the horses. It was really loud sounding. One of the guys Mike, came running over and I heard Mr. Ellison yelling at him, not to move me, that I was broken. I'd been breaking babies, so I was no stranger to getting dumped, but this was not like anything I could've prepared for. It was a devastating accident. Mike and Mr. Ellison carefully put me on a mat in the back of Mr. E's pick up truck and took me to the town Doc. He looked at my back and about as soon as he lifted my shirt, he said, "I can't treat this"! Get her to the hospital immediately. He did give me enough Morphine as he would later tell Mr. Ellison, "I gave her enough Morphine to float a battleship". She ought to make it to the hospital alright. I told Mike to take me back to the ranch so I could get my car. And he argued, but then did as I'd asked. He poured me into the driver's seat and I drove 30 min. to home. Got there and couldn't get outta my car. Thankfully my roommate was home and he got me out finally, and took me to the hospital where they x-rayed me and immediately put me into traction where I stayed for the next 10+ months. They sent me home with that traction contraption and a lot of Demerol and Percodan. I don't recall much of the next several months, as I stayed completely doped up for pain management purposes. After I came outta traction I spent another couple months in physical therapy, and my back today is better than it was before I'd broken it. So it all worked out well for me in the end. The very day I went back to work for Mr. Ellison, I was happy to be back on the racetrack. Which was elevated a little so we had to go up a hard packed dirt/gravel road to get to and from the racetrack. I was coming down that hill on my 8th horse the last one I'd have to gallop that morning. As bad luck would have it, that horse fell with me coming down that little road and I broke 3 ribs and my arm. What a comeback, huh? I didn't return to the track after healing that time. Instead went on to work as a hairstylist, and doing make-up, singing, I taught ballroom dancing, and did other things for work also. Then I just started to ache for riding races again and returned in '89 and rode till '95.
FOTH: Did you have a favorite track that you rode at?
LH. As far as riding on, Golden Gate Fields! They have a nice track there. But I'd have to say my favorite track for racing was in Ferndale, Ca. at the Humboldt County Fair! I loved riding there! It's a small, little half mile track, the surface compiled of a mix of dirt and rocks. Not a well kept racetrack, in fact probably would be considered as an extremely dangerous one by most accounts. But I loved it!! It's located just outside of the small Victorian style town of Ferndale, Ca. where you'll find some of the most wonderful people you could ever hope to meet in the world. They are friendly, generous, trusting, just very special. Plus, . . . I got to ride an awful lot there and I loved that part too!!
FOTH: Do you wish you could have rode longer?
L.H. I'm not so sure I'm done just yet!! I got a pony horse to use during the Lone Star Park meet in the hopes of getting me somewhat fit before I start galloping again. Unfortunately after a few weeks he was kicked and came up lame. So I've been sitting home on the sidelines, just designing web sites, which I also host with a partner. Something I do for a side-line business just to get me by. I got hooked on computers when I left Ca. and I just love em', and I can honestly say I even hate em' too sometimes. More recently I began working a great deal on the A.H.S.P.A.
FOTH: If there were some things you could change about the sport of horse racing, what would they be and why?
L.H. I'd like to see a lot less injuries occurring for both horses and riders! I've seen many improvements since '77 of course, but there are far too many injuries in this sport. I'd like to see over-breeding stopped. Some people with a registered horse just think that it's a license to breed them, and they'll breed to anything this side of a Jack Ass. I'd like to see breeders of animals become more responsible in their breeding practices, and some laws in place to regulate them. And would like to see horses start at 3 and not as 2 yr. olds. I think that starting a horse that young is just asking for trouble. Most of all though, I'd like to see the slaughter of horses stopped, but you did say about the sport of horse racing didn't you? But in a way, that does apply to this sport too. Many race horses are ending up as dinners for the Europeans. There are 3 slaughterhouses still operating here in the U.S. and are foreign owned. They pay little if anything in the way of taxes and I'd like to see them closed down permanently, and slaughtering of horses made illegal once and for all. So, . . . . I've lately been working on passing the S. 1915 Anti-Slaughter bill Known as the Virgie S. Arden American Horse Slaughter Prevention Act. I run into people (many of them horsemen) all the time that have no idea this even goes on in this country, but it does! This I'd like to see finally made a law that will be enforced!! Keep our American horses in the stables and off the tables!!
FOTH: What was your proudest day as a jockey?
L.H. My goal had always been to win the longest race on a half mile dirt track in N. America. That race is the Humboldt County Marathon. And in '95 I did win that race on "PJ's Pistol Pete". What was more thrilling to me was winning the race on a maiden. I had my race all planned out the night before. I knew exactly what I was going to do and my strategy went exactly as I'd hoped it would. I rode that race over and over in my head. So when the gate opened it was like a map I followed. Amazingly enough, it actually went as I'd planned for it to with the best results I could've hoped for and that was landing me in the winners circle. Before the race a lot of the riders were teasing me about this horse, telling me he had no shot at all to run in the money, and why would I ever take the mount. None of their remarks bothered me, . . but it sure made a lot of them think twice about my abilities afterwards. That was the icing on the cake when I blew right on by them to win the race by more than a length of daylight. I also won the Arabian Stake there that day on "Rey Roner" and broke the old record which I'd also broken the previous year, also on Rey Roner! It was a pretty exciting day for me. Actually I really enjoyed that whole meet! The only thing that sucked was that I was only a few races from the leading rider title. That would've made it all perfect for me but I'm not complaining! I ended up 2nd leading rider behind Steve Valdez, who was an Eclipse Award winning jockey several years back. So losing the title to him didn't really bother me too much. Having so many people that were rooting for me to win and who came to see me ride was always a thrill to me. Every day I got to ride, I was thankful and grateful to have been given the opportunity to do so. There is not a more exciting feeling in the world than that of winning a horse race. Well, not to me anyway!
FOTH: How did you prepare for a race when you are in the jock's room?
L.H. I'd do some stretching exercises and sometimes I'd run stairs if there were any available. Mostly in the room I'd just sleep, or talk to the other riders, sometimes cut their hair for them. I'd study the DRF usually the night before I rode.

FOTH: Did you have a special horse or trainer that you like to ride for?
L.H. Oh sure! I had many special horses, and I'll name one for each of the breeds I've ridden, that I liked that were particularly special to me, Wicker Basket (T'bred), and Fagai (Arab), Miss J.H. (Appy), and Joe Frasier (Q'horse). I've even worked for a few very special trainers too. The most fun trainer to work for was Bill Delia (aka The Bear), hands down! He is also a very good trainer with a kind, fun loving, and gentle personality. The best trainers I've ever worked for were the great and highly noted Charlie Whittingham, and the far less noted trainer Spearl Ellison (but nonetheless great). Both of these men were great trainers. Charlie got the fame and will be one of racings biggest and brightest personalities there ever has been or ever will be I'll bet. He could spot a good horse if you brought it to him as a sack of bones. He knew a good horse when he saw one. His record which is a stand out shows his greatness. I was very lucky to have had the opportunity to know this man and he taught me an awful lot. He was a hard working trainer and worked his help hard too. But I adored him, as did most who've known him. Spearl Ellison never had the stock Mr. Whittingham had, or got the fame. But was every bit as great a trainer as Charlie was. Each of these men possessed a great gift when it came to handling and understanding horses. The trainer most willing to give me a legitimate shot on a horse was Richard Leavitt. He was a good man and a fair man when it came to his jockey's. Even though he gave me my first shot believing I'd get his horse beat! He told me after that first race I rode for him, "okay, you've made a believer out of me". We were in the winners circle when he said that! He let me ride his entire stable after that day, and I liked him a great deal and worked for him a lot over the next few years.
FOTH: Tell us a little bit about Lone Star Park which is where you are at now.
LH. Lone Star Park is a beautiful racetrack in a beautiful area Grand Prairie. I love the race track they have here. It's got a good bottom and lots of cushion and very few breakdowns. It's a nice place to bring horses to race. Very professional.
FOTH: Did you ever have any problems with weight?
LH. My only problem with weight was keeping it on! I was always too light, even when I had the bug, and therefore had to pack lead which no trainer likes for his horses to have to do. My most often used line for this was, "packin' lead gave the horses better traction leaving the gate". Course that's baloney, . . . but a few actually believed there was something to what I'd said.
FOTH: If some young girl came up to you and said she wanted to become a jockey, what would you tell her?
LH. I'd tell her to find the best trainer she could find that was willing to help her to learn all that she could and start galloping horses at the track as soon as she was strong enough to do so. And when she felt she was absolutely ready to ride her first race to give it at least another year of galloping and working horses before actually getting her license to race! Because we're never ready when we think we are. I wish now I'd had someone tell me that when I first started out.
FOTH: Did you ever get recognized outside the track?
LH. Oh sure! I had people that would recognize me and ask for my autograph and stuff. That was always a thrill and also a little embarrassing too!! But mostly it's a thrill. Makes you feel pretty special.
FOTH: Do you think another female rider will win a Triple Crown race?
LH. Absolutely!! Sure there will be. I was happy to see it when Julie Crown won the Belmont! She broke the ice and now some other girl/girls will be there to win others. We may even see a girl win the Triple Crown one day, who can ever know? I'd love to see that happen in my lifetime!
FOTH: With you being a former jockey, can you watch a race and tell if a jockey gave a horse a bad ride?
LH. Sure I think most jockey's who've ridden for very long can see the faults in other riders. I do however like to give them the benefits of doubt. Because unless you're sitting where they're sitting at that moment at that time, you don't ever know for sure what you'd have done differently. It's much easier for one to sit it out and then speculate. Hindsight is always 20/20 isn't it? But that answer is yes, I can usually tell.
FOTH: Was it hard adjusting from riding Arabians to thoroughbred horses at all?
LH. Not at all!! But it's hard as hell adjusting from riding Thoroughbreds to riding Arabians I can tell you that much for sure!
FOTH: Did you ever get in any major arguments with any of the male riders or did you all pretty much get along?
LH. Oh sure I've had arguments with some of em', but none that I'd consider to be major. Just as any other members of my family. For the most part, we got along really well and they were helpful in advising me and keeping me outta trouble. Some of them really hate women riders, and would do nearly anything to keep em' off the racetrack. But I've only ever hit one other jockey. That was when he'd beaten a horse into the ground, and I mean that literally! The stewards fined him and gave him days, but I slugged him in the face hard as I could when he came back to the jocks room. I would've kept beating him until he was on the ground too, had I not been pulled off of him and escorted out of the room. It wasn't a major thing though and few people were around to see it.
FOTH: I am out of questions. Anything you want to say or add to the interview? Thanks for being part of the website.
LH. Dreams really can come true if you're willing to work hard in this life for what you want and believe in yourself enough. It's the hard that makes this sport so great!! And it's been one helluva ride for me, one that I've never regretted. Not for a single moment! Thanks for the opportunity to be heard! And one day maybe we'll meet Chris. I think I'd like to meet a guy that has done so much work for female jockeys'. Though we don't consider ourselves to be females out there on the tracks. We're all just jockey's.

Back to our main page