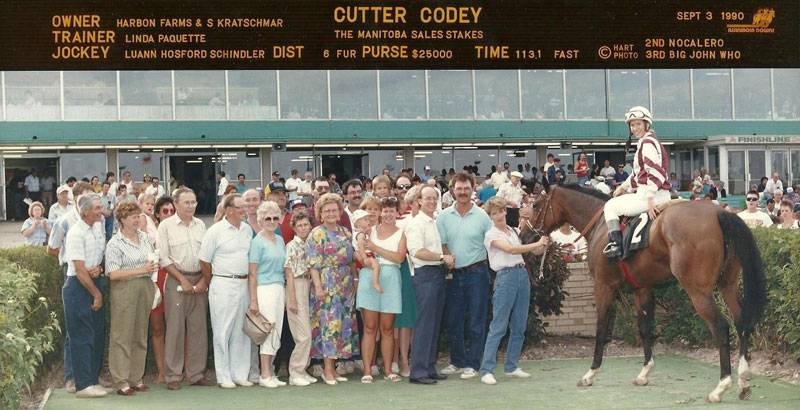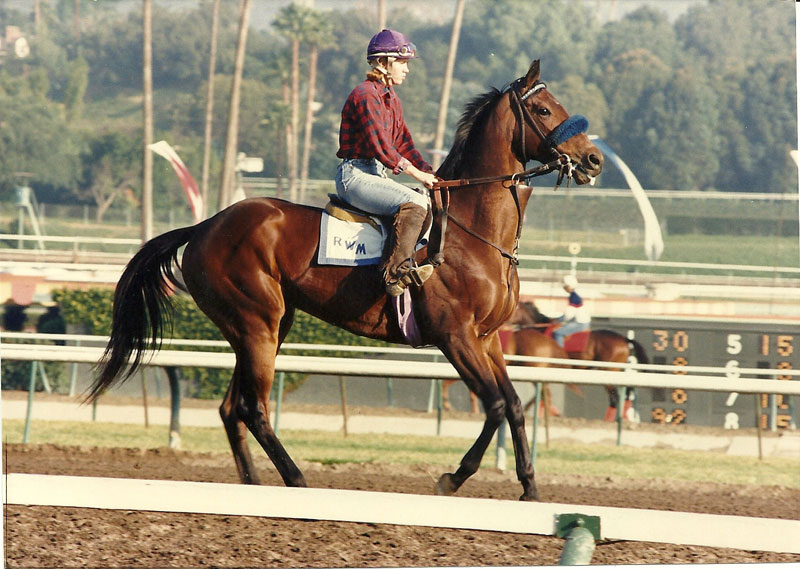 Luann Hosford
Luann Hosford (Sutton) is a retired jockey that rode for about 6 years and here is her story:
FOTH: Where were you born and where did you grow up?



LH: I was born in Portland Oregon and spent my younger years in Beaverton. We moved out to the HiIllsboro, Oregon (Scholls) area on 4 acres in the country when I was 8. My parents bought us our first horses on this small farm. This is where I really learned to ride, and spent the remainder of my childhood.



FOTH: What sort of girl were you growing up?



LH: Total Tom Boy!! I loved spending my time outdoors, catching insects, snakes (I remember my amazement when I first discovered people were afraid of them!). I would climb trees as high as I dared. Even though we lived in the city at this time, there was a large field behind the house that was my playground. My Mother was a former horse crazy girl raised on a farm, so at age 6 she enrolled me in English horseback riding lessons. I took these for 2 years at a local stable and discovered I was actually good at it. We had a couple of barn shows, and I came away with a handful of ribbons including my first blue. Already at this point, there was no looking back!
FOTH: When did you start to discover a love for the horses and what did you want to be when you were growing up?



LH: As I stated above, at about age 6. Not sure what I wanted to do as a career before age 13, but I saw my first horserace, The 1978 Kentucky Derby on TV that year. It was Steve Cauthen on Affirmed... he looked so young! I thought, as much as I loved riding and as good as I was at it, I could do that! That just had to be the ultimate job, to get paid to go fast on horses. It never occurred to me, I was the wrong sex.



FOTH: How did you end up on the racetrack and what was your 1st job there and what was the 1st racetrack you worked at?



LH: My mother absolutely forbid me to go on the track when I was under 21, I was still living at home, going to college, and very unhappy. I could just hear the clock ticking. Just a few months shy of my 21st birthday; I quit college and decided I just had to try to live my dream. I knew no one connected to racing, so I had find a way "in". I recall going to the Salem track, and literally sneaking under the backside fence (it was in bad need of repair, so this was not as difficult as it may seem). I would do this before daylight, and quietly sit on a bench right by the track gap to watch the workouts. No body questioned my being there. It was so exciting to be right beside the jockeys, trainers and racehorses!! After watching awhile, I walked around the stables to hustle a grooming job. I was finally hired and asked to start at the Portland meet, which began a few weeks later. I got my grooms license, and made $125 a week. I was in heaven. I remember paddocking my first horse and going to the test barn. I eventually started galloping for free at a local thoroughbred farm, just to learn how, and get my strength up. I wanted to leave grooming and become an exercise rider as soon as possible. I loped my first real racehorse on the Portland Meadows track in 1985, under the close scrutiny of the outrider, to obtain my exercise rider license. I remember how thrilling and huge the grandstand looked as I galloped before it.
FOTH: Now take me through the steps that led to you becoming a jockey.



LH: When I got my gallop license, I knew I needed a lot of experience doing it before I ever got a jockey's license. I also needed to make some $! I decided to make a big move (OK, I was also chasing a guy at the time!) and go to southern California and get a job loping horses there. I went for the big time, and ended up at Santa Anita! What a great time I had there. Man, I did get some experience! I sneaked into SA, just as I had before in Oregon, as I knew absolutely no one. I ended up landing a galloping job for D. Wayne Lucas right off. I had to be there at 4:00 am to start. My commute was almost 2hrs (remember the guy?). You can do the math on how early I was getting up, and the level of my dedication. I was still pretty green at exercising racehorses, and after about 2 months, I was "run off" with on a crazy filly of Lucas's. I was fired instantly. Determined, I quickly got hired at Richard Mulhall's stable. This time, I was a little more honest about my ability, so things went much smoother. Mr. Mulhall was very good to me, I learned how to work horses, come out of the gate, desensitize green horses to the paddock, etc. I got to work a horse that even beat Alysheba in a race. It was a great time. We moved our stable to Hollywood Park next, for that meet. I got to go to Jack Van Berg's new ranch to film a segment for the Preakness Stakes coverage (Alysheba was the star that year, and yes, I was on TV!) It was a wonderful, sunny time. Come late spring, however, I wanted to get my jock's license. I knew I didn't have a chance to ride races at SA. Reluctant to leave California, but anxious to get on with my dream, I left and went back to Oregon to ride at the first bush meet of the season, Grants Pass. I was well known there already from being in Oregon (much the same people go to GP as Portland Meadows) so all I had to do to get a jockey's license was to have the stewards watch me come out of the gate. After that approval, I had to ride 3 races on "probation" until I could prove I was in control of my mounts.
FOTH: Was it natural getting up on a horse for you and who taught you how to ride?



LH: As stated earlier, I was riding at age 6. I do not think it came naturally, but I caught on quickly. Riding racehorses was a different story. I had to learn how to handle a hot, excited, barely broke (compared to the horses I ride now!) often young thoroughbred. Learning pace, speed, setting a horse up for its leads, rating a horse, and how to "cheat " a horse, or keep it from running off with you!! Now this took time to learn. Just knowing how to ride a regular horse does not satisfy race trackers. Until you know how to ride race horses, you don't know ANYTHING about horses! Many of my mentors on the track were: Sammy Davis, Jim Keen, Jigger Dale, David Haggeman, Roland Ferguson and Richard Mulhall. There of course, are many more, but these were my early influences.
FOTH: Looking back was becoming a jockey easier or harder than you thought it was going to be?



LH: Neither. I imagined it to be very hard, and it was. I had studied much before I ever set foot on a racetrack. I read everything I could find on the subject. I went to the track as a spectator (I had to coerce an adult, of course to accompany me) and tried to talk with jockeys and trainers. I wrote the Jockey Club asking for information about jockeys. I watch every race on TV I could. When video taping came out, I taped and studied races. I had pictures of race horses and jockeys all over my room (cut out from Sports Illustrated). I was as prepared mentally as I could be. And by then I realized the sex bias. I was pleasantly surprised, however, when I actually got on the track, to find that there were trainers and owners who would give a female jockey a chance (of course, there were also those who said NEVER!!)than I had thought. I would slowly chip away at the "nevers", showing up at their barn each morning, and asking if they needed any help. Often this would pay off, sometimes it was a waste. I never gave up hope. I would keep track of who I beat when I won a race, and if it was one of these trainers/ owners, I would "rub it in" a little the next day! Physically, it can be very hard and punishing. I think it was harder physically than I imagined. But mentally, I was prepared.
FOTH: Tell me about your 1st race. What track was it at and were you nervous at all? Where did you end up finishing?



LH: I was at Grants Pass, Oregon (1/2 mile "bush track"). I was SUPER nervous. I was in the one hole, so it seemed like an eternity before all the horses were loaded, and I remember the starter teasing me "Are you nervous, hang on tight, smile!" I wanted to throw up! I was riding an Arabian race; they ran them at Grants Pass back then. Debbie Adams, the owner /trainer was so nice. She told me she didn't care where we finished; she just wanted us to have a good ride and a safe trip. She helped me out a lot early in my race riding career. When the gate finally opened, I didn't feel like I was really in the race, more like I was watching it on TV or something. It was about half way over before I remembered I should start riding!! I ended up finishing 5th, and felt that if I hadn't been so busy observing the race, I could have done better. After that race, I got over the initial shock and did much better.



FOTH: Tell me about your 1st win. What track was that at and did the jockeys get you good afterwards and did you know it was coming?



LH: I think I rode about 20 races before I won one. After Grants Pass, I went to the next bush track in the circuit, Lakeview Oregon. Another 1/2 miler. I won the first race I rode there; wire to wore on Billy Bob, a thoroughbred. The other riders waited in ambush, and I got a 7-up poured all over me, with black shoe polish all over my T-shirt and jock pants. Some of it is still on my old jock helmet to this day. I also rode my first QH race there, getting second call on a really nice filly. She won easily, setting a new track record for the distance. Too fun.



FOTH: Have you ever had the chance to return the favor to another jockey who got their 1st win?



LH: Of course! I feel sorry for anyone who hasn't had the pleasure of "painting" a bug who has won his/her first race. It can get pretty ugly. Cold water, stripped and cold riders fighting for their lives!! Sharpies, shoe polish, showers, you never know what you are going to get!
FOTH: What tracks did you ride at over the years and did you have a favorite one and why was it your favorite?



LH: Portland Meadows, Grants Pass, Lakeview, Salem, Prineville, Tillamook, Klammath Falls, (all in Oregon) Aberdeen- South Dakota, Prairie Meadows- Iowa, Regina-Canada, Saskatoon-Canada. My very favorite, hands down, was Assiniboia Downs in Winnipeg- Canada. I went there with Oregon trainer Sammy (Melvin) Davis and his large string to ride for three different seasons 1988-1990. I did well there, won my first stakes, and rode a ton of horses. It helped that Sammy's horses were all fit and ready to run the first year he took me there (he was also good at running them where they belonged-ie-claiming price). The trainers at Winnipeg saw me winning and that I could ride, and I just took off from there. AD's had long meets (May- Nov) back then, and we had live racing 4-5 days a week. I made some decent $ and got a ton of experience. The Canadians could not have been nicer to me. The track took good care of their horsemen. Time of my life!
FOTH: What sort of injuries did you get while you were riding and what was the worst one?



LH: I got lucky when I was riding races. Of course, I did not ride as long as some of the other girls, either. Even though I had many a horse breakdown, the worst I came away with was about 4 bad concussions, bruised ribs, whiplash, and a badly sprained ankle. Ironically, most of my bad horse injuries came after I quit riding races. Still, all in all, I was really, really lucky.
FOTH: What are some of the best and worth things about being a jockey?



LH: By far, the worst thing for me was the disappointment you get from the pressure put on you to win, or do well. I rode this nice stakes filly in Canada, won on her coming from behind. The next rime I rode her, I asked the trainer if I could send her (go to the front) as she would fight me terribly to rate. The answer was no. So I rode her again in a stakes race, fought with her the whole time, and ran 2nd. I was horrified to find I was replaced the next time she ran. Of course, the rider "sent " her and she won. I didn't let anyone see me (I was the only permanent girl rider at AD all three years I was there, so I was alone in the girl's jocks room) but I cried and cried after watching that race. It was tough! The best, as I'm sure anyone here would say, is the winning. And even when you weren't, just to get up in the morning and to get to do something you worked so hard to accomplish, something you think is so grand, well... not many people get to say they lived their dream.
FOTH: Did you at the time think you were a good apprentice rider when you had the "bug"?



LH: I think I thought I was at least "good". I knew I wasn't great, because I could see the style of other "bugs" that I wanted to adopt. But I knew that dedication and drive counted for a lot, and at that I was awesome !! I noticed many of the male apprentices (and even journeyman, for that matter) wouldn't show up in the morning to gallop their mounts. Well, I was right there, trying to hustle them. Very often, it worked. I would sometimes even agree to 2nd call. Anything to get my foot in the door!
FOTH: Do you feel you have a certain riding style?



LH: Not really, although, I really was a better 3/4 mile rider than anything longer. My sense of pace and timing a run for that distance was very good. I didn't feel as good about races a mile or longer.
FOTH: If a young girl came up to you and said she wanted to become a jockey, what advice would you give to her?



LH: Be prepared to sacrifice everything and anything to succeed: sleep, $, comfort, possessions, family, beauty, etc. Might sound kind of glum, but I mean it. You have to want it more than anything in the world. You may also have to be willing to start at the bottom (ie-groom). Especially if you have no connections to the track, like me. I would not discourage her if she sounded determined. I would help her if I could (it's been so long since I've been on the track, I'm losing my connections).
FOTH: What is the craziest thing you saw happen in a race?



LH: Two things. One time in Canada, I was supposed to ride this horse, and I chose another in the same race. Well that horse broke off both his front legs right in front of me, and the horse I choose to ride (an older horse who knew a thing or two about going around the oval) leaped high into the air to avoid him. I had no time to react, it happened so fast, and that old wise horse saved my life. When we finally landed (I barely stayed on!) he just kept on running like it was just another day at work. I was just shaking, thinking both that I was originally supposed to ride that horse, and that the horse I was on had really saved us from great harm.



The other crazy incident was the, at least, 99-1 shot I won on in a cheap race. I was beating one horse at the quarter pole, and was far behind the field. Well, some kind of wreck started to happen with the leaders (thankfully, no one was injured that day) and so I swung wide to avoid it all. Next thing I knew, I had won. When I got that win pic, I was so wide I looked like an extreme close up to the track photographer! My agent was so amazed he even got in the win pic (a big no no). He said, I dreamed that horse would win last night, and when he actually did, I didn't care if I'd get in trouble for getting in the pic or not!
FOTH: Tell me a good funny jockey story?



LH: Last day of the meet at Portland one year, all the riders were doing funny crazy stuff ( kind of like kids on the last day of school). One of the guy jocks had a bright orange can of spray for your hair (the kind you use at Halloween) and he was trying to spray us (girl jocks) with it. I somehow got it away from him, and was hiding, waiting for him to come around the corner of the girl's jock room door to get him back. Well, a race had just finished in which a particular male jock NONE of us liked (really arrogant, rude, etc) was yelling at one of our girl riders. He was mad at her for cutting him off in the race or something. They were both coming in to take off their sandy silks and she said something like "well you can just kiss mine" (you know the saying) He said back to her "Oh yeah? Well kiss this!! " and he bent over right there near the scales and pulled down his pants (yes, all was bared!) Now, back to me... I am still waiting, watching all of this, with can of bright orange spray. I had never liked the guy. I popped out from behind the door, and full- on sprayed his bare behind orange. It was cold and it was sticky, and I have never seen a guy pull his pants back up as fast as he did! We both rode the next race, and needless to say I stayed way away from him that go!!
FOTH: How many years did you ride for?



LH: I rode races for about 4 1/2 years. I was on the track about 6 years total.
FOTH: What led to you retiring and at the time did you know your last race was going to be your last race?



LH: I settled down and got married in late 1991. Although I didn't want to quit quite yet, I really wanted the man, so I decided it was time (I had left him for the track, once before). It is too hard to have opposite schedules, and the need to travel, when you are committed to a marriage. I finished the meet up at Portland that last year 1991. I knew the last race I was scheduled to ride. I won it, and it was a great feeling to think I was going out with a win. But it wasn't the last race on the card, and a trainer I rode a lot for came up to the jocks' room and needed a rider; would I please ride his horse? I couldn't say no, as he had been very good to me throughout my career. The horse wasn't much and I think I beat a couple of others, at best. I'm still glad I did it, though.
FOTH: Do you think we will ever see another Triple Crown Horse?



LH: I soooo hope I am wrong, but no. It seems horses don't hold up as well as they used to. Also, they are campaigned so much differently these days. Also, personally, I am a Belmont hater. Darn archaic race!!Too long. No horses are bred to go that long anymore! I know, people say it "shows a true test"... a test no horse can seem to pass these days!!!
FOTH: Do you still follow the sport at all?



LH: Of course, it is my one real passion. But since I cannot participate anymore, not as much as I used to. I am following cutters and reiners more these days. They are fast and exciting, too! I am showing a cutter currently (broke and trained by me!) and trying to learn how to train a reiner on my own.
FOTH: What are you doing with yourself these days?



LH: Other than the above, I am supporting my horse habits with a dental hygiene degree.
FOTH: Did you ever bring in a 100-1 shot or more during your riding career?



LH: More than once, but my favorite is included in your "craziest race" question.
FOTH: Have you ever been recognized outside the racetrack?



LH: Not sure what you mean by this question? I was recognized in Winnipeg a few times, as I was the only female rider there for 3 consecutive years. At other horse events, I have earned awards, buckles and ribbons in gaming and cutting.
FOTH: Do you think slot machines at racetracks helps or hurts tracks in the long run?



LH: As sad as it is that they have to bring them in, I think it helps. It bring in more gamblers, more $. Just wish racing wasn't such a dying sport. It would be a lot harder to start as a jockey these days, as almost all the small, beginner friendly bush tracks in Oregon and Washington are now closed. I do not see a bright future for racing.
FOTH: If you could change 3 things in horse racing, what would they be and why?



LH: Although I realize slaughter and euthanasia is a necessary evil, it is too bad there isn't more hope for retired, injured, and untalented race horses. I know a few of them are rehabilitated, but many are not wanted and have no use. I also wish there was more loyalty amongst most race trackers. It is very cut throat. When I read the book Seabiscuit, I think the thing that amazed me most about it was the bond and honor between the owner and Pollard, the hard-luck jock. You almost never see that today. Can't think of anything else, other than less injuries. Memory foam footing ???
FOTH: Luann I am out of questions. Thumbs up for the interview and any last words?



LH: Thank you, again!! I have seen a few gals I rode with on this website!!
Back to our main page