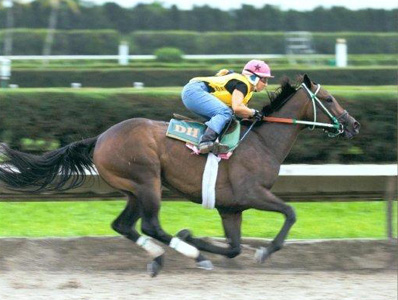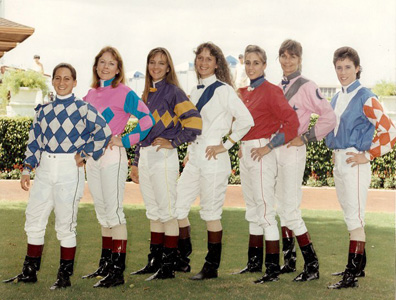 Laura Kornmeyer Schoeller
Laura Kornmeyer Schoeller is a jockey whom rode in the 90's down in Florida and she has a great story to tell so sit back and read her story:

FOTH: Where were you born and where did you grow up?

LKS: I was born in Levittown, New York (Long Island). Then moved out on the island at age 4 to Wheatley Heights. Went to school to Takomas Elementary, West Hollow Junior High, and Half Hollow Hills High School West. Then to upstate New York for two years of college at S.U.N.Y at Cobleskill.

FOTH: What sort of girl were you growing up?

LKS: I was a tom boy in my young years. When my family moved from Levittown out to Wheatly Heights we lived on a cul-de-sac with families with kids our age. I was the youngest, when we moved I was 4, my sister 3 years older and then my brother and I, a 6 year spread. All the kids ranged from elementary through high school. When I was old enough, there were about 20 of us on the block and we played hide and see using the entire block. We would play football, tag, ride bikes, everything outside. My sister, brother, and I would leave the house on weekends after our chores and we didn't need to be back home until we heard dad's whistle that we could hear deep into the park that was the next block over! Those were the good 'ole days! The 70's!!!

My brother led the way for sports. He played a mean game of soccer all through high school. He could have gone pro but went into the service instead. My sister followed in his footsteps with sports. She was great in volleyball. When track and field started, she wanted to go out for the team. There was a problem. No girls were on the team. She fought it and became the first girl to compete in track and field in the late 70's. During football season she was the captain of the cheerleading squad. I followed her footsteps with cheerleading and my sister opened the door for me in track & field. Field hockey was my other sport. I played center, left inner and left wing. I loved those days. My family was a tight knit family. We had a boat and did lots of fishing, water skiing, and just playing on the beach. My dad worked for Pan American so I was very fortunate to fly ALL over the world at a young age. Been around the world...twice! Bangkok, Thailand, Hong Kong, Germany, Hawaii, Jamaica, El Salvador, just to name a few.

FOTH: Did you have a love for the horses or did that come at a later age?

LKS: I was always intrigued by the majestic animal. When I was old enough to get a weekend job. I didn't want to do what the other girls were doing for a job like being a mother's helper, I wanted to go to a barn and be a helper there. But that meant to rely on someone to drive me because any barn for riding was a drive and not a bike ride away. I did babysit and saved my money to go horseback riding whenever I could. During my very first trail ride, my horse got spooked, reared up and took off through the trees! I heard everyone yelling to jump off. I didn't want to until I saw this huge bee hive in front of me. I bailed. Everyone was over me in seconds asking if I was alright. I stood up and said "Now that was fun!!" I was hooked.

FOTH: When did you first seriously think about becoming a jockey?

LKS: As I approached high school, I knew of the B.O.C.E.S course the high school had. They offered a class for one year called "Horsecare and training for the Thoroughbred" I decided that's what I wanted to do. I doubled up my classes in my junior year and busted my butt so that I had nothing but gym and English to take in my senior year, leaving my entire day open for this course. I took a bus to school and then another bus to a barn!!! Now I felt at home! I was recognized when I graduated high school with top grades in that class and received a grant to put towards college in that profession. And I did. I went to S.U.N.Y at Cobleskill. Thought I was going on to Cornell to be a vet but the riding team got into my blood. I wanted to ride. I graduated though, managed some farms upstate New York and worked my way down to Ocala, Florida where I met up with Tommy Root Sr. of Mockingbird Farm. Mr. Root handed me over to Elmer Huebeck of Qual Roost Farm when he retired. I learned under the two best men of the industry. I loved them dearly, God bless their souls. They taught me well.

FOTH: What event or events led to you becoming a jockey?

LKS: After college I worked on this one farm named Penmor Farm on Long Island. Angel Cordero use to come and go pleasure riding with the owners. I was told to tack up the horse he was going to ride that day. While I was tacking up the horse, Angel walked in and my heart stopped. I knew he was the one to ask how I go about being a jockey. I introduced myself to him. ( I was also told he never forgets a face. He remembered me years later at Gulfstream.) He looked right at me that day, in my eyes, and told me if I was really serious about riding, I needed to get on horseback and feel the horse, feel the horse gallop, feel the rhythm. That I should get a helmet on and take the pony out on the track. Get some experience on the farm before I go to the track. The next day I took the pony out to the track when no one was around and I got run off with. Well, that was the last time I did that without any help. I then landed a job back upstate New York where I was in charge of the new season coming up of breaking babies and getting them ready to go to the sale in Florida! There was my ticket down to where they raced year round!

This story is interesting, I use it when I do career day at my son's elementary school: This job that I landed, I will keep the farm name and owner name out. I lived on the farm. We each had 4 horses we groomed and cared for. We each were to break our own that we groomed, this is the old way of learning and the better way than they do now. You become more of a horseman when you learn from the bottom up. Not just walking hots (hot walker) and then jumping on any horse at the track. Going to the track to start with no knowledge of as many do, leads to a lot of injuries that should never take place. Anyway, I had my responsibilities like all the groom/riders plus if any potential buyers came, I had to be at available to stand, jog and show the horse (by hand). Do you know why? Because I was the smallest person! I made the horse look bigger. I handled every one, good, bad, stupid, I handled it. I watered off at night, would check each of the 30 horses we had before going to sleep. One time in the arena when we were saddled up walking, then jogging, my horse got a bug up its butt and decided to start bucking across the arena!! I stayed on until we met the wall. The colt went one way and I met the wall! Instead of "good job of staying on for that time", I got, "What was that! You'll never be a rider" those words dug deep into my heart and made me all the more determined.

The day we were to pack up and move with the stable to Florida, my boss calls me in to the office. He proceeds to tell me he has to let me go because I'm TOO SMALL!! In my head, I was screaming. He foresees problems arising that I wouldn't be able to handle due to my size and the horses getting bigger! Where did that come from? I was perfect for everything else, all the dirty work, and all the prep work but couldn't share in the glory at the end. WOW was I robbed. Well, to make an already long story short, 20 years later, after enjoying a nice career in riding, I met up with this owner on a farm where my husband and I had our two year old that I was preparing to come out of retirement and ride. My husband knew this story and I told my friends that had the farm the story. My friends told this man how I rode for them and won lots of races for them when they were at Calder. How much fun we had. I then approached this man and tried to see if he remembered me and what he did to me, he claims he didn't remember.

Dreams, Determination I tell my kids at Career day. Don't let anyone knock down your dreams. Don't let anyone tell you that you can't do something that you set out to do in life.
FOTH: How long did you ride full time for?

LKS: I have to think back on this one! I started in May 1989 as a 10 pound bug girl...wait...I looked up my report and I actually started in 1988. I rode just a few in '88. I rode at Calder with 11 other bug riders! Talk about competition. I ended up starting late at the age of 26. According to when the riders really start riding, that's late. These kids usually start when they are in school or right out of school. I took a different route. I didn't ride for long, I rode full time through 1992, a few in '93. I didn't win many but I think I was the leader in bringing in the long shots!

I actually got married in April 1989. I kept my maiden name for riding and my husband trained under his name, Schoeller. One thing that Chris and I didn't know was going to happen was the stewards called us both in to the office. They told me that there was a conflict of interest with me riding and Chris training. If I were to have two calls in a race, one being for Chris, I had to ride Chris's horse. Now Chris just started training as I started riding. He had cheap horses to start with. They weren't much. So there were many times where I had to take off a 2-1 shot to ride Chris's 20 -1 shot. We just dealt with it trying to survive. It made things for him and me much tougher. That's the way it went. We couldn't do anything about it.

Family members started pushing the baby thing. Starting a family was on my mind quite a bit as I got older. I figured I'd ride through my bug and then start a family. I hung up my tack when I got pregnant. That was tough. It's like going cold turkey!! I retired to raise my kids but riding was never out of my blood...I thought it was, but it wasn't.

FOTH: What were the tracks that you rode at and what was your favorite and least favorite and why?

LKS: I started at Calder, went with my husband to Tampa with his stable but wasn't allowed to ride for one of his owners who owned most of the stable. Then back to Calder/Hialeah/Gulfstream circuit. I also went up to Canada and rode at Fort Erie and Woodbine. When I came out of retirement I rode where my horses were stabled, Aqueduct and Finger Lakes.

Here's a good story: In 1990 I was invited to Venezuela to ride with Michelle Hanley (Lovell), Shiela Mckenna, and Susan Gold to promote the girl riders there. I enjoyed riding there because we were treated with respect. When I won my race above Horshe (wow, I remembered his name) I was escorted back by the outrider, I had a standing ovation, three teers of people chanting my name! The place was packed with people. You couldn't see anything but people! When I saluted the crowd with my stick, they yelled more! That was a great feeling. It was like winning the Derby!

When we returned from that trip, there was a call into the jocks room, my agent at the time was the color man, and he turned to me and told me not to unpack because I was just invited to Kingston, Jamaica to ride the following weekend with Walter Guerra in the jockey's challenge. Talk about an experience for a girl. Where I was treated with respect in Venezuela, I was cursed in Jamaica. They thought I was making a mockery of their serious betting parlor, the race track. I had the two biggest body guards you would ever see. The fencing that went around the track and the saddling ring was gated with bobbed wire at the top. Yes, they are serious bettors!! When I came out for the national anthem, I was wondering what the hell I was doing there. When we went to our trainers and ready to mount, the Jamaicans cursed me, cursed me bad. Words that I can't repeat. I just smiled because I had two body guards and bobbed wire fencing between me and them. It had just poured rain before the first race like I've never seen rain come down. The track was like soup up to the horse's knees, it seemed like it. These riders were crazy. They all came out of the gate like banshees! I figured I'd sit back because I don't want my horse to fall down the lane. At the quarter pole these poor horses were legless. I, on the other hand, had a fresh horse. I just had to weave in and out of these guys with a pretty hand ride to win the race! I didn't know what to expect when I got back to the winner's circle. All I know is my body guards were waiting for me. When I got back, to my surprise, they were cheering me on, telling me "You da Julie Krone of da south, man! Come back any time!" I had about ten pounds of mud on me, Man what a ride that was!!
I enjoyed everywhere I rode.

FOTH: Looking back was becoming a jockey easier or harder than you thought it was going to be?

LKS: I think the route that I took made it harder for me. I thought I was going to be a vet and had decided kind of late that I wanted to pursue this adventure in racing. Being a woman, getting married, knowing I needed to start a family before I got too old to have kids, all this weighs on your mind and doesn't give you much time to work with. I never had the chance to give my journeyman status time to grow.

FOTH: Did you have a favorite horse or trainer that you liked to ride for?

LKS: I developed the status of a gate rider, a speed rider. I got horses out of the gate quicker than anyone. I had many horses that fit me that were fun to ride. I think the best ride was a horse named "Youmadeyourpoint" trained by Eugene Navarro, (God rest his soul) owned by Stanley Ersoff. I was at the right place at the right time for this one. I came walking through his barn like I always did. They both looked at me and said, "Do we have a horse for you to ride". I asked if I could gallop or breeze him for them. No, I don't think so. He had his morning big guy galloping him. They introduced me, or they just showed me him from a distance, I peeked in the stall and looked straight up. He almost took my face off! Wow, the bigger they are the more fun they are, I thought. This horse would come into the paddock on his hind end in a steel halter with a man on each side. When I mounted, he was all business. He was like a freakin freight train. We broke on top and I just sang quietly to him, got his ears to just twitch forward. Chris always told me that if I can get a horse to relax and his ears go forward, you got it made, he's running easy. When I turned for home the first time I rode him, I smooched to him and it was like turbo! What a ride that was!! I win by ten at Gulfstream on him. Set a track record for the mile.

When this horse became real good they decided to head him towards the Gulfstream Park Budweiser's Breeders Cup and the Canadian Turf Handicap. That was my ticket to the big boys and at Gulfstream Park!!! Well, the road that I thought I was going down turned abruptly on me. The owner decided to take me off since I was a 5 lb. bug and he couldn't get the weight allowance. He wanted the experience of a journeyman on his horse. I knew what made this horse run but it didn't matter anymore. The newspapers said "I gracefully stepped aside to let Valiente ride." That would have been the change for me and my career. But it didn't happen.

I think my favorite trainer to ride for during my bug was Eddie Yowell (God rest his soul) . He was a class act. My husband, Chris Schoeller, rode for him when he had the bug and told me if I got in that barn he will ride you on everything like the trainers did in the good 'ole days. He treated me with respect and we had a great time. He was so cute in the paddock because he would tell me the same instructions for each horse and if you think about it, he was right. "Get a good break...sit a bit...and then...finish!" What a good time we had. I won a lot for him.

FOTH: What led to you retiring and would you ever consider riding in another race or something like a special retired female rider's race?

LKS: Well, like I had mentioned before, I had the family thing weighing on my mind. I figured, if I got pregnant, well, I had a good time while it lasted. Let me go and raise a family. The problem was, I wasn't getting pregnant! Until....I was trying for the first time to keep my weight down at 105 for a while. My valet was asking me as he was taking the weight out of my saddle, "Laura, what the hell are you eating lately?" I felt like crap and figured I better go home and buy another pregnancy test. As many as I bought, I should have taken stock in them! Turns out I was three months pregnant. So I hung up my tack pretty quick! At least I got through the first trimester without knowing it! Hah!

Would I consider riding another race or something special like a retired female rider's race? You bet!! I enjoyed watching the one that just took place at Pimlico, the Ladies Legend race for the Cure. For sure! Without a doubt!.....When I retire for good, LOL!!! That's another good story...

Well, my retirement was a 13 year spread. I raised my two boys which are now, 10 and 15, this is 2010, right? Wow, it gets away from you if you let it. After my second child, I got real serious about getting back in shape. I stand 4'9" tall. I went up to 150 lbs with both pregnancies! Try getting that weight off....twice!!! I did. My husband, the good heart he has, saw that I was nuts about fitness and healthy eating now, that he bought me a yearling for my 40th birthday. He said, you worked hard raising these babies, and still are, here is your piece of heaven. He accepted the fact that I wasn't finished. Now being older, I don't go the same pace. I get on horses for my trainer friends, get on my own, take time off from time to time when I need and want it. I need to make to baseball games and golf tournaments now so I go my pace. We both have fun and we "keep our feet wet" in the business.

FOTH: If some young girl wanted to become a jockey what advice would you give her?

LKS: It has to be a part of your soul, in your heart, you have to REALLY love every aspect of the job because it is not as glamorous as you think. Especially when you hit the ground at 40 miles an hour.

When you are introduced to a trainer and get a job to do, whether it's a gallop, a breeze, you do as you're told not the way you see it. The trainer is always right. Do the best you can. If it doesn't turn out right, don't have a mouthful for the trainer. Explain yourself and say you will know better for next time. The trainer is ALWAYS right. Speak with respect. Keep the mouth clean. Don't smoke. No athlete should smoke. As for anyone. It's a nasty habit.

FOTH: Did you ever have any problems with your weight?

LKS: I'm 4'9" tall. No, no problems with weight for riding races. I could eat really healthy and be strong for any ride at any time. I don't know how some of these riders do it. If I couldn't eat, I don't think I would have been a rider! I'm curvy though. I don't think I look like a rider. I'm always trying to slim out. I have strong legs and a good size booty. Riding though, no problem...bathing suit? Now that's a problem, LOL!!

FOTH: What do you feel is worst part about the sport and best part of the sport and why?

LKS: It's a physical job. You can't do it forever. I can remember when Dan Marino retired. I had already hung up my tack so I could feel his heartache. He wanted to bring his team to win the Super Bowl and it never happened. That was deep in his heart. He had a tremendous career and he was an awesome quarterback. But that one goal, that one goal....I always wanted to win a stake race, just one. It never happened. I had a good career while it lasted. But that one goal…the heartbreak you feel when you think you're getting too old to compete, when you have to accept that, it's the worst feeling. Well, I went through chapters in my life that led me back, but it stinks when you have to stop doing something you were born to do.

Getting hurt stinks too. You have to gain that trust back that you are the same rider you were before that injury. It always hurts your business. There are no guarantees.

The best part is those moments of glory in the winner's circle. Riding a race where everything goes your way. You're unstoppable. You're in the zone. You and that horse become one. Having horse to finish with, that's the best feeling. It takes A LOT of hard work to get there.

FOTH: What sort of injuries did you have during your career and what was the worst one?

LKS: Hold on, let me knock on wood.....I had small injuries. There was only one in the afternoon that took me away for some time to heal. I went down in front but was able to roll under the rail to escape bad injury. I had a horse hit me in the shoulder blade as I rolled. I cracked it and a rib or two. Just a sling, can't get a cast for that. I was out for just as long though. I went down 3 times in a month. The last one was when I cracked my shoulder blade and a rib...or two.

I had a horse flip over on the concrete on the backside at Calder in the morning and broke my foot. I tried to push off as we were going down but my foot got caught. Galloped a few more after that trying to save my mounts. Got the x-ray the next day to reveal the break. Would never wait to take an x-ray like that now. Man I was stupid...and young.

FOTH: What have you been doing with yourself since you stopped riding full time?

LKS: I have a full schedule. My husband and I have to sit down and work out the schedule for the times when I go back to the track. We have to think about the kids school schedule, their sports, homework, keeping home life organized and unstressed. Our home, it's our sanctuary. We need to keep it that way. My 15 year old competes heavily in golf. He plays mostly year round. My 10 year old is getting serious about baseball. He still needs assistance with homework from time to time. I have a great "mom" support group. We pick each other's kids up when someone is stuck or is busy. Or they stay at each other's house if something big is going on. I like to go out in the morning and gallop a few, breeze a few. I have some trainer's numbers in my phone so when they need me for a certain breeze, they call me. Or I call them and tell them I'm coming out. It's quite nice. If I don't want to go out because it's raining or my son's school is putting on a show, or awards, I don't go in. When my horse is at the track, it's hard to keep me home. I love to gallop him, walk him, groom him and just play with him. It's my time. My time to enjoy it all. When I stop enjoying it... I'll just walk away.

FOTH: Will a woman rider ever win a Triple Crown Race?

LKS: I think it's tough to find the horse that CAN win the Triple Crown. So with that said...well, anything is possible. I won my own personal Triple Crown Race with my filly that should have died from the Herpes disease. Now that's another good story.

Our second yearling we bought came to us at Calder. She ran a couple of two year old races and then something mysterious was happening. She was carrying a fever, back legs swelling, had all kinds of antibiotics, couldn't cure her, she was at the Equine clinic then back to Calder then she was tying up. She was a mess. We sent her back home to where she was born to dry out. I noticed she was dragging her hind legs as she walked to the van. As she left, I called the farm to tell them she was on her way, that it was weird to see her dragging her back feet. That was all I had to say. The can of worms was opened. The horses in Wellington were dropping like flies. Dead. When Tuxedo got to her farm, the vet was there waiting with the farm owners, they isolated her, gave her DMSO jugs intravenously. By now, it was in all the papers. Calder was on lockdown. The great Wellington show horses over from Europe were dying. My filly never sat down. Which is a characteristic of the disease. They had to catheterize her to relieve her bladder. I remember the call like it was yesterday. December 15th 2006. "Laura, She can't move, should we put her down?" I said to wait one more day for the lab work to come back from Kentucky. I had a vigil set up on my dining room table with her pictures, my bible, candles, and I prayed. The next day I called the farm. Jerry told me" Laura, you're not gonna believe this. I was heading up to the barn and my dogs ran ahead of me. They must have spooked her. She squealed and ran in circles! Then when I peeked in, she peed on her own! Then when I called Linda over, she pooped all on her own!!" I fell to my knees and just cried. She had a long recovery ahead of her and we gave her all the time she needed to build her weight back. On Kentucky Derby day in May of 2008 in Finger Lakes, when she was four, she won her first race! On Preakness day, she won her second race, On Belmont Stakes day we won our third race!! Then to top that we came back on July 4th and won again!! Now how's that for a Triple Crown Win, That's a Quadruple Crown Win!! We celebrated those wins at Niagra Falls for the Fourth of July.

FOTH: Did you ever have a trainer not ride you because you were a female rider?

LKS: Yes, Every day I had to prove myself much more than the boys had to just to get the respect from the trainers. When you make a mistake as a girl rider in a race, you never get a second chance. You have to be perfect every time you ride. It's a lot more pressure than the boys will ever have.

FOTH: How did you prepare for a race when you were riding?

LKS: There were so many head games played that I used to use Anthony Robbins tapes. They were good for the mind. Physically, I was a work horse. I got on a lot of horses in the morning, some I shouldn't have gotten on. But we all felt like we had to prove something. When we're young we think we're bullet proof.
FOTH: Give me a couple funny jockey stories.

LKS: OK here are two: One quick one since I've been blabbing a story with every question given. You questioned trainers not riding me because I'm a girl. It's the sweet revenge that's funny. I remember riding a horse against Bill Kaplan. He used to give me such a hard time about everything. Every horse I worked, galloped, whatever he could think of. I have to say I think he was one of the ones that indirectly made me tough. I tried getting a certain mount in his barn but he wouldn't put me on. So I ended up riding against him in the race. It was me and Michael Lee from the quarter pole to the wire. I beat him a head. When we came back to unsaddle, Bill yelled at Michael "You let a girl beat you!" I never felt so proud to be a girl at that moment.

I think this one day I had five to ride. I won on 3 of them. I'm over it now, but I wasn't for a long time. I got taken down on two of them!! The one race was on the grass. I rode for John Tamaro. Speed horse on the front. I had company down the lane and we bumped ever so slightly 3 jumps before the wire. I won by a nose but I was taken down. They could have that one, but the other one I was on was a 99-1 shot and a clear winner!. This filly NEVER saw the front end. Harold Shultz told me to put her on the front end. I was in the 12 hole and had to clear the entire field. Easy stuff. I did. I had daylight between me and the rest of the field. Remember, I was 99-1. I won the race and the tote board was blinking within seconds of the race ending. When I was taken down for "bothering" a rider on the backside, the Jamaicans went crazy! They had to escort Harold Schultz out of the grandstand. He was so angry. The Jamaicans were hanging on the TV's trying to tear them down! Awww my Jamaican buddies were standing up for me. It was quite a funny scene Now that we can talk about it! Oh, and after reviewing the tapes the next morning, I did nothing wrong.

FOTH: Did you pretty much get along with all the riders when you were riding?

LKS: Yes, I got along fine with them. I wouldn't want to get on the bad side of anyone I'm riding with. That wouldn't be very smart. We always tried to have fun in the jocks room. While riding in a race I would talk to some of the young ones down the backside. I would get some funny looks, especially when they didn't speak English.

FOTH: Laura I am out of questions. Thumbs up for the interview and being part of my website. Any last words the floor is yours?

LKS: I know I didn't win a big number of races. I didn't win any named races, black type or stakes. I'm not a legend. But I enjoyed it while it lasted. There are many of us women riders out there. Horses run for us. They feel us. They love us. Horses are big and intimidating in size but they need to be treated with a kind heart and a kind hand in order for them to give back. You don't have to be a tough and rough rider in order for a horse to run for you. I am reading The Man Who Listens To Horses, the life of Monty Roberts ,the Real Horse Whisperer. If any of you are curious of the natural way a horse thinks, you should curl up on a big couch and read this book. I am, and I'm enjoying it. Thank you, Chris, for giving me the opportunity to tell my story.


Back to our main page