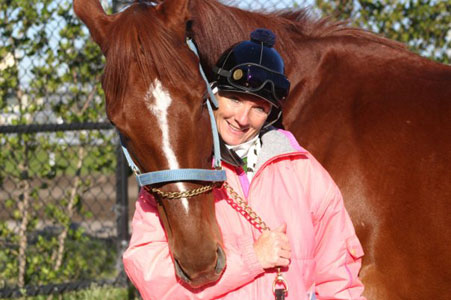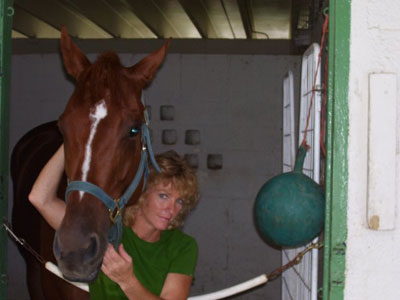 P.J. Lydon
PJ Lydon is a jockey who has been riding for almost 20 years and she is currently riding down in Florida. I emailed her some questions and here is what she said to them so kick back and enjoy this great interview.
FOTH: Where were you born and where did you grow up?

PJ: I was born in poverty stricken Rockaway Beach, NY. I grew up in Island Park as a child and Rocky Point as a teenager and went back and forth into Queens where Mother lived.
FOTH; What sort of girl were you growing up?

PJ: My father is on the phone with me and he said TERRIBLE., as he is laughing. I wasn't a happy child. I didn't have my Mother or my Father. Life turned out great as a teen. I got them both back and My father is my Number 1. Personality wise, I believe I am no different but I have obviously changed. Strong willed, temper when aroused, stood my ground, rescued the weaker, and many fist fights. Compassionate but firm. Loving eyes but I can throw a evil eye, only at those that deserve it. I didn't have the best of childhood's however, there are plenty of those that had is worse. Life was much heavenly when we moved back with our Father. My brother Tommy tom and I reunited with our Mother and all is great. I always had BEST friends and I still do.
FOTH: What did you parents say when you told them you wanted to be a jockey?

PJ: They looked like Cheerleaders. My Dad is my biggest Fan and still is. Funny thing is, I am his biggest Fan. As they got to understand the business, through my experiences, they were not too happy with the business realizing how Male Dominated it actually is. They love watching me ride and that is all that matters.
FOTH: What event or events led to you becoming a jockey?

PJ: After High School all my best friends were going to College. I had no interest but found myself in a odd position. I was actually Following what people were doing instead of Leading myself into what I wanted to do, which was I had no idea in that moment So therefore: I enrolled into John Jay College for Criminology. After a week or so, I realized a woman older than I and a boy younger then myself. In that moment, I realized I can go to College whenever I wanted. I raised my had to the teacher and said, "Yo teach, I don't belong here". I got my books and walked out as everyone gave me snarling looks, as it seemed.
I went home and opened the telephone book since all occupations are in it. I want to find myself and work to see what I want to study. First thing I opened to was Horses. I looked to the sky and said, "Yo God, I am great with horses". I called the number and said, " Word on the street has it you need help and I am the person for you". The owner giggled under his breath and asked me to come in. I was teaching riding lessons, trail rides (mostly) and doing all the labor in the barn. One thing led to another and I got a job on the track with Pete Ferriola. His beautiful daughter Ronnie was driving in and the security guard asked if they need help and she told him to let me in!
I hot walked, groomed, stayed into the barns till late evenings holding for vets and blacksmiths. I galloped and after being able to gallop any kind of horse, run off, bolter, nerves, green or whatever came to me. Along with that, I rode for trainers that taught me to have a clock in my head. If I ever went 21: or 44: on a horse, I was fired! You learned to two minute mile a perfect 15: between 16-16 poles evenly. I then realized it was time to ride races. I was working for Richard Lundy, whom I believe is the BEST trainer I ever worked for whom came under the skills of Charley Whittingham. Lundy is a true natural and that is what he thought of me. He said Kid, you will be riding races within two years and I did... no looking back after that. I worked with some of the best Riders, Jocks , Trainers, and names you will unfortunately never hear of.
FOTH: Tell me what you remember about your 1st race?

PJ: My first race was at Aqueduct. The trainer Ron Taylor was fastening my chin strap in the paddock and after loading into the gate, I forgot to pull my goggles down. Jockey Dennis Carr said to me, "Are you going to put your goggles down"! I remember I could have rode another race with no problem. My physical fitness was very strong. Jocks told me that my legs would get rubbery. I was solid and wish I had more races to ride.
FOTH: Tell me about what you remember about your 1st win.

PJ: My first winner was my 17th mount ever. She was also the first horse I rode in my first race. Her name was Dashing Sass. Jasinto Vasquez was yelling to Herb McCauley to let me out from behind heals at the three-sixteenths pole. I came around Jerry Belmonte and opened up. Jasinto was running so fast to initiate me into my first winner. He said he was going to paint something blue however, Chavez, Chris Antley, Angel Cordero Jr, Franky Lovato, Jasinto Vasquez and Jorge Velasquez, Art Madrid jr., Richie Mig, Julie Krone, Diane Nelson, and many more outstanding riders were there to bless me into the business. The smile on my face was big. I past the wire thinking I won... I won... and it felt good and a little alone at the same time.
FOTH: How long have you been riding for and what tracks have you rode at? Do you have a favorite and least favorite?
PJ: I have been racing since 1989, you do the math! I raced in Aqueduct, my most favorite track is the inner track, winter racing. Belmont, Love Saratoga however, don't love riding long shots only. NO opportunity sucks. I traveled to Garden State New Jersey for which was the BEST surface for horses. Garden State was one of the most forgiving tracks. It is a shame it closed and the same for the short meet at Atlantic City. The best grass course ever. Delaware, Penn National, Finger Lakes: beautiful place to live but the frontside makes the back side crazy and the energy is not good. Philly Park and it is the worse track I ever went to. I dislike it much! The most male energy I ever went to. My car didn't even want to go through the gate. Mark Reid invited me to ride for him and he never rode me in one race. I spent a lot of money to move there. Reid even had it posted in the Racing Form that I was there to ride for him. He used me big time. I dreaded going there but I did and got NOTHING back. Went to Kentucky and learned if your not born native KY, your chances are slim unless you have the right agent. I thought it was "Horsemanship Country," learned the hard way, it's not. Don't like the phonies. Not all are fake, but most I met...were not kind. A cold and distant type of personality type. Kentucky was beautiful. You sure do have to travel and I didn't like that at all. Suffolk Downs: didn't care for it either. Gulfstream Park and Calder for which is my favorite track. It is awesome on for the horses. It is a sand based track, just like the beach. If you take a bowling ball and throw it hard to the ground or on most tracks, it will break... If you do the same at Calder, the bowling ball will wedge. Horses hardly ever run down. It is my favorite.
FOTH: Have you rode in any stake races and did you manage to win any?

PJ: I won the Powder Puff for trainer John Robb in Timonium. A couple of stakes in Delaware for Collin Sherwin on owners day and not many more. They were not real big "Stakes".
FOTH: Do you watch all your replays and see what you did right and wrong?

PJ: I watch all my replays. You can self-sabotoge yourself all you want. Most girl riders do that and blame themselves. Yet, No horse, no rider whether your male or female. Most male riders will tell you the horse was a donkey or whatever they claim. A girl will think she could have done a better job. The Best Jockey in the business told me, "80% horse, 10% jock and 10% racing luck". So true!
FOTH: How did you prepare for a race you are riding in?

PJ: Happy thoughts! No attachments and vibrate love and positive feelings to my horse. Read the form and know what your style your racing against. I don't chase long shots unless I am somehow getting run off with. I am amazed how many riders press a long shot and waste their horse on the front end competing with one. Whatever!
FOTH: Have you ever had any problems with your weight at all?

PJ: I naturally weight 107 pounds. I can go up to 109 during that time of the month! When I rode with the bug, my agent and I were green. I had to do 104 pounds for a low life trainer that was doing well at the time and he informed us that if I don't do the weight, he would take me off. Long story short: I was given a lasix pill. I dropped to 97 pounds over night. The problem started there.
I was doing incredible at Aqueduct. I was winning and hitting the board with long shots left and right. I was in the papers daily about my riding and my future. What they didn't know was, I was taking the same about of lasix a day that you give to a horse. After the first time taking the lasix, my weight went up. I was bones and was weighing in at 117 pounds. My body was messed up and I could not even bend over. I had to stop. So I took off to Saratoga to stay with my cousin Tish. It broke my heart to leave since life was looking very good for me in the business. It was tough. Five months later, I tried to make a come back and doors never opened. That is unfortunately is the way it is.
FOTH: Do you think the weights should be moved up or are they OK the way they are now?

PJ: Everybody thinks the one, two, three or ten pounds makes a difference to a 1200 LB race horse pumped up in adrenaline! One Pound to a horse is like 1 ounce, the weight of your underwear on you. Do you really thing one ounce is going to slow or change your performance to run. 10 pounds don't even make a difference but so many people got hit by the stupid stick and they convict this belief with being a truth. (Maybe if the underwear are too tight, I can see that being an issue)
FOTH; Do you think another female ride can win a triple crown race?

PJ: I am so looking forward to it. I do sadly believe it will change some interest in the betting fields. Most men have huge egos. A woman winning the Derby will spoil it for them. Never mind the triple crown. I, like many riders wish I could win the triple crown or even one leg of the triple crown like Krone winning the Belmont. I would love to win the Derby...who wouldn't. I rode Derby winners in the morning however, no opportunity to ride them in the afternoon. I told Frank Brothers he had a freak when he thought the jury may still be a factor. After the first work on Pulpit, I asked Franky to pick up my mind at the wire. He blew my mind. My heart was in awe. The feelings were incredible. I wish I could have had a go on in him in the afternoon but, I am a girl. Franky thought I would do well in Ky. He loved my riding and thought things would come together. I agreed yet, didn't happen. Oh well.
FOTH: If a young girl came up to you and said she wanted to be a jockey what advice would you give to her?

PJ: I would tell her to have a back up plan. Racing is not forever. Most successful people in our business lose their money somewhere and somehow. Have a second career or have one for your future. Make a plan. That plan is racing is not forever and what do you want to do with your life. How do you want to retire?
FOTH: Take me what you do in a typical day?

PJ: Curse a lot. Laugh a lot. Get up at 4:00 am. Kisses and loving on my eight animals. Feed them and get ready for morning race track work. Get on eight to nine horses. Some days can be tougher than others in the AM. I have a full time job working for a stable to afford my mortgages and home life. Either I am racing or rubbing. I am also a licensed Massage Therapist. After morning or afternoon work, I clean like crazy. I don't like animal or bad smells so I vacuum a lot with my rainbow vacuum cleaner, the best! I cook homemade dog food every other day or so and take care of chores or running out of the house to work on a client. When I had my horse, I was putting eight hours a day with her but, she passed away from foundering and that is all I have to say about that.
I went to school for Massage Therapy and graduated with a 4.0. I plan on being well established in my massage practice, the therapeutic end of it. I went to Upledger Institute and studied Cranial-sacral, for which is INCREDIBLE.
I have been Med-Vac'd twice to a hospital. A Massage Therapist never did deep tissue or any type of rubbing. She did hands on healing modalities that I didn't know existed. I am studying them and hope to give the beauty of healing to others as it was done for me. Amazing stuff. That is how I will be at service to the world.
FOTH: Did all the tracks you rode at have female jockey rooms?

PJ: Yes. The girls head quarters in Suffolk Downs is despicable. Shame on that track for not accommodating the girls better there. They have to walk through the boys locker room for all exist. Whether your go down for a race of to your car. It is terrible. I was at Aqueduct and Belmont on the befores and afters of changing the dressing rooms.
FOTH: Tell me a couple funny jockey stories.

PJ: Jose Santos and I were loading in the gate. We use to run together when I was taken the lasix and couldn't get my weight right. Anyhow, I loaded into the race and then did Santos after me. With one more horse to load, Jose said to me, "So P.J., when are you and I going to go out". I told him to hold on, any second.
Angel Cordero and I battled down the whole stretch. It was him, it was me, it was him, it was me.him.me him and on the wire, it was me with a 15-1. Angel smacked my behind and told me congrad's. The Stewards came down & said to Angel, "Did you touch that girls behind right after the wire". He said, "Yes, I congratulated her. She rode a great race and I tried to intimidate her. I taught her a lot and she did good". They told Angel they are going to fine him $250.00 for sexual harassment. He told them, "Next time fine me $500.00, I'll grab two". I couldn't stop laughing. Angel hit everyone in the behind when they won. That was him. I love that guy and still do.
FOTH: What do you think of slot machines at some of these racetracks. Is it good or bad?

PJ: Anything to generate more money is good. I wish the backside had better rights to it. That is what is needed. IF racehorses are what brings in the money, they should give a MUCH better treatment. The backside deserves so much better and tracks can do better by them. Trainers, owners, jockeys, exercise riders, grooms and hot walkers should be making better money in this industry. All those on the backside should be doing better and they truly deserve it. So many horses all over are so miss treated because of the lack of money and many other reasons. That is why I am loud. I am loud for the horses and what is right for everyone. When I was little, I had no voice. Neither did the animals. I promised them I would be their voice when I was a big girl. I keep my promises.
FOTH: Did you ever get taken off a horse just because you were a female rider?

PJ: Absolutely. I have been named on horses on the overnights. NO rider and the racing office name me on. A trainer came up to me and said, I wouldn't put YOU on a horse. I think girls should stay home. Meanwhile, he had his girlfriend galloping for him. Go figure. I have been named on horses and the out of town trainer never knew I was a girl and was taken off once he found out.
I was being called a guy rider by HRTV and TVG. Just a couple of years ago, I won a race at Gulfstream and the sport commentator said, "Do you see the way this guy rides! He gets the job done. I don't know why they don't have this guy on more horses". I smiled and I still do with that one.
FOTH: How much longer do you plan on riding for or are you taking things one day at a time?

PJ: Ever year I think its my last. So I don't know. I have my good and bad days. I love the way I feel after a race. It is a fitness that you can't get from anything else. I do know that Pilates comes pretty close. I love racing and I still have hopes and dreams. I am focusing in on a my Massage practice and however things go... they just do.
FOTH: I am out of questions. Thumbs up for the interview and any last words, the floor is yours.

PJ: I can tell you a lot of Bad stories and many Good ones. In the end, it doesn't matter. It always is what is meant to be. I love what I do and I do it well. Nobody can take that away from me. I know who I am and I love everything about me, maybe no my temper at times. But it sure is a bonus when I need it. I have enjoyed telling people like Donna Ward I am going to kick her ass and I meant it! There are many people that have no deserved to be in the lime light however, God has the floor plans and always takes over. There are many outstanding riders and trainers that will never be. Like I said, it doesn't matter. Just do what you love and hope for the best. AND, always have a back up plan.

Back to our main page