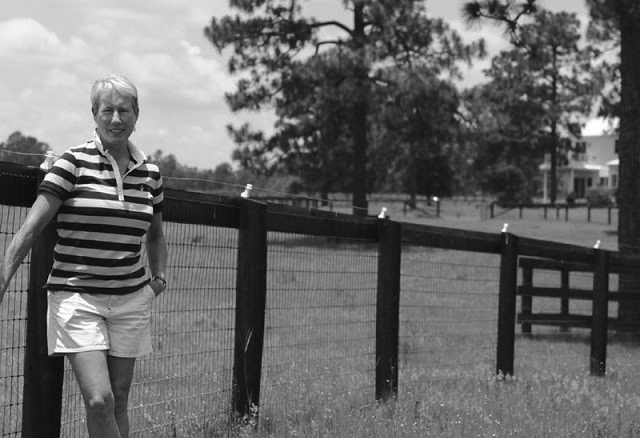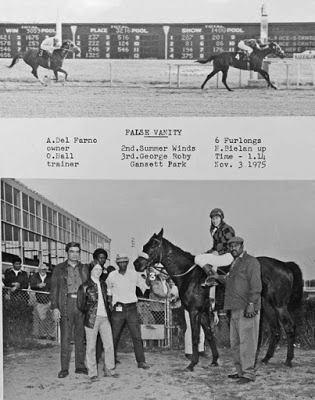 Nancy Mann
Nancy Mann is a jockey that only rode for a couple years in the 70's, but her story is a wonderful story and here it is in interview form:
FOTH: Where were you born and where did you grow up?
NM: I was born in Barrington RI, a small waterfront suburb of Providence. I spent all of my childhood there and rode horses at Palmer River riding club in Rehobeth MA.
FOTH: What sort of girl were you growing up and were you a tomboy like some of the other female jockeys I have interviewed over the years?
NM: I never thought of it that way, but I guess I was a tomboy. I went to a public school that had every sport imaginable for women to play. So, I played field hockey, ran track, basketball (even though I was a bit short!), badminton and fencing. But, that was the norm, everyone played sports.
FOTH: What did you think of horses in general and when in your life did you decide you wanted to be a jockey?
NM: I started riding when I was four and got my first horse when I was somewhere around 10. I started competing and really loved it. When I was 14 my parents bought me a barely broke 14.2 hand pony. He turned out to be a super star and he and I succeeded at Pony Club and then at 3 day eventing. He was fast and would run off with me on cross country! But I loved it!! We also started whipping in for the local hunt. One day while I was competing in a local club schooling show a trainer, Terry Dunlevy sp?, came up to me and asked me if I would be interested in galloping race horses on weekends. So, at 16, I started galloping on weekends and summers. After the first year I knew that I wanted to ride races!!
FOTH: What were some early jobs you did on a racetrack and when you rode, we are talking the mid 70's, did many people try and talk you out of it and what did your parents think of you wanting to become a jockey?
NM: When I was 16 my father passed away. My mother had so much to deal with at that time that she let me basically do my own thing. I was always very independent and couldn't wait to be self-sufficient. No one tried to talk me out of it because I don't think they really thought it would happen! Haha!! All of my friends went off to college, I went to the race track, if my father had been alive, I probably would never have become a jockey.
FOTH: When I mention the name Florence Gemma what goes through your mind and what did this trainer do for you?
NM: Florence did enormous things for me! She held my apprentice contract, which was mandatory at the time. She was a surrogate parent and a friend. She rode me on kind horses and allowed me to ride for other trainers. Back then, you were basically an indentured servant but she never treated me that way.
FOTH: Tell me about your 1st race, which was in 1975. What track was it at and how nervous were before the race and what it like walking into the paddock for your 1st ever race?
NM: You know, my first race was rather uneventful. I rode Norse Plume and we finished 5th, I think? I wasn't nervous but was enjoying my first outing under the lights. We had night racing and it felt spectacular!! I don't remember much more than that, you would think that I would!!
FOTH: Looking back was becoming a jockey easier or harder than you thought it was going to be and what was the hardest thing about becoming a jockey?
NM: I never thought of it as hard. I had been competing all of my life, so it was just another sport to master. I enjoyed the hard work and the learning. But mostly, I was in awe of the race track world. I grew up in a small homogenous town. I had never come in contact with any African American's or any other minority for that matter, so I was intrigued and excited to be a part of this big melting pot.
FOTH: Now March 26, 1975 at Lincoln Downs, in your 3rd ever race, you rode a horse named "Norse Plum" and won with the horse. Did you win by a lot or was it in a photo? What was it like jogging the horse back to the winner's circle?
NM: Now that is a race that I remember!! He was my first mount so I had ridden him before. I knew that he had some run in him because in our first race we were boxed in until midway down the stretch, but once we were free, he flew. I told Florence that but I don't think she believed me. She told me later that if she had thought I was going to win that race, she would never have put me on him. It was too soon to win your first race! I think we won by a length, maybe, and it was absolutely the best feeling on earth! People were astounded and so was I!!
FOTH: Back in 1975, did the jockeys have the tradition of getting jocks after their 1st win? If they did what did they get you with and did you know it was coming?
NM: Oh, yes, they had a tradition!! In my case they toned it down a bit and threw buckets of water on me as I made my way back to the jocks room. Lots of the guys came out to give me hugs and kisses and folks were shaking my hand. It was awesome!
FOTH: I know the track is long gone, but tell me a bit about Lincoln Downs.
NM: Lincoln was a bit of a sad track. Kind of run down at the time. But I loved the hustle and bustle of the daily life. It closed soon after I started riding and we all moved to Narragansett.
FOTH: After Lincoln Downs, you went and rode at Narragansett Park, which is also now closed. What are some memories you have of this track?
NM: I absolutely loved Narragansett. You could feel the history every time you stepped out on the track. It was palpable. I had good success there as well. I rode a lot of winners for Oscar Hall and did a TV commercial in his owner's silks. It was such a fun time. We had a terrible fire at the track and I remember that we lost a lot of horses. The place was so old and highly flammable. It was a hard thing to go through, so sad. I was leading apprentice when Florence decided to move to Suffolk Downs. That was a hard blow for me.
FOTH: You also rode at Suffolk Downs and Rockingham Park during your short career. What are your memories of these 2 tracks and from what I read about you, you said Suffolk Downs was a tough track to crack so to speak? Was that a place at the time that female jockeys weren't accepted?
NM: Female jockeys were acceptable at Suffolk and Rockingham, Denise Boudrot and Barbara Smith were riding at both of these tracks. What made it hard for me was that a lot of the trainers that I rode for either stayed at Narragansett or went to other smaller tracks. It was like starting all over again. I never really liked the track or the back side as much, but that was probably because I felt so alone. I'm sure you and many others know this feeling well! I never really got a jump start there and that played a part in my willingness to quit riding when I did.
FOTH: In 1977, you rode one race and you were involved in a nasty spill in which you were in the hospital with internal bleeding and both shoulders dislocated. At this time you decided to quit being a jockey. Was this an easy decision for you and what do you remember about this accident even these days?
NM: I had been fortunate to not have any spills or mishaps for a long time. I had horses break down but none of them ever went down with me. So, yes, the spill made me reevaluate whether this was what I wanted to commit my life to. It was a maiden claiming race and the rider in front of me clipped heels and went down, taking me along with him. I wasn't that badly hurt, but it made me think. I came back, Florence put me on a wonderful speed mare, Aida's Gem, we won and I retired. It wasn't an easy decision at all, but quite honestly I was ready. I might not have quit if we had stayed at Narragansett. I was just never happy after we left.
FOTH: After you retired you went to work for Mason Phelps in the hunter's jumper's world. Tell me what it was like working for him and your time spent with him?
NM: I spent a year in Newport RI working for Mason. It was an interesting time, he was formulating the plan for the first National Jumper Derby and he invited quite a number of famous jumper riders. I traveled to Devon Horse show with a young student of his to get her qualified for the Medal finals and I also had a jumper of my own that I boarded with Mason. It was a beautiful facility, right on the water. So, all in all, it was exciting. I was settling back in to a much different life and planning my next adventure, college.
FOTH: Looking back have you ever had any second thoughts on retiring as a jockey so early into it?
NM: Not so much second thoughts. This was the right choice for me. I miss the track to this day though, and I guess I always will. It is true when they say it gets into your blood!
FOTH: So what are you doing with yourself these days?
NM: I ended up going to college in London, England and have a degree in Interior Design. I am more of an Architectural designer and I specialize in horse farms. I live in Aiken SC, a wonderful town filled with horse enthusiasts of all disciplines. I was a whip for two local foxhunts and was a 3-day eventer for many years. Now I am an avid tennis player!
FOTH: Over the years have you gone to many racetracks and attended live racing?
NM: I really haven't, it was too hard to watch others ride. I really loved the riding aspect of the track so much!! I would like to go to the Breeder's Cup in the next couple of years and to the races in Dubai.
FOTH: Besides the spill, did you enjoy your time as a jockey?
NM: Yes, I loved most of it. You have to understand that the times were a bit tougher back then, probably more crime and drugs, well maybe not?? It was a tough place for a naive woman to be. I was well protected but saw way too much, or maybe enough to last a lifetime!!
FOTH: Nancy I am out of questions. I hope you enjoyed this trip down memory and thumbs up for doing this and any last words to wrap this up the floor is yours.
NM: Thanks for the opportunity and if you are ever out this way, please look me up!! This is a fun town for a horse person!

Back to our main page