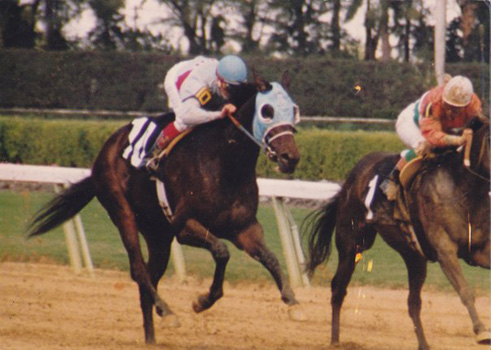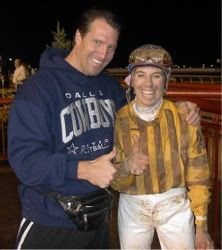 Megan Gammon
Megan Gammon is a jockey I have known for quite awhile and I thought it was time for a new interview with her and here it is and if you want to read the 1st interview I did with her you can look at that under her maiden name Megan Ludlow.
FOTH: It has been a couple years since I last interviewed you so what have you been up to?

MG: My husband suffered a heart attack and I had surgery in 2008 so we had a slow year a lot of set backs but we recovered and been back winning alot of races 30 this summer I have been racing a lot in the Midwest primarily KY and ILÊ taking care of my son he is 2nd grade we live onÊour farm in IL my husband is a trainer we run all over I ride for him and many other trainers...I was Leading Rider my second time this year at Anthony Downs Anthony KS they had a short meet they gave away a lot of money 1/2 million in purses I won 7 stakes this summer and set track record on Gentle Flyer for Cash Assmusen and won a $55k Kansas jackpot on a colt named Get The Cash.
FOTH: What are some of the tracks that you have been riding at the past few years?

MG: Chicago - Hawthorne and KY- Ellis Park- Turfway and Churchill- Keeneland....KS -Eureka and Anthony''''...Sometimes Mountaineer Park that is far east as I have gotÊwe are heading there this fall OCT for a few races you will see me at Keeneland and Chicago this fall/winter.
FOTH: Do you miss the East Coast at all?

MG: Yes very much so much I hope to get back there someday...
FOTH: Do you have any idea how much longer you want to ride for or are you taking things sort of day by day?

MG: I guess till I can accomplish all my goals.
FOTH: Looking back do you think you were a good apprentice rider?

MG: YES!!! I was given a lot of great opportunities to ride good horsesÊfor some great trainers like Hall of fame trainer Buddy Delp and Leading Trainer J. Willard Thompson and my Grandpa Dr. DeRosa IL trainer of the year in 2000 many others and am grateful to Julie Krone and Rosemary for all their help also Glen Thompson for all his support and my old agent Mike Farro all were key in my success out East with my bug!
FOTH: What has been the toughest thing for you so far being a jockey?

MG: I am not sure I guess it is juggling the hustle and bussel of racing and everyday life...Used to be weight for me but not anymore it is more the ups and downs you have to be mentally tough I mean tougher because you are a female jockey. You cannot imagine how the trainers will still ride a man over a female but I think we are making a comeback and I see a lot of aspiring up coming female jockeys and have hope for their futures in their careers and I had a terrific summer and am very determined to accomplish all my goals.
FOTH: Take me through what you do on a typical race day?

MG: Well I get to the track unpack my tack. Get settled in all my stuff ready my valets at the tracks are the best they always have my stuff ready to rock n roll I than do some stretches and relax sometimes I take a shower than eat a BLT or Eat Eggs I believe that protein is important and I always drink vitamin water or Gatorade gives me an edge I think much better with something in my stomach. I will handicap the by the racing form and analysis where I am going to be in the race and literally visualize the way the race my unfold and after I check my weight with the clerk of scales than I getÊ dressed in my flack jacket and put on my helmet and my game face go to the paddock and I am so focussed on my horse I get in tune with all his/her senses anyway of going and warm them up usually a brisk galloped and a lot of jogging...than we load in the gates and I focus on my horse and getting out of gates in position and ride the very best I can and always give 100% no matter what!
FOTH: Is there any tracks that you would like to ride at one day but you have not yet?

MG: Yes Saratoga.
FOTH: Do you have any personal goals that you would like to achieve before you retire?

MG: Win the Ky Derby.
FOTH: Do you think you will always be involved in horse racing one way or another the rest of your life?

MG: Yes I will be always we are breeding horses right now so I will be an owner/breeder and I am sure I will train someday I love being around theÊhorses I even ride for fun on the farm on our friends pony little Joe or retrain the ex-racehorses to become hunter jumpers.
FOTH: Do you feel that you have a certain riding style?

MG: I am a versatile rider but I am told I am a good speed rider and closer too I just like to go! I ride QHs (quarter horses) at 55mph and TB and 40mph.
FOTH: If some young girl came up to you and said she wanted to become a jockey what would you tell her?

MG: I do sit down and talk to them from the jockey schools and all over I answer any questions I can...I encourage her to do what Julie Krone told me to do spend three years riding...and much more.
FOTH: What are some of your memories of Garden State Park and riding there?

MG: I loved turning for home under the lights and winningÊand the announcer calling out the races and when I went to the winners circle he would say UNDER TOO HOT HANDS APPRENTICE MEGAN LUDLOW cool huh.
FOTH: If you could change a few things about the sport to make it better what would you do?

MG: Give more woman jockeys more chances to ride in the big races.
FOTH: Have you ever had any problems with your weight and what are some things you eat in a typical day?

MG: Yes as a bug I had to tack 106-109lbs and it was hard I had to really work at it than I had learned how to flip in other words throw up Êlater on as a journeyman and I almost died from my electrolytes being off the charts. The diets and lasix and laxatives took a toll on my body. Now I eat right and keep my weight I tack 118 lbs and am healthy!
FOTH: What do you when your away from the race track?

MG: Work at home on the babies we have or go to church in fact I am going to FL with my church next month or take my son somewhere I am always busy like trying to get this interview done LOL.
FOTH: Tell me something about yourself that might surprise people?

MG: I am smart too they call us pin heads like we are all stupid...some of us got a brain LOL....
FOTH: Do you have a favorite horse that you have won on?

MG: Contessa Bella .....she was bred by my grandpa...I won 3 on her so far.
I won a stake this year on KY DERBY Day on a horse named Man O Wonder like the famous racehorse ManÊO WarÊso that same day Calvin BorelÊwon the KY Derby on Mine That Bird and he ran 3rd on him last time for Steve Assmusen at Oaklawn Park this spring so that gave me goosebumps!!! The trophy says Man O War ridden by Megan Gammon.
FOTH: How do you prepare for a race?

MG: I get ready in my own little routine.
FOTH: Have you had the pleasure of giving a jockey the initiation after winning his/her first race?

MG: Yes this summer in KS a boy and it was funny.
FOTH: What is your thoughts on the "jockeys" show on Animal Planet?

MG: Cool.
FOTH: Megan I am out of questions. Thumbs up for the 2nd interview and any last words?

MG: Yes Thank you Chris. I Hope to see you next time at the Female Jockey Challenge...That is one of my goals you knew that...Add that in... Thanks for the updates.
Thumbs Up...Gotta Go...

Back to our main page