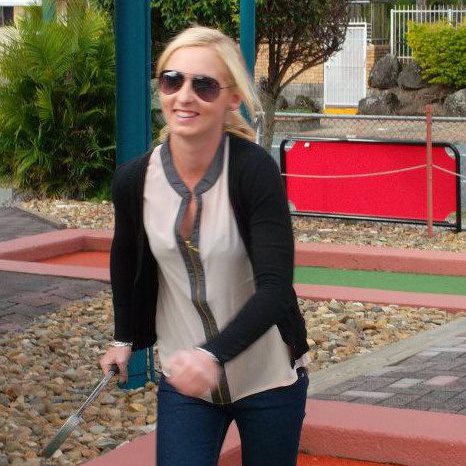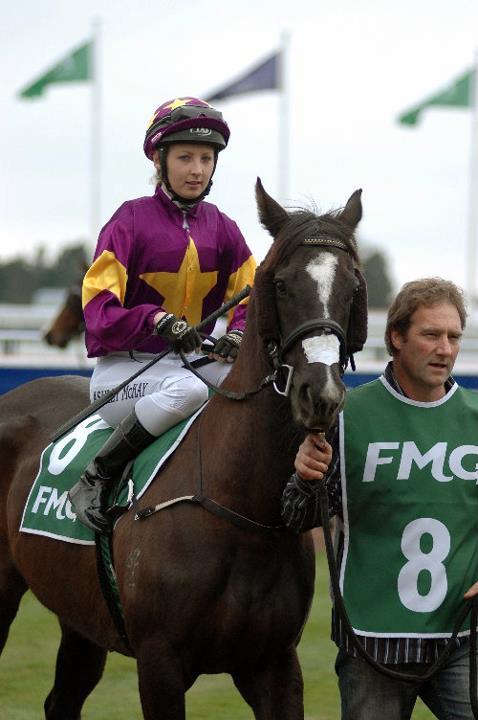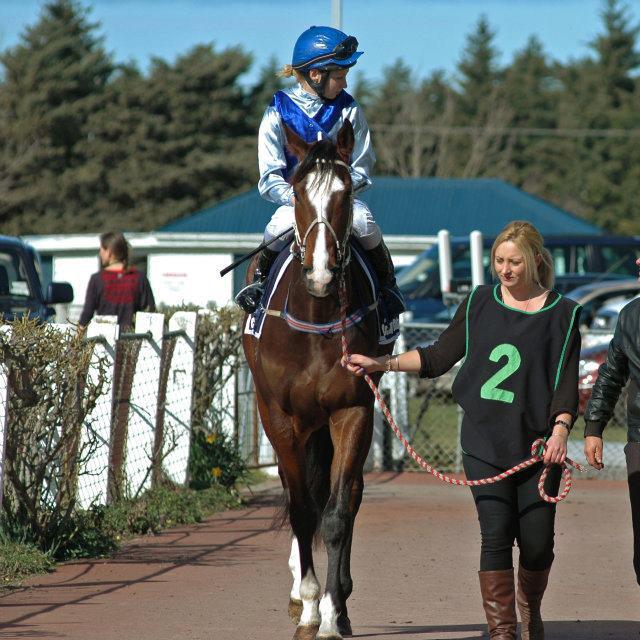 Ashley McKay
Ashley McKay is a young jockey riding over in New Zealand and I got in contact with her for an interview and she said and here it is:
FOTH: Where were you born and where did grow up and have you live in New Zealand all your life?
ASHLEY: Born in invercargill. Grow up in gore right down the bottom of the South Island
FOTH: What were you like as a young girl and into your teenage years?
ASHLEY: Always into my horses and love spending time with my family.
FOTH: What did you want to be when you were growing up?
ASHLEY: Always wanted to b a jockey. It's in my blood couldn't ever see myself doing anything else.
FOTH: How did the world of horse racing enter your life and are there many racetracks where you lived?
ASHLEY: My dad and uncles were jockeys so been around racing all my life. Was on a horse b4 I could walk. Yeah I live in Canterbury ashburton now. And most of the main tracks are close by. Only an hour to Christchurch, hour to timaru, 2 hours to oamaru and so on.
FOTH: Now here is the US, most people that start to work on a racetrack are a hot walker or groom and then become an ex-rider and then a jockey if that is what they want to be. Is that the case over in New Zealand?
ASHLEY: Yeah can b a groom then track rider. Then have to ride at 20 or more trials to get ur app license after a 4 year app then become a senior jockey.
FOTH: Now how long from the time that you wanted to become a jockey, did you actually become one? What are some of the things over they make you do before they give you a jockey license?
ASHLEY: I waited until I finished my schooling was about 2 years after school I started riding at the races. As I said b4 have to ride at the trials more than 20 times and show that u are ready for the races. Then become an apprentice for 4 years then a senior jockey.
FOTH: Did anybody teach you how to ride and were you a fast learner? What do you think was the most important thing you were taught was?
ASHLEY: My dad Russell McKay taught me and my sister to ride. Slow learner I think. Still learning to get it right now and hav lots to learn still. Most important thing I was taught was to trust in the horse and they will trust in u.
FOTH: Tell me about your 1st race and where was it and how happy were to finally be riding in a race?
ASHLEY: My 1st race was in timaru on a horse called takeachance. One of dads horses. He only kept her going for me. She ran 4th for me. Was so happy it all went so fast.
FOTH; Have your parent ever seen you ride and were they supportive when you told them you wanted to be a jockey?
ASHLEY: My dad's a horse trainer so they dnt miss my races ever. Yeah as long as I finished school I could do anything that made me happy.
FOTH: Tell me about your 1st win and what track was that at?
ASHLEY: Was on el bee dee trained by dad in Christchurch. A family fav. He's like my dad son. On a very wet day coverd in mud he raced away to win. A very proud moment for my dad.
FOTH: Take me through a typical day for you nowadays.
ASHLEY: Start work at around 6.30am work the horse. Hoes and brush horses. Muck boxes. Afternoon work. Bring horse in for the night. Make feeds muck paddocks and feed the night feeds.
FOTH: Do you think you are a good rider and what are some important things you were taught as a jockey?
ASHLEY: I'm only an apprentice and only been riding for a short time. Still learning and improving my riding. I am working really hard to get better. Most important things I've been taught as a jockey is dnt take the bad things people say to heart. And learn from ur mistakes.Trust ur horse.
FOTH: Are there many other female riders where you are based out of?
ASHLEY: Yeah we have lots of females we nearly take over the boys.
FOTH; Do you have a favorite horse or trainer you like to ride for?
ASHLEY: Favorite horse is miss el bee dee. El bee dees sister. She is trained by dad I have won lots of races on her and gartartan lad trained Cheri trembath also in ashburton. Only had 3 starts for 4th 1st and a 5th.
FOTH: Do you have both dirt and turf (grass) races where you ride at and do you like to ride both?
ASHLEY: Only have grass tracks here in nz.
FOTH: Do you have any goals for yourself?
ASHLEY: Just keep improving my riding and win as many races as I can.
FOTH: If you were not a jockey, what do you think you would doing these days?
ASHLEY: I would love to train one day.
FOTH; Ashley, I am out of questions any last words to wrap this up?
ASHLEY: Thanks for the interview and I like your site and what you are doing for female riders.