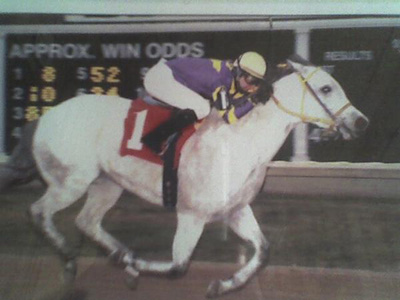 Megan Ludlow Gammon
Megan Ludlow Gammon is a jockey I have known for about 10 years now and I did an interview way back when and when I got in contact with her again I got her on the phone for an update as to what she has been up too. You can read the older interview in the archive section of the interview page.

FOTH: Megan I am not going to go into your whole racing career if anybody wants to do that they can go read the 1st interview I did with you that is on my interviews page. What have you been up to the past say 5 or 6 years when I last spoke to you when you were down at Charlestown riding?

ML: I loved riding at Charlestown. I really had a lot of fun and I had a really bad spill when I was at Charlestown. Back in 2002 I had my little boy and he was born on 02/20/02 at 2:30 PM in the afternoon. I thought that was a neat little niche to put in there. After he was a month old I went back to riding and won a 100 races that year and I came to Charlestown and the 1st horse I rode I won on, luck of the irish silks and I was riding for the top 2 trainers there, Ronnie Brown and Jeff Runco and 7 races in and 3 weeks there I had a bad spill and I was off for 6 months. Since then I was leading rider in 2003 at a bush track, but it is recognized by Equibase named Anthony Downs and back in the 60's it was the leading bush track in the country in the Midwest. The reason I rode there was Trainer Dale Baird, who I was riding for out in West Virginia sent me there and I won a lot of races out there and was leading rider. I won 3x as many and some of which were his horses. The next year I won a stakes race there on a horse named "DD Dot Com" and I also won a couple stakes on him. Then I had 3 bad spills in 2004. The 1st one was in Fargo, North Dakota. The 2nd one was at Charlestown and the 3rd one was at Santa Anita. What I did was, the 3rd one really did me in. I was off for 6th months and dislocated my elbow. The one at Charlestown I had ruptured bleeding and my uterus was bleeding for about 3 months and I also sprained my back and neck. They said I would never ride again. I got with a really good doctor out in Colorado and he works on the players for the Denver Broncos and he actually owned horses so I rode his horses and he worked on me and he also worked on movie stars out in California so when I was out at Santa Anita he worked on me out there as well. At Santa Anita there was a loose horse on the track that came right at me and I ended up breaking my ankle.
After I recovered from all those spills and accidents I moved to Kansas and brought a farm and I was riding match races on the weekends and I was itching to get more so I moved to Kentucky in 2005 and I won my 1st race at Indiana Downs for John Nucardy (hope that is right-chris) and John is a good guy and I have rode for him on and off for the past 3 years. I have been riding in Ohio, Indiana, Kentucky, West Virginia, Michigan and Illinois for the past 3 years. I am based out of Illinois now. That is a lot of traveling and with the gas prices I can't afford to do it all that much anymore. What I am looking at doing, I had surgery this summer, is putting myself at a track on the East Coast and just riding there full time.
I wanted to ask you about this female jockey challenge. I had this boyfriend who was my agent for about 6 years and he stole a lot of money from me and I don't care if you write that or not cause everybody knows about it. Basically I was starving on the track back in 2005 that is how I met my husband and that is why I ended up going to Beulah Park to ride and was galloping horses for Hall Of Fame Trainer D. Wayne Lucas at Turfway Park in the mornings. I rode horses for my husband and Trainer Reid Gross at Beulah Park in 2005. My husband and I got married November 4, 2006, but the 1st time I rode for him was because his rider didn't show up and I got a 1st, 2nd, and a 3rd on this horse. I have also galloped for Steve Asmussen at Keeneland. This is funny, what I did for my honeymoon was go to Mountaineer Park to ride a horse and I got 2nd on him. I was also blessed to get in the stall with John Henry the year before he died. He was so cool he put his head on my chest and they said he was still mean and he just put his head on my chest and he was one of my favorite race horses ever. I got to be blessed to be able to touch. The other day I got let in the stall with Cigar in Kentucky.
FOTH: Now when you had these 3 injuries you spoke of, did anybody try and talk to you into quit riding and did you have any thoughts of not riding yourself?

ML: Yeah. The doctors at first, the ones in West Virginia, they said it doesn't look good and they didn't know how long it would take me. I asked them when I could start riding and they are like ride, you'll be lucky if you can walk. I was in a wheelchair right after I got out of the hospital and it was weird similar to the Seabiscuit story, it was like really good and boom I hit the ground and I realized when I hit the ground and when the horses were going overtop of me I could feel all this pain and numbness and I thought I could be paralyzed. Thank god I wasn't. I just pushed past what they said and Rich Migliore did the same thing, he broke his back in NY and they said he would never ride again. When a jockey hits the ground he/she usually doesn't think about what just happened, but when am I gonna ride again. That is the hardest thing I have been going though with this surgery.
FOTH: Out of all the tracks you have ridden at, how there been a favorite one so far?

ML: Yeah Monmouth Park. Keeneland Park is awesome, but the thing about Monmouth Park is your close to the ocean and I love that.
FOTH: What are some of your memories of Garden State Park when you rode there?

ML: I was so young and everybody was giving me a chance to ride live horses. I was riding right beside Lisa Dellipaoli, she was a very good rider. Julie Krone at Monmouth. Rosemary Homeister. I was riding some really good trainers, Willie Thompson, Scott Lake before he got big.
FOTH: How much longer do you think you will ride for?

ML: I think I am gonna give myself a 5 year plan right now. I think I might be one of those people who ride till they can't ride anymore, but what I would like to do is get into the breeding and training side of things. I have even considered going to Stewards school, but I don't have it all planned out right now. I am just gonna plan on riding until something else comes up.
FOTH: Polytrack or dirt. Which do you prefer and have you rode on both?

ML: It depends. The synthetic surface at Turfway I don't like care for cause you get a lot of flyback. The reason for that is that there is not enough water kept on it. The synthetic surface at Keeneland is pretty good. It is hard to get good mounts there cause your running very high class horses so I have not had a chance to win a race there yet. Between dirt and synthetics I like the dirt tracks better.
FOTH: If some young girl came up to you and wanted to become a jockey what advice would you give her?

ML: I would give her the same advice Julie Krone gave me and I would ask her how many years experience she has riding horses and depending on that I would line her up, if she had the money, I would send her Chris Mc Carron's school. If you don't have the money do what I did, and that was go to Ocala, FL and break babies for 3 years and get some experience on the racetrack and I would have work on the race track at least a solid yr, or year and a half. Work horses, break them out of the gate. Be realistic. If your weight is an issue now before they start don't even bother starting. There is too many riders suffering. I don't suffer anymore. You saw me as an apprentice rider I was very thin and that is not my normal weight. I am about 10 pounds heavier now.
FOTH: With all these tracks you have rode at, do you feel you have been treated pretty fairly being a female ride and stuff?

ML: No. I would say it is tougher in the Midwest like in Kentucky. The reason I think is because they haven't had a good girl rider since Greta Kunzweiler and she went to jail and stuff. She was a really good rider and after that what they have for girl riders is they ride a lot in Ohio and they ride up and down the roads and god bless em, but they don't have a really strong rider out in the Midwest except for Mary Doser and she rides now solely for her husband. Girl jockeys in KY I can't forget Kris Prather as she was the leading rider in the US for like the 1st 6 months of the year and her old agent Steve Elsey would throw me a bone meaning a mount too ride at Turfway, but he is the one who told me to go to Beulah Park in Nov of 2005...so I have him to thank. That's where I won for my Kimmy the 1st time after being sidelined from being in a hospital because of an emotional breakdown from my ex doing crazy things to me causing me much financial trouble and career wise let alone with my son and his diagnosis of autism and very little income to sustain the kind of life I was used too. I think it is tougher for the trainers to give a female a chance. It is not like the East Coast. That is why I liked the East Coast. They didn't care if your a girl. If you can ride they will put you on. Out here, even if you can ride, they still put you on longshots to see if you can bring them in. It is a little discouraging.
FOTH: Do you think another female will win a Triple Crown race?

ML: I hope so. Yes, I dream of being one of those girls and believe if your on the horse anything is possible if he has the heart and talent and you get the dream trip anything is possible. I was at Julie Krone's house and saw the big blow up photo of Colonial Affair winning the Belmont. Oh I also wanted to say as far as being treated fairly, As far as management and riders go, I would say I have been treated fairly.
FOTH: Were you self taught or did you have people teach you how to ride?

ML: I had a combination of both. I had been self taught since I was 3 and then my grandfather helped me out in his stable out in Chicago when I was 14. Did I know what I was doing? No, that is why I over to Indiana to a jockey school and it was the last year they were running and I galloped horses there for about a month before I went to the racetrack. Most of it was self taught with a little bit of help.
FOTH: Now if any of your children wanted to become a jockey would you be OK with that?

ML: I would be so proud. Whatever they wanted to do to make them happy. My son is 6 and all he dreams about is being a jockey, so he is pointing in that direction.
FOTH: Megan I am out of questions. Thanks for doing this 2nd interview and best of luck in whatever you decide to do from here on out. Maybe I'll even see you over at Phila Park one day.

ML: I hope so and that would be so cool. Just to wrap this up I would say follow your dreams and don't let anybody tell you different, go after your dreams no matter. Never forget where you come from too.

Back to our main page