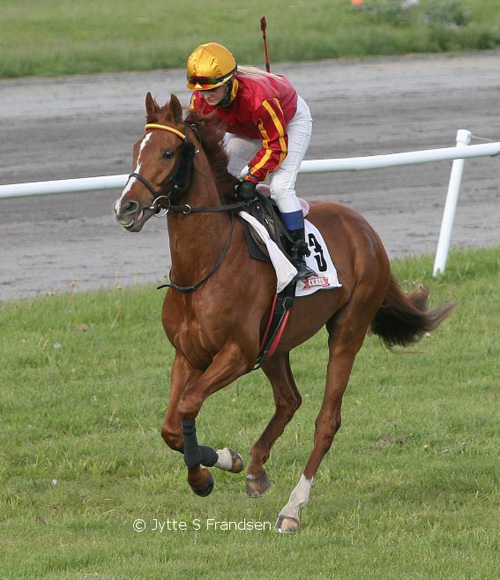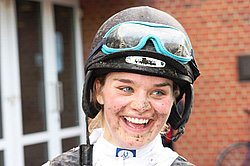 Nanna Emilie
Paul Finch put me in touch with Jockey Nanna Emilie Hansen and I sent her an email interview and here is what she said to my questions and a double thumbs up to Paul for hooking me up with her for this interview:
FOTH: Where were you born and where did you grow up?

NH: I was born in Denmark, grow up in Aarhus.
FOTH: Did you always have a love for horses or did that come a little later on in life?
NH: Always!! been riding since I was a kid.
FOTH: When you went to a racetrack and saw a live horse race for the 1st time what did you think of that?
NH: Indescribable!!! It was an amazing sight to see the teamwork between horse and jockey, what they were capable of in such a dangerous game.
FOTH: What event or events led to you becoming a jockey?
NH: It's hard to say, but has always shown that horses would be my career. If you ever have ridden a winner, you just want to do again and again.
FOTH: How long did you exercise horse before you decided to get your jockey license?
NH: I was riding for a trainer 1 and a half years before I got my license, but I have been riding since I was five years old.
FOTH: Did it feel natural getting up on horses and did you have anybody help teach you how to ride and do you feel you were a fast learner?
NH: Yes very natural, I have always been riding, and I learn how to ride a race horse properly in a half year. If I wanna learn something I can in a short time.
FOTH: Are there many tracks out where you are based out of and what is your favorite one?
NH: We have four tracks in Denmark, and I really like my home track in Aarhus.
FOTH: How many different tracks have you rode at so far in your career?
NH: I have been riding on Klampenborg race track, Aarhus race track, Odense race track, Aalborg race track, all in Denmark. Jaegersro in Sweden. Lingfield in England.
FOTH: How long would you like to ride for?
NH: Forever, if that's is possible.
FOTH: How did you parents react when you told them you wanted to be a jockey and have they ever come out to see you race live at all yet?
NH: My parents think it's great, as long as I am happy with what I am doing. Yes, they come all the time. They think it is very exciting.
FOTH: Which do you prefer, riding on the grass or the dirt or it doesn't matter to you?
NH: For me it really doesn't matter.
FOTH: Take me through what you do in a typical day?
NH: I go to work at 6.30, riding out three lots. I go home, perhaps going to the gym for an hour. Back to work at 16.00, doing evening stables, perhaps riding out one lot. Go home at 18.00.
FOTH: Would you ever want to come to the US to ride at all?

NH: Yes, I would love to.
FOTH: Do you have any short term or long term goals for yourself?
NH: Yes I have. When I am in England my goals are to ride a winner, and if am going back to Denmark I will try to be apprentice champion again. Win the ladies competition again. Ride a winner on Klampenborg race track.
FOTH: Are there many other female riders out where you ride mostly at?
NH: Yes, there are some, but few of them are good. So I am really trying to become one of the best female jockeys.
FOTH: What are some things you like to do when your away from the racetrack?

NH: I like be with my family. Just having dinner with them or go for a walk with my dog. My cousin is my best friend. I love spending time with her. And of course spending time with my friends.
FOTH: Tell me what you remember about your 1st race.
NH: That was the greatest. I was so excited and exhausted that I could not stand on my legs when I jumped off the horse. So a special and unforgettable experience.
FOTH: Tell me about your 1st win and did the jockeys get you good after the race?
NH: Indescribable!! I could not believe it. It was amazing. Better than anything, I've ever tried. The other jockeys was very happy for me and they were alright.
FOTH: Have you have any injuries so far and do you worry about that at all?
NH: I sprained my foot once. No not at all, you know that it is a dangerous job, but I never think of it.
FOTH: How do you prepare for a race? Do you study the program or listen to what the trainer tells you or a little of both?

NH: Both. Sometimes I watch some races of the horse, and I will always listen to the trainer, he knows the horse best.
FOTH: Do you like any other sports besides horse racing?
NH: Any sports with horses, dressage, show jumping, hunting, etc.
FOTH: Do you think even after you retire, that you will be involved in horse racing one way or another?
NH: I hope. Maybe be a trainer or help other young jockeys, to get a great careers.
FOTH: Do you watch all your races to see what you did right and wrong during the running of your race?
NH: Yes I do. When i was back in Denmark I've always watched the races.
FOTH: Nanna I am out of questions. Thumbs up for the interview and any last words the floor if yours?

NH: Thanks for the interview and maybe I'll get a chance to meet you if I come to the US.