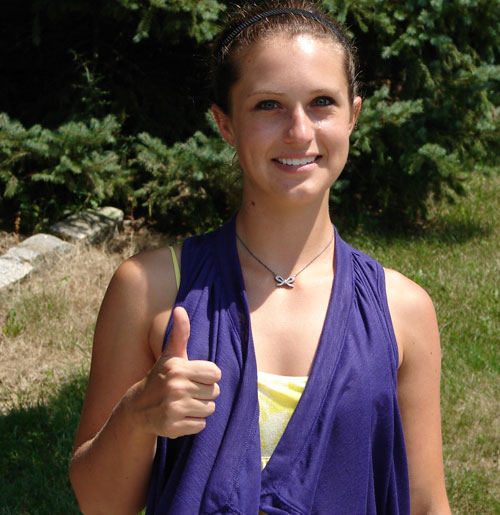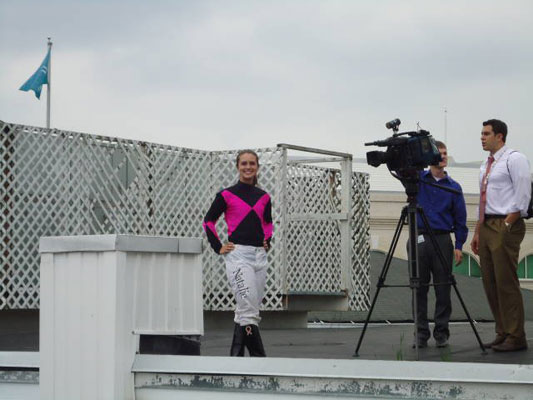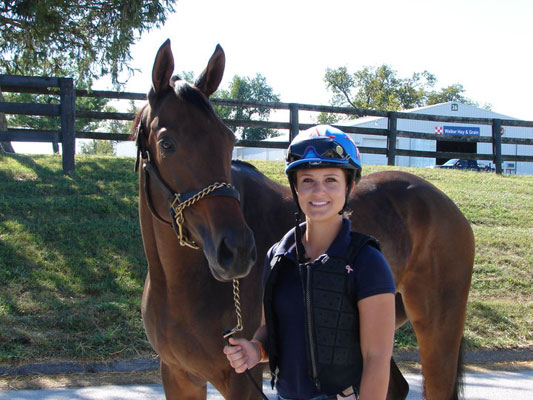 Natalie Turner
Natalie Turner is a young jockey currently riding out in the Mid-East area and I sent her some questions to answer and here is what she said to the questions I posed to her:
FOTH: What sort of girl were you growing up and did you come from a big family?
NT: I was obsessed with horses! I remember getting in trouble constantly for covering my dresser, walls and doors with any horse picture I could find. After doodling horses on my notes in class all day I went straight home and waited for my mother to take me to the barn. Horses were all I thought existed; my dad liked that because it meant no time for boys. My family is pretty small; just me, my mom, dad and little brother with a few aunts and uncles here and there.
FOTH: Where you into horses at a young age or did that come later?
NT: I remember a brief phase where I wanted a flamingo for a while but then I discovered horses around 7 years old and I never looked back.
FOTH: What was it like the feeling I mean when you first saw a horse race on TV and then when you saw a live horse race for the first time?
NT: I think I was 8 years old sitting on the floor in the living room. I had my childhood blanked sprawled out on the floor and a collection of my favorite stuffed horses (about 20 because I couldn't decide on who to pick) sitting by me like we would be sitting in the stands. My dad turned on the TV and I sat there all day watching the Derby telecast. I don't remember who won or anything particular about that race; but I do know when they crossed the wire I turned around to my dad and said "I want to be a jockey". The first live race I witnessed was at Turfway Park a few years after my picnic on the living room floor. My Father wanted to wait until I was a little older he said to take me to the track so I waited and it was worth it! By then I had my first horse; Eli was a bay quarter horse that I adored. After Turfway my mother took me to the barn to ride. I pulled my irons up so high trying to imitate the jockeys I had seen earlier.
FOTH: I see you went to the North American Racing Academy. How long did you have to go to that for and tell me a bit about that experience?
NT: It is a 2 year program and a lot of work! I would get up at 3:30 AM in the summer and fall semester to be at the barn by 4:14 to begin mucking my three stalls, grooming, feeding and setting tack for the horses I would ride later. At 5:20 when I would leave the school barn to start freelancing I would pass the other students just arriving. I rode until the last possible minute before I had to be back at the NARA barn to ride the school horses. After riding, walking them out, bathing, grooming and cleaning their stalls again we had an hour before class; which I used to ride more horses often resulting in me late to class. Then it was notes, race replays and story time from Chris before we worked out on the equisizers. After that came lunch! Then it's back for another class which was impossible to stay awake in after riding so many horses and just eating! But we can't forget the horses; they needed to be fed, watered, wrapped and stalls cleaned before we were dismissed for the day. By the time I got home all I wanted to do was sleep until my alarm went off the next morning!
FOTH: What did your parents think when you told them you wanted to be a jockey?
NT: They had the typical answer when I was younger telling me I could be anything I wanted to be. As I got older and kept telling them that I don't think it really sank in until I was accepted into NARA. They support me %100 and have been to all of my races so far. I know they remember Chris saying during orientation "It's not a matter of if you get hurt; it's when." Like typical parents they don't want to see their little girl get hurt but they know this is what I love to do so they support my decision.
FOTH: Looking back now, was becoming a jockey easier or harder than you thought and what was the hardest thing about becoming one?
NT: The actual process was more difficult than I expected. I thought I would just go out there hang on and try to win the race but there is so much more to it than that. I have to know what type of horse I am riding, who my competition is, saving ground, what the track is like, how the trainer wants me to set the horse and focus on correct form while execution all these actions. Looking from the inside out it seems so simple that all these things would need to be considered to ride a race. As an outsider coming into the industry I didn't know any better and thought you just hung on and hit the horse a few times when you wanted them to run. I still learn enough to write a book on my experiences every time I race I'll still be learning up to my last race and probable after about how to be a better jockey. The most difficult thing I have had to overcome was my weight; I struggled with that for a while then it all fell into place I was losing weight, I started riding races, I won a few and It only made me more determined to keep up my routine.
FOTH: What tracks have you rode at so far?
NT: I started my career at River Downs, from there I rode a few races at Churchill before the meet ended and I have been to Ellis Park once.
FOTH: Tell me all about your 1st race. What track was it at, where did you finish and were you nervous at all?
NT: I LOVED my first race! It was on a beautiful grey named Sticky Issue at River Downs. Surprisingly I wasn't nervous at all I had ridden Sticky every day for the past six months. Just a week before the race at River I rode her in the NARA catch a rising star race during the High Hope Steeplechase at the KY Horse Park where we won by a few lengths. So we already had a race under our belt even though it didn't really count. Chris McCarron came up from Lexington with my pony Montana whom I donated to the school a few months earlier. It was almost to perfect to be real. It was in my first race on a beautiful horse I trusted, being ponied by Chris McCarron riding one of my childhood horses, surrounded my friend and family! I drew the 7 hole out of 7 running 7 furlongs on the dirt. As expected we broke with the pack then settled into the middle. Around the 3/8 pole I figured what the heck ill ask her and see if we have anything left in the tank. Would you believe she did! Sticky took off like a bullet and we were on the outside and closing fast. It was all in slow motion as we neared the wire I was neck and neck for first place I was riding for all I was worth and Sticky was giving it everything she had. I know I looked over at the wire to see if I could tell who won but it was too close to call! I pulled her up and galloped back talking to the jockey who we had shared the photo finish with. As I pulled her up to the trainer I asked if we had won it he said we were second in a photo by about in inch! I dismounted, weighed in, signed some autographs, took pictures and did an interview. By then Pat had the win photo printed and brought it over to me before I made it back to the jocks room. He smiled and said, "Almost." I looked at the picture and sure enough there we were matching the stride of the winning horse but loosing by the shortest of noses. I was happy but upset and the same time because we were so close! When we watched the replay in the lobby of the jocks room everyone was complimenting how I switched sticks so easily and the truth is I don't even remember doing it! It was so natural I didn't even have time to think I just did it. I rode my second race later that day on Princess Langfuhr where we won by a length!!
FOTH: If a young girl came up to you and said she wanted to become a jockey, what advice would you give her?
NT: I would tell her go for it! There is nothing in the world that can compare to doing what you love!
FOTH: What track have you seen on TV that you would love to ride at one day?
NT: Saratoga, Santa Anita and Keeneland.
FOTH: Have you had any injuries so far and if you have, what was the worst one?
NT: Among the bumps, bruises, and concussions I have only had one significant injury. I was working a horse from the gates in March four days before my first race. While walking in the gates he reared up and I could tell we were going over so I slid off, landed on my feet and started walking away before I knew it I was face down in the dirt and unable to breathe. I remember thinking get this horse off me but when I opened my mouth to speak I couldn't. The horse had flipped back onto me as I was steeping away. I rolled over and began to gasp for air but I couldn't get anything. The trainer was standing there and witnessed the whole incident he came over to help hold me flat because I kept trying to curl up from the pain. Surprisingly I was conscious through the whole thing and I can remember every detail. I had a person at every limb of my body trying to keep me from moving as the ambulance arrived. One of the men on the gate crew kept telling me, "You just got the wind knocked out of you, you'll be alright" but I knew it was more than that. After air finally entered my lungs again the worst pain covered my chest every time I took a breath. I recited my parent's numbers to Chris who was calling to tell them I was headed to the hospital and they might want to come down. After they cut the ten layers of Kentucky winter clothing I had on off they had a diagnosis and a concerned audience to tell it to. The doctor said to me "You're hurt little girl and your hurt bad" I hadn't shed a tear until he told me that. He went on to diagnose me with 10 broken ribs (some in more than one place), a punctured lung and a chipped vertebrae. I ended up with a chest tube before the day was over. After a few days we realized I was allergic to most of the medication they were giving me for pain because it all made me sick, even the anti-nausea stuff. So they placed tubes in my back to dispense pain medication right to the source, thankfully that worked and I started feeling better. After a week in the hospital and the removal of a huge tube from my side I was realized! I ended up back in the ER two times because of ulcers from the medications over the next month of rehab. After two months I was released to ride again and I rode the graduation race a week later and a week after that I rode and won my first sanctioned race!
FOTH: Tell me about your 1st win. Did you win by a lot or in a photo? What was it like jogging the horse back to the winner's circle?
NT: It was my second career mount on the first day I rode. Princess Langfuhr won for me by a length going 7 furlongs at River Downs! It was the most amazing feeling; thinking about it now I still can't help but crack a smile. It all happened so fast after I jogged her back to the winners circle; they led us in, we tried to get everyone settled for the picture then it was hugs, handshakes and congratulations all around. I took my time doing photos and interviews because I knew what awaited me on my way back to the jocks room. But I couldn't avoid it forever so I braved the walk back. I swear there people came out of nowhere with buckets of ice cold water, soda, baby powder and eggs. But it was worth it!
FOTH: Did the jocks get you good after the race and did you know it was coming and what track was it at?
NT: River Downs; I knew it was coming and they did get me good. It was so hot though the ice cold water felt good and watched off the soda and baby powder on my clothes. So it could have been worse.
FOTH: Take me through a typical day for you?
NT: I'm pretty normal. I wake up head out to the track and ride some horses then its lunch, nap time, last minute preparations for the races that day and back to the track. I normally sneak in a run or swim to keep in shape before I do my work for the next day and settle in for bed. Then it's up before the sun and do it all over again.
FOTH: Have you ever been recognized outside the track?
NT: I have won my fair share of 4-H equestrian and art state titles; academics have produced some recognition on the dean's list and scholarships through high school and college.
FOTH: When you are away from the track what are some things you like to do and do you follow any sports besides racing of course?
NT: Unless my brother is playing I don't keep up with any other sports outside of horse racing. He competes in Varsity track, cross country soccer for his High School so I just keep up with him. If I'm not at the track I am normally up to something; swimming, running, reading or annoying my parents.
FOTH: How long would you like to ride for?
NT: I know I'll ride until the day I physically can't get a leg over a horse anymore.
FOTH: When you first started getting up on horses did it feel natural to you?
NT: Thankfully, YES! I've always felt at home on a horse and most of the riding has come fairly easy to me.
FOTH: With all the money athletes make in sports nowadays do you feel jockeys are underpaid?
NT: I think we are signifiently underpaid; and the other Professional athlete makes way too much money. There is a happy medium all professional sports have yet to reach.
FOTH: What is the best part and worst part of being a jockey?
NT: The best part is being able to do what I love, it really is a dream come true! The worst part would be the injuries, but they come with this profession.
FOTH: Does the heat or the cold bother you at all as far as riding goes?
NT: The heat doesn't bother me at all but the cold is another story. I am always cold so when it's cold outside I have a hard time adjusting. I grew up in Kentucky you would think I'd be use to it by now but every winter seems to be worse than the last.
FOTH: What are some of your favorite foods to eat and do you have any problems with weight?
NT: If I keep on top of things my weight is ok. I love bacon but try not to eat it as often as I would like; the same with ice cream! Thankfully I do like fresh fruits and vegetables and a good salad can hit the spot.
FOTH: If you had the power, what are some things you would do to make horse racing better?
NT: I would like to see every track install safety rails like Keeneland has. I would like to fix some of the stereotypes Thoroughbred racing has gained over the years. People outside the industry need to realize were not all out there to win at all costs. Most of these horses are well taken care of and really do love what they are doing.
FOTH: Natalie, I am out of questions, thumbs up for the interview and any last words and thanks for being part of me website.
NT: Thanks for the interest and thumbs up back at ya.