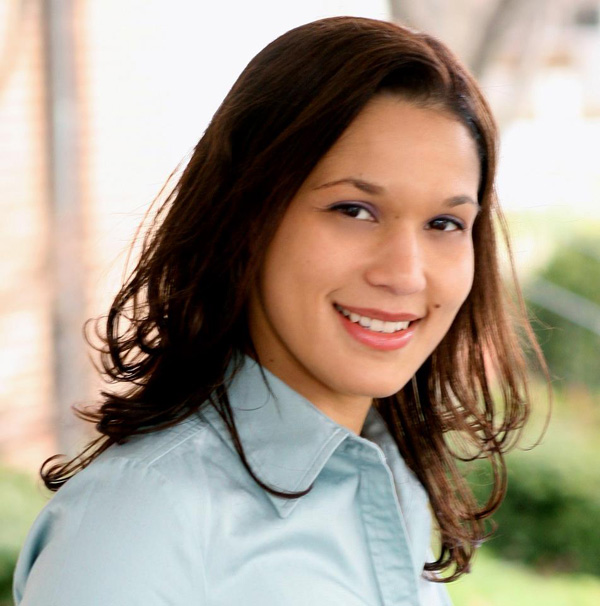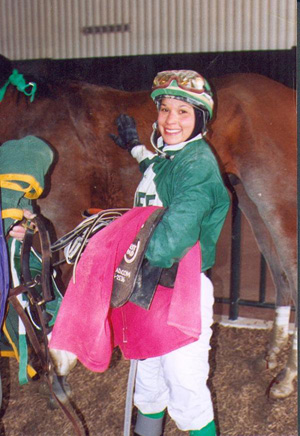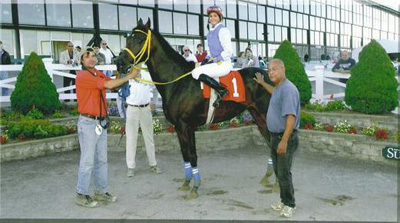 Raina Paucar
Raina Paucar recently retired and is now going to ride some harness horses!!! Here is her story and I did a previous interview before she got married when she rode under her maiden name Raina Covington:
FOTH: Wow Raina it seems like forever since we last did an interview. What have you been up to the past few years?
RP:Hi Chris. What have I been up to? So much.
I write for Equitrekking, help re-school OTTBs, sew riding apparel and work in marketing.
FOTH: What do you remember about your time at Parx Racing, which was back in 2002, till 2004. Do you think with the experience you had there, as you were an apprentice rider back then, help you to become a better jockey after you left?
RP: Of course, I became a more experienced rider in general. I was getting on as many as 8-10 horses some mornings, plus riding several races in the afternoon.
By getting on so many different horses, you are definitely going to meet up with some strong personalities that give you a challenge–and I did.
So, I would say yes. I left as a better and more knowledgeable horsewoman.
FOTH: While you were at Phila Park, did you have any of the jockeys take you under their wing and tell you the do's and dont's of what to do and what not to do?
RP: Most of the journeyman riders I rode with at Philly were very helpful. The most helpful jockey and friend was Anibal Prado and his wife Janet (who doesn't ride)–but treated me very well. I'm grateful for their kindness at that difficult time in my life.
FOTH: Do you feel that overall in your career that you have been treated pretty fairly as a jockey?
RP: Mostly, yes.
You have those trainers that will take advantage of you–by having you work several horses in the morning and won't name you on anything to ride in the afternoon.
The key to avoiding that is to have a good agent who will back you up and not allow you to be used like that.
FOTH: Now what tracks have you rode at over the years and do you have a particular favorite one?
RP: River Downs. Although, I've only ridden there a couple of times, it's gorgeous and sometimes hotter than Hell. I like to focus on the "gorgeous" aspect of it though.
FOTH: Over your racing career have you had the opportunity to get a jockey after his/her 1st win and if you did where was it at and how fun was that for you?
RP: N/A
FOTH: Over the years, what female jockeys have you become good friends with?
RP: None that are female jockeys–but, I married my best friend who happens to be a jockey.
FOTH: Has there been times where you regret being a jockey and what type of job do you think you would have had if you didn't ride races?
RP: No regrets. I'm really not certain what else I would have done for work. Something involving horses or sports.
FOTH: What has been some of the injuries you have had and what was the worst one and when you're riding I assume you have to block that thought out of your mind?
RP: That is a hard question to answer, I've had so many. It's like picking your favorite worst memory!
The worst injury was actually one that happened in the morning–when I was thrown and then trampled when it was still dark out.
When I'm riding, I never focus on pain or the "what ifs" of getting hurt. Any rider will agree, that when you are riding you are with your horse and in that moment entirely.
Nothing gets me more "present" or in the moment than riding a horse. Riding is a freedom and a focus that I can't find anywhere else, not even in meditation. So, I accept the risks for doing what I truly love.
FOTH: I have always wanted to ask and you're the 1st ha ha, do you at any point during the race besides maybe the start of it if it is a one mile race and maybe the stretch, do you ever hear the announcer call a race?
RP: Never.
FOTH: I assume when you ride, you sort of have to have a clock in your head so to speak. How long did it take you before you were pretty comfortable in doing that?
RP: Having a clock is very important for a jockey, and it developed for me quickly.
You have to know how fast you worked a horse in the morning, without being dependent on the trainer or clocker (they may not be honest with you or they might get it wrong).
You should know the fractions being set in the race, so you can make decisions based off of the timing. If you studied the form before the race, you have a good idea of how the other horses like to run based off the PPs. Timing is an important tool and can make all the difference in how you run your race–win or lose. I've won with long-shots this way.
FOTH: I know most jockeys will listen to the trainer's instructions, but has there been a time where you decided to throw that idea out the door so to speak and did things your way and it paid off with a trip to the winner's circle?
RP: Yes, of course.
FOTH: Recently you told me you're working toward or you already are a harness racing driver! How did this happen? I am sure you might be the 1st or one of the females to ride in both sports.
RP: I'm still in the process of learning how to drive. It's hard for me to find the time to do it as often as I'd like. It's so very different from riding, but I really enjoy it.
FOTH: Did it feel natural for you the 1st time you got into a buggy? What track have you drive at if you have and if now what track would you like to ride at and if it strictly a harness track I guess they will have to build a lady jock's room for you ha ha.
RP: It was exciting the first time I drove and to a degree it felt natural. I'm comfortable in most sports involving horses.
I have been fortunate enough to have wonderful people take time and help me learn on the farm. I have to thank Kathy and Jeff for their generosity.
I'm still some time away from driving professionally. It's on my to do list though, I'll get there and win some.
FOTH: If you had a daughter, and maybe you do dummy me, would you let her become a jockey if that is what she wanted to do?
RP: I have two sons, but no daughter. I support my children in anything they want to do, regardless of gender.
If one chooses the path of horse racing, I will fully support them–but, college would be the first requirement.
FOTH: Is there any track or tracks that you would love to ride at one day?
RP: Well, I'm pretty much done with my racing career as a Thoroughbred jockey.
I aspire to drive professionally at some point, and any track will do. I'd be grateful for the experience, the place doesn't matter much.
FOTH: Have you ever ridden a special horse that will stay with you for many years to come?
RP: Sarmentum, I loved that mare.
FOTH: To your knowledge, have you ever brought in a 99-1 shot or more?
RP: Close, I think the final odds were 70-1. Double Good Lookin at Suffolk Downs. Paid $143.40 to win.
FOTH: Do you think in one form or another you would be involved in horse racing for a long time and has the thought of ever being a trainer gone into your mind?
RP: I married to the business so-to-speak. I do enjoy helping retrain ex-racehorses (OTTBs) make the transition from race horse to a show or pleasure horse.
I would not enjoy being a race horse trainer.
FOTH: If they know, what do some of the other jockeys think about you being a harness driver?
RP: I honestly don't know. I don't consider other peoples' opinions important about my plans. I do what I want.
FOTH: What is the biggest difference in being a harness driver and a jockey?
RP: I can't answer that yet, on a professional level. But, I hope to tell you soon.
FOTH: What led to the idea of wanting to be a harness driver and who taught you and did you pick up on it pretty quick or did it take time?
RP: I have always found harness racing fascinating, I didn't have the time or an opportunity to learn more about it until recently.
Jeff is a driver/trainer and has given me a few lessons, and Kathy has been so kind to let me learn on her horses.
I'm still in the process of learning, but I think I'll progress quickly.
FOTH: With you riding harness races is that it for being a jockey or are you going to do both?
RP: I haven't ridden any Thoroughbred races for a long time and I'm fine with that. I don't have plans to do both disciplines simultaneously. I couldn't imagine trying to find time for both of these pursuits and having a life.
FOTH: I understand you have a couple websites what are they?
RP: Here's a link to my blog on Equitrekking.com and my website for riding apparel (under construction).
http://www.equitrekking.com/articles/ex-racehorse-adoption-blog/
http://www.ecuestreusa.com/ (It will be up and running in a few weeks)
FOTH: Raina, good luck with everything and any last words to wrap up this interview?
RP: Chris, thanks for following up with me and for promoting women in sport of horse racing! I wish the very best for you and your family. Cheers!

Back to our main page