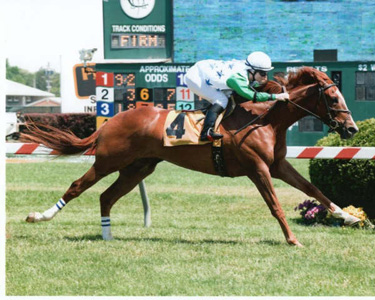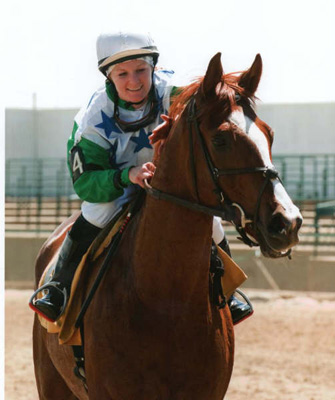 Michelle Penman
Michelle Penman is an amateur jockey and she has been pretty busy since I interviewed a few years ago so I emailed her off a new interview and here is what she said to my questions that I posed to her:
FOTH: So in a nutshell what have you been up to since I last interviewed you?

MP: I have been running about like a madwoman! The grass doesn't grow under my feet that's for sure! I now work for Ron Alfano galloping the Rickman Family's horses at Delaware Park. Ron is a class act and I love working for him-he is super cool. I have also been riding races whenever I can get the opportunity and have ridden in a few races in Europe too. Everything is peachy!
FOTH: Do you feel you have improved a lot as a rider since that last interview?

MP: Absolutely. You can only get better with experience. I am far from being Julie Krone but I am satisfied with how I am doing and I love to learn, I strive to be better. I also think I can read a race better and can make decisions in a race with confidence. Bobby Colton came round my house a few times and gave me some workouts on my Equalizer-he is like a drill sergeant! That helped me out a lot.
FOTH: Any thoughts of ever becoming a professional rider one day?

MP: I would love more than anything to do that but I think I would struggle with my weight. I am a very comfortable 120 right now and I don't think I could sacrifice my french fries and chocolate bars! Isn't that awful! Plus the fact I am naturally muscular doesn't make me fairylike-I have 13 inch biceps for goodness sakes!
FOTH: I know you told me you went over to Europe to ride in some races? How did that come about and what was the experience like over there for you?

MP: Don Yovanovich who runs ARCA (Amateur Riders Club of America- www.amateurjockeys.org) asked me if I would like to represent the USA in Germany last year (2008). I flew over there and rode at Baden Baden. Since then, I have ridden at Goodwood in England, returned to Baden Baden in Germany and my favorite was riding at Deauville in France this year with my best friend as my team mate, Gina. We had a blast. When we are sent to Europe to ride, the hosting clubs look after us so well and treat us like royalty-it is a great feeling representing America and donning the nation's flag on your silks.
FOTH: You won an Amateur series. What exactly is that and what was it like winning that?

MP: Basically, the amateur club is a points based series, so for every win, place and show, you earn points. I won the series in 2007, was runner up in 2008 and am currently leading the table in 2009. There are a lot of new faces this year and some promising young riders so it is getting increasingly competitive.
FOTH: What are some of the tracks that you have rode in the US and what has been your favorite one so far?

MP: I have ridden at Laurel, Delaware, Meadowlands, Pimlico, Colonial, Philadelphia, Charles Town as well as a number of the steeplechase tracks. My favorites are Laurel, because I have had my best success there, Colonial because the turf is so beautiful and I had my first racetrack winner there (sentimental) and Philadelphia because the staff in the jocks room are a blast-and then there's you of course Chris! LOL
FOTH: Take me through what you do in a typical day?

MP: I get up at 5am usually (earlier in summer) drive to work and get on between 5 and 8 horses at the track. Afterwards, I go to my 2nd job where I work as executive assistant to recently retired trainer, Michael Dickinson for his synthetic racetrack business www.tapetafootings.com It sounds like a posh title-but I am basically his secretary/organizer/gopher! It is a very interesting job-there is never a dull moment with Michael! Then I go home, have some dinner and relax for the rest of the night.
FOTH: Have you gotten a chance to give another jockey a bucketful of water yet?

MP: Actually it is funny you say that. When you saw me ride at Philly a couple of weeks ago, Chris Ortiz won his first race as an amateur and we creamed him when he got back. I was so excited to be part of the ceremony! I was responsible for the baby powder. His Mom even recorded it on video-it was hilarious. Apparently, a lot more torture occurred behind the closed doors of the male jocks room!
FOTH: How does one become an amateur jockey and for those who don't explain exactly what that means?

MP: It is pretty easy really. First of all you have to the amateur jockeys website www.amateurjockeys.org and fill out the application form. You have to get a licensed trainer at a racetrack to sign it as well as get approval from the starting gate. Then you will be put on the list to ride. Don typically lets you ride at the tracks closest to where you live.
Amateur jockeys ride at heavier weights, from 130ish up to 145ish and we do not get paid to ride-it is simply for the enjoyment of the sport. Any earnings we would have received as a "real" jockey goes to the amateur club for funding overseas trips and accommodating the foreign riders when they visit the USA. I wish there was more we could do to fundraise or obtain sponsorship as it is a great club and Don Yovanovich and Duncan Patterson both work so hard for us.

FOTH: What are some things you like to do when your away from horse racing?

MP: I am a pool (billiard) fanatic. I have been to the Nationals 3 times to compete in 8-ball and every week play in a couple of leagues.
In the winter, I love to ski-went to Aspen this February with 25 others from Fair Hill, it was awesome!
I also love to sing, everywhere and anywhere. I'm not shy! For those of you who are not morning people, I do realize it is probably too much at 6am to be listening to me belting out "I will survive" or "Its raining men" as I am galloping past you so I do apologize! LOL
As a girly girl, I typically like to shop, get my nails and hair done, hang out with the girls etc.

FOTH: Do you think you will be involved in one way or another with horse racing for a long time?
MP: I am hooked. I cannot imagine me doing anything else. As long as I am fit and not scared, I will continue to gallop and ride races. It is funny, sometimes when I am drifting off to sleep, I suddenly jolt and it is because I am dreaming about a horse wheeling with me or propping and I am trying to stay on! That is how much riding horses is in my head!
FOTH: Have you had any injuries and what has been the worst one?

MP: I have had a few. The worst one was when I was 15. I broke my C2 and C3 vertebrae in my neck. My accident was very similar to the one that paralyzed Christopher Reeve (Superman). I was show jumping and my horse stumbled upon landing and I went over his head and landed directly on top of mine. I was in a halo for months, missed a whole year of school and was ordered to "stay away from those damn horses!!"
In 2003 I broke my back working a horse at Tapeta Farm. That wasn't so bad. I fractured my L1 and L2 vertebrae. I wasn't out for too long on that one.
Then the usual, broken nose (several times) wrist, fingers, ribs (ouchie) coccyx (tailbone). All par for the course when you ride horses for a living!

FOTH: Do you have a favorite horse that you have ridden?

MP: I love them all when they try! It is funny, most of my winners have been maidens that have ran a bunch of times, look diabolically bad on paper and boom, they run their eyeballs out for me. That is the most rewarding when you win when you are not supposed to-anyone can steer a good one home.
FOTH: Do you follow any of the other sports and if so what are your favorite teams?

MP: I love watching boxing. My favorite fighter is Floyd Mayweather Jr- he is a machine. I also like to watch soccer-my favorite team is Glasgow Rangers from my hometown in Scotland. I also like to watch tennis and the last 3 holes of a golf tournament!
FOTH: How do you deal with riding in the cold or that doesn't bother you?

MP: I am superhuman-honestly! People always say I need certifying. I love the cold. I guess being born and raised in Scotland has gave me warm blood to cope with the cold. I don't even wear gloves in the midst of winter!
FOTH: What sort of music do you listen to and do you have a favorite group or artist?

MP: I am a music fiend! I love going to concerts. My I-pod is pretty much welded into my ears! My I-tunes library has to have the most unusual array of music. You can go from Ludacris and 50 Cent to Whitney Houston, from Guns n Roses to Simon and Garfunkel-there is thing that will never be on it, COUNTRY! My favorite group is Oasis and I love the Kings of Leon.
FOTH: Do you feel you have a certain riding style?

MP: I can spot myself in a field of 20! I don't think I ride like anyone else, although there are a few out there I would like to look like!
FOTH: If you had the power what are some of the rules you would change in the horse racing industry?

MP: I would raise the weights a few more pounds. As humans, we are evolving and we are not as small and light as our predecessors therefore we should raise the weights accordingly so that people don't have to abuse themselves so much to make a living.
FOTH: Do you think slot machines and other forms of betting are good or bad for racetracks and why?

MP: They are great, If people want to waste their money playing them and we are benefiting-go right ahead. Look at how well purses have improved in Pennsylvania and Delaware. It seems to be the only way to survive. Horseracing needs slots.
FOTH: Do you think there will ever be another horse that can win all 3 Triple Crown races?

MP: I am very hopeful. There have been so many horses over the last few years that have been so close to achieving it, winning 2 out of 3. I really think Rachel Alexandra would have cinched the Triple Crown if she had competed in all three. She makes such a mockery of her rivals!
FOTH: I am out of questions. Thumbs up for the 2nd interview and any last words the floor is yours.

MP: Thanks for the interview and keep up the great work! I know you are getting excited about all the girls coming to Philly for the Female Jockey Challenge.


Back to our main page