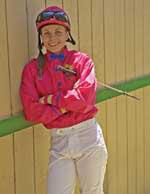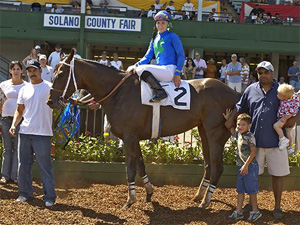 Kate Repp
Kate Repp is a jockey I got to know a bit a few years back when she was riding at Phila Park. She has been back to her home base, the West Coast the past few years. I recently got her on the phone to get an updated interview and here is what she said:
FOTH: Katie I am not going to get into your whole racing career as people can read about that in the 1st interview we did a few years back. So tell me what you have been up to since you left the East Coast a few years back?

KR: I went back to California and did pretty good and then got hurt again and then I went to Zia Park in New Mexico for their 1st year being open and did quite well there. I think I was 4th in the standing or something. Then I went to Sunland Park for the weekend and didn't do any good and got hurt in the gate, so i took some time off and then I went to Phoenix (Turf Paradise) and to went to Seattle (Emerald Downs) and I broke my leg there so I took some more time off and that is why I had my bug for so long, I kept getting extensions it was injury after another for awhile. After I broke my leg, and I think this was after I lost my bug, I just galloped all winter for babies for Home Stretch Park up there, which was an experience, it was the 1st time I actually got to break babies without someone figuring me to do the baby ass kicking ya know. It was an adventure and I learned a lot. I came back the summer after that and rode. Actually at the end of the summer did some work for TVG and the media department up there. Then I took 3 months entirely off the race track thinking I was gonna retire from it and be done with it. I came back in the spring and ran Charlie Ethedic's (hope that is right-chris) shred row in Seattle and broke babies and rode some and then I decided to come to Delmar and I was an Ast. Trainer for Mark Glatt. I didn't actually get my license cause if I did I would have to give up my jock's license and I wasn't ready to do that yet. I wasn't 100% ready to call it good for good. I am down here running the barn.

FOTH: I know you mentioned TVG and I know you were on there for a few months. Tell me how that experience was and how you came about to get that job? Was it tough to critique riders and horses and stuff?

KR: You know I really enjoyed it. I hope I get to pursue it a little bit more down the line cause it is a different avenue of the horse industry and gambling is always going to be a big part of it so it doesn't matter if we get down to it where there isn't so many tracks, there is always going to be thinks like TVG or HRTV and it is a good think to get into if you can and I like to hear myself talk, so I am kinda good at it. (we laugh)

FOTH: With all these injuries you have had was there any thoughts in your mind about just wanting to quit saying to yourself this must be something I was not meant to be doing?

KR: It was a I'll be back, I'll be back type of thing. I have been hesitant to hand in my jock's license and get an ast. trainer's license cause you don't get hurt so you really have to quit, it is hard to quit I think. I am not really to quit for good, but you never know.

FOTH: Tell me some memories you have about the East Coast and how did that come about?

KR: My agent at the time had a bunch of riders on the East Coast so it was a good time and a good gamble
The girls always do better on the East Coast. With the bug it is now or never and I wish I had stayed there longer, but it wasn't meant to be and California is home.

FOTH: Tell me a bit about when you rode at Atlantic City Race Course. Was the turf there as good as you had heard it to be?

KR: Yeah it was great and fabulous. They don't use it much so I think it is about as good as you can get.
FOTH: Tell me a little bit about Zia Park and you mentioned you rode there they 1st year it opened.

KR: Anytime you riding at a 1st year track your fighting a lot of, you know they are trying to work out the kinks and stuff. The track was good when it didn't rain and horrible when it did. I think everybody learned a lot. I had a lot of fun there and it was a good meet for me and I made a ton of money cause they had slots. The horses were a different sort of stock.
FOTH: Looking back, now I know you got hurt a lot, but do you think you did pretty good as an apprentice?

KR: Yeah. As an apprentice you hope you don't get hurt as much as I did. I won a lot of races so I can't complain.
FOTH: Out of all the tracks you have rode at, has there been a favorite or least favorite or have you pretty much liked them all?

KR: Yeah I like them all for different reasons.
FOTH: Has there ever been a favorite horse that you have ridden?

KR: I like all my horses.
FOTH: If a young person came up to you and said they wanted to be a jockey what advice would you give them?

KR: Hopefully they would stay in school. I would tell them to work hard. I am all for anybody that wants to do what they want and puts in the time and effort to do it.
FOTH: Take me through what you do in a typical day as an assistant trainer now?

KR: It is different. I am here a lot earlier, I try and get to the track about 30-45 minutes before the track opens in the morning. I set tack and I gallop horses.
FOTH: Did you ever have any arguments with any other jockeys that almost came to fighting?

KR: Yeah one time I get into a really heated argument with another jockey over something stupid.
FOTH: Do you feel you were treated pretty fairly as a female rider at all these tracks?

KR: I think if your a boy or girl you have to pick your spots like California is not a place for girls. I tried to pick my spots when I rode. If my name was Kevin I am sure things would have been different I think.
FOTH: I know your mom is a big supporter of yours. Has then been like a blessing in some ways having her support? Did she ever suggest you quit when you were going through all these injuries?

KR: Oh no she was the one who would always say stick with it. She has always been one of my biggest fans.
FOTH: Were you were self taught as a rider or did you have somebody teach you how to ride?

KR: I learned from everybody I rode with. You learn a little bit everywhere you go. I had people teach me how to leave the gate and the people out in California were really helpful. I tried to learn as much as I could everywhere I went.
FOTH: So what are some things you like to do when your away from the racetrack?

KR: I like to shop is that considered a sport. (laughs)
FOTH: Well Kate I am out of questions, anything you want to say and I appreciate your time and in doing this 2nd interview.

KR: I appreciate that and thanks for the support.
FOTH: Maybe I will see you on TVG one of these days.

KR: I hope so.