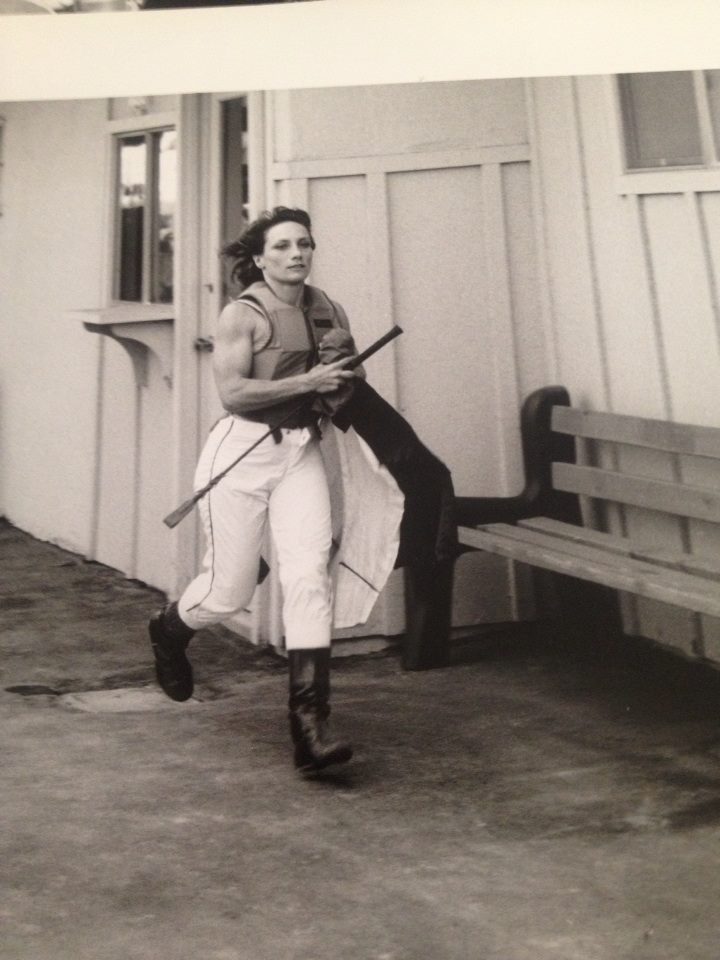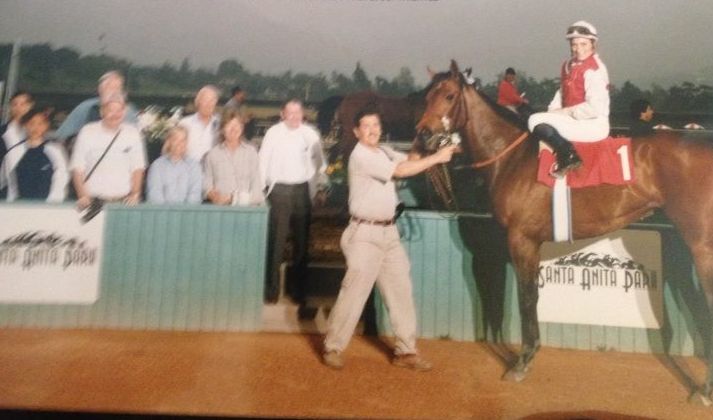 Joy Scott
Joy Scott recently had a never nasty spill while riding and I managed to get a quickie interview with her and read on about one tough jockey:
FOTH: What are some things you like to do when you are doing things non horse related?
JS: I'm long for my ability to get up and go to work or go to the gym or jogging. I love to run love to dance , ride ,and be a Mom to my Son Jesse. Not at all in that order.
FOTH: I read where at 11 years old you were put up on your 1st horse by your grandmother/ Tell me a bit about that and what sort of girl were you growing up?
JS: I was put on my first horse by my Aunt Sarah, I lived when with my Grandmother in a very horsey community . I loved to ride I worked in the neighborhood as a child going door to door. I worked and played at an old Gruff cowboys down the street and rode their ponies. I with my Aunts help got a POA pony when I was 7. She was not quite 2, she came from a heard and she was wild. I studied horsemanship at Al's with my Aunt and with my friend Tracey who's parents treated me like their own and took to cal poly Pomona and other horse training clinics.
FOTH: Tell me about a special horse that was in your life?
JS: Tiffany was special white with a beautifully chisseled head beautiful e face and more of a quarter horse body. I trained her ,she was highly schooled .i won a room full of trophies, stock horse .slide spin , barrel racing .then I rode her with no bridle saddle and did exhibitions at shows . Then she went blind ,I rode her with no bridle or saddle and she really truly was amazing!
FOTH: Tell me the early days of you getting into horses and horse racing.
JS: What a lucky girl! But I was on my own, I left my grandmothers at 15 , it wasn't so Good there, I worked since I was 11 breaking training giving lesions , and riding endurance races 25 and 50 mile races , I rode the Sunland 50 bareback on Wayne's Arab in 80 mile and hour winds ,started 18 min late, ran 2nd but won best condition! I left school to go to work at the race track. The people I move in with we're great! And helped me get my first car . They have a sad story you can read it in my book when it's done. Ill shorten this up. I was a real hard worker!
FOTH: I also read where you had jockey Lori Grouve working with you a lot. What did exactly did she teach you?
JS: At 15 I worked for Laurie Groube, she taught me how to sit on a Race horse.
FOTH: Who did you work for back then?
JS: I worked for Monte Roberts and Jerry Dutton at a Hollywood Park sale ,then worked for Tommy Burns there , he sent me to Galloway Downs with 7 head to manage and gallop where I met Bobby Garcia who is the greatest! Taught me what hold to take leaving the gate ect, he also was a gentleman, he likes to teach riders.
FOTH: So what are some other things you ended up doing?
JS: I went to Japan with my boyfriend who I met I my neighborhood giving lesions to him. Green horse green rider. He was a animator, cartoonist , I had been offered an art scholarship but had left school, he was my photography teacher took lots of pictures. Then off to the race track!
FOTH: When did you end up wanting to be a jockey and what were some early trainers you worked for?
JS: I had been bitten! There was no facility for me at del mar I was ok buy the starter and the Stewart's to ride a first time starter my first start because of the problem horses and many 2 year olds I got on I worked for John Treasure and Tink Elordi when I was 17 60 2 year olds mostly for Wayne Lucas who I worked for after that.
FOTH: Tell me what you remember about your 1st mount.
JS: My first mount was 159 -1 then I rode 2 more then won my only mount at the Fresno fair on Gingerbred Gal for John Ward. Worked horses at Hollywood park and galloped for Wayne Stuki worked for Laz Barrerra a d others that was1981 in 82 in spring I rode the spring meet on the fairs in Calif and won enough races to loose my bug the first year first and only girl to do that I think, no one else has done it in 3 years. So calif is especially tough especially for girls .and riders that are brought from somewhere else by an agent. I had no solid barn no backers. Just no quit in me I knew I was better I got along with horses lot of riders couldn't and won on lots of long shots, my 5 winner was a rogue colt 2 year old 1 st time starter.
FOTH: After that where did you end up riding at?
JS: I rode in n calif a winter or 2 . I enjoyed the lifestyle there and the weather.
FOTH: What are some of the highlights and low points of your career?

JS: I was leading rider at the Fresno meet and battled on the Fairs, I also rode in Caliente Mexico and won plenty of races with special recommendation fron Stewarts at DelMar . They ruled girls off Caliente after Penny Ann ,or something . I won the bustles and bows at Pom 111to1 but they couldn't have that so they put Alex Solis up . The 1 to 1 shot! I had it rough! I met my husband , I was pregnant didn't know it till my weight problem. I love my Son so much we had lots of hardship, he deserved the best!
After having him in 6/3/87 I rode 1 Arab at Pom there Freddy asked me to ride a horse I won on at Bay Meadows, and we won Smooth Bid 153$ winner the -st girl to win a race at Oak Tree then we won again up in class so we were 2 for 2 of a layoff! But I had marital problems..and a baby boy, no support we even slept in my car , lots of exciting drama for the book! I took 4 years to straighten out my life ,with the child to support I had to make a living riding in so Cal or get another job. I prayed and surrendered to Gods will, my Son was most important. Buisness picked up I carried him around the race track grooms and trainers watched him Johnny Longdon loved him I won a couple of races for John. Lots for John Valprado.
FOTH: Tell me about the awful spill in 2001 you had.
JS: In 2001 I had a 5 horse spill at Los Alamitos and broke my leg badly, I had a ticket to go to Dubai to ride a horse Arab that was my my regular mount that was horse of the year ect . I think I might be the first girl to win a 100,000 dollar race in so cal on IzaBonBon for Louie Cinacola the las Madrinas. But I was leading Arab 6 years Ina row and won many 100,000 after breaking my leg, but my business was never at the major tracks after that. Went broke lost my house when the Arabs were kicked out of Los al had some more accidents there mostly on quarter horses 870 races which they don't have anymore.
Now wonderful Son Graduated from UC Berkley and now has a job in NY city but was by my side day and night while I had a freak horrible accident at Santa Anita in the morning on a colt I was near death from the multiple infections in a compound crushed knee femur, 60 days in the Hospital . Lucky for my I'm alive and my leg is still there! New things to be grateful for. But for the grace of God go I!
FOTH: What did your parents think of you riding?
JS: I didn't really have parents and my Grandmother had passed away. My Aunt was proud of me.
FOTH: I assume when you rode you got a bunch of s**t from other riders.
JS: Many a silent and not so silent battles riding on the fairs and at Los Al, there was not so much respect for human or animal life. And the deck was always stacked against you. Never a dull moment . Some call me a warrior. Always trying to keep a good attitude, be cool , I'm of perfect. ,, I think the first winner at Santa Anita was a most amazing feat. But I had so much on my mind, I should have enjoyed more fruits of my accomplishment .
FOTH: Tell me about your most memorable win.
JS: The most memorable wis the strolled bustles and bows win on Sellemal, .and when a trainer took me off the undefeated favorite in an 89,000 at Los al after I worked her for the race the day before entries,and I picked up a last minute call on a long shot paid 79$ and the favorite ran last, trainer wanted to change her running style! And he did!
FOTH; At one point how long did you think you would ride for?
JS: I never thought I would ride into my 50s but the accident in 2001 cut off my career at the knees, I was doing great, and I was robbed and kept trying to get back what was taken.
FOTH: Tell me about this recent bad accident/spill you were involved in.
JS: As for this accident , the last horse I rode at Santa Anita for Elmer January East Sky was beat a hair in the head bob and my saddle slipped back, something was wrong, he had a huge shammy ,the saddle slipped so bad I had to take my feet out of the irons after the wire and sit in front of the saddle galloping out. I'm suspicious. The rubber pad Wes on the horses neck the whole stretch in a head and head race to the wire. He was claimed , as was all my other live stock I was riding at Los Al . So I got a job in the morning for Erick lots of green ones it was my 5 that morning, I usually work horses and ride races , I ride the green ones and nervous ones and work them , but not much for galloping anymore, too slow. But I needed the job. The dirt was especially hard and filthy, in the gap right before entering the race track, all the horses empty out there as they pause to go on the track. And I was launched hard and fast ,with the colt being quiet s a mouse before that, over the head reins in hands, chestnut belly over my head and my femur in my face through my genes. I was screaming bloody murder! The Chaplin and his wife each had a hand and I could hear Octavio's voice trying to sooth me. You my hero he said. The ambulance guys cutting my clothes were throwing dirt in the wound and the femur. As they flopped my cut clothes around . Kathy came and told me to go to a different Hospital so the paramedics came and did that. The trauma dr said my leg is shattered and dirt thru and thru. And would have to have surgery every 3 days for a long time and be on antibiotics maybe 6 and this is really bad! I didn't believe what he said. Well sure enough 10 different infections fungal yeast bacterial, every 3 days surgery, 7 in 23 days a pick line with 4 antibiotics on anti fungal that is a real killer! 60 days in the Hospital and just stopped antibiotics this week! I hope forever but that's a gamble. My Son Arno Grether and many other friends and fans rallied for me , an agent Tom Knuts wrote and produced an armature film then Mr Krakorian donated a theatre and they sold tickets 20$ and overflowed the theatre! Thebarwherethepeoplearethemixers. Quit an honor and a rare experience! It's one day at a time now. Taking the best care of myself I can!
FOTH: Any last words hope all goes well with you in the future?
JS: Chris thanks for having my on your site and I will talk with you again soon.