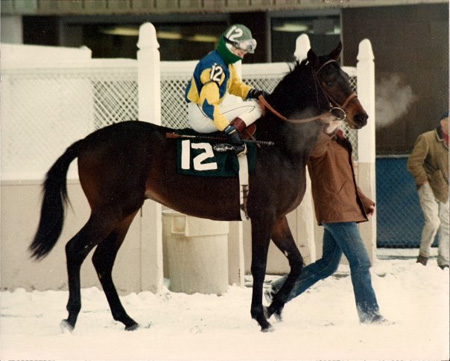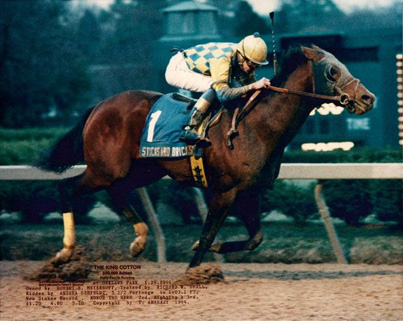 Andrea Seefeldt

Andrea Seefeldt is a retired jockey that rode from 1981 till 1994 and she pretty much rode everywhere across the country. I emailed her some questions and her is what she said to my questions:

FOTH: Where were you born and where did you grow up?

AS: Born in Illinois, but moved right away to Florida until I was 8 and then Maryland.
FOTH: What sort of girl were you growing up?

AS: I wasn't a tomboy or a girlie girl. I just spent a lot of time with my show horses.
FOTH: Did you always have a love for the horses or did that come about in your teenage years?

AS: Always.
FOTH: What did you think the 1st time you saw a racetrack and a live horse race?

AS: The first race I went to was at Bowie when I was 15, and I decided right then that I would be a jockey.
FOTH: What event or events led to you becoming a jockey?

AS: My plan was to be a jockey during the week to pay for the horse shows on the weekend. After I worked at the track for two weeks walking hots, I sold my show horses. Totally determined to be a jockey.
FOTH: Looking back was becoming a jockey easier or harder than you thought it would be and what was the hardest part for you?

AS: It was exponentially more difficult than I thought it would be. The hardest part was getting any trainer to give me a chance to learn how to gallop a racehorse. This was 1981, and people weren't very receptive to the idea of female jockeys.
FOTH: How long did you ride for and what tracks did you ride at and did you have a favorite and least favorite and was there a track that you would liked to have rode at, but never got the chance during your racing career?

AS: I rode from 1981 to 1994. I started at Pimlico, won my 1st race at Delaware and moved to Penn National for 5 years before returning to Maryland as a home base. I won races at the NY tracks (Bel, Sar, AQ excluding Finger Lakes, which I never saw.) I won races at the Pennsylvania tracks (PN, PH, Erie), New Jersey (Mth, Atl, Mdw, Garden State), Maryland (Pim, Lrl, Bow, Tim, Marlboro), Delaware, Oaklawn, Fair Grounds, Remington Park, Fort Erie, Charles Town and Mizasawa and Osaka in Japan. Rode at Churchill (in the Derby) Rockingham, Arlington Park, Hawthorne, Birmingham, Thistledowns and Caymanas Park in Jamaica. My favorite was Pimlico and least was Charles Town. I would have liked to ride at Del Mar and Keeneland.
FOTH: When you rode your last race, did you know it was your last race and what led to you retiring?

AS: The last one I rode, was a winner in a stakes race at Fair Grounds and after
the race I felt no exuberation or thrill, it was just another day at the office. I took the winter off hoping that I just needed a break and I just never returned. I lost the drive and determination that I'd had, I was worn out from all of it, fighting the weight, the pain from old injuries, especially my back. It just wasn't fun anymore. The first seven or eight years I rode, I rode really bad horses, usually the ones that nobody (the boys) else would ride. By the time I got to the good horses and doing well, I was pretty busted up and had a lot of residual pain.
FOTH: After you retired did you stay involved in the sport or did you move onto something else?

AS: I rehabbed a few retired race horses as show hunters and fox hunters, but now
just fox hunt my own for fun. I pick out a yearling or weanling every year or so for my husband and he races them with Dickie Small as our trainer.
FOTH: Do you think you were treated pretty fairly as a jockey from the trainers, owners, etc?

AS: Not in the early 80's but by the late 80's and into the 90's, yes. It was amazing how much things changed from when I started.
FOTH: Share with me a couple funny jockeys stories that happened when you were riding?

AS: There were so many, I can't think of one. Every day was fun. Life in the jocks room was like a living in a comedy.
FOTH: Did you have a favorite horse that you liked to ride and did you win any stakes races?

AS: I won 37 Stakes races. The biggest was the 1991 Pennsylvania Derby on Valley Crossing for Dickie Small. My favorite was STAR MINISTER a very difficult (crazy) mare that I rode for Mr. Small, who I won 6 stakes on, including the Cotillion at Philadelphia Park.
FOTH: Tell me what you remember about your 1st race?

AS: Everything! I finished 2nd by a head at Pimlico. The horse should have won as I really wasn't ready to start riding and wasn't yet strong enough to get the job done properly.
FOTH: Tell me what you remember about your 1st win and did the jockeys get you good after the race and did you ever get to return the favor one day?

AS: It was a long stretch duel at Delaware Park in 1981 with Hector Pillar and I
won the photo. I walked back thru the paddock at DP when one of the jocks jumped out from behind a tree. I bolted and almost made it back to the girls room (house trailer behind the paddock), but Bobby Gilbert tackled me and then they got me then. I can't remember how many jocks I helped initiate in 13 years.
FOTH: Did you ever compete any female jockey challenges and if you did how did you do?

AS: The first was at Fort Erie in 1982 and I won both races. I also rode in Japan at 4 tracks in 1991 with a group of international female jockeys. I won two of 10 races but Japan won the challenge. The last was at Remington Park in 1994, with the most accomplished group ever assembled, I think, PJ Cooksey, Donna Barton, Mary Russ, Jill Jellison, Tammi Purcell, Rosemary Homeister, Georgina Frost, Sally Williams and the winner Vicky Aragon.
FOTH: Do you think the weights should be changed for riders or are they OK where they are at and did you ever have any issues with your weight when you were riding?

AS: I think they can raise it a few pounds, but not much more. I was 5'7 (crushed vertebrae and I am now 5'6) so I fought weight constantly. Somehow I tacked 112 on a daily basis. I now weigh 125 and people say I look the same.
FOTH: What are some of the injuries you got when you were riding and what was the worst one?

AS: Crushed vertebrae, broken pelvis with sacrum fractures, torn kidney,
compound collar bone, teeth thru the lip, broken toes from the starting gate and many other bone bruises and torn muscles. The kidney was the most painful.
FOTH: Do you still follow the sport at all?

AS: Yes, my home page is DRF news headlines. I glance at the charts often. We have one or two racehorses of our own. I also follow steeplechase racing.
FOTH: Do you enjoy watching any other sports and do you missing ride still or is that something that is in your past?

AS: I watch the Ravens every week they play. I don't miss the races as I ride daily. I have 2 ex race horses and foxhunt 3 days a week, so I still get my thrills and then some.
FOTH: When you began to ride did you learn a lot of it on your own or did you have some people teach you?

AS: I picked up a little from a lot of different people. I think it's great that Chris McCarron has the jockey school now.
FOTH: If a young girl came up to you and said she wanted to be a jockey what advice would you give her?

AS: Learn about the whole racing business, don't focus on just riding. The riding is the easy part. Don't waste your bug year being clueless, it will be the shortest year of your life. Understand what the conditions of the race actually mean. Don't start riding races too soon, if one person says you are not ready, LISTEN to them. Get Equicizer (www.equicizer.com) so you can practice and get strong enough to not look like a girl on a horse. Put your hair neatly in your helmet, no pony tales!
FOTH: I am out of questions. Thumbs up for doing this interview and any last words to wrap this up?

AS: Good luck with the website.

Back to our main page