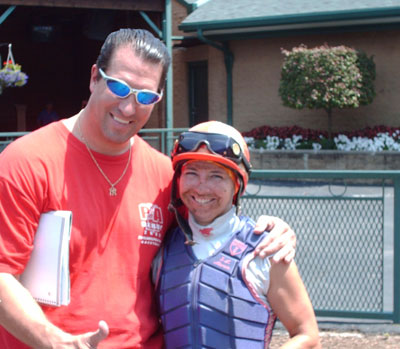 Chris and Shelly over at River Downs
Shelley Moran
Shelley Moran has been riding over for over 10 years and I recently got her on the phone for this interview:
FOTH: Where were you born and where did you grwo up?
SM: I was born in Nashville, TN. I grew up mainly in Kentucky.
FOTH: DO you have any brothers or sisters?
SM: I have 2 brothers.
FOTH: What do your parents and your 2 brothers think of you being a jockey?
SM: My mother was one of the top female riders ever so she thinks it's pretty cool. She knew this is what I wanted to do so she was behind me 100%.
FOTH: What sort of girl were you growing up? Most of the other girl riders were tomboys, does that description fit you as well?
SM: Yes, I was a tomboy. I was also around 2 brothers a lot. They also supported me and they always root for me.
FOTH: Growing up, did you always know you wanted to be a jockey or did you want to be something else?
SM: More or less I wanted to be a jockey and follow in my mom's footsteps. She did it when it was a lot harder and she was one of the 1st female riders ever, her and Patty Barton. It is funny cause Patty and my mom rode together and me and Donna Barton rode together.
FOTH: What event or events actually led to you becoming a jockey?
SM: When I was younger and I used to show and my 1st race I ever rode was a steeplechase race when I was 5 years old and then I started exercising and galloping horses as a teenager and then Nov 2, 1988 was when I got my jockey license and rode at Churchill Downs and Keeneland.
FOTH: Did you mom teach you a lot of stuff as far as teaching you how to ride?
SM: My mom taught me about everything there was about riding. My 2nd brother taught me too as he gallops and breaks in horses too.
FOTH: How much longer do you plan on riding?
SM: I guess I am playing it by ear, is the easy way of saying it. It is still in my system a lot you could say (laughs) I don't have any kids yet so when I decide to have kids I would slow down and then go back to riding. I will just have to wait and see.
FOTH: Tell us what you can remember about your 1st race.
SM: My 1st race was at Churchill Downs and I ran 5th in the race. The horse's name was "My Mable" and it was for my mother Betty Moran. She put me on a safe and sound horse.
FOTH: Do you remember being nervous at all?
SM: Yes. In the jock's room it wasn't bad cause I knew all the people. I was good getting ready and when I was walking down the steps and out into the paddock and I was always kinda shy and walking out in front of that many people I was like a nervous wreck (laughs). I had butterflies in my stomach and it was an experience that is for sure. Once I got on the horse I was fine and I blocked out all the people.
FOTH: Tell us what you can remember about your 1st win.
SM: After I rode at Keeneland and Churchill I decided that winter to go to PA. I wanted to win my 1st 5 races there in order to start my "bug". I wanted to go away from home so I could more or less come back home. A lot of people if you ride where you started and stuff, sometimes when your learning. a lot of people will sometimes hold stuff against you or don't give you the credit that you deserve, so I took myself away from the Ohio and Kentucky circuit and I won my first 5 races at Penn National and then I came back and started my "bug" and I have been based out of Kentucky ever since.
FOTH: What was it like going into the winner's circle for the 1st time?
SM: It was a really nice experience cause you feel like you finally accomplished what you wanted to accomplish. It is a sensation you will never experience again. It is hard to describe in words.
FOTH: Did you get pelted with stuff after the race?
SM: Yes. They got me with eggs, water, baby powder, ketchup and mustard. The girls upstairs got me with a bucket of ice water. I was not expecting it at all.
FOTH: You have been riding for a while. Have you noticed a more of an acceptance of female riders throughout the years?
SM: There has been quite a bit of difference now. It is still tough game and it is still a tough hill to climb for people to accept female riders. You have more and more that accept them everyday, but your still going to have that hand full that will never accept them.
FOTH: For those who don't know describe a little bit about Beulah Park and River Downs.
SM: River Downs is a great little track in Ohio. You have a lot better rider selection than at Beulah Park. Beulah is ok for a little track. I do really good in Ohio and I do ok in Kentucky. I do my own book (meaning she does not have a jockey agent-chris) so I take care of all my business myself. River Downs is a cute track, it is just a small version of a big track.
FOTH: Do you have a favorite track that you have rode at and is there any track you might like to ride one day?
SM: My favorite track is Keeneland. I think I am partial to that track cause that is where I started and got my license at. Tampa Bay Downs or California track of New York track.
FOTH: What are some of the tracks you have ridden at besides the ones we have talked about?
SM: Mountaineer, Gulfstream, Calder, Hialeah, Indiana Downs, Hoosier Park, Arlington Park, Hawthorne, Delaware Park, Kentucky Downs, and Phila Park.
FOTH: Do you notice much difference in each of these tracks or is it in your eyes, a race track a race track?
SM: Most of the time your race tracks are your race tracks. A lot of time you go to certain places the people there are nicer than others.
FOTH: Did you ride in any of the female jockey challenges at Hoosier?
SM: Yes, I ran 2nd in one of them.
FOTH: What was it like going out to Hoosier and doing the female jockey challenge?
SM: It is really a fun time. It gives the female riders an opportunity to do something we never get to do and riding against other female riders and usually female riders we normally don't get to race against cause they come from all over. They really treat you right when you do this. They put you up in a hotel and send you to a spa and get a pedicure/manicure. It is really nice.
FOTH: If some young girl came up to you and said she wanted to be a jockey what advice would you give her?
SM: I would always recommend to finish school first because you can always have years to ride. So many people want to ride and don't realize how important school is. It is not as easy as it looks especially for female riders. You really have to work hard and prove yourself. In my opinion the female rider has to work 2x as hard as the male rider does.
FOTH: What are some hobbies and things you like to do when your away from the race track?
SM: I like to fish.
FOTH: Do you think a female jockey will win the Kentucky Derby one day?
SM: Yes I think it will happen one day.
FOTH: Take us through a typical day.
SM: I usually get up around 5am and I get on my 1st horse by 6am and right now I am getting on 9 to 13 horses a morning and then I drive to the races I have to ride or I am already there. I try to have a little lunch and relax a little bit before my races for the day. Usually after I eat dinner I'll relax the rest of the evening playing with my cat and dog. (laughs)
FOTH: What are some of the injuries you have had and what was the worst one?
SM: I have 2 bad injuries, one was tearing my hairline fracture from breaking my neck and I also spatchela in half, which is the wing bone of the shoulder, which is the easiest way of explaining it. That bone had never been broken in the history of horse racing before.
FOTH: Was there any thoughts of quitting with these 2 injuries?
SM: No, to be honest when I have had the injuries I have had, the concussions and I have quite a few of them, for some reason, which is probably stupid, it makes me more determined (laughs) I know my mom tells me I have too much heart and I am too determined. It is always like when stuff like that happens it makes me mad and makes me want to do it more.
FOTH: What keeps you motivated after all this time?
SM: I have had my ups and downs. The winning part keeps me going. There is nothing like getting the win. It is something you really have to work hard for. I might not get the best horse, so sometimes I have to even work harder.
FOTH: What are some other female riders you get along with or consider a friend?
SM: I would consider Jane Magrell, Maureen Andrews, Jessica Enders as friends.
FOTH: Have you ever had any problems with your weight?
SM: No, I have never had any problems with my weight. I am naturally light.
FOTH: Would you want to still stay in horse racing when you retire?
SM: In a way I wouldn't mind doing something in the horse industry. I don't know what it would be. I wouldn't also mind getting involved in something outside the industry. I like working with cameras and I would like to get into photography one day.
FOTH: Do you get along with all the male jockeys?
SM: I get along with just about everybody I ride with.
FOTH: Any one particular riding day that sticks out in your mind?
SM: Yeah I won 3 races one day for the same owner and trainer at Beulah Park. I rode some Grade 2 and Grades 3 at Keeneland when I had the bug, and I was on the board in them. So especially having the "bug" that was very nice. I set a track record at Beulah in a sprint race, the horse was 'North and South".
FOTH: Shelly, I am out of questions. Anything you want to say to wrap this up?
SM: No I guess not, but just thanks for the interview.