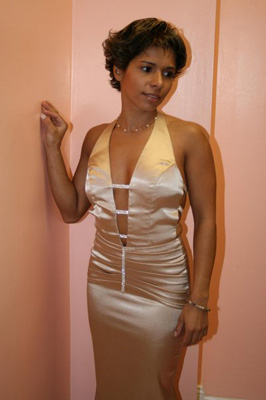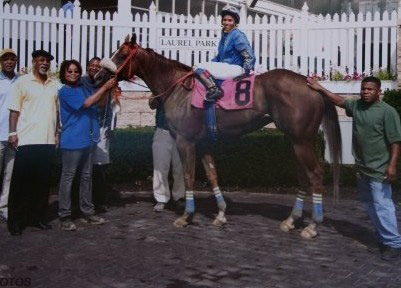 Sharon Sintra
I have met jockey Sharon Sintra several times and I thought it was about time I did an interview with this Charlestown/Laurel/Pimlicio based rider so I emailed her some questions and here is what she said to them:
FOTH: Where were you born and where did you grow up?

SS: Hey Chris, I born in Ukraine, grow up in Russia until I was 15 then left to Israel. Its happened that I been around a lot in all around the world so I kinda grow up everywhere.
FOTH: What sort of girl were you growing up?

SS: Pets pets pets, dogs the most. Not girly not tomboy something in the middle.
FOTH: Did you have a love for horses at a young age or did that come later on?

SS: Love was there from young age but possibility to ride wasn't. It happened when I move to Israel, I was 15 when I first got on the horse, did show jumping for 10 years, not really wanted to be a jockey-in Israel it's bush-racing most not professional like here, but when I finally agreed to ride in races that is when the gate is opened that was it. In 2 days the show horses was behind me.
FOTH: Were there many racetracks around you when you were growing up?

SS: Nothing zippo. I got in to the racing when I was 20. And most of it match racing on the beach or field. We don't train at the race track and races only twice a month. When I came here I learned everything from the beginning.
FOTH: What was your 1st job at a racetrack and what racetrack was it?

SS: First job was in South Carolina breaking babies for Kirkwood Stables, and then in 2006 I stepped first time on real racetrack at Colonial Downs working for Graham Motion.
FOTH: What was it like getting up on a horse for the 1st time?

SS: First time I was sad that if that was what I am gonna do all my life. My family was pretty surprised cause everybody is doctors or professors and I went on my own completely the other way.
FOTH: At what point did you know you wanted to become a jockey and did you have anybody teach you how to ride or did you learn a lot about riding on your own?

SS: In Israel it was all me on my own. There is nobody there really to teach you mostly to drop you or take you out of the race (no rails on the track, only some part of it) and the gate is "Russian Roulette." Not open together and sometimes not open at all!!!
FOTH: Tell me what you can remember about your 1st race and where was it at?

SS: That was a big deal in 2006 at Colonial Downs I found a horse to ride in the race and I went and got my jockey license. 14 horse field I am on 99-1 shot that never hit the board, it was fun. I never before sit in jockey saddle (in Israel when I was riding it was exercise saddle because I was to light) but I didn't tell nobody. I found myself weak in the knees in my ears, finished second, rode like a snake down the lane got everybody in the race scared (but I thought I'm all right because I didn't touch nobody, no contact) that's why we finish second. The stewards took me down I was upset I didn't understand why (I didn't touch nobody!) but got lucky-no days. I had a bunch of nice horses for the weekend when we found out that I cannot ride with the type of visa I had. It took another 6 month to change the visa. The day after I lost my visa (and all this time I had been properly training and practicing, learning the rules) I broke my leg-another year off, till I start riding again.
FOTH: Tell me about your 1st win and did you win by a lot or was it in a photo and what track was it at?
SS: My first win was on nice filly (maiden also) called Casy's Oak for Trainer Yolanda King at Pimlico. We won by 6. That day I won 2 races.
FOTH: I have met you 2 times, once at Charlestown. For those who have never been there, describe what Charlestown is like and are the turns as tight as they seem and do you like or riding on a smaller track like that or would you prefer at track like Laurel or Pimlicio or it doesn't matter to you?
SS: It doesn't matter to me where to ride. I like them all, but CT and small racetrack are same as in Israel, and even Timonium it's better than what we have at home so I'm familiar with tight turns!
FOTH: How long would you like to ride for or are you just kinda taking things day by day right now?

SS: Till I can't ride I will ride, just to stay sound, in 2 years I had too many breakdowns.
FOTH: What tracks have you rode at so far and do you have a favorite?

SS: I have rode at Laurel, Delaware Park, Charlestown Penn National, Timonium and Colonial Downs. Laurel and Colonial are my favorites.
FOTH: Take me through what you do in a typical day?

SS: Like every other jock, get up in the morning go get on some horses and see some trainers and then ride races. I don't have an agent so it all depends on me.
FOTH: What do you like to do when you are away from the racetrack?

SS: Play with my dog, travel, deep water fishing, stuck on Facebook lately.
FOTH: Have you ever gone into the casino area at Charlestown Racetrack and if you have, did you lose or win any money?

SS: Never been in there. One time went to casino area at Delaware Park and won some money and spend everything right there in the restaurant with my friends!
FOTH: Have you had any injuries so far and if you have what has been the worst one?

SS: Yes I am the "lucky" one. The worst was my first one-in the morning broke my leg in 15 places include the ankle, 4 surgeries, 2 plates, 14 screws and it took me out for way too long. At Charlestown this past February a horse snapped a leg and I got 5 broken ribs collapsed lung and a dislocated wrist. I was back in the saddle in less then 2 month. I had a couple more this summer at Colonial Downs but not that big deal, couple dislocations.
FOTH: How do you prepare for a race that your going to be riding in? Do you read the program and try to figure a strategy or do you pretty much listen to the trainer's instructions?

SS: Both, usually I watch replays a lot, study the program and of course the trainers instructions.
FOTH: Is there any track or tracks that you would like to ride at one day?
SS: Keeneland I am in love with the place.
FOTH: Do you have any short term or long term goals that you would like to achieve as ajockey?

SS: Cross the finish line first the most I can and long term goals is just to ride for as long as I can.
FOTH: Have you watched the show on Animal Planet called "Jockeys"? Do you think it is a good show or bad show and why?

SS: It's a good show and this second season is much better then the first one. They don't hide a lot of stuff and I like it.
FOTH: Do you still feel you are improving as a jockey and do you watch your race replays to see what you did right or wrong in a race?

SS: Oh yes I watch my replays a lot and made my boyfriend watch them too (he is retired jockey) and pretty good in schooling. There are places for improving.
FOTH: Do you mind riding in the cold or it doesn't bother you at all?

SS: Prefer the cold then heat actually, but then in the winter I say the opposite I don't mind the cold too much. You know when it's leg up time you feel no pain!
FOTH: What is the feeling like winning a race and jogging the horse back to the winner's circle?

SS: Cool!!! Damn it over. With the appetite comes the hunger.
FOTH: Sharon I am out of questions. Thumbs up for the interview and any last words and thanks for being part of my website.

SS: Thank you a lot Chris, keep up the good work you do!!

Back to our main page