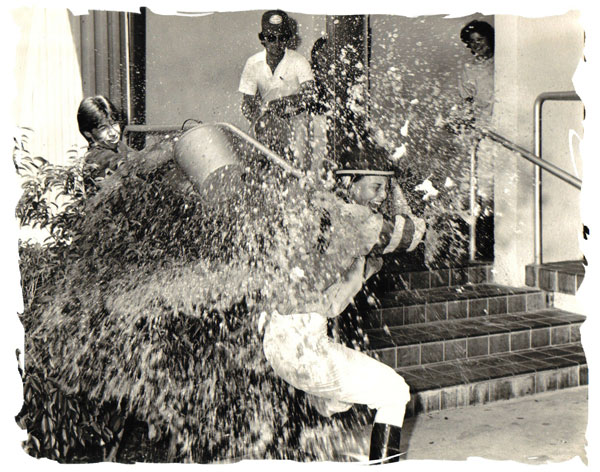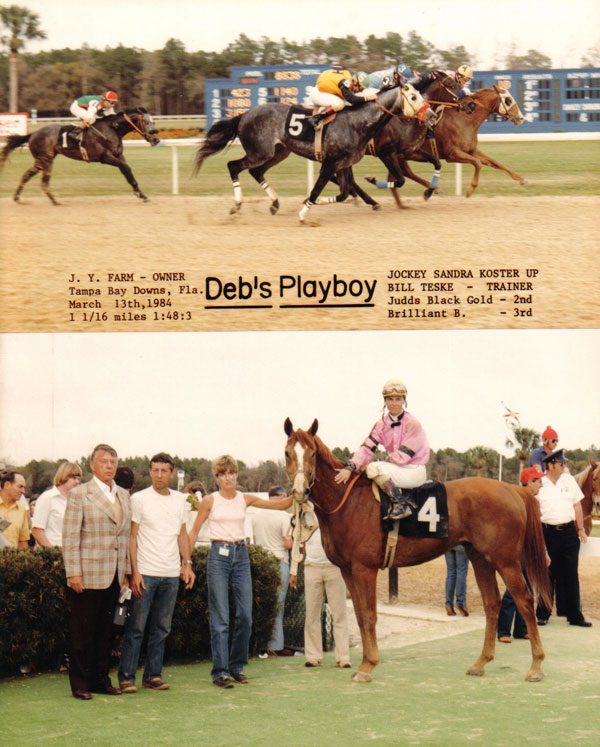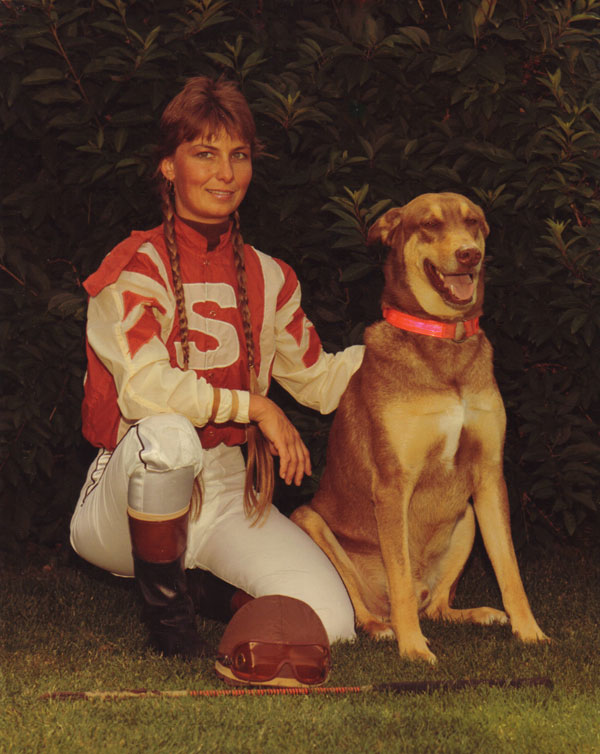 Sandra Koster
Sandy Koster is a retired female jockey that I have been trying to get on my website and I finally found some time to send over over some questions to answer and I tellyou what, this is an amazing and informative interview. She also runs a "female jockey" group on Facebook and she does quite a lot for the sport even though she
isn't riding anymore. Get yourself a cup of coffee or your favorite beverage and sit back and read her story:
FOTH: Where were you born, and what states did you grow up in?

SK: Hi Chris, I was conceived in IL, born in Wilmington, DE, raised in two cities there, and then we moved to Cape Hatteras, NC when I was 12, where my parents bought a seafood restaurant named The General Billy Mitchell. At 15, we moved outside of Charleston, SC to an island called Isle of Palms. At 17, I left home and moved back to Cape Hatteras, but after the summer, I headed to the west coast for my first cross-country adventure. My friend Sharon and I, along with our dogs, drove in my 1969 VW to Sausalito, CA where my sister was living. It was there that I was first introduced to the world of Thoroughbred racing, and got a job as a hot walker at Santa Anita Race Track. Since growing up is a life-long process, I'm still moving to, and living in various states, but to date, those states would include: DE, NC, SC, CA, NY, FL, MI, AZ, HI, NJ, LA, NM. I've also lived in numerous cities within those states, as well as traveled to and stayed in various other states and countries.
??
FOTH: What sort of girl were you growing up (e.g., shy, tomboy, outspoken, class clown, most liked etc.), and what size family did you come from?
SK: Growing up as the baby of five, I was always by myself. My sisters (identical twins) shared a bedroom, as did my brothers. While in elementary school, I would have to say that I was a shy-tomboy, who followed the crowd, and by no means was I ever a "most popular" kid in school. I was typically picked on for being so small, and my northeastern accent was a topic of ridicule for the Delawarean "snob girls" in my class. Children raised to think that they are better then all the others, when in fact, we were all just middle classers. By the time I hit around 24 years of age (approximately 1982), I guess I'd have to say that I was truly beginning to come "into" myself and become my own person. At this turning point in my life, I was really starting to stand my ground, carry though on my own analytical decisions, and NOT be swayed by the assertive voices of all those that came into my life. I was learning how to use my brain, and apply inductive and deductive reasoning to the data and choices before me. Meanwhile, that being said, having gotten on the Race Track at 17, with only a high school diploma, I really was quite ignorant about so many things. But, the tomboy in me grabbed a hold of the challenge to become a female athlete, in a male dominated sport. Despite the sarcastic, male responses to my statement that I was going to be a jockey one day, I pressed forward with determination. Mind you, I was at Santa Anita in the mid 1970's, where the weather is to die for, and the racing is of the highest caliber, as is the money, so of course the men try to intimidate females seeking to take a piece of "their" pie, from doing so.
FOTH: What was it that started a love of the horses in your heart, and at what age? At what age were you first exposed to the racing industry? Were any family members on the track before you, and if so, did they help you get established?
SK: Ever since I was about 8 yrs. old, I use to go riding at Fred's Riding Stable, in Delaware, or maybe Pennsylvania, for $2.00 an hour, with my friends Susan and Vicki. Of course, I was still very insecure about myself then, so being that I didn't think I knew what I was doing, I always opted to ride bareback. I was under the mistaken notion that only good riders could use a saddle, so I rode without one. Little did I know that I was developing a great seat, hands, balance and core body strength that would really benefit me professionally, some 12 yrs. forward from that point in time. At the age of 16, living outside of Charleston, SC, I bought my first horse, however, it wasn't really a horse, but a pony. Not knowing the difference at that point, but still thinking that being small I needed a small horse, I quickly learned that giant can be gentle, and small can be really stubborn! I immediately returned the pony to the previous owner (as we had that agreement beforehand), got my $60.00 back, and bought a real horse, a Quarter Horse, for $125.00 from a friend who was also going to teach me how to ride. Now this was back in 1974, so prices were quite different then.
My horse's name was Colorado Blue and he was magnificent. I learned how to break my first young horse using western tack and western technique. By 1976, I graduated from high school, and moved back to NC, taking my stud with me (I hadn't yet learned that owning a blossoming stallion could present problems I wasn't equipped to handle). When I realized that living on my own without proper facility to stable my horse, was a major problem, I called my blacksmith in SC to come an get my horse for me, and take him back to SC. He came, got him, and I went on my first cross-country venture to CA, where I'd be introduced to the racing industry. I was 17 yrs. old when my friend Sharon and I arrived in CA. Needing work to survive, I gained employment at a fancy restaurant named Richardson's Water Works in Sausalito, right on the water. Being that I grew up in the business, when they became short staffed in the kitchen, they called me in off the floor to help. As a good prep-cook I liked my knives sharp. While I was chopping carrots, real fast, somebody opened a can of Ketchup using the can opener hooked to that table, and as they swung the lever down and around, it shifted the table just as I threw my knife down. Needless to say, I cut the top of my finger wide open and blood went everywhere.
A week or so later, I was invited to a black tie event for East-West Leather. While there, one of the crowd bumped into my finger and it broke open bleeding all down my arm. It was a "gambler" who noticed my plight, and immediately came to my aid. As he doctored my wound, he took note of how small I was, and told me that I should become a jockey. Not knowing at that time, that I had had a great uncle who had trained racehorses for the DuPont stables, and at Yonkers, I had no idea about what racing entailed at all. I didn't know that there were multiple races per card, multiple jockeys per race, or racing conditions. I didn't know that there were trainers, or owners, or tons of race tracks throughout the world, nor that one would travel with the meets. This new person in my life, the gambler, would change all that for me though. That night he invited me to attend the races at Bay Meadows with him the next day, so I went. He introduced me to his good friends in the business, who happened to be trainer Bobby Frankel and jockeys Willie Shoemaker, Laffit Pincay, and Francisco "Paco" Mena, who were there to run in, and ride the feature Handicap. The "gambler" gambled that I would become a jockey and paid to fly me to Beverly Hills, CA, to go to the races with him at Santa Anita. Once there, I tapped in on the racing connections I had met at Bay Meadows, and called Paco to get me onto the track. While I still lacked the knowledge of previous family in the business at that point, it was Bobby and Paco who would help me to gain entry onto the racetrack at Santa Anita, and settled into my first job as a hot walker for trainer Roger Clapp of Three Rings Ranch. I had no idea how significant and prestigious the connection to these figures was, or how very successful and iconic they were.
FOTH: What do you remember about the first time you saw a live horse race and where was it?
SK: As I mentioned earlier, the first live races I ever saw were at Bay Meadows, in northern CA. My first impression was that it all seemed so surreal. Watching these little tiny guys in funny attire, especially on the monitor, was very dreamlike. The horses were beautiful, and so full of vigor that I immediately had a connection to them, but the concept of "working" as a job, being a "jockey" was a hard concept to embrace initially. At that point, I didn't know about racing conditions or purses, or percentages or anything. I was just kind of going with the flow as my life and personality were beginning to take form.

FOTH: What was your first job on the racetrack, and what track was it at? What do you remember about the experience?
SK: My first job was as a hot walker for Roger Clapp, trainer for Connie M. Ring, the granddame of southern CA racing. Roger gave me a cot to sleep on, a tack room to live in with 3 other girls, and my pay resulted in $98 dollars, after taxes, for 2 weeks of work. It was a top notch, class outfit to learn from. While I had no money for food those first 2 weeks, I was and am a vegetarian, and Roger fed all his horses high quality feed, organic carrots and honey, raisins, hot bran mash, and vinegar, nightly. While stirring the feed to set it, I'd lick off my hands, and boy did that taste good. Therefore, I was NOT without food. I ate hot mash daily (as we also had a Sparklettes water machine with a hot water tap, which was way ahead of the times), along with lots of coffee, which Roger also provided. Seeing Robyn Smith and Mary Bacon at the track also proved very inspirational. Robyn rode for the outfit on the backside of our barn, so I use to see her in all her class and elegance, daily. I loved living in the barn, I loved taking naps in my tack room, and I loved watching the little mice scurry about in the dim lighting of the late night. I loved the sounds and smells of the horses, and I especially loved rising at 4 a.m. to tend to the horses. There is nothing like living in a barn with the animals. One day I'm going to build my house in such a way as to have my horse and goats, dogs, cats and all, living side by side with me, all readily accessible.
FOTH: What experience inspired you to give serious consideration to becoming a professional female jockey in a male dominated sport?


SK: I vividly remember working one day, at The Isle of Palms Restaurant, on Isle of Palms, SC, and thinking to myself that one day I was going to find a job that was outside, worked with animals, and paid good. I wasn't sure what that would be, but when I was introduced to the racetrack, and then learned what kind of wage a jockey had the potential to earn, there was no more question as to what I planned on becoming. I didn't even allow doubts of there ever being any successful female jockeys, to cloud my vision. There were lots of nay-sayers, but I was and am a "see the glass half full" kind of person, so I never allowed those negative thoughts to have any power over me. "Optimism" has always been one of my favorite words. What I did consider though, was that statistically, women were being received as professional athletes and deemed credible, much more frequently on the East coast, and at the tracks where the weather was often cold, wet, rainy and snowy. With this new knowledge, I made hast to drive to NY and check out The Big Apple! :o)
FOTH: Who all would you give credit to as the source of your so called, "leg up" into racing?
SK: Number one would be the Lord God for gifting me with talents, abilities and fearlessness. Then, my parents for instilling within me an indomitable spirit. Of course the chance meeting with the "gambler" set it all in motion. Bobby Frankel, The Shoe, Laffit, Paco, and without a doubt, Roger Clapp. As for my first literal leg up, onto a race horse, it would have to go to trainer Bruce Headley. Bruce was stabled out at Santa Anita and would let me and my dear friend (now a retired jockey as well), Jeannie Hellem, to jog his horses in the shedrow at around 3 a.m. From there, it would be Tony Everard, of the former Another Episode Farm, in Ocala, who gave me my first opportunity to break babies and truly learn how to ride. While Mike Falzone let me groom his 7 head, gallop and walk them too, before going to the farm to break babies, it was at the farm that the best foundation for riding technique was developed and refined. It was trainer John Foggiano who was going to name me on a horse at Hazel Park, in 1979 and make me a jockey. Unfortunately, the week I was to get my license, after finishing 4th in both of the training races for the Stewards, a baby flipped on the cement crosswalk with me while going onto the track, and broke my arm. I then left Michigan and moved back to hot Florida, where the horses were less fractious as I rehabbed, and it wasn't until 1981 that I got my next opportunity. Jockey Sheila McKenna hooked me up with her trainer when she was leaving to ride in Japan, and trainer Ralph MacFarlane named me on my first mount.
Once racing, but still in need of that break that would get me on live horses, it was trainer Mary Hodge that put me on my winners that would get my bug ticking and guarantee me a very successful meet at Tampa Bay Downs in 1984 & 1985. Trainer Joey Orseno also gave my career a boost when he rode me on a few winners at Atlantic City, Philadelphia Park, and Monmouth. There were plenty of others that played an important role in my successes, but then again, everybody that touches our lives for both the good and the bad, plays an important role, so really, everybody is important.
FOTH: Did anybody teach you how to ride, or did you learn a lot on your own, or was it a combination of both?
SK: Yes, I'd say it was a combination of both because, "nature and nurture" or should I say, one's environment and one's genetics are both key elements that determine an outcome. From my childhood days of dance training (ballet, tap, acrobatics, gymnastics, and jazz), to riding bareback at Fred's stable, the right combination of "elements" was fashioned for shaping my riding abilities. Add in martial arts (for balance and mind control), and being one that refuses to quit, combined with being in the right place at the right time, and making the right connections to network and mentor me along the way, and success becomes a reality. The caliber of trainers and jockeys back then, as I traveled nationwide, was phenomenal. Just like "iron sharpens iron," when you hang with world class athletes, you can't help but to become like image to some degree. Which is another good reason why one should avoid racing at the levels of the cheap claimer dregs, or even the fair circuits, as the cheaper the tracks, the cheaper the purses, the cheaper the horses, and the cheaper the horseman and tactics. Predominately, "cheap" will get you killed. However, when galloping for, and learning from trainers like Charlie Whittingham, Johnny Longden, Laz, Larry and Albert Barrera, Bruce Headley, Cycil Jolly, Bill Mott, Henry Moreno, Eddie Gregson, Roger Clapp, Chuck Taliaferro, Keith Stukey, Richard Mandella, Frank Gomez, and the like, one can't help but to come away from the interaction as a more educated horsemen. Education is the key to success.
FOTH: Tell me what you remember about your 1st race.
SK: My first race was on the twelfth day of the Calder meet, Monday, June 15, 1981. The race was a 6 furlong, $4,000. dollar claimer and I was named on Vergulf, tacking 107 lbs. with my 10 pound bug, for Ralph MacFarlane, at 12/1. The conditions of the race were for three year olds and upward. Three-year-olds, 116 lbs. Older, 123 lbs. Non-winners of two races since April 18 allowed 2 lbs.; two races since April 1, 4 lbs.; a race since June 1, 6 lbs. Needless to say, my horse hadn't won a race in ages, and with "Kostir" (my name spelled incorrectly in the program), the 10 lb. bug aboard, we were in light. It was an 11 horse field, I was in the 3 hole, I finished 9th, and got beat 15 lengths for win. The good news was that I wasn't dead last, I stayed out of everybody's way, and finished safely. Plus, we still managed to finish 8 lengths ahead of the last horse in the field. Now, here is what I remember that hot, June day in Florida, riding my first race on an Argentinean horse that neck reined. From the moment I got into the Jock's room and got undressed from my street clothes, and then put on my bright yellow silks, I worried about rolling the rubber bands on my sleeves correctly. Then, I worried about hearing the call to go out to the paddock. Then I worried about whether or not my valet would remember to take my stick out to the paddock for me. But once I finally got out into the paddock and heard the call for "riders up", I worried about nothing, until I actually got legged up onto my horse. Being that my saddle weighed a pound and a half rigged, my feeling was that there was nothing between me and my horse, and the stirrups sure were tiny. My pants felt very slippery atop that polished naugahyde leather, I felt naked, and while my head whirled with "Wow, how am I ever going to make it around the track in this tack, let alone out of the gate," the need to warm up my horse took over and all other thoughts were pushed aside. I didn't have time to worry any longer.
FOTH: Tell us all about your 1st win. Was it an incredible experience?
SK: My first win was ridden during the Tropical at Calder meet, on Thursday, November 26, 1981, Thanksgiving Day, and it was the fourth race on the card, and my 23rd mount. Good ole Ralph MacFarlane legged me up on 5 yr. old Tayyar, a 17.2 hand French bred gelding of 1976, by Ridan, out of Shahla, who absolutely would not let even the biggest of male riders gallop him (he always ran off with them), nor would he run for anybody in the afternoon. He was a total morning glory and his racing record was horrible, hence why we were listed with odds of 20/1, but went off at 32/1. We paid $64.00 for every $2.00 ticket to win, beating the favorite, ridden by Alfredo Smith by the hair on my horse's nose. Alfredo claimed a bogus foul against me, though we were miles apart throughout the race, which the Stewards disallowed. The race conditions, for the 7 furlong race, were for 3 yr. olds and upward. Three yr. olds, 121 lbs.; Older, 122 lbs. Non-winners of 2 races since Oct. 31st allowed 3 lbs.; 2 races since Sept. 22, 5 lbs.; a race since Nov. 6, 8 lbs. Claiming price $4,000. Being that my horse was older, he was assigned 122 lbs. Being that he hadn't won a race since the cows jumped over the moon, he got all the weight allowances. With me, a 10 lb. bug on him, his new weight to carry became 104! Yeah, that meant that I weighed no more then 102 lbs., but I think I was actually under 100 lbs.
As mentioned, Tayyar's way of training was to run off with his exercise riders, though because I would stand straight up on him at the end of the knot, and drop his head, he use to gallop like a gentleman for me, and Ralph thought that was just so great. To pull up, I'd verbally command him to "whoa". Now the trick with this horse, when attempting to breeze him, was to make him think he was running off with you. So, I would gallop him as usual but as we neared our pole to break at, I'd drop my hands down on his neck real fast, as if I'd dropped the reins and needed to gather them up again. He'd feel me squirm, and take off running. The more I reached for the reins, the faster he'd run. After a few months of doing this, Ralph figured him ready to run, and surely he was. The field was big with 11 horses, and I was on the #1. I don't really remember much about the race from start to turning for home, however, I do recall that as I approached the 1/8 pole, it was time to start making my horse think he was running off with me. Being that I was so well conditioned myself to do this from the morning workouts, the fact that I was suddenly on the lead in a race didn't register with me, until Red Drifter, the favorite with Alfredo, came flying up on the outside. That's when I realized that I needed to throw a cross and get to race riding.
However, due to being green and totally in shock about this potential win looking like it was going to be snatched away from me, I panicked and rather then picking my horse's head up, I just flailed as my reins dangled. With my horse honestly feeling me in a state of panic, he opted to take control of the situation and run!!! This is where the truth of "getting out of the horse's way" is legitimized. Unfortunately, while Tayyar graciously assured me of my very first victory, or should I say "his" victory, the more technique I learned as a rider, the more impossible it was for me to duplicate that winning state of panic in starts on him thereafter. While we retained an excellent relationship as a team during morning workouts, his purpose within himself, as the captain of my ship, had been completed. Looking back on the program from that race, I now see that Tuesdee Testa, a former female rider from the 1960's, who later became a trainer, also had a horse in that race picked to finish 2nd, though he did not. My fellow riders consisted of: Gonzalo Prosper, Eloy Fuentes, Patrick Brown, Mary L. Russ, Odin Londono, Luis Suarez, Steve Gaffalione, Frank Pennisi, Jorge Guerra, and Alfredo Smith, Jr. It was my valet, Jerry Santage, later to become Sheila McKenna's husband, along with Stevie Gaffalione and my good friend and mentor, Mary L. Russ who implemented the rites of initiation and doused me with water and eggs upon my return to the Jock's Room. Jean Rafferty, who later married David Ashcroft, was the photographer who captured the award winning picture of the event.
FOTH: How long did you end up riding for, beginning when and where, and concluding when and where?
SK: I was supposed to get my jock's license in 1979 at Hazel Park in Michigan for John Foggiano, however due to a baby flipping on me on the cement crosswalk, and breaking my arm when he stood on me to get up, my next chance to be entered into a race didn't come until 2 yrs. later at Calder Race Course, in 1981. I ended up riding professionally from 1981 through 1986, and concluded my career by choice, at Santa Fe Downs, in Santa Fe, NM. From that point on, I packed my dog Astro, a few belongings and myself, into my truck, and we all shipped to the Hawaiian Islands, where I ended up exercising Polo Ponies on the nude beach situated on the North Shore of Oahu.
FOTH: What led to your retiring? When you rode your last race, did you know at that time that it was your last race? Do you still have any of your tack?
SK: Numerous injuries, concussions, and spills which typically landed me in the hospital for a barrage of tests, and bed rest, put worry into the heart of my Mom and siblings, who feared for my life and requested me to stop riding. While they were all very proud of me, and proud to claim that their sister was a professional jockey, nonetheless, they also wanted me to be alive and not dead, so this factor led to my retirement. In 1985, after a horse I was exercising one morning at Finger Lakes, spooked while backtracking, bucked me off and then kicked me in the head before departing, left me totally amnesic and with severe brain trauma, my Mom and sister Niki invited me to take a Hawaiian vacation with them while my brain healed. While I was on the Hawaiian Islands with family, the joy of that camaraderie really set in. It was at that time that my family and I fashioned a plan for me to get off the racetrack for good by moving far, far away from any possibility of an easy return, so, we all decided to move to Hawaii together. In 1985 I started my trek towards the Pacific coast by moving to Santa Fe, NM first. My sisters were both living there, and since Niki was also planning on moving to Hawaii with us, she and I could depart together. Unfortunately, by the time Sept. of 1986 came around, she had decided to stay on the mainland, so me and my dog Astro (see the photo by Tom Cooley, that won him runner up status in Purina's "Great American Dog contest twice: `85 for NY, `86 for NM [photo by me]) traveled to the shipping docks of Los Angeles to fly to Hawaii alone, but to meet up with my Mother, who had left Arizona to move to the Islands. When I rode my last race, I did indeed know it. I think it was on one of my most favorite horses, Majestic Lake, for Rolland Hoenburg, at Santa Fe Downs. After the race, as I was packing my tack to take it out of the Jock's Room, I sold my 1 1/2 lb. saddle to Louis Figueroa, for $50.00. It was a really comfortable saddle that I bought from a jock named Mike Peace. I now wish I'd have kept it just as a wall mount, but I do still have all my other saddles, helmets, whips and tack, and they mostly just reside in the closet anyway, so no sense in having more useless stuff unless I plan on eBaying it one day.
FOTH: During the time period that you rode, do you think that you were treated fairly by male trainers, owners, and other male jockeys? If not, could you elaborate on a few circumstances and what you came to believe was the biggest stumbling block for them, in their viewing you on a professional level, and treating you with the same respect as your male counterpart?
SK: You know Chris, that was so long ago, and I'm such a "press forward" person, that I really have to dig into the recesses of my mind to recall the times and answer this question honestly. The long and short of it would be, "no, I was not treated fairly", as without a doubt, my being a young, assertive female, with hip length blond hair, a tight body, and good form on a horse, totally rendered the mind of the male during the `70's (be it trainer, owner or jockey, though mostly trainer) inoperable. Unfortunately, it is true that we women are predominately emotional creatures, whereas men are physical. I think that the "other brain" of men was the biggest stumbling block to my successes during my career.
Examples of this conclusion would be best answered with a few quotes from the trainers, coast to coast mind you, when I'd walk into the barns to introduce myself to them as a jockey, in hopes of gaining clientele:
"I got something for you to ride." (Lots of snide laughing)
"You can get down on this." (Gesturing to their own bodies)
"I don't ride no girls." (Which I always appreciated hearing straight up, rather then wasting my time.)
"Meet me at my barn later, and bring your boots and whip." (Total perverts)
"Come spend the weekend with me at the Keys on my yacht, and we'll talk about mounts." (Right!!!)
"I need a boy who can handle a big whip." (My whip was the stoutest, old-timer hand-crafted whip in the jocks room! LOL)
"This colt needs a strong, male jock to handle it." (Like strength was the reasoning factor of the mind??? NOT!)
"Don't you want to get married?"
"Shouldn't you be home having babies?"
FOTH: What would you classify as your best and worst experience as a jockey?
SK: I think my best experience as a jockey, was simply working from the ground up to become one, and then persevering over the years, despite injuries that took me out of the running, to actually see my dreams realized. Being a well trained athlete is like becoming a well honed machine. Nothing like hitting on all cylinders and purring like a kitten in the process. One gains self confidence, respect, physical fitness, identity, stardom, travel experiences, financial freedom, and notoriety. What more could one ask for? The worst experiences as a jockey would have to be my witnessing horses breaking down during races or under me, loosing their limbs, having a heart attack during a race, or being lacerated and impaled by the rail. Death is never pretty and I have a number of these horrid stories too, as well as photographs.
FOTH: If a young girl came to you, wanting to become a jockey, how would you instruct her to proceed? Are you mentoring young ladies now, be it your own children, or maybe through electronic communications with girls that have attended schools like, Frankie Lovato's Jockey Camp?
SK: I would teach the same way I was taught, and that's "old school". I believe that male and female alike need to start from the bottom up, learn as a hot walker how to handle a horse's various mindsets on lead, then become a groom, learn tack, equine anatomy, and run bandages correctly, as well muck a stall (shaving and straw) in timely fashion. Learn how to level a shedrow. Setting feed and giving medications is way important, and well maintained feet are critical.
I believe that if an aspiring jockey is too cocky, they need to stay on a wheelbarrow until they get over themselves. When a person becomes a well rounded horsemen/woman, they typically make good riders as well. Plus, when the body is no longer able to ride races, well educated horsemen/women make good trainers too. There are a few young gals that I dialog with about their becoming jockeys, and I advise them to get to any equine facility in their area, and depending on their ages and parental consent, do volunteer work on the ground, as much as is possible. Help the Blacksmith, Vet and Chiropractor. When they have graduated from high school, then they can move away from home to either a racing farm, or racetrack, and apply their skills as they advance up the ladder to success. While on a farm, seek to learn about breeding, the breeding shed, mares and foals, and vaccinating.
Learn how to unload a truck full of 50 lb. bags of grain, work hard, don't complain, go to bed early, and don't be a partier.
Of course, my advise is to follow the path that I did, which is leave the track after hot walking, grooming, & ponying horses, to break babies at a racing farm for a season before heading back to the racetrack to become an exercise rider and then later, jockey.
Finally, don't sell out or compromise your morals, character or integrity for a promise to ride you "if" you do a favor for the trainer. Talk is cheap, but taking the low road to success will haunt you the rest of your life. If a trainer won't ride you for your abilities as a horsewoman, then forget it all together. It's not worth it.
FOTH: Do you think that a female rider will ever win all three of the Triple Crown races consecutively?


SK: Of course I do. Just like we still wait for the next Triple Crown winning horse, ever since Affirmed (see my picture) in 1978, it's just a matter of time before the Lord rises up a female jockey to be the "first" rider of said horse. And what an earth shattering, ground breaking day that will be! :o) Hallelujah.


FOTH: What are your thoughts on what Pimlico did last year (May 14, 2010) with the "retired female rider" Lady Legend's Race?


SK: Well, I was associated with Jason Neff long before all the details of that race were solidified, and Jason's idea, back before "The Living Legends Race" out in CA, where Julie Krone also rode, was certainly novel. Given that Pimlico was the only track to give serious consideration to Jason's idea, I applaud them for that, however, I was bit confused at the billing "pioneer female jockeys" when in fact, there was only one, Barbara Jo Rubin, from the mid 1960's in the race, and others gained their successes during the time that I rode in the late `70's and `80's, or even beyond. This of course, reeks of a political alignment and double standard. Being that I head up the Facebook group, *Female Jockeys*, and through research, know that the "true" pioneer female riders rode and won against men as early as 1906, and Wantha Davis was beating the likes of Johnny Longden at "recognized, pari-mutuel" racetracks in 1950, then the terminology applied to an era that was overflowing with change, while exciting, was incorrect. The 1960s saw a lot change, and female jockeys made real headway during that ripe time frame. However, they were not really the pioneers in the truest sense.



As for Pimlico now planning on running the "The Lady Legends Race 2" (which seems like a high-jacking of Jason's original idea), it nullifies the "Jock" movie quote, "...for one last ride...". In my opinion, if Pimlico wanted to capitalize on the monetary momentum the first race created, they would reached a much larger audience if they had of billed a whole new set of retired female riders, who other fans identified with. They could still have the first group there to sign autographs and mingle, but the fan base would have grown exponentially if they brought in new blood. Sales would soar, but I think this now "annual" race is going to stagnate. Had they have solicited riders like Jeannie Maxwell Richardson, and Donna Hillman Walsh, Julie Krone, Vicky Baze, Kathy Kusner, Maryann Alligood, Abby Fuller, and others from coast to coast, I think new blood would have brought new money and a heightened interest in racing.
FOTH: If you could change a few things about the professional sport of horse racing, what changes would you make?
SK: I think there are 2 elements that have helped to destroy racing and racing farms all over the country. One is over breeding anything with sperm and a womb, without consideration to Pedigree or genetics, simply to be in the game. The game that use to really be "the Sport of Kings" has turned into a joke with all the syndication making completely uneducated novices into owners and trainers. We now have such an over saturation of horses all across the country that the majestic Thoroughbreds, greatly misunderstood by the masses, are being literally starved and dehydrated, and dying grizzly deaths alone in fields because they have become too expensive for the so called owners to care for until they live out their natural lives. Mankind made this mess out of a greedy heart, and the animals are now suffering. They are God's awesome creation, living creatures with feelings, and not commodities, any more then we females are "man's" commodities, and our patriarchal society needs a wakeup call.
Two, is the human fixation on speed. Speed wins races but on the fragile ankles of 1,000 lb. horses, speed kills. Here, I'd like to cite a poem I came upon years ago by Valentine McCreedy called, "Oblivion":



Dropped upon blue grass in happier days
Spindly of leg with wild young ways
Ebony black and a patch of white
Romped and frolicked from morn 'till night,
His soulful eyes sang a silent song.
To which courage and heart in lyric poetry belong.
They took him to the races 'cause he was born to run,
Raced him and raced him in the afternoon sun.
They tested his courage and tore at his heart;
Those human cash registers gave him start after start.
They swelled his ankles, they crippled his legs,
And hastened him down to the cheap claimer dregs.
'Twas at a bush track that it came to a halt,
You be the judge as to whom was at fault.
He had beaten the gate in that daily double race,
Zoomed to the lead and was setting the pace,
When the sickening snap of shattering bone
Drew from the crowd a tumultuous groan,
With broken leg dangling,
Pressed forward and on
'Till he raced right in.to oblivion.
by Valentine McCreedy
FOTH: Looking back over your career, was becoming a jockey easier or harder then you thought it was going to be? What obstacles did you have to overcome, and over what span of time?


SK: Hum, I guess it was harder, as when circumstances detoured my racing start in 1979, such as the gender conflicts, broken bones, the need to travel all across the country in search of that one or in my case 2 trainers that would give me serious consideration to take out a jocks license, I hadn't considered the time such adversities would require from the beginning.
This of course was a good thing, as if I'd have known the future before it happened, I may well have chosen a different career path. Not knowing the long road before me, not only allowed me to chip away at the stepping stones one by one, but the adversity built, sculpted and shaped me into a horsewoman of character. Like diamonds, one will not be made into a gem without both the refiner's fire, lots of pressure, and time.
FOTH: Can you elaborate on any of the spills you've been in during races? What injuries did you incur throughout your career, and what was the worst one?
SK: My first spill in a race was at Calder in 1981, when a filly I was on stumbled out of the gate, hard to one side, and unseated me in the chute. What a drag to watch the field run away from me as I stood there.
Aside from the whack in the head by a horse's head, broken fingers, toes, spinal nerve impingement, getting bucked off, or having a horse flip on you, the first big spill I had was at Fairgrounds Race Track in Louisiana, in 1982. I was riding an Allowance feature on a horse by the name of To Tall Tara, for owner Don Huffman. I forget the trainer's name, but an article says that it was a 6 furlong Turf race for 12, 3 yr. old fillies, and I was in with 107 lbs. All I recall is thinking that as we turned for home, I was going to win the race. Then I hours later I woke up in the hospital and when I was able to watch the rerun, it turns out that a horse bolted off the inside rail in front of my horse, and we clipped heels. It was only by supernatural intervention that my entire pelvis wasn't crushed, as I was unconscious on the turf, spread eagle, as she was fully extended and placing her front feet atop my pelvis, miraculously, they were moved to the side of my left hip. There was no earthly way she could have moved herself. Anyway, it took me weeks to get over the vertigo of a severe concussion.
At Atlantic City, in 1984, there were two instances that really cost me, given that in the first 2 weeks of the meet I was listed as leading rider with 7 or so wins, and a proportional amount of seconds and thirds.
One night I'd won the daily double, and then had to ride a 30/1 longshot that my agent allowed me to be named on, given that I rode the Auwater's outfit, and had to take the bad with the good I was told. Well, Adrian's Pie was what I know now to have been a Down Syndrome horse. The father and son operation either did not know what the other was doing, or intentionally put me on this speedster thinking he'd run off with me, win and pay a hefty price.
Adrian's Pie was in the 8 hole, broke on top, bolted to about the 15 hole, and despite my best efforts to pull him up or stop him, he still finished 3rd, and then propped and wheeled in the clubhouse turn when he saw the gate moving in the 3/4 chute. This sprained both of my hips, and tore the ligaments in my right ankle. I also suffered whiplash and a fractured coccyx. For the next two nights of the overnight, 7 of my horses won, and 5 finished second being beat a nose. I was utterly devastated to say the least. My title was denied me all because of some really foolish decision to ride me on a retarded horse.
The next incident involved me being put over the rail during the running of another turf race, where the extension rail was up, by another female rider. I thought that I was going to win that one too, and this time I was on the horse Sanin's Town, the one that I lost my outfit to the Hodges for, having been beaten by a nose by my then boyfriend, who use to be his rider, but I gained his mount (and other outfits) when he was late arriving to AC. My horse was seriously cut up from the goose neck pads lacerating his shoulder, chest and legs, and took about 6 of us several hours to assist in him being stitched back up. He never regained his form due to the extensive nature of his injuries. Trainer Earl Skeldon did have another horse I won on for him though, a horse by the name of General Nate, who went off at 125/1 and paid $255. for every $2. win ticket.
Finally, the most severe riding accident happened 16 yrs. after I'd first retired from the racing industry, and was back to being a breeze rider for Adena Springs South, at their farm in Ocala, FL for 3 yrs.
On March 13, 2005, while riding in the 2 yr. olds in training Breeze Show, being filmed by Adena Springs South, in Williston, FL, a filly I was instructed to get on [who I'd never been on previously] went through the outside rail of the turf course [due to having a previously undiagnosed fractured pelvis herself and unable to negotiate the turns at high speeds], in attempt to get back to the dirt course where she was accustom to pulling up on, and going back the security of her stall, and she catapulted me into the 3/4 pole in the process at approximately 44 mph.
I remember going from Technicolor [red and white pole against a blue sky] to pitch black, and communing with God. Like the Apostle Paul, I departed my body and was aware that "this was it," "this was really bad," "this really hurts," and there was an awareness that my Mom still needed somebody to take care of her. Then I regained consciousness and was almost 10 feet from the pole, and closer to the middle of the track. Little did I know, that 1 yr. later my Mom would be diagnosed with breast cancer, and pass on two months after a needle biopsy.
Meanwhile, in the process of trying to remove me from the racetrack, that could not sustain the weight of an emergency vehicle on the slope to the chute, due to the faulty design of the track, I went into shock from the 90 minute ordeal. This further complicated the stabilization of vitals. They finally had to load me on a gurney into the back of a farm pickup truck in order to get me down off of the track and into the EMS wagon.
Due to the extensive nature of my injuries, the EMS wagon transported me to Shands Hospital in Gainesville initially, where they misdiagnosed all my injuries. With the assistance of 8 different types of medical specialists, 3 surgeries and years of rehab, over a period of 3 years, they discovered both internal and external injuries to the joints which have resulted in arthritis and other limitations. The catalog of injuries follows:
The soft tissue injuries to the lower left extremity involving ligament tears are:
1. Medial Lateral Collateral Ligament
2. Posterior Cruciate Ligament
Injuries sustained to the right Sacroiliac region resulted in tears to the following muscles:
1. Gluteus Medius
2. Quadratus Lumborum
3. Periformis
X-rays, CT scans, multiple MRI's and a brain scan revealed several broken bones involving:
1. Left medial malleolus fracture [ankle joint] which needed to be surgically wired and pinned
2. Left knee fracture with a 3.5 cm osteochondral lesion, which required surgery and still has a lesion non-repairable.
3. Left tibial fracture
Closed head injuries:
1. Concussion
2. Brain trauma
3. Brain Stem injury
4. Migraine syndrome
5. Vertigo
6. Speech delay, causing stammering and stuttering
7. Memory problems
Soft tissue injuries to the Spinal column:
1. A sprained neck
2. 2 herniated disks at C5-6, C6-7 [impinging upon the spinal cord] which required a 2 disk, anterior discectomy fusion [2 pieces of cadaver bone inserted, 2 plates, and 8 screws]
3. Numbness and occasional paralysis of the right arm
4. A herniation at L2-3 and 2 bulging disks at L3-4 and L4-5 [impinging upon the spinal cord], resulting in numbness radiating down the right leg, all of which required 30 days of extensive traction through VAX-D
Additional injuries include:
1. A massive, 18 inch long by 10 inch wide hematoma of the lateral left thigh and hip (the photos show the extent of the flesh wound and bleeding)
2. 7 broken teeth which needed to be crowned and 2 extracted (damaging my smile)
3. Jaw damage to the Tempormandibular Joint
4. Inflamed upper right Trapezius
5. Right shoulder damage to the scapula and rotator cuff
6. Nerve damage to the right elbow
7. Chronic pain to the occiput
8. Adverse reactions to pharmaceuticals for treatment [inciting more fear of further treatment]
9. Vocational dysfunction requiring retraining
Where I was once proficiently articulate before the accident, due to the head injuries, I struggled to communicate effectively [but praise be to God alone, almost 6 yrs. later (now 2011), I'm almost back to the me I once was]. However, due to this vast array of injuries, I have been medically forbidden from continuing in my riding profession and had to seek State assistance in being retrained in a new vocation [now a Paralegal]. My rotator cuff injury, cervical fusion, lumbar herniation and femoral lesion prevent or limit me from certain aspects of swimming, biking and running, due to aggravation causing pain.
Regardless of the permanent nature of some of the injuries I sustained, we all have the choice of either laying down and dying, or getting up and embracing life. I chose life and press forward.
Today, I'm unstoppable and hustle around like those half my age. Core muscle strength is good, I cut grass, dig ditches, fix fences, haul and unload hay, grain, and do other things associated with running a 5 acre farm, such as trimming the hooves of my 250 lb. goats, tending my horse, Herz Koenig, and being a slave to my 3 dogs, 4 cats and a very vocal bird too! Life is good, but God, the Great Physician alone gets the glory. He is great.
FOTH: What are you doing with your life nowadays, after retirement, and what part do racing or racehorses play in your life after-the-fact?

SK: Chris, presently I reside in the Ocala region of FL, am a farm owner, and mother to 11 animals, one of which is a race horse that Adena allowed me to adopt from them. Herz Koenig was one of those 2 yr. olds that was known to be a real bad-ass. This information was kept from me when I (as a retired jockey) went to work for the barn he trained out of. Little did I know then, that Herz's rider was a 175 lb. guy accustom to his cantankerous ways. Just like the stereotypical "racetracker mentality", they figured that I could find out what he was like on my own.
Well, again, praise God, as Herz and I related to each other in love, and he never was a problem source for me. After he shipped to Dickey Small in MD, Small sent him back to Adena after 3, 6 furlong starts, saying the horse didn't want to be a race horse.
The farm trainer at that time was Danny Vella and his niece by marriage, Jenna, who was instructed to get on Hertz out in the paddock to see if he'd make a good pony horse for Frank Stronach's granddaughter. Well, Hertzy bucked Jenna off in the paddock and then proceeded to chase her around the paddock, scaring her to death. It was then decided that he might not make a good horse for a 12 yr. old, and being that I, his rider, wanted to adopt this Friendly Lover, Magic Woman gelding, they gifted him to me.
Today, I've even named my property after him, Koenig's Korner. He's my all in all and I just love him!!!
Aside from that, I'm currently a server at a fantastic BBQ Restaurant (though a veggie), and get to tell stories all day! My lifestyle affords me the luxury of working on the computer daily, managing my farm, hanging out with my animals, shooting photographs, and I'm now getting my photography business started. Soon, my website,www.sandrakosterphotography.com will be up and running, so don't be a stranger.
One day in the future, I plan to relocate back to Santa Fe, NM, where the Southwest holds my heart in the Rocky Mountains.

FOTH: I am out of questions, but offer a "thumbs up" to you for doing this interview. The floor is yours now, and I'd love to hear any last thoughts or stories you might like to share with racing enthusiasts everywhere. Any photos or videos you'd like to share with us would be greatly appreciated as well! Thanks again for your time and in sharing a private look inside your life.
SK: Chris, I really applaud your on-going efforts to digitally archive stories and stats for female riders from the past, present and the future. I don't know of anybody else out there doing the selfless and invaluable work that you are, and I'm one who really appreciates the value of what you've taken on. I know your girls will appreciate seeing what their daddy has done too, especially if they end up as horsewomen, or maybe even female jocks! Bravo buddy, I give you 2 thumbs up!
Now, I would like to share a racing story with your readers, that matches the win photo I've provided as well. In all my career, there were many horses I had special relationships with, but none like that with Deb's Playboy. This is our story:
It all started Oct. 19, 1983 in Miami, FL, at Calder Racetrack, with a trainer named Mary Hodge, a filly named Disco Road, myself, a stumble out of the gate, a dramatic come from behind finish, a victory, and a healthy pay-off of $29.20.
From that moment on, a very positive working relationship was established between the Hodges and myself. They alight upon me like vultures, though, they proposed a sweet racing deal. I would, however, have to commit to giving them 1st call on their entries at the Tampa Bay Downs meet.
Being my life had just surfaced from the dregs of hell, I was financially strapped, and my spirit bordered on being totally broken, I scooped up the offer and prepared myself for a brighter future.
The Good Lord knew I had bottomed out, had mercy on me, and turned my hands to gold. No matter what kind of racing record my mounts had, I had been blessed with the golden touch and everything came up a winner.
My first mount was in the 1st race of the 1st day of the Tampa meet. The racing record of my horse, Debi's Playboy, didn't look all that impressive since he'd go out front, run a while, and then stop. But, since he was coming from racing with "big boys" of the Calder meet, and we were 8/1, I had hope.
Well, I was given my usual instructions by Bobby Hodge to, "get em out of the gate on top" (they liked me because I was like lightening getting out of the gate), "go to the lead, slow down the pace, and then whip and drive to victory."
"Sure Bobby, that's what I'll do," I said.
Well, Debi was kind of a rogue little son of a gun, and I'm told that he'd pitch a fit with everyone all the time. My forte' was with temperamental horses, being of the high-strung nature myself, therefore, I figured I'd pacify Debi, and give him what he wanted. So, when the gates flew open during that 6 furlong race and Debi just kind of walked out of the gate and took himself back to last, I started to think about freaking out a little bit, until "BOOM", much to my surprise, Debi plugged in or something, and took off flying, giving me the thrill of my life.
He ran up butt, zigzagging in and out of horses until we passed everyone except the horses on the lead. Tampa's surface is deep, red clay, and dirt was flying everywhere. I must have eaten a pound of it myself. Deb settled in behind the leader, tight on the rail, just missing the act of clipping heels with each and every stride. By the time we hit the quarter pole, Deb had already switched to his right lead, the crowd was roaring, and Wayne Crews, on the 10 horse, winged out off the rail, just enough to show Debi daylight between the lead horse and the inside rail.
Well, that was all the invitation Debi needed, and we were history as we slid through the hole and galloped to victory. That was the beginning of the love story between Deb's Playboy, the gutsy little chestnut colt, and myself.
Approximately three and a half months later, on Jan. 28, 1984, I rode a horse named Judd's Black Gold, a giant 17+ hand bay gelding, that spooked at his own shadow. It was a beautiful, clear day, and we went off at 5/1. Bobby and Mary thought a lot of this horse, possibly because of his size, and in the process of their "high", lost their objectivity.
The race was 1 1/16 mile, we had good post position coming out of the 5 hole, got a good break, tucked in early, saving ground on the first turn, set 2 off the pace with a handful of horse, managed a few jumps over shadows, which normally would have cost us, but didn't, and then proceeded to go for the lead at the 1/16 pole.
It was wide open, clean sailing, yet, Judd was having problems with intimidation. This big, massive horse was a coward. I quickly looked at his ears and sure enough, he was looking over at the other two horses who were just about to beat us. So, I picked up his head, setting the bit in his mouth, fanned my whip in front of his eyes, and screamed bloody murder at him until he forgot them and got back to business, which took all of 2 seconds, and we won the race by 1 1/2 lengths.
It was however, a close call, and a very uncomfortable feeling having Judd's brain wander. I knew then what Judd's Black Gold needed, but suggesting changes to trainers is like walking through a mine-field, so treading lightly, but armed with knowledge, I waited.
Sometime during the following 2 months, I rode Judd twice more. Once, he was in over head, and the following race would have been conditionally perfect, but not only was Judd a coward, he was a "Lookie-Lou". The race turned into a mind-altering, congested, no-win situation. It was a large field, jocks were everywhere, and nobody seemed to be racing very professionally. That sometimes happens in the racing game as it goes with the territory. Needless to say, all my efforts at bettering our position in that route of ground race, were thwarted by bad racing luck, and we ended up finishing second, getting beat a nose for win by a longshot named Sanin's Town, ridden by a jockey who just happened to be my boyfriend.
The Hodges were mighty mad at me, being as they were heavy gamblers too, and usually bet $800 - $1,000. per race, to win no less, and this time their horse got beat. So, whose fault was it in their opinion? Mine!
"Why did I get beat?" Because sometimes you win, but most times you loose, and the small, but major point, that "Judd was unable to concentrate". No, the Hodges were not happy with that answer as it wasn't dramatic enough, so they came up with their own conclusions. They decided that I got myself beat intentionally (that's called fixing races, aka, a felony) so that my boyfriend could win, and then he and I could cash a ticket (also known as illegal). They were really bothered by the newspaper headlines that said, "He didn't win, but Judd's Black Gold took his place as a game loser". After reading that, they took me off all my mounts for them, and fired me from riding for their outfit completely!
Woe! I was named to ride Deb's Playboy on the overnight, and nobody got along with, or loved him like me. The paper also said, "I was spitting fire after the frustrating ride," and now I really was. Oh well, too bad, that's racing.
So, there I was, innocent on all counts, fired and off Debi. I still had other clients, thank God, so I immediately booked it over to Bill Teske's barn (a Canadian trainer I rode for who liked route-of-grounders), and informed him of Deb's Playboy's soundness. Bill had already been eyeballing Debi as a possible claim, and now was the time.
That week the Hodges ran Debi, as scheduled, with some other jock onboard. They got beat, (as I'd hoped), and Debi got claimed (as I knew he would). Two weeks later, on March 11, 1984, I was looking at the overnight for March 13th, and saw that the Hodges had once again entered Judd's Black Gold in a route of grounder.
A wave of bitterness passed through me until my eyes fixed on my own name in the same race. Surprise, surprise, guess who I was riding? That's right, it was time for the big "A & J", avenge & justification to take place. I was in the race too alright, and not on just any horse, but little, tiny, "ass-kicking" Debi! Although, I must confess, I was a tiny bit concerned about the race being 1 1/16 miles since Debi had never raced anything but 6 furlongs.
But, praise God, we had a shot to win, and my heart was pumping now big-time. For the next 2 days, I was on a major high as I rehearsed every possible racing scenario over and over again, in my head. Finally, the moment of truth had arrived.
The jocks and trainers gathered out in the walking ring, and icy glares where exchanged between the Hodges and myself as we graciously, though pretentiously wished each other "good luck".
What better ending to a story could one wish for then to beat the bad guy at his own game with his own weapon.
Bill, having been a jock once himself and aware of the reality of "situations out there", was cool, and his instructions were to, "win, have fun, and come back alive."
My heart pounded as we loaded into the gate. "Hah!" and we were off and running.
Deb ran in his normal "get into trouble" fashion. The more trouble and life threatening situations he could get into, the happier he was. Most jocks thought I was just plain crazy. As figured, Judd was just off the pace. As we straightened out for home Debi passed through a wall of horses, while hugging the inside rail, but Judd's Black Gold and Brilliant B. were necking it out with only 1/8 of a mile to go, and me and Deb were about 7 lengths off Judd's flank.
For a brief moment in time, I conceded the race was over for us winning, as I continued to watch Judd go on to victory, and us finish 3rd. Then...the lights went on in my brain and I remembered that Judd needed blinkers, so I screamed at the top of my lungs, "JUDD...HEY JUDD, LOOK HERE BOY", and then Debi got real excited and dug in, just eating up that ground and with less then 70 yards to go, I kept on screaming to Judd, and good ole Judd, his ears start flicking, he lost his concentration, and Debi's nose said, "MINE", as we hit the wire for a photo finish, and I said, "Yes Lord, that honey is sweet!" as my face became one big smile!
Now that race, and the principles behind it were more then thrilling, they were totally awesome. As I jumped down off Debi-baby, weighed out, and passed Bobby and Mary Hodge, I kindly said, "Judd needs blinkers," just in case they needed a freight train up the side of their head to figure that one out.
Note: When the meet ended, Bill Teske asked me to go to Canada with him, but I declined, instead making my way to Atlantic City, which proved to be a very good career move. Whatever came of Deb's Playboy after that year, I know not, aside from what's posted on Equibase, before the day of digital record keeping. I know that his last race was at Assiniboia, in Canada, on 8/23/1988 at the age of 9. If he's still living, he'd be 32 yrs. old as of 2011. I'm told that Bill Teske has since passed on.
Back to our main page