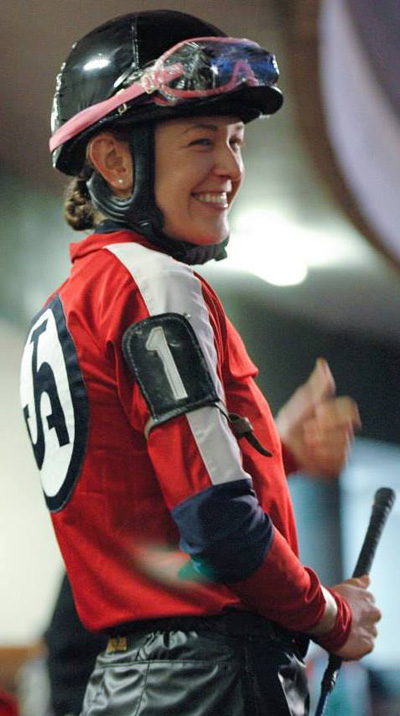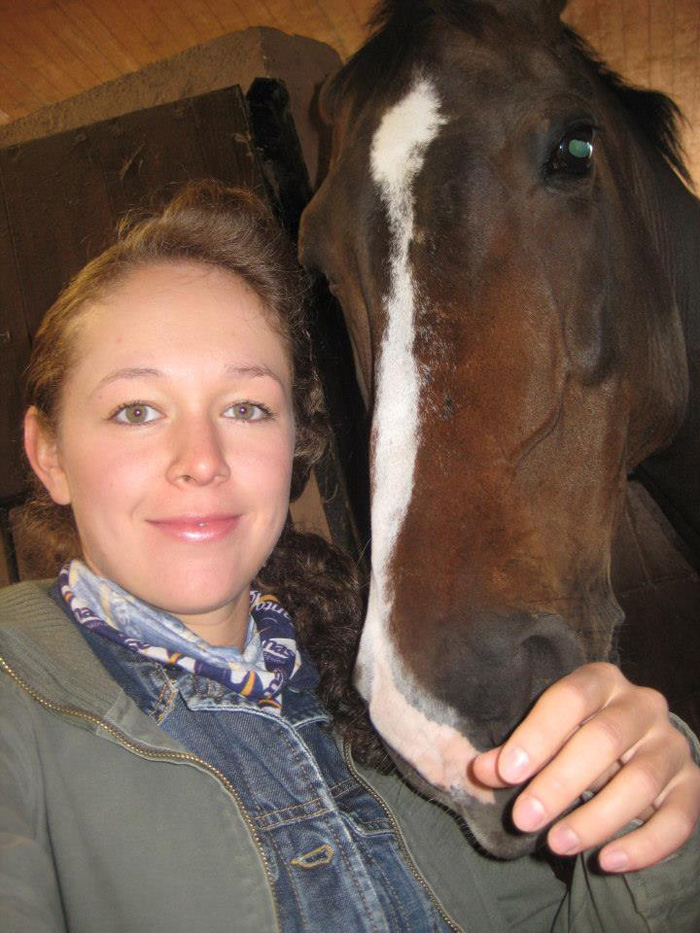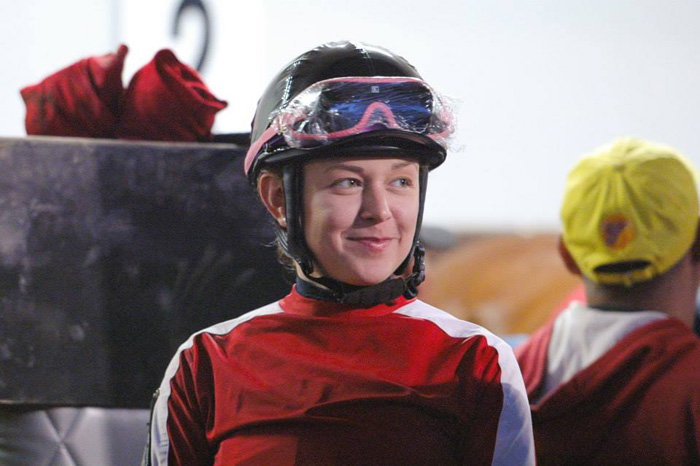 Sofia Barandela
Sofía Barandela used to be a vet then became a jockey that was riding in Mexico and just recently moved to Spain to start to ride there and here is her story:
FOTH: Where were you born and where did you grow up?
SB: I was born in Mexico; I grew up in Mexico City.
FOTH: What sort of girl were you growing up and what did you want to be when you were growing up?
SB: I was always that girl obsessed with horses, loved animals and got my first horse at 7. I grew up at the city but I loved to visit grandpas' house at the country. I always wanted to be jockey, but somehow I thought it was impossible.
FOTH: Were you interested in horses at a young age or did that come later on?
SB: Always. My family got horses since I can remember, but not racehorses.
FOTH: I read where you a vet at one time before becoming a jockey. How did you end up becoming a bet and how long did you do that for?
SB: I never got the chance to ride at the racetrack, so I did showjumping for 8 years. I decided to study animal medicine and of course with horses. When I was finishing my career, I got the chance to star learning at the racetrack in Mexico. I learned 1 year and then I went to Germany to make my animal medicine final practice specific in neonatal foals. I got back to Mexico to continue at the racetrack and to end my studies.
FOTH: So now when did you decide you wanted to ride races? How long did you get up on horses before you took out your jockey license?
SB: It took me 1 year and 6 months to get my license. So at the end it was 2 years and 6 months.... but I ride horses since I was seven... but riding racehorses is the most difficult way to ride horses I have ever done…but the most I like.
FOTH: I understand you ride races in Mexico. How many girl riders are riding there and how hard was it to become a jockey down there?
SB: Well I did my first run the August 22, 2014. I did 26 races and then I left to take a chance in Spain. It is difficult in Mexico because there were no other women before me (now we are 3). I never had problems with man working at the track, but it is definitely a world of man in Mexico's racetrack.... no woman grooms, trainers. Nothing. Just 3 jockeys (now 2 because I am in spain).
FOTH: So have you just rode races in Mexico so far?
SB: Yes.
FOTH: So did it feel natural getting up on horses and did anybody teach you how to ride?
SB: Alejandro Moreno Aparicio "El Cebollas" taught me.
FOTH: So tell me about what you remember about your 1st race. What track was it at and where did you finish?
SB: I was with my dearest beloved horse of Cuadra Vivian named LOVELY RACE... she is a gorgeous little gray mare. I was never nervous because my dream was getting true now. I ended 3th. She could have done 1st but I did not let her because I hold her a bit. I just did not know how much could I hold or let go…you know what I mean? It was the happiest day of my life (since 2008. I will not talk about 2008. It remains of the first happiest day of my life but later the story gets sad)
FOTH: Tell me about your 1st win. What track was that at and what was the feeling like jogging the horse back to the winner's circle?
Sb: I was ridding PIENSA EN MI (translate means Think about me). I rode 1 mile. We started; she wanted to go, so I just put her on 5th on the outside. I opened my hands and stood still. We were chasing 2 mares in front, but after 1/2 she wanted to explode and I said ¨"Nooo bonita please wait not now!!" (it was difficult to hold her so that she still went forward). After the 2nd curve I thought NOW it is time to explode. She understood and we came from the back, outside and PAMMMMMM first!! I was so excited I just did not realize we had won!
FOTH: Now I do not know anything about racing in Mexico. Are there lots of tracks down there and also do you have turf (grass) racing at all?
SB: We have only one racetrack in the country. Just one!!!!! The money is not good, and we got not good money riding. They always promise this will be getting better, but I left this track for this reason and more.
FOTH: Would you like to ride in the US if you have not and do you think you will be able to do that one day?
SB: Yes I will!!!! I dream of riding in Kentucky.
FOTH: What did your parents think when you told them you were going to be a jockey and have they seen you ride in races?
SB: They said "you are a vet, are you crazy????" It took month to make them understand this is my dream my passion and my own way!! They are now very proud; they went to the racetrack to see me run almost every race. They know how difficult it has been for me and they say now, I am an example of courage, discipline, and that dreams do come true if you chase them.
FOTH: Tell me a little bit about the track you are riding at now and do you get big crowds for the races at all?
SB: The racetrack is getting slowly popular again. For many years it has been forgotten but now many people including young people are visiting the track to spend nice afternoons. There are a lots of people that go there to bet, but now more and more families are spending the weekend eating and watching the races.
FOTH: Take me through what a typical day is like for you these days?
SB: Well I wake up at 4:45. Have some tea or coffee with an apple or some fruit. Take my car, got to the track (5min); put my boots and vest, my helmet. Say hello to my co-workers. At 6.00am we stared ridding, sometimes 6.30. I ride like 9 - 10 horses every day. I just got up on horses, one after another. At 10.30 we finish. I take some more juice or coffee or something little to breakfast. Then I got 45min jugging in the sun to sweat. Then I got home, take a shower and then maybe a nap. Then I got to the gym to swim a little and to the sauna for 15 min. Back home I eat some salad and I take a nap or something I read some animal medicine stuff or speak to my boyfriend in Spain. Visit friends or my parents, something like normal people, BUT the eating hahaha…I diet every single day.
FOTH: Looking back what do you think was the hardest thing about becoming a jockey was and do you think you had to work that much harder to earn your jockey license?
SB: The diet. I think I am a natural horse person so the riding was just learning and make it with love and courage. I hate to diet!! But I am 1.66m!! In Spain I don't suffer that much because they ride heavy.
FOTH: How long do you think you will ride races for?
SB: I really don't know.
FOTH: Do you think you have been treated pretty fairly as a jockey so far and do you have an agent that goes around with you to talk to various trainers?
SB: Not that fairly because some said "no…she looks heavy".
FOTH: I am sure you have watched horse races on TV. Are the races in Mexico pretty similar to the ones you have seen on TV and in the US?
SB: Not very different, but we only have sand and we only ride to the left.
FOTH: What is the riding weight for the races where you ride and have you ever had any problems with your weight?
SB: 49-50.... 51 max 52. Yes I am always hungry.
FOTH: Can you make a decent living riding as a jockey and do you ride races year round?
SB: I am starting. I really don't know it by now, but in Mexico the money is not good enough.
FOTH: Have you had any injuries as a jockey so far and does that ever worry you the thought of getting hurt?
SB: No thank god…just a finger cut (before the race)
FOTH: What are some things you like to do when you are not doing race related things?
SB: Paint, cook, read, something about animal medicine.
FOTH: Sophie I am out of questions any last words to wrap this up?
SB: Well, now I am starting new in Spain. So this interview will be continuing......

Back to our main page