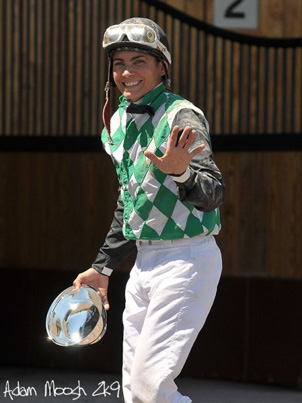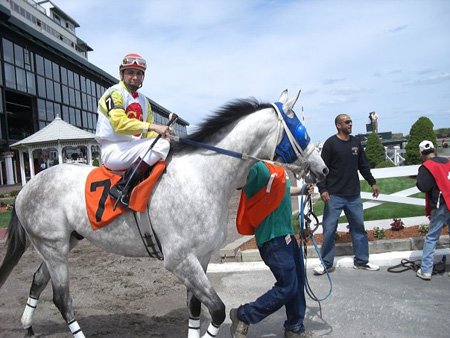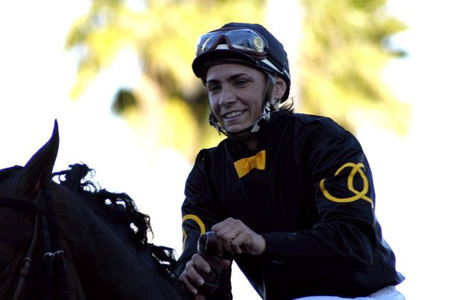 Tammi Piermarini
I have known Tammi Piermarini for a long time and I thought it was time for a new interview I recently got her on the phone and here is what was said:
FOTH: Recently you came down to Phila Park to participate in a Female Jockey Challenge. Now I know you used to ride down at Phila Park way back when. What was it like coming back to ride in the challenge and have you ever done one of them before?

TP: I have done several jockey challenges out of town. (her home base is Suffolk Downs-chris) I have done them in New Mexico, NJ and Hoosier Park as well. I loved competing over at Phila Park and it was a good turn out, a lot of people, the purses were great and just the fact that you had 12 girls come in and compete is great. I was never a steady rider at Phila Park or Penn National, I just shipped in a few times. I spent a week at Penn National back in 2005.

FOTH: The purses are very high at Phila Park due to the slot machine revenue. Suffolk Downs does not have slot machines. Do you think with the way the economy is and all that, that a racetrack almost has to hae slot machines to get purses up and people to the track?

TP: I definelty slot machines would help. Not only with the revenue, but it would help create a lot of new jobs and you can raise the purses and bring in a better atmosphere and crowds, you can have better races and more competive races and better horses. Right now at Sudffolk Downs we are very close to getting them, maybe next year. I don't know what will happen if we don't I mean without the slots I could see the track shutting its doors.

FOTH: For those who have never been there describe a little bit about what the track is like and how good is the turf course there?

TP: Suffolk Downs turf course has a repitation of having one of the worst turf courses and it built over a dump and there is water that runs underneath it and the ocean is less than half a mile away and what happens is when you have low tide the turf drops and gets very soggy and it is not consistant and when it is high tide it is a little more level and when it rains the natural soil and gets very slick and very soft and those spots were the water runs underneath it. I am used to this turf course, but you may have horse than runs so so on another turf course, but lovesd the Suffolk turf course.

FOTH: Now comes the funny question of the intervoew. My beloved Yankees just beat the Phillies in the 2009 World Series, what was the reaction up in Boston over this he he?

TP: I was hoping the Phillies would win. It was a disappointment that the Red Sxo didn't win and that the Phillies didn't get the job done, the Yankees, I am not a fan of the Yankees at all. I would take the Phillies over the Yankees anytime.

FOTH: Now we will get back to the horse racing questions. (we both laugh) I spoke to your husband who is also your agent and he told me you are up to over 1700 wins. Is one of yout short term goals to get to over 2000 wins?

TP: Can I be honest with you.

FOTH: Sure

TP: I beleive I have over 2000 wins already. Not too long ago when they finally put me at 1500 my husband was looking through some book that shows you how many wins you have and I knew I had well over a 1000 wins a few years back. So we went and did a big investigation and informed the people that they have it wrong and made a few phone calls and within 2 hours I went from a little over a 1000 to 1400 wins. I rode under several different names and the mass confusion was when I got married. I know for a fact I have over 2000 but until I can call Kentucky and get that confirmed cause they will have all the wins that I rode under. Right now I am at 1780 by book. I want to get over 2000. I am taking some time off right now as I am 4 months pregnant and when I rode at Phila Park I was 3 months pregnant!

FOTH: I know you have rode all over the place and then some. Is there any track that you have not had a chance to ride at yet that you would like to before you retire?

TP: I have never ridden at a Kentucky racetrack. I would love to ride at any track in Kentucjy. I have rode at 3 of the tracks in California, but never Delmar.

FOTH: In the past couple years has there been anything you saw on the racetrck that made you sort of open your eyes and say "whoa never saw that before"?


TP: No nothing surprises me absolutely nothing.

FOTH: Has there been anytime you wanted to quit riding, but minus the time you were a trainer to this question?


TP: I love horses in general and I love riding and I am a very competitive person and when you have a slump the phone stops ringing and your business slows down and you start to think it is you and a lot times it is just the groove you are in or the stock you have been riding is going through its condtions. It will make you a humble person. There will be times where a rider will get burned out and you can ask any of them and they will say the same thing. A vacation or a few weeks off will help, but to actually quit, I did stop when I was pregnant the 1st time around and then became a trainer and yeah I missed it. I miss it right now. I love the competiviness and I love riding. The weight us jockeys have to carry and most jockeys have to diet a special way that makes it very hard. I am sure if you are naturally small and little and don't have to watch your weight it will be a more enjoyable experience and not like a job because you don't have to fight weight issues. If you do have to watch your weight and stuff it does play with your mind a little especially when your not riding a lot or the cream of the crop or your not winning enough to pya your bills. This is a very humbling business one day your on the top and the next day you could be on the bottom. Chris I really, really love this business and love the horses and when I do retire I probably would go back to training and just to be around the business.

FOTH: When you went and became a trainer was being a trainer what you thought it was gonna be or was it something completely different and how hard is the trainer's test to pass?


TP: I didn't any problem with any of the trainer's test because I have been around horses since I was a little girl. The only thing I didn't realize as much as I have heard trainer's complain is when it is that time of the month where you bill your owners and if they don't pay you, you can run into some problems because these bills are gonna start adding up and the vets and farriers are gonna start looking for their money that you owe them. That is when I realized that part is kinda tough, but also being a trainer I respect and understand now before I ever started training how much it means to have everybody there on time. When a rider doesn't show up to ride a horse it sets everything back and your there wating for him and you wait and wait and it is not a good thing. I respect that now as a rider and try to be there on time cause if I don't it will jam everything up.

FOTH: Now when you were training did you tell the jockey pretty much what to do or did you let the jockey rate the race and let him/her do things on their own or was it a combo of both?


TP: If a horse had special quirks like if the horse liked the inside or the horse didn;t want to be rushed I would just tell them that. But to give instructions ya know a good jockey doesn't need instructions and bad jockey can't follow them. A lot of times I would give them a leg up and tell them to do their best. Whatever happens, happens because once the gate opens anything can happen. You need racing luck and you need the horse and you need the right spot and the right jockey on the horse and you just wish for that luck.

FOTH: For those who don't know your husband is a jockey agent and for those who don't know tell me a bit about what he does in a typical morning.


TP: My husband and I get up together and we go to work together. We go and see our regular clients and my husband sits for me all day and watches the races and if he sees a horse he thinks is a good mount to go after we will go over to the barn and mention to the trainer we would love to ride for ya and keep us in mind. The basic part of the job is to see the trainers and line up work and mark the spots in the book and mark what we have going and what we don't have going and the jockey and the agent work as a team and this is what we do.

FOTH: I am sure I asked you this in the last interview, but if a young girl came up to you and said she wanted to be a jockey what would you tell her to do?


TP: First off I would ask them if they ride at all and if not then I would tell them to start taking riding lessons and let them know about the commitment being involved in being a jockey. I mean it is 100% commitment and I would say go for it and wish them all the best.

FOTH: What do you think is the most important thing for a rider to learn?


TP: I came from a show horse world. I started breaking 2 yr olds when I was 14 years old and I loved it. When your at a track you watch jockeys, but what I would do is watch the leading rider if I was there all day and how they performed. The most important thing to me is to being a jockey is don't be a know it all. If you can learn something new everyday whether it be from a trainer or owner or groom or even another rider, take the advice and think about it and try it and it can;t hurt to learn something new everyday. It is always good to learn something new. Don't be a know it all.

FOTH: When you first started riding did you ever think that you would be still riding all these years later and sometimes does that boggle your mind that your still riding this many years later?


TP: I can't beleive it has been almost 25 years. (laughs) It seems like only yesterday that I started riding. The thing I miss most around here is the crowd. Back when I started riding the grandstand was packed and now it is only about half full and some of them are the owners and trainers in the race.

FOTH: Do you know if you have brought home a winner of 99-1 or more in your career?


TP: Yes I have.

FOTH: What was the worst injury you ever had?


TP: I have broken several different bones and one of my worst injuries was the spill that happened last year. I had a bad head injury, ruptered 3 vertabraes in my neck and I was out for 7 hours and when I came too I thought it had just happened.

FOTH: Wow.


TP: I was at Boston Medical for about a week and couldn't walk for the first 3 days I could feel my legs, but when they went to try to stand me I couldn't walk. Eventually I came back rather quickly and I put my mind to it and sure enough I was back riding within 3 weeks.

FOTH: Amazing.


TP: That was my wost injury. You know you have your aches and pains and but that was the worst injury cause of the head trauma I had and I have short term memory loss from it.

FOTH: What is your opinion on the "Jockeys" show on Animal Planet and if they ever filmed it at Suffolk Downs would you do it?


TP: Oh most definetley. They should come to the East Coast area if it is not Suffolk then do it in NY or at Phila Park. I wish they would come out this way. They should not keep it in one area.

FOTH: The Zenyatta win the other day. Did that surprise you?


TP: I knew she was a nice filly and in her home court, but I knew if she was gonna get beat it wouldn't surprise me if she gets beat by the best thoroughbred horses that there is. But her winning, she is at the top of her game and her worst habit is winning and she did it with ease Chris. When she was in the middle of the sprint and moving out trying to find room her ears were straight up in the air and it looked like she was just gallopping. I got goosebumps watching her and she really proved herself that day.

FOTH: Her or Rachael, who is better?


TP: I don't know. Rachael she did a lot of traveling and she still won and she proved herself and the other one didn;t travel as much. It would be one heck of a race, but I don't know who I would pick. I would love to see them put them on a dirt track in a place where neither one has run and let them go. I'd probably say Rachael, cause she slows it down, and the other one is almost like chasing her and would she finish like she normally does. If there no pace in the race could the other filly get beat? You know Rachael doesn't have to be in front and if she slows it down enough to one position I think she would just go on and accelarate and let loose.

FOTH: Ok Tammi I am out of questions. Thumbs up for the interview and thanks for coming down to the jockey challenge recently and good luck with your pregnancy and all and do you have any last words before we wrap this up?


TP: I hope you invite me back for the jockey challenge next year.