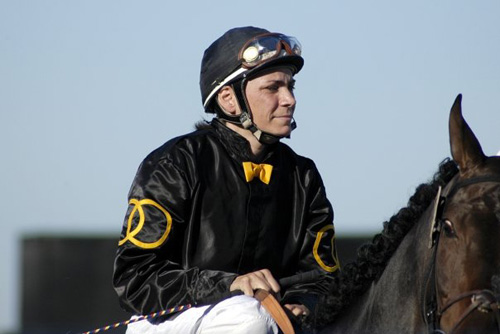 Tammi throws out the 1st pitch at Fenway Park in Boston, Mass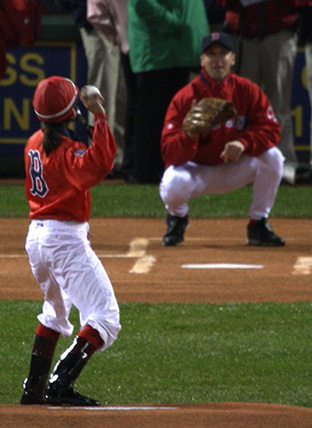 Tammi Piermarini
Tammi Piermarimi is one of the few jockeys that have over a 1000 wins and I interviewed way back when this site first started so I thought it might be time for a new interview. I got Tammi on the phone and here is what she said to the questions I asked her:
FOTH: Tammy it has been awhile since I last talked to you and you told me you are not sure exactly what your going to be doing right now, right?

TP: Right. I am just speaking the holiday season with the family at home. It has been a long time since we spent it with them and they are getting up there in age and we want to be there and you never know when their last Christmas could be so we are gonna spend the holiday season at home and when the new year rolls around I will decide where to go.
FOTH: You have been riding for a long time now and I know your one of the few female riders with over a 1000 wins. Are you close to 2000 wins and do you know exactly how many wins you have right now?

TP: I am close to 2000 and the exact amount has not been found. A few years ago I went from less than a 1000 to over 1400 in change in a couple years. I have rode under so many different names, under my maiden name and stuff and I am pretty close to 1800. I think they have me at 1780. They send you a sheet and it doesn't have some of the stakes I have won on it or anything like that. I have rode under like 5 different names.
FOTH: Do you feel you have been treated pretty fairly being a female rider?

TP: Oh yeah I have never had a problem with any male rider. I have never been treated any differently and it was a little harder when we went out to the west coast and there isn't a lot of female riders out there and it was a bit difficult for me. I get a lot respect from a lot of different riders and from some of the best riders out there and I think they treat me the same.
FOTH: Do you have a favorite track that you have rode at so far and a least favorite track that you have rode at so far?

TP: That is the think about being a jockey, you get to go to all these different race tracks. I don't have a least favorite race track. Every place is a new experience for me. As far as favorite racetrack, I really enjoy riding at Belmont Park. Just the tree line on your walk to the racetrack is beautiful. Saratoga is nice, Santa Anita, Bay Meadows, Hoosier, I have ridden at a lot of tracks, but I have not been to Kentucky at all. Not been to Texas well. Been to New Mexico, Hawthorne. I have been to all the California tracks except for Delmar. Like I said before I don't have a least favorite racetrack. I have even ridden at some fairs. Every place a go I like cause it is just a new experience with a bunch of different riders with different styles and you meet new friends, riders and trainers and there is great riders and great trainers at every racetrack.
FOTH: How special was it for you when you got your 1000 win and where was it at?

TP: My 1000th win was in New Hampshire at Rockingham Park. It was special it was like becoming a teenager in a way. (laughs). My 1500th win was at Tampa Bay Downs and that was special as well. It was recognized on TVG as well.
FOTH: What keeps you motivated to keep riding as long as do. I know you have had injuries and stuff like that, what keeps you driven to keep on wanting to be a jockey and stuff?

TP: I love the races. I love the racetrack and I love the sport. I love the competitiveness and I love the horses. I just love everything about racing and when you combine that all together, it is like the owners, the trainers, the fans, the jockeys, it is like one big family. The horses as well. I love the competitiveness. How many people get to get paid for something they love to do?
FOTH: When you retire from riding would you go back to maybe being a trainer at all?

TP: When I retire as a jockey, yeah I would probably do something along those lines. I just don't want to get out of the business as this is my life. In life you have a special gift and mine is with the horses whether it be riding or training.
FOTH: I know you won the Suffolk Downs riding title last year (2007) how special was that to win that?

TP: It was a great achievement. I think the last female to win it was like 27 years ago. I won a 100 races in 100 days. It was me and another female rider and a room full of boys. Yeah it was special. I was headed in that same direction this year to defend my title and I had to spills back to back that kept me out for 36 racing cards and I ended up 5th in the standings and what separated 5th from 1st was about 30 wins. I still finished with a bang and right now I am on a break until early 2009 and I will go and achieve some new goals somewhere else.
FOTH: I am sure you have won some stake races over the years. Is there a special one that sticks out in your mind?

TP: I have not won any graded stake races, but I have ridden in a lot of them. I got to ride in the Santa Anita Derby and that was a great experience. I also have rode in the Mass Handicap at Suffolk downs 2 times, including this year, and that was also very special.
FOTH: How do you prepare for a race? Do you look at the racing form, do what the trainer tells you, etc?

TP: I do a little bit of both Chris. We get the form daily and get my husband is my agent and we get the overnight when they come out and we start from there and then get the form and then I look over the program as well. When the gates open you gotta go with an open mind. The good trainers that you ride for they don't give you any instructions at all, they will say go ride em like he is yours, but I will tell you one thing he likes the outside or he lugs in a little bit and you try and take that into consideration and try to do the best that you can. You have to see how the race unfolds.
FOTH: If a young girl or boy came up to you and said they wanted to be a jockey, what advice would you give them?

TP: I would tell them they have to have a lot of perseverance and you have to have the heart. You have to put 110% into it and you really need heart in this business and you can't be afraid. You can't think my horses is gonna stumble or break down. There is no boyfriends or girlfriends when you are starting out. You need a 110% dedication. You should start off being a hot walker and try to learn everyday. Even to this day if I learn something new I take it all in. You have to learn to give up a lot in life that regular teenagers and kids do. When your an apprentice you are at several racetracks trying to win.
FOTH: How much longer do you think you will ride for or are you just taking things day to day do to speak?

TP: I have not determined when I am gonna stop riding. I take things day by day and just keep going. I don't have a set time, but I am enjoying this little break.
FOTH: I know you have had many injuries over the years. Has there ever been a time when you thought about quitting being a jockey due to an injury?

TP: It has never crossed my mind. This last time when I got hurt it got out that I was retiring and I was not retiring at all. So no that thought has never crossed my mind.
FOTH: If you can remember, what has been your biggest day as far as wins on a card?

TP: I almost wins got 6 wins in a day. I have got 5 and I have gotten 6 winners in a row at one time. I would have had at least 7 in a row had it not been for my husband and a trainer who put an entry in and I was named on both half's of the entry and I wanted to ride the horse that won, but they put me on the filly that had run 2nd. That would have been nice had I rode the horse that I wanted to ride, but they wanted to ride the other horse and I was totally against it. I also came back after the loss and won my next race so that would have been 8 winners in a row.
FOTH: Have you ever had a chance to ride overseas at all?

TP: I was supposed to go to Japan and I forget what year, but I ended up getting real sick and I couldn't go and Jill Jellison filled in for me.
FOTH: Is there any track or tracks that you have not rode at yet that you would like to ride at one day?

TP: I would love to ride at Churchill and I would love to go to one of those islands to ride. I have been invited by Jamaican trainers to go to Jamaica and ride, but I probably wouldn't come back. (we both laugh). I would love to try and ride every track to be honest with ya.
FOTH: Tammi I am all out of questions. Any last words or anything else you want to say to wrap this up?

TP: God bless you and have a great holiday and thank you for the interview.